Procurement
How Kissflow Procurement Cloud + SAP ERP Integration Works Together Seamlessly
10.03.2023
Giant corporations first used ERP systems for streamlining, aggregating, and managing raw data and converting it into holistic profiles that yielded better, prompt decision-making backed by factual evidence. ERPs are common to organizations of all sizes, whether an enterprise or small to medium size organizations.
Enterprise Resource Planning systems, as the name suggests, act as informational or data bridges between strategic partners, internal divisions, and various functional units of the organization laterally and horizontally across the hierarchy.
This structural alignment of data from multiple inside and outside sources is of immense strategic importance to the organization to nurture and retain long-term relations with the customers and the key stakeholders at the reasonable expense of some meager capital.
For most functionalities of various and distinct purposes, ERPs have served organizations sufficiently. However, ERPs have been slacking off by a significant margin regarding procurement needs and processes. Unlike other functional processes, the procurement process requires collaboration and flexibility at different points, which legacy ERP systems fundamentally lack.
ERPs are legacy solutions that are still relevant. They just need some tweaks to yield the best service to the organization. The procurement inefficiencies of old-school ERPs can be solved aptly by integrating a procurement solution into the mainframe ERP.
What is SAP ERP?
Professional organizations use SAP ERP to manage resources and data by leveraging advanced analytics and machine learning capabilities to transform businesses' efficiency and fulfill their unique needs. It can amp up the simplification and processing of data holistically all across the functions of organizations.
It offers a centralized system where data can be stored at a single location with accessibility by multiple organizational functions, eliminating redundancy and duplication of data, thereby saving time and valuable resources.
SAP ERP has discrete components known as "modules." Modules are of various types, and organization selects and implement specific modules in their organizations depending on their need. Some of the modules are:
Finance & Accounting

Human Resource Management

Production

Customer Relationship Management (CRM)

Materials Procurement
Why Is SAP ERP Not Enough for Procurement?
Despite ERP being an ace for your organization and all the modules it offers, it is a legacy tech that is not up to date with the fast-paced shifts, flexibilities, and advanced automation required by the organization.
Integrations with other new and up-to-date tech solutions are necessary for any organization if keeping themselves at the top of productivity and having a competitive edge is their first and foremost concern. The following are the significant reasons why SAP ERP alone is not enough:

1. Complexities Involved in the ERP System
User experience and easy interface are not just perks but essentials that modern organizations and end users expect in the current business landscape. SAP ERP is like other old-school ERPs that are too technical, and complex adjustments and additions are essential to enhance its capability and use.
2. Primitive Procurement Module
Most ERPs are designed with the assumption that all procurements will be traced back to one vendor, which is the main flaw perpetuating hindrance in the procurement efficiencies and requirements of the firm. As most firms now have multiple vendors for different services and materials, the procurement process requires quick flexibility from the ERPs, which they do not cater to.
3. Foggy Spend Visibility Across the Value Chain
ERPs are not significant in generating accurate visibility reports, which are essential for procurement oversight and opportunity detection. Almost very often and on an urgent basis, such reports are demanded by various internal stakeholders to do feasibility and spending analysis to decide on contractual acceptance and, at times, contract renewal.
4. Accessibility Issues
Most ERPs are inaccessible to internal users from outside the organization's network. More troublesome is that suppliers and key vendors cannot interact in real-time with the procurement process, which creates issues in contingency situations. Also, this limitation inhibits suppliers from submitting proposals, RFQs, invoice status, and other important stuff remotely, which increases pressure and inefficiencies.
The above-stated reasons establish that ERP is not enough for procurement. Then, the logical thing to address is what to do then. ERP is essential but not enough. So, adding and integrating something into it that solves and removes these inefficiencies is the only viable solution.
How is integrating SAP ERP with Kissflow Procurement Cloud the solution?
The main benefits of Kissflow Procurement Cloud integration with SAP ERP are
1. Procure-To-Pay Process Enablement
P2P enablement allows Kissflow Procurement Cloud Integrated SAP ERP organizations to have flexible and automated purchase orders, requisitions, and invoices management. The provision and real-time monitoring of order status and updates on requests keep an organizational budget and spending in control.
All the while exponentially increasing productivity in the procurement process. Access to product catalogs via cloud storage allows organizations to generate requisites and harbor information on the associated cost. Orders are then sent through workflows up the hierarchy.
2. Vendor Management Tools
Kissflow Procurement cloud packages several vendor management tools that allow an organization to aggregate all the essential data and information on one platform while creating new catalogs and specific tools catering to supplier onboarding. This makes screening vendors and assessing credit risk just child's play.
One can store and assess contracts, receipts, and data regarding orders, including vendor payment information, through the Kissflow procurement cloud, fastening things up at bolt speed.
3. Advanced Analytics and Reporting
You can generate custom reports per the insights you require regarding procurement through charts, heatmaps, and filters that aid in visualizing and optimizing various aspects of the procurement process and organizational alignment toward it.
These insights are immense for understanding corporate spending and overseeing vendor management affairs.
How does Kissflow Procurement Cloud + SAP ERP integration work?


The exact nature of this integration and all the technical nitty-gritty are explained and elaborated on further here. Now, SAP ERP is mainly used by companies for accounting and finance. Some companies use SAP ERP for procurement but realize it isn't built to handle procurement.
They are costly and are used only by finance as the licenses are expensive. Customization is possible to some extent but it can cost hugely. On the other hand, Kissflow Procurement Cloud is flexible to users' needs and is value-for-money.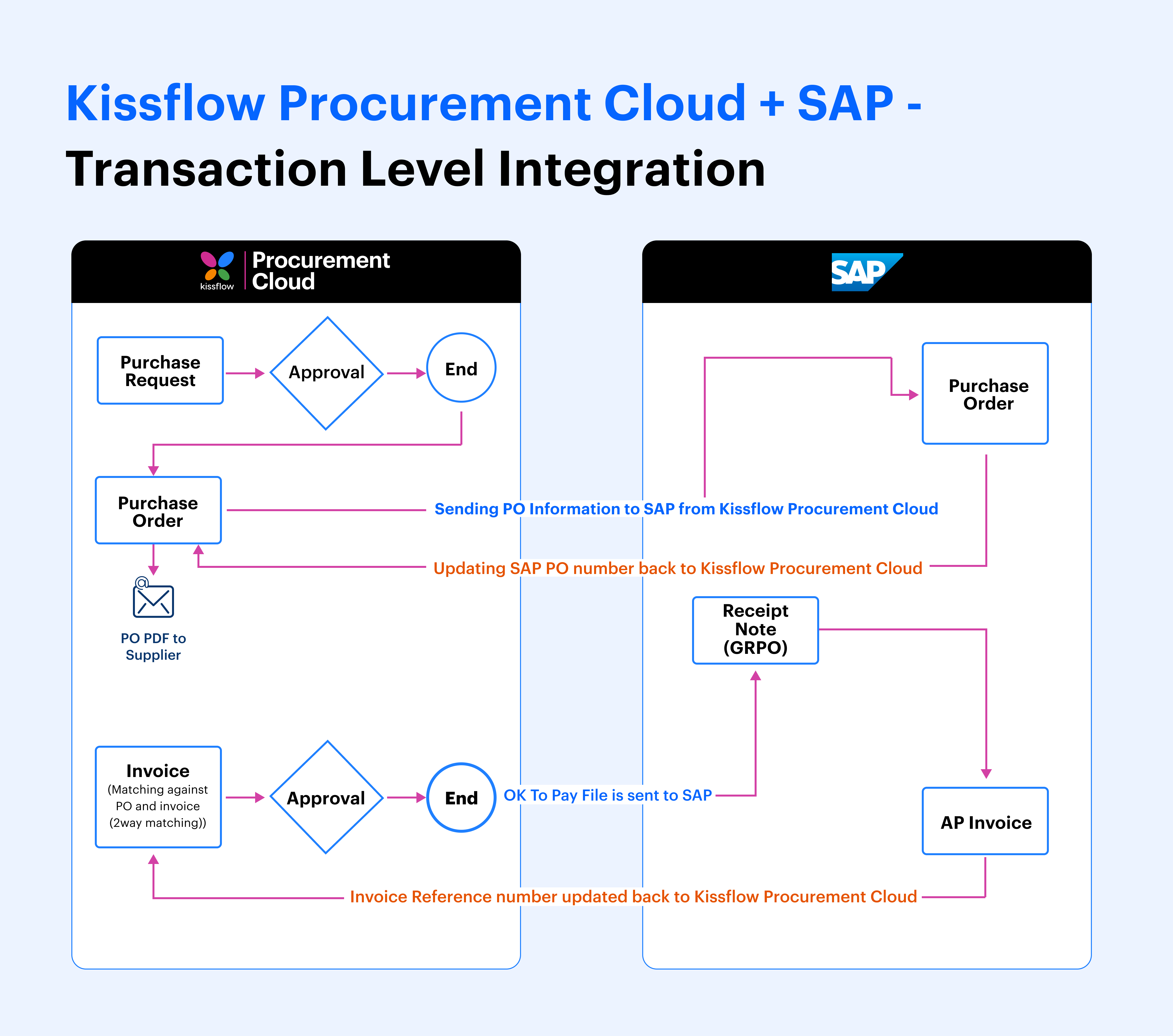 While vendor onboarding happens on Kissflow Procurement Cloud, the details about the supplier are pushed to the SAP Enterprise Resource Planning system. SAP ERP stores the information and the SAP Vendor Code is sent back to Kissflow through API by the SAP B1 team. This information is then stored in the Master data of KPC.
In terms of the P2P process, PR auto-flips to PO. Then PO data pointers are sent to SAP ERP and the PO ID is then sent to Kissflow through an API. Invoice and GRN also go through the same process. As a result, information about suppliers during onboarding, PO, GRN, and Invoice details exist both on KPC's platform and SAP ERP.
When an invoice is paid, KPC's system is notified, and a mail gets triggered from our system to the supplier informing the supplier that the payment has been made. Data exists in KPC and also in SAP ERP for reconciliation. Thus, enabling a 2-way synchronization.
C
onclusion
Among other things mentioned above, the Kissflow procurement cloud is effective for collaboration and monitoring. Its ability to design and automate end-to-end workflows makes things easier for procurement professionals and the organization. Its simplifies visualization and complex workflows allowing businesspersons to not rely on IT personnel to create and manage procurement modules in SAP ERP.
Enablement and integration of the Kissflow procurement cloud system do wonders and allow people who know the ins and outs of procurement to optimize this process accordingly to their unique organizational needs. The power of analytics and procurement transitions from a regular function gives an organization a competitive edge that leads cost efficiency and effectiveness, that too in a budget and a limited time.