With the rapid advancement in HR systems on the market that promise to make overworked HR teams' lives easier and data more accessible and streamlined, it is no wonder that many organizations are confused when it comes to choosing HR software to suit their diverse and constantly changing needs.
In this article, we will take a closer look at some of the main similarities and differences between human capital management (HCM) and other types of HR software, as well as how to identify the best HCM software solution to meet your organizational needs.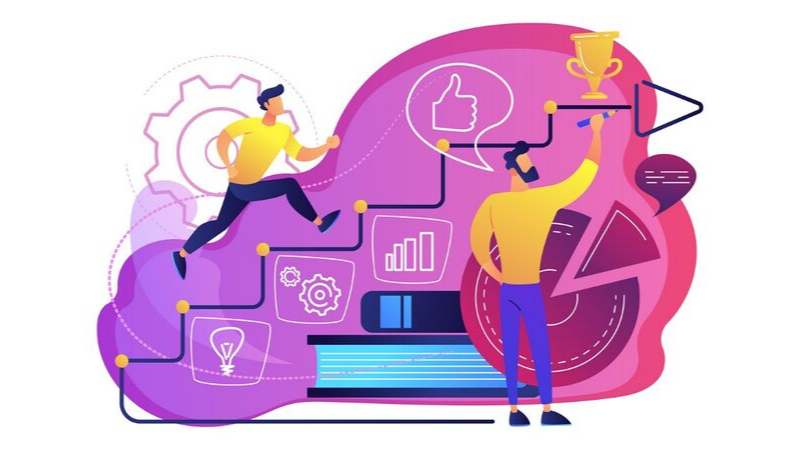 Understanding the role of HCM software in the HR function
HCM software is used to refer to a system of a set of digital tools or applications that aim to simplify, streamline and automate many of the administrative tasks within the HR function to make them quicker, more efficient, and more accurate. There are usually two aspects to HCM software – transactional, such as payroll processing, and transformational, such as talent management.
HCM vs. HRIS software—what are the main differences?
HCM software is not the only term that you are likely to come across if you are searching the market for an HR system to support your organization.
Human Resource Information Software (HRIS) and HCM are broadly similar in that they deal with the automation of the main HR processes of an organization. They also feature template documents, forms, etc. However, Human Capital Management usually adds an extra element to this functionality by also focusing on helping the organization achieve its wider goals through workforce and talent management. Human Resource Management Software (HRMS) is similar again, but often also includes payroll and time and attendance modules.
Let's take a closer look at some of the key features of HCM vs. HRIS.
Aims to relieve the administrative burden from the HR function, with modules such as payroll and tax compliance, recruitment,

time and attendance, and reporting
Includes all aspects of an HRIS but takes the functionality a step further to include human capital and

workforce management

capabilities. This could include planning for future workforce needs and how to achieve them through recruitment, development, etc.
Usually suitable for small- to medium-sized organizations
Popular with larger companies looking for a system to aid with

HR strategic management, as well as administration

Which is the best HCM software available on the market?
HCM software has made great advances over the last decade, with more choices available than ever before to suit a variety of business circumstances, such as size, industry, way of working, and even cultural fit. All of the choices have led to improved features and functionality at competitive prices, which is a benefit to the customer. However, the sheer number of options can be overwhelming.
Below is a short comparison among five of the top HCM software systems on the market:
1. Workday HCM
This HCM software is cloud-based and offers a number of key HR modules such as payroll, performance, recruitment, and time and attendance from a single easily accessible platform. In addition to this HR administrative functionality, it also offers clients a range of human capital management applications to support workforce planning, talent management, and recruitment automation. Workday HCM is fully scalable and therefore suitable for organizations of all sizes.
2. Kissflow HR Cloud
Kissflow offers its users a customizable HR software solution with a comprehensive range of HR modules. These features are designed to simplify and streamline HR tasks across the areas of performance management, time and attendance, and recruitment, to name but a few.
One of Kissflow's key differentiators is the extent to which it is fully customizable. It allows users to take template workflows and documents as a base and adapt them fully to meet the needs of their own internal processes. Kissflow HR Cloud also offers a range of pricing options on a modular basis, so that you can choose the features most needed by your business and bolt them onto a core package accordingly.
3. BambooHR
Bamboo HR is a cloud-based HCM software offering lots of core automation features perfectly suited to small or medium-sized businesses. Users can enjoy a range of features, and Bamboo's employee self-service function allows staff members to make time off and time management requests quickly and easily.
A highly customizable personnel management software, Bamboo offers two types of packages so users can choose the features that their business would benefit from the most. BambooHR will provide a free business needs analysis and subsequent customized quote to all new customers.
4. UltiPro
UltiPro is another cloud-based system offering a comprehensive range of HR features, with the key advantage that it is a very customizable and configurable system. It allows organizations to make substantial changes to the workflows to suit their own internal processes. UltiPro also has a great range of reporting features so that clients can analyze the data held within the system to identify opportunities to make improvements in weaker areas of HR operations.
5. Kronos Workforce Ready
This HCM software is a great choice for businesses looking to supplement the basic aspects of an HRIS system with a comprehensive range of HCM features such as workforce management. Kronos Workforce Ready is operated in the cloud using the most up-to-date and advanced cloud technology so that users can work quickly and efficiently while maintaining flexibility. It can manage the needs of the entire workforce effectively, from salaried employees to contract staff, across the whole employee lifecycle.
The final call: which is the best- HCM or HRMS?
When choosing the most appropriate HCM solution for your HR function, it is worth undertaking a wide-ranging analysis of your HR operations beforehand. This exercise will help you to determine whether an HCM or HRIS solution is best suited to you and which will add most value to your business.
Consider these factors:
Consider the scope of the tasks performed by your HR team and which activities would benefit most from being automated. For example, if your HR team spends a lot of time manually processing time and attendance requests, but less time recruiting or managing talent, an HRIS solution may suit you well. Alternatively, if your organization has a high staff turnover, the best HCM software might be one with advanced recruitment and workforce management capabilities.
Consider the extent to which you want to customize your HCM software.

For example, if your HR tasks are relatively basic or generic, a simpler HRIS system might suit your needs. However, if your organization has a number of complex processes that might need more sophisticated workarounds, a solid HCM software platform with a high number of customizable features may benefit you more.
The key element to consider is the fact that although many HCM software providers aim to cover all needs and types of business and HR structure, in reality, some specialize in different areas to others and have particular features, functionalities, and strengths. Aim to undertake a thorough market analysis exercise. Doing this will give you confidence that the HCM software solution that you eventually choose is the best possible for your organization's HR needs.

Related Articles: