Case management is a vital tool leveraged across various industries, including healthcare and legal services, but its potential in business and information management is equally impressive. For a CIO, understanding the key characteristics and applications of case management can be instrumental in optimizing business processes and driving efficiency.
Characteristics of case management typically include a defined goal, clear start and end points, non-routine and unpredictable actions, information gathering from diverse sources, coordination by a case manager, and crucially, the requirement for human judgment in determining next steps.
In the context of business and information management, case management can provide CIOs with a structured approach to handle complex, non-routine scenarios, allowing for better decision-making and improved outcomes.
What is Case Management?
Case management is the work involved in the processing of data and procedures that are relevant to the resolution of a case.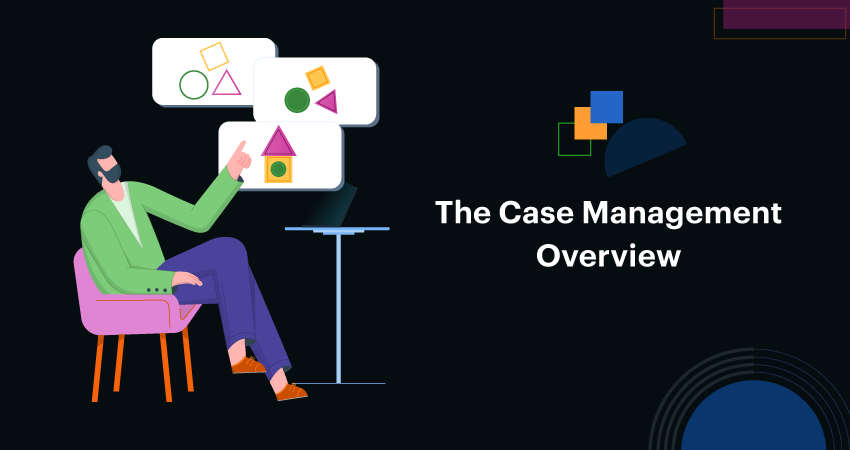 A case can be various issues depending on what service or product a business provides. It can be a service request that must be met, an issue that needs to be resolved, or an investigation that must be conducted. It can include contracts, claims, communications, reports, and other documents.
Case management provides a dynamic structure for executing non-routine, unpredictable business processes that require the coordination of multiple tasks and complex decision-making.
Although the case management definition and meaning may vary from industry to industry, it is widely accepted as a method of processing information and actions through electronic workflow and profound human thinking.
What is a case manager?
A case manager is a person who acts as a single point of contact pertaining to the case. They coordinate activities, track progress, and resolve cases from start to finish.
What is the role of a Case Manager?
A case manager is responsible for:
Raising tickets pertaining to the incident/case
Collecting information pertaining to the incident/case
Tracking tickets from initiation to resolution
Investigating the events of the case
Collaborating with internal teams and stakeholders
Communicating changes in request status
Making contextual decisions
Handling escalations
Using knowledge-based logic to drive swift case resolution
Logging and reporting data
Adaptive Case Management vs. Dynamic Case Management
Within case management, you will often see the case management terms adaptive case management (ACM) and dynamic case management (DCM). These two terms are very similar and, for the most part, mean exactly the same thing. Both describe a case management system that keeps the user in charge but lets the system work with the user to determine the correct path in the workflow.
Dynamic case management takes advantage of events that occur in the middle of the workflow to recommend or make changes in how the case is handled. Adaptive case management might also examine how a user handled cases previously and make a decision based on that information.
Case Management Workflow – How do they work?
Case management brings together different interfaces using management tools. It allows workflows and tasks to be acted on from a single user-friendly interface. There are several case management software solutions available for businesses. These enable businesses to manage unpredictable information-centric work.
The case management process provides a complete view of the information. Logging activities, delegating tasks, and scheduling events can be done in just one network.
It increases productivity by empowering employees to manage cases more efficiently. Dashboards can be used to show reports and case histories. These dashboards also allow for better collaboration that can lead to faster resolution of issues.
Even if activities occur in an unpredictable order, a case management system can sort them out and run them through the appropriate channels. A case manager or worker makes this possible by selecting the most suitable process after an event is recorded.
Benefits of Case Management
Case management enables businesses to make the right decisions that deliver optimal solutions to complex cases in the fastest possible time.
Some of the case management benefits are:
1. Decreased paperwork
Since all information and content are gathered and stored digitally, paper-based work is eliminated or, at the least, significantly decreased.
2. Less use of spreadsheets
Case management does away with confusing spreadsheets. All information is organized and managed in a user-friendly interface.
3. Quick access to information
An integrated system speeds up searching for information needed to resolve a case.
4. Effective collaboration
Having a single interface where all information can be easily accessed facilitates fast and seamless team collaboration for case management.
5. Efficient resolution of cases
A case management framework provides one solution to handle multiple cases. This increases productivity and efficiency.
6. Increased transparency
Case management workflow elements give rise to increased transparency in all processes.
7. Better record-keeping
Case management tools can keep a history of all case-related content, process events, and collaborations.
8. Expeditious reports through audit trails
With a comprehensive record of all processes and information, automated case management allows for faster reporting of trends, metrics, and analytics.
9. Personalized customer service using Case Management
Customers are provided a more personalized experience through analytics, live chat software, or messaging apps. Customer profiles can easily be pulled out so customer service representatives can properly address the needs of the customer.
10. Self Service Portal
Some case management systems can be used to provide customers with self-service portals that empower them to resolve issues on their own.

Examples of Case Management Use Cases
The case management approach applies to many work patterns. Among these are customer relationship management, investigative case management, service request management, and incident management.
It can be used to manage both business and system use cases. Either way, it optimizes the way an organization conducts its business processes. Modern organizations can use case management workflow technology to track these situations more efficiently.
Here are some more common case management examples:
1. Ticketing
Tickets are assigned quickly and properly tracked for responsive solutions.
2. Helpdesk
A central hub is created to handle customer questions and allow multiple personnel to respond without creating confusion.
3. Claim processing
Claims are processed and resolved without delay. Reports are also automatically generated for quick analysis.
4. Service requests
Service requests can be easily accessed, and smart alerts are sent to concerned people.
5. Customer onboarding
Customer onboarding is expedited through flexible but structured onboarding process routes.
6. Customer interaction
Customer engagement is tracked, and their experience is improved to increase satisfaction and retention.
7. IT Case Management service desk
Requests are systematically stored, managed, assigned, and fulfilled.
8. Lost and found
Establishments can design structured methods to retrieve and return lost items promptly.
9. Facilities services
Requests are managed and assigned methodically to ensure that nothing is overlooked.
Instant access to every bug status and priority is provided to authorized personnel.
11. Candidate assessment
Case managers can easily sort through and assess multiple candidates to streamline the hiring process.
Common elements in a case management process
A case management framework consists of what case managers need to know to effectively address the needs of their customers and bolster their support systems. Since each business is unique, the workflow and framework for each one should also be tailored to suit an organization's needs and processes.
Case management systems are highly flexible and customizable. This dynamic and adaptable structure allows businesses to coordinate multiple tasks throughout a series of complex processes.
Although frameworks vary depending on the needs of a business, there are key features in a case management workflow. Among them are:
1. Information gathering and organization
Information from various sources are collected, sorted, and organized either in a single database or in an integrated system of file storage.
2. Collaboration on a centralized interface
All information is made accessible in a user-friendly interface. This is where all elements are tied together. Knowledge workers check the status of issues, pulls out all pertinent information, and process them.
3. Decision making
Once information is processed, the personnel involved decides on the best course of action. Decisions can be based on automated rules or more on critical thinking.
4. Recordkeeping
Every action taken to resolve an issue is tracked for audit and compliance purposes. This makes it easier for both end-users and managers to understand the case history.
Why should organizations use case management?
If you already have process and project management, you might think, "Why case management too?" Case management is essential in the successful resolution of cases. By integrating data, processes, social collaboration, and content management, reasonable decisions can be made faster.
Aside from that, other considerable benefits using case management processes brings to businesses including:
A better understanding of customers
Customer profiles and interactions can be viewed and analyzed using customer case management software. This helps provide exceptional customer service and identify opportunities for improvement in customer engagement.
Quicker resolution of issues
Business productivity is significantly increased when issues are resolved immediately. Case management systems allow businesses to cruise through cases, improving their efficiency and increasing customer satisfaction.
Greater employee productivity and efficiency
Case management systems are usually cloud-based. This allows more mobility as users and managers can access the system wherever they are.
Case management can also be used to gather demographic information, business trends, and other analytics that can help improve business strategies to boost productivity and overall business growth.
Big companies often use powerful management tools and suites. These platforms enable multiple build teams, customized portals and user interface, advanced integration, scalability, and other advanced features. They allow full automation of workflow processes. However, they usually require a hefty investment in hardware and administration.
Smaller companies can avoid being overwhelmed by such big platforms by using more manageable tools such as Kissflow.
SaaS workflow automation tools like Kissflow Workflow contain enough workflow apps to streamline the processes of small businesses. Moreover, they are cloud-hosted and do not require additional investment in hardware. They also reduce additional costs that may be required when hiring new system administrators.
Whatever the size of an organization, case management enables knowledge workers to provide the best possible services to clients.
Smarter Case Management with Kissflow Workflow
Case management is a must for modern businesses. With more industries relying on technology, business processes are all becoming digital. Holding on to manual case management comes with its own issues and limitations. Businesses that use manual and outdated methods to handle cases and incidents struggle with consistency and overall productivity.
Effective case management can increase business productivity by equipping you with tools to make better decisions. It can foster team collaboration, expedite the resolution of issues, and enhance customer service. By following case management best practices, you can see a huge bump in the benefits gained.
Kissflow is a low-code platform that specializes in case management system. It helps businesses collect information, conduct thorough investigations, make smarter decisions, and drive swift resolutions. In short, the platform is a singular interface for all investigative workflows.