Case management is a process that allows companies to handle incidents, complaints, claims, investigations, and issues—essentially any kind of event that requires a knowledge-based approach as opposed to a process-oriented approach.
Case management helps organizations reach optimal results for clients. It's the coordination of business services to resolve a case, usually for an individual customer. More than ever, it plays a vital role in optimizing unstructured business workflow as companies strive towards customer-focused service delivery.
In 2023, the customer experience will replace products and price as a measure of brand success—a change that started from the advent of the social media age, particularly over the last decade. Customers now have the power to draw attention to a brand through online reviews and ratings. And as a result, companies today pay attention to improving their social media presence, building brand value and engaging customers for brand advocacy. For this, case management renews itself as a customer service strategy that will persist well beyond the next few years.
What Is a Case Management Tool?
The impact of technology has led companies to seek and apply mobility to their business processes. To keep up with changing trends, companies have employed the assistance of online case management software.
A case management tool is a software solution that allows organizations to automate case workflows and processes, store and access a great deal of client information, and drive case resolution for boosted customer satisfaction. Under this system, case managers can regulate cases without having to organize data using spreadsheets and paper.
Best Case Management Tools 2024
The popular case management tools enable personalized customer care, a smart self-service ability, and a cloud-based system that's compatible with all devices. Moreover, case handlers have access to the tool from anywhere and databases are available any time of the day.
Here is a list of the 5 best case management tools for 2024:
1. Kissflow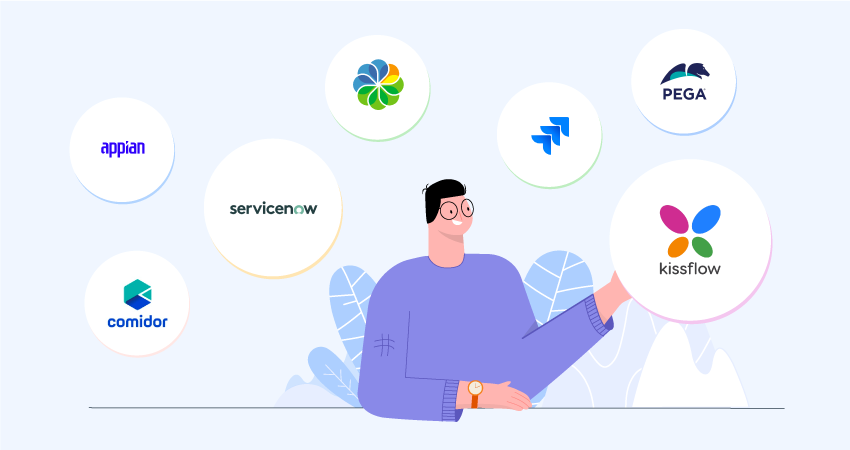 Kissflow Workflow is a cloud-based software platform that is designed with elegance and performance in mind. It adopts a simplified approach to the business process and allows users to manage all of their investigative workflows within a single interface. Imagine a helpdesk, service desk, bug tracker, complaint management, claims processing software all rolled into one. Moreover, Kissflow's simplified interface makes it popular among non-technical personnel. Users can now visualize, design, and implement complex case workflows without the need to code or rely on external expertise. They can even create an application for any given use case in just 15 minutes.
2. Appian
Appian provides a low-code development platform that combines work automation and data management. Its drag-and-drop functionality is convenient for users and creates solutions faster. Appian's most marketable feature is its ability to constantly transform applications in line with the shifting external factors.
3. Pega
Pega offers business process automation and aims to increase returns on investment by maximizing productivity. Pega also offers both low-code and no-code environments, which allow users to develop applications with ease. It further delivers a model-driven approach that produces a collaborative work environment. Well, to build a low code applications, Kissflow is the best alternative to the Pega Platform.
4. Alfresco
Alfresco is an open platform that controls the content, optimizes processes, and streamlines collaboration. Alfresco enables businesses to boost productivity, keep track of sensitive information and drive great customer experiences. With Alfresco's cloud-based software, users can manage content, drive context for users and deliver apps across devices.
5. ServiceNow
When it first started, ServiceNow focused on ITIL-based service management solutions. Now, it offers various cloud-based solutions to an array of industries. It promises to deliver digital workflow and drive every aspect of its clients' digital transformation. It also joins existing forces and competitors to provide a single view of all systems in a given IT service community.

Case Management Solutions Comparison
Ease of use
All five popular case management tools provide intuitive interfaces that are easy to grasp. As such, these allow users to navigate through the platform confidently. Some low-code platforms, such as Kissflow, Appian, and Pega, find favor among non-technical users as they require minimal coding knowledge.
Pricing
Pricing is often the determining factor for sealing the deal. Some case management software cost less. For instance, Kissflow charges $10/month per user and even offers a free trial for non-credit cardholders. Alfresco, which has a free version, typically offers custom quotes. Also, most of the case management vendors are offering a free trial to try out the tool.
Other systems are better investments for big enterprises. ServiceNow's Express version starts at a whopping $10,200/year. Meanwhile, Appian offers three pricing schemes: a free trial edition, an application edition that charges $90/month per user, and an enterprise edition that charges $180/month per user. Pega offers a special quote for every client, which starts at $200/month.
Customer support
Each case management software offers support during business hours. Alfresco and Appian all provide live support through phone and email. Pega provides support through phone and their online community. Kissflow, on the other hand, offers available support through chat, training, and tutorial videos. In addition to web and email support, ServiceNow also provides a support line that operates 24 hours a day for seven days for the entire year.
Which Case Management Systems Should I Use?
For many companies, choosing a case management platform is a big step. With a variety of tools out there, the right one depends on the demands of the enterprise.
For example, large companies can benefit from ServiceNow's scalable and efficient platform. The system, which is designed specifically for big enterprises, can withstand the pressures of the IT industry. Setting up the system alone already does 75% of the work.
Those who wish to develop software quicker with customized workflow could benefit from low-code platforms, like Kissflow, Appian, and Pega.
There are many case management tools out there and selecting the right one depends on your unique requirements. With Kissflow Workflow, you gain access to an elegant tool designed for performance and customizable to tailor-fit your business needs. Try Kissflow today.