Flexible Case Management Workflows
Introduction to Case Management Workflows
Day-to-day operations in every organization often involve processes that can either be structured or unstructured. Structured workflows are used to handle repetitive processes with steps and outcomes that are quite predictable. Because they involve steps that are consistent across various processes, structured workflows do not require any complex decision-making by knowledge workers. This makes it easier to organize them into a set of repeatable steps that can be deployed each time they are needed.
On the other hand, some processes lack the element of predictability. They are constantly evolving with the need to adjust to new information and such processes rely on data from multiple sources. Such methods require a flexible, unstructured approach.
Knowledge case workers are needed to evaluate case information and collaborate to handle these unpredictable processes. Processes like complaint management, customer support tickets, and bug tracking are examples of unstructured cases.
Why do You Need a Flexible Solution?
Most case management workflows that caseworkers have to handle don't follow the same pattern every time they occur. The only way to ensure such cases are handled efficiently and accurately is a solution that fits the needs of the business and doesn't require too much effort in terms of adoption.
The following are some of the reasons why a flexible case management solution is needed to handle an unstructured solution.
Every case is unique
In case management system workflows, the path to resolution is unclear because every case is unique. It is impossible to resolve cases using the same approach as a previous instance of the same case. Thus, a solution that evolves and adapts to these changes is necessary.
Non-linear paths
In a routine linear process, all the steps in the workflow are executed in a specific way because they are pretty predictable. Unstructured workflows don't follow a predictable path this way; there is more than one way to resolve a case like this.
New information drastically changes things
In unstructured processes, the emergence of new information changes how the case will be handled, the steps involved, and the eventual outcome. For instance, in an investigative case, it is impossible to determine the path to the case resolution until additional information emerges as the case is being resolved.
Influenced by case worker's bias or decisions
A knowledge-based process is heavily dependent on caseworkers who have to reason, make decisions and arrive at a solution based on information available to them. The outcome in most cases will depend on the caseworker and the information they can access. This is unlike process-based workflows with a fixed and definite path that can be followed to arrive at a predictable outcome.
Decisions need context
Since caseworkers have to make decisions as the case unfolds and new information emerges, there is a need for context at every stage of the process. A flexible case management tool that gives caseworkers into the past and present of every case will be quite necessary.
Timeliness is the difference between great and terrible service
To meet up with service level agreements and leave customers satisfied, processes have to be resolved as promptly as possible. How easily this can be achieved depends mainly on the flexibility and efficiency of the tool being used to handle the complex processes.
Inefficiencies need to be corrected over time
Although each new case will be handled a little differently each time, caseworkers can still gain insights about how future processes should be handled based on their knowledge of previous cases. A flexible workflow tool with robust analytics will make it easier to correct the inefficiency of processes with time.
Kissflow Makes Case Management Workflows Easy
Kissflow is a robust tool that simplifies case management workflows. While a case management workflow is highly dependent on the intelligence of caseworkers, they still need readily available data to keep cases in context. They also need a flexible tool that can handle extremely fluid workflows, collaborate seamlessly, and automate some steps of the process for faster and more efficient resolution.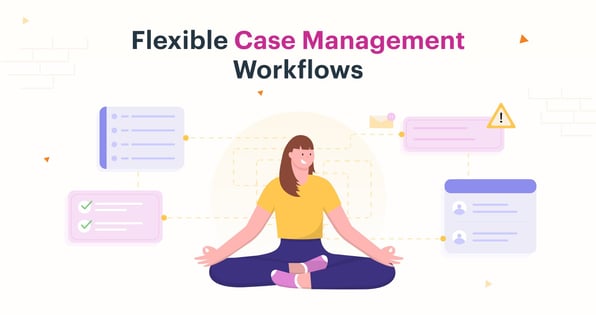 Here's how Kissflow makes case management workflow easy.
Multiple-use cases, one platform
Kissflow is an all-in-one platform suitable for handling various use cases, no matter their unpredictability. Agile deployment makes it possible to create apps specifically for each case with no code required.
Contextual decisions
With Kissflow, knowledge workers can always keep cases in context. The Kissflow case dashboard gives users access to real-time information about each case. Case-related data from multiple sources are stored in the central repository. This simplifies case monitoring and ensures caseworkers and other stakeholders are always aware of the context of every case.
Seamless collaboration
Kissflow is a team-friendly tool that simplifies file sharing, real-time updates, and task assignment, among other factors that help teams work together quite effectively. This is even more important for handling complex cases where inter-department and multi-team collaboration is needed for effective resolution.
SLA-centric operations
Kissflow makes case management a lot more efficient. Caseworkers can make quicker decisions that affect changes in real-time, and react immediately to new insights. All of these optimizes operations to keep up with SLAs and keep customers satisfied.
Flexible approach to different cases
Kissflow is a robust centralized hub for managing cases. But this single tool is versatile enough to make it efficient for handling different types of cases. The complex decision branches that are likely to emerge as each case unfolds can be handled seamlessly with a flexible tool like Kissflow.
Accurate documentation and action log
In handling complex cases, knowing "who is working on what" at every instance and having up-to-date information about where each case stands is necessary. Kissflow logs every user's action and maintains accurate records of every case and the steps executed so far in resolving them.
Insightful analytics for improved productivity
In addition to tracking the real-time progress of cases, Kissflow can be used to generate custom reports and analytics that will give caseworkers valuable insights into future cases and how they should be handled for optimal results.
Conclusion
Every organization has to handle both structured and unstructured workflows. Thus, the best workflow to optimize their business operations isn't one that can handle one or the other well, but one that is flexible enough to handle any time of workflow effectively, whether for structured or unstructured processes. This is precisely what Kissflow Workflow offers.
For a robust tool that handles both structured and unstructured workflows effectively, try Kissflow Workflow today.

More Resources
---