How to Create a Workflow Online From Scratch
KiSSFLOW
September 10th, 2018 • workflow
Creating a workflow online should be as easy as creating a spreadsheet, right Just load up a program and enter your data.
But it isn't always that easy.
The tool you are using might be missing key features, or you may create workflows that no one wants or knows how to use.
No matter what platform you use to create workflow processes, there are some basic principles you can use to ensure it is successful.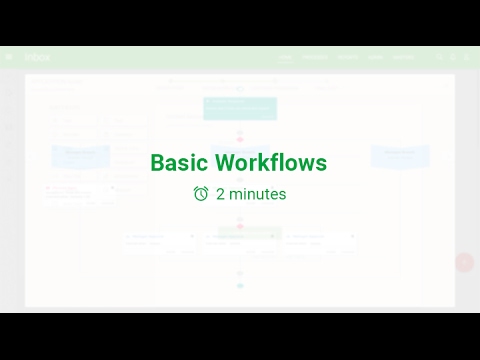 What is a Workflow?
Before you build a workflow, are you sure you understand what it is? Workflows can be mistaken for task lists or project plans. A workflow is a fixed set of steps and tasks that are performed repetitively in a specific order to ensure that a specific task is completed.
Before you look for a tool to create a workflow online, make sure you have a good understanding of the entire process from end to end.
Steps to create a workflow:
Identify your resources
List out the tasks that should be accomplished
Create a workflow diagram to visualize the process
Test the workflow you created
Train your team on the new workflow
Deploy the new workflow
By following these simple steps, you can create your own workflow for whatever requirement you need. Some tools like KiSSFLOW let you do this, without even needing to know how to code.
Create Your First Workflow
Start your 14-day FREE Trial with KiSSFLOW!
1. Identify Your Resources
Your first action is to find out how the workflow is currently handled. Is there a paper form that is passed around? Is a digital form emailed? How do people know where to send the form after they've processed or approved it?
When you create workflows online, you want to replicate and improve on what is existing. Creating workflows online brings some new advantages (like being able to link form fields to a master data set), but also some drawbacks. Some highly complex processes may be actually easier to handle manually rather than trying to create a workflow from scratch.
But your resources to create a workflow aren't just existing forms and standard operating procedures. It also means spending time with stakeholders to listen to their suggestions and complaints about the current path.
If you're automating a travel claim request, you'll need someone from the finance department to clear and validate the new process. Before you create workflows online for your team, make sure you've spoken with everyone involved.
2. List Out the Tasks That Should Be Accomplished
Start creating and listing out the tasks that need to be done in the workflow, and in which order. At each stage, think about the information that the task owner will need.
For example, when first submitting a travel reimbursement form, the initiator needs access to input the data from expenses. The manager who approves the request needs to see the data, but not edit it. However, they may have a separate field where they can justify approving only part of the expenses, but not all of them. When finance does the processing, they may or may not need to see all the reasoning and individual line items.
3. Create Workflow Diagrams to Visualize the Process
Now that you've identified all the tasks involved, you can create workflow diagrams. The workflow diagram will give you a visual representation of the entire workflow. When you create a workflow online, you should be able to use a drag and drop creator to make the digital version look just like what you sketched out on paper.
These diagrams can be as simple or complex as you need, but make sure that you have everything you need on them when you create the workflow.
4. Test the Workflow You Created
Once you've created the workflow, it's time to test it out. It may seem to work just fine, but it's important to test it out and see if it does as required. There will always be areas that you can improve and change. Use test data to make sure everyone is happy with the workflow you created.
5. Train Your Team on the New Workflow
Even though they know what you have been up to, when you create a workflow online, you'll need to train your team on the specifics of the tool you chose to use.
This training time will give you valuable feedback and help you improve the workflow. You can also use the diagrams that you made in the "create workflow" stage. This can help your team get a visual understanding of what the workflow is supposed to do and where each task is situated in the overall workflow.
6. Deploy the New Workflow
After training and testing, deploy the workflow with a small team to see how it operates in real time. Depending on the workflow's reach, you can either deploy it all at once or start small.
You can go back and create the workflow online again once you need a new requirement. If your team is looking for improvements, roll out new versions of the workflow and follow up regularly.
Conclusion
To create workflow diagrams and implement them can sound like a big deal, but with KiSSFLOW's no-code platform, anyone can create workflow processes. Try it today to see if KiSSFLOW is the right tool for you to create workflows online.
Automate Work. Reduce Chaos.
Get a Free 14 Day Trial With KiSSFLOW!
x