Think about how work happens in your team. You have a solid plan for your project, but is it always smooth and peaceful? Probably not. Someone initiates a task or approval and then follows a long road of confusion and chaos lurking around each corner.
The only fix that can eliminate chaos and get to your goals faster is to streamline all your tasks in a workflow. Good workflow management helps you get there. When you build, automate, and manage workflows effectively, you understand the whole picture with each and every step clearly.
Workflow management systems help you streamline workflows and make processes easier.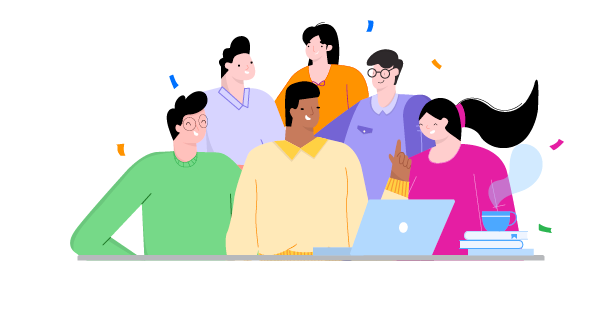 Benefits of workflow management systems
Here are 7 benefits workflow automation can bring you.
1. Reduced errors
Operating with zero errors is impossible. But being proactive in identifying and setting errors right is something you can work on. With workflow management systems, it is easier to prevent errors from occurring in the first place. And if they happen, your system pinpoints the exact location. You can work out the kinks and prevent the same errors from happening again.
2. Improved connectivity
Workflow management systems connect multiple entities–people, software, and work culture. Employees have communication tools to connect with each other. But what about their work? Work should be equally well-connected to enable high productivity.
Integration between software systems is critical in IT infrastructure. A workflow system draws data from different software tools and runs workflows between them. Most tasks need employees to use more than one application. Workflow systems function as facilitators that pass the baton.
Data on how work happens is slowly pooled in a workflow management system as you use it more and more. You can use the data to improve workflows. Prevent errors and build stronger connections between people and software.
3. Increased productivity
Employees feel the difference before and after you implement a workflow management system. Since all workflows are automated, teams save a lot of time sending emails and updating information in multiple tools. Employees don't need to wait with crossed fingers for approvals to reach them. They can track the progress in the workflow system and stay in the loop.
Are critical data missing in an approval? Employees can send it back to someone in the previous step of the workflow and even communicate contextually within the tool. Information is not stuck in a heap of out-of-context emails. Everything happens quickly and smoothly.
4. Redundant manual tasks eliminated
According to this study, repetitive tasks cost $5 trillion a year globally. Office workers spend an average of 69 days per year on mundane tasks. Imagine the amount of productive time you gain if that time is spent doing other tasks that need human attention.
With workflow systems, pre-defined business rules do the job for you. Configure the system to trigger steps based on conditions to automatically delegate tasks. For example, if you have a budget approval at hand, you can map the workflow for approvals to reach the right job roles.
5. Multiple tasks juggled easily
Whether you want to onboard multiple employees, manage IT requests, run internal surveys, raise marketing content requests, or approve travel reimbursements, everything is under one roof.
Requests are neatly organized according to different processes in one workflow system instead of multiple project boards, chat tools, and emails. You can switch between a purchase request and travel reimbursement request in the same tab. No confusion, no delays.
6. Increased trust, transparency, and control
Micromanagement is greatly reduced. The duties of each job role are crystal clear with defined goals. Employees are informed on what they need to do, managers are comfortable delegating ownership over tasks.
Workflow automation squeezes out shadow tasks. Everything happens out in the open, with more control over data accessibility than before. Admins can choose to display or hold back sensitive information to specific job roles or teams.
7. Improved work culture
With many companies working remotely, there's already enough emails and messages going around. A workflow tool helps keep work organized and trackable. Employees are more collaborative and goal-driven.
Workflow management has the potential to evolve into a company-wide practice that gets engraved in a company's work culture. When everyone is sold to the idea of structured and streamlined processes, you meet your business goals faster.
Try automating that frustrating process
Everyone has that one process at their workplace that is always out of line and chaotic. Try taking it into Kissflow Workflow and automate that process. Analyze the performance of the process before and after automation. See how automation does the trick.
Any process can always be more streamlined and efficient. Constantly collect data, analyze, and optimize processes with workflow management systems. Keep processes in their best health, run smooth and tension-free projects!