Workflow Automation
An 8-Step Checklist to Get Your Workflow Ready for Automation - Workflow Checklist
Once you've established why you want to automate your workflow, it's time to pick your first process and get it ready for automation.
How to Choose a Great First Process to Automate
Just like you wouldn't start climbing Mount Everest as a new rock climber when you start automating workflows, you want something that is doable and doesn't have deadly effects if it fails. Here are some ideas to keep in mind.
Don't choose something mission-critical. You don't want to start with a process that involves external customers or one that maps out your entire inventory stocking process from start to finish. Ask yourself – "How bad would it be if this workflow automation failed?". For your first process, choose something where the stakes are low.
Don't choose something heavily integrated with other software. Simple integrations with Google Apps are fine (like adding an event to a shared Google Calendar) but don't start with processes that involve systems sharing a lot of data back and forth.
Choose a process with a clear endpoint. We love talking about complete apps that take full advantage of automating workflow, but when you are just starting, it's okay to have the process stop at its most logical place.
For example, you could extend a purchase order to include invoice payment after the item is received. However, for your first automated workflow, you may want it to end with processing in procurement.
Choose a process that will show a clear win. The benefit of your workflow automation should be obvious to your team and others.
Choose something you can fix on the fly if needed. Some processes, like a timesheet approval linked to payroll, need to be nearly perfect from the moment they're started.
It's best to choose something that you can edit quickly without affecting the regular flow of business and money.
8 Workflow Checklist to Automate Processes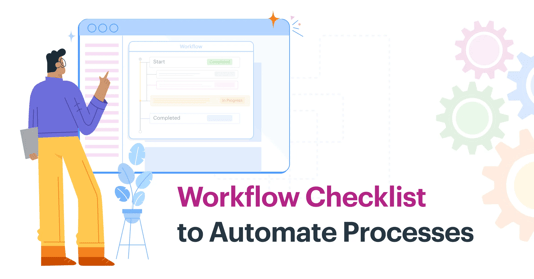 Here is the 8 steps workflow checklist to automate processes:
1. Identify the process owner
2. Keep the 'Why' in mind
3. Get the history
4. Diagram the workflow
5. Gather data about the unautomated process
6. Talk with everyone involved in the workflow
7. Test the automation
8. Go live
How to Automate Processes?
Here is how to prepare your automated business processes:
Once you have chosen the process, it's time to get it ready. This process can sometimes take a lot longer than you might think, but it's better to get it right the first time.
Here are the 8 workflow checklist steps to automate processes:
1. Identify the process owner
This person needs to have the authority to make changes to existing workflows. As you prepare your business workflow, you will undoubtedly come across situations that require a clear definition that may not have existed before.
Do vacation days get updated on the first of the year or the date of joining? The process owner needs to be able to clarify situations involving grey areas like this if they aren't already documented. One side effect of automating a process is that it usually becomes much more defined than it previously was.
2. Keep the 'Why' in mind
Remember the goal of your automation. Are you trying to save time? Save money? Track items better? Reduce paper forms? Take more work off someone's plate? Don't try to do it all and keep your primary focus at the front.
3. Get the history
Ask the process owner how this workflow was managed in the past. Have there been any significant changes in the last year or two? Why? Workflows can often involve office politics and departmental boundary lines, so don't make assumptions you aren't sure about.
Don't worry about rejections and exceptions at this stage. Just map out the flow than 95% of items will follow. Think through whether you'll need parallel workflows, or if you want to add in certain conditional tasks.
Keep the workflow as minimal as possible. You can always add tasks later on if you need, but a shorter workflow gives you a greater chance for success. Enter the information into your workflow management software.
5. Gather data about the unautomated process
The best way to demonstrate the effectiveness of your automation is to compare it with the manual version. How many people are involved? How long does each task typically take? How long does the entire process take? Without clear control data, it will be hard to make the case that your automation is making a difference.
6. Talk with everyone involved in the workflow
Ask each task owner for the exact information they want to see. Don't bombard people with more data than they need to see.
7. Test the automation
Start by setting all of the tasks to yourself or to the initiator. Make sure that all of your conditional paths, parallel branches, sequence numbers, and formula fields are working correctly. Run several items of different types to make sure it follows the path you want them to.
8. Go live
Keep a close eye on your process at first and ask people to confirm that they have access to the data they need.
Time to Start!
The best way to get better at business automation is to do it with Kissflow Workflow. If you follow these steps, you'll be able to automate any basic process. As you get comfortable with automating your workflows, you can start to optimize and create more advanced workflows.