What's the most overlooked strategy when it comes to improving productivity? Workflow management.
But isn't that pretty simple? Just blocks and arrows and whiteboards, right? Well, it can be that simple. But that's the kind of manual thinking that got you in the mess you are in.
Every workflow involves a series of fixed or conditional tasks, a bunch of stakeholders, and heaps of confidential data. When all this is handled manually, there is a high chance of tasks slipping through the cracks and employees missing key steps. Down the road, it can lead to more severe problems like compliance issues, policy violations, and more.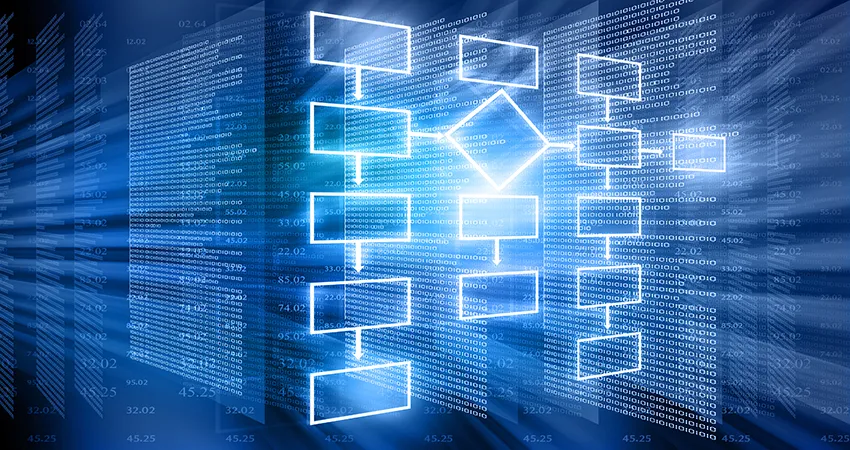 What you need is a digital workflow that can route all of your requests, no matter where the approver is located. That is exactly what cloud workflows do. Cloud-based workflows drive extreme productivity by taking your workflows online.
What is web-based workflow management?
The web based workflow software is a type of software that is accessed through a web browser on a device with an internet connection, rather than being installed on a local server or computer. This type of software allows users to access and manage their workflow tasks and processes from anywhere, as long as they have an internet connection and a web browser.
What are Cloud Workflows?
Cloud workflows automate repetitive tasks in a reliable way and can convert manual processes to web-based digital workflows that eliminate paper forms and manual data entry. Using cloud-based workflow solutions, organizations can reduce manual steps and improve the efficiency of their workflows rapidly at a considerably lower cost.
Cloud-based workflow platforms are already designed and hosted on the cloud by service providers. All you need to do is subscribe to their services, login, customize the workflow, and start using it. While it may look like a huge leap, moving to a cloud workflow software has its own advantages.
Top 10 Reasons Why You need a Cloud Workflow Software
Here are 10 reasons why you need a cloud workflow system now:
As manual techniques and legacy systems keep crumbling steadily, the advantages of moving your workflows to the cloud are stacking up so fast that ignoring them would put you at a huge disadvantage.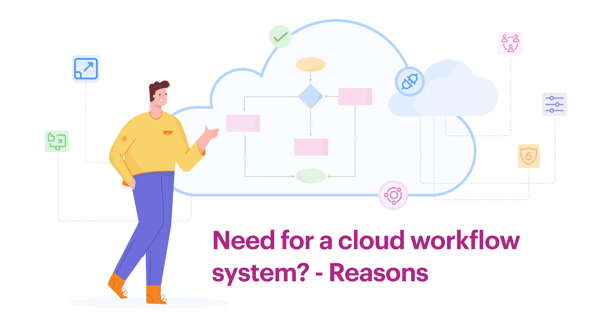 Cloud workflows are:
1. Scalable
Cloud workflows allow organizations to meet business demands quickly (by scaling up/down when required) without a costly upgrade. All you need to do is upgrade your subscription plan and the service provider will take care of the rest.
This flexible nature of cloud-based workflow management solutions makes them a better alternative to purchasing a brand new solution or building your own workflow software.
2. Customizable
Legacy systems don't give you an option to customize the processes. As a result, you are forced to fit your processes around their limited functionalities. You will have to find manual workarounds to make up for the missing features.
Unlike on-premise software, cloud workflows aren't complex to customize. Most cloud-based workflow software use drag-and-drop visual builder tools for customization. Even business users can tweak any functionality and tailor a unique process flow that meets their business needs.
3. Centralized
Manual workflows depend too much on filing cabinets, while the data in legacy systems are stored on a local drive. Cloud workflows, on the other hand, allow stakeholders to access necessary files without the hassle of maintaining paperwork bundles and stand-alone software.
All essential paperwork is stored in a centralized database securely. Cloud-based workflow products maintain a single system of record so that any changes made to the data will be visible to all stakeholders in the process chain.
4. Less Dependent on IT
The complex and inflexible nature of legacy software places too much burden on the shoulders of their IT team. From installation to customization and bugs, the IT team needs to pitch in for every issue with the new software irrespective of their existing workload.
However, cloud workflows improve the time-to-market considerably with their rapid installation and deployment hassles. As they pass on the hosting and software maintenance responsibilities to the third-party, there is less dependency on the in-house IT team. With cloud-based workflow tools, business users can develop their own workflows without prior coding experience.
5. Easy to Integrate
Stand-alone workflow solutions are disconnected pieces of code that stand apart from the rest of the software solutions. Cloud-based workflow management solutions like Kissflow integrate seamlessly with other applications through API integration.
This rapid integration functionality of cloud workflow software eliminates data silos and decreases redundancy, allowing organizations to access all essential information on a single interface. Any modifications made in one software will reflect instantly on every other connected system without human intervention.
6. Secure
When they hear the word cloud workflow, the major concern every organization battles is the security. They are concerned about storing confidential data on a remote server. Is the data visible only to authorized personnel? What stops someone from hacking it all?
Cloud workflows come with an array of security aspects like role-based accessibility, conditional visibility, data encryption and more to ensure confidential data is not compromised. Sensitive documents are accessible only by those who have been explicitly granted permission to do so.
7. Accessible Anywhere
Legacy workflows chain stakeholders to their desks in the office, which means that the data can be accessed only within the intranet, or it would demand a specific network key to grant further access.
Cloud-based workflow systems allow the authorized personnel to access data on the run. As cloud workflows are multi-channel compatible, even when an employee is on the move, he/she can fulfill their responsibilities in the workflow by accessing it from anywhere, on any device.
8. Reliable
When organizations manage their own servers, they tend to be prepared for server crashes and software failure. While it is expensive, they have a backup in place for and when something goes awry.
Cloud workflow solutions provide a more reliable and consistent experience with their robust features. The majority of service level agreements back up the 99.99% uptime promise. The timely and guaranteed delivery of service is taken care of the service providers and the cost are covered by the monthly subscription fee.
9. Hassle-Free
The major benefit of a cloud workflow solution is the way it shifts the software management responsibilities from in-house teams to the third-party service provider. Although people like technological solutions and how they simplify their day-to-day activities, no one is fond of software updates as these increase downtime.
Cloud-based workflow software demands neither your time nor your money to keep your workflows up-to-date. Update patches are run automatically on the platform without adding to the downtime. Service providers schedule regular updates during the time where the product is used least to ensure their SLAs don't take a hit.
10. Collaboration-Friendly
Be it across the hall or across the country, cloud workflows make collaboration easy and remove the hassle of jumping back and forth to obtain necessary data. Stakeholders don't have to toggle between interfaces or messaging apps to collaborate with others in the process chain.
The digital checklist and automated process flow coupled with centralized documentation ensure that the right information is passed on the right person at the right time irrespective of their physical location.
Cloud-based vs Web-based Workflow Software - Which is best?
Web-based workflows offer many benefits like process optimization, productivity gains, and operational efficiency. One of the main advantages of web-based workflow software is that it can be accessed from any device with an internet connection, which can increase productivity and flexibility for employees who need to work remotely or on the go. However, it may have limited scalability and security compared to cloud-based workflow software.
Cloud-based workflows offer easy accessibility to users, letting employees work from anywhere. This is primarily essential in hybrid work environments.
Cloud-based workflow platform can be made more flexible to your business need than the web-based counterparts. They can be customized and automated according to your business operations, saving time and money, and improving your overall operational efficiency.
Top 5 Cloud-based Workflow Tools 2023
1. Kissflow
Kissflow is a cloud-based service platform that lets business users create, model, and deploy business process apps without the need for coding using a visual editor. It empowers non-developers design workflows that they are familiar with.
Users can easily define workflows with sequential tasks and get notifications and analysis for the chosen metrics. Kissflow is integration-friendly and connects with commonly used business apps with its powerful REST APIs. Pricing plans start at $15/mo. See all plans.
2. Nintex
One of the best-known workflow tools designed for intelligent process automation, Nintex can automate and therefore optimize the processes of collaboration and content management platforms.
It integrates content making way for seamless collaborations between team members. Nintex also offers flexible pricing schemes for small, medium, and large businesses.
3. ProcessMaker
A solution designed for approval-based workflows, ProcessMaker enhances and streamlines the flow of data through systems and tasks. This is one of many open source workflow tools and makes for an affordable option to model approval-based business processes.
ProcessMaker is known for its low overhead, and its light and efficient approach. Features include user management, dashboards and KPIs, responsive form designer, and output document builder.
4. bpm'online (Creatio)
With a highly interactive user interface, this is a suite of workflow tools. bpm'online takes care of sales, leads, and accounting operations.
This tool's emphasis on ease of use means that it comes with WYSIWYG process designing tool and collaboration-specific features like file sharing and communication between team members.
The entire system is designed for customization. You can deploy it either as a cloud-based service or on premises. You can choose to buy one or more of products in bpm'online's 3-product suite.
5. Flokzu
Flokzu is another key player in the low-code workflow tools space. It uses the older BPMN system and lets users model processes using a drag-and-drop interface. Note, though, that this can be a bit of a steep learning curve if you aren't familiar with BPMN.
With Flokzu, users can manage time, tasks, deadlines, rule-based processes, and notifications without having to do any coding. Processes can be deployed quickly after they are modeled.
Ready to Move Your Workflows to the Cloud?
When workflows are handled manually, everything from visibility to efficiency and accuracy goes for a toss. Legacy workflow products are not much better. Although the move from existing workflow solutions to cloud-based workflows appears daunting, the shift, if done properly, can be well worth the time and effort.
Moving your workflows to the Saas workflow using Kissflow will reduce the cost associated with implementation, maintenance, and training. With Kissflow, organizations can automate their workflows without going into the trouble of developing a brand-new solution.
You don't have to take our word for it. Try Kissflow Workflow (#1 SaaS Workflow Tool) for free (no strings attached) and see how cloud workflows can change the way you work.