Best Workflow Tools in 2023
What Are Workflow Tools?
Workflow tools are the business user's answer to BPM (Business Process Management) software because they are a human-centric approach to managing and automating common business processes. These tools are generally designed to require less coding and programming, letting the people closest to business processes use them.
But not every workflow tool is built the same. Common features like cloud integration and the ability to co-exist with other automation applications are given a different level of priority across various workflow management tools.
Top Workflow Management Tools 2023
Here are some of the best workflow management tools: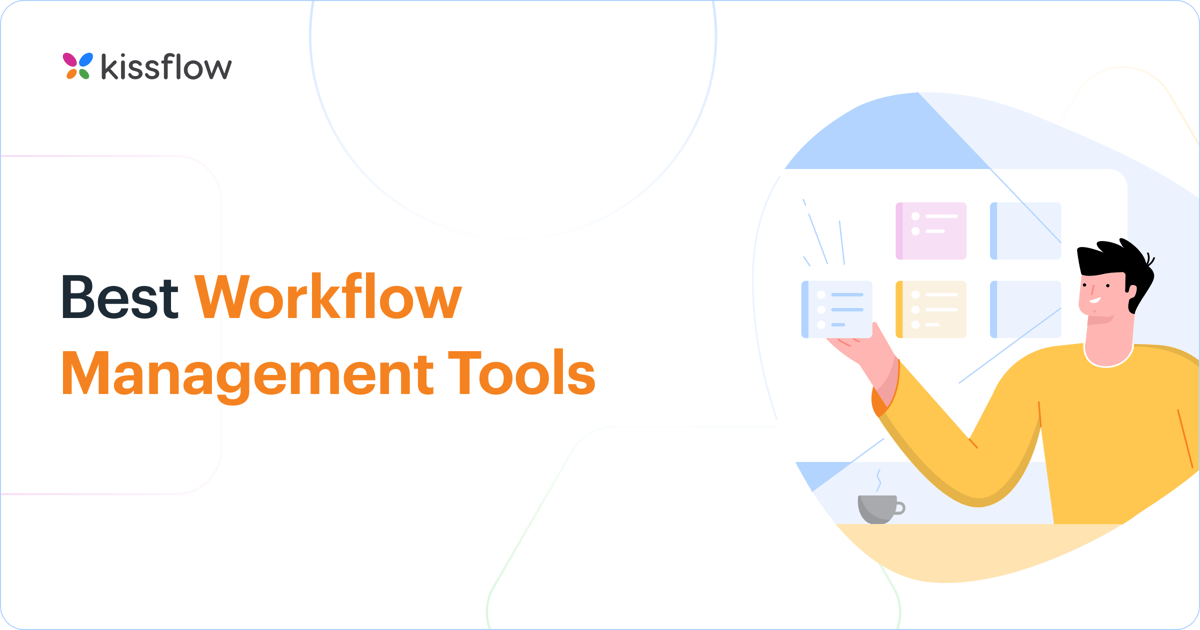 1. Kissflow Workflow
This is a cloud-based workflow platform that lets business users create, model, and deploy business process apps, all with very little to no coding knowledge. It follows a lightweight approach compared to other workflow tools, empowering non-coding team members to design workflows that they are familiar with.
Kissflow doesn't use BPMN 2.0 notation like some of the other options, but rather relies on an intuitive visual workflow builder that you don't need any training on.
This workflow management system offers a simple visual interface, with drag-and-drop features that let you create things like pre-populated fields and tables to design logic-based forms. You can also define workflows with sequential tasks, and get notifications and analysis by chosen metrics. Kissflow Workflow is integration-friendly, though most integrations will either have to be hand-crafted or done through Zapier.
Kissflow users get access to KPIs, user management, dashboards, ad-hoc reports, ease of use, and easily affordable pricing plans.
G2 Leader Summer 2022 –4.3 / 5 (500 Reviews)
What Customers Share About Kissflow Workflow Reviews: Our previous system was so difficult to use that we lost a lot of potential candidates. They didn't want to go through the process because it was so cumbersome. – Griselda Juve,Olympus
2. Nintex
One of the best-known workflow tools designed for intelligent process automation, Nintex can automate the processes of collaboration and content management platforms. Content is available in multiple formats and from various sources; Nintex is adept at routing it to right recipients.
This workflow management tool can optimize processes, integrating content and making way for seamless collaborations for team members. The people-driven design helps users easily streamline processes.Nintex also offers flexible pricing schemes for small, medium, and large businesses.
Its Office365 version lacks a significant number of features that come in the on-premise version. There are also some niggling issues during integration with tools like InfoPath, as batch background operations cause lag. Nintex also has issues with how long it stores data for users and non-developers will have a hard time using it.

3. ProcessMaker
A solution designed for approval-based workflows, ProcessMaker enhances and streamlines the flow of data through systems and tasks. It uses BPMN 2.0 notations to depict processes. This is one of many open source workflow tools, and makes for an affordable option to model approval-based business processes.
ProcessMaker is known for its low overhead, and its light and efficient approach. Features include user management, dashboards and KPIs, responsive form designer, and output document builder.
Like Kissflow,ProcessMaker also features a drag-and-drop interface that enables business analysts to model (approval-based) workflows. However, when the workflow gets even a little more complicated, ProcessMaker's simple approach isn't the right fit. Reports need plugins, which come at an additional cost, and the BPMN 2.0 notation is hard to adapt to if you aren't used to it.
4. bpm'online
With a highly interactive user interface, this is a suite of workflow tools. bpm'online takes care of sales, leads, and accounting operations. This tool's emphasis on ease of use means that it comes with WYSIWYG process designing tool, and collaboration-specific features like file sharing and communication between team members. The entire system is designed for customization. You can deploy it either as a cloud-based service or on premises.
You can choose to buy one or more of products in bpm'online's 3-product suite. However, you can't buy the specific modules you need, which dampens some users' enthusiasm. It's also primarily a CRM tool rather than a workflow tool, so a few use cases might be disappointing.
5. Flokzu
Flokzu is another key player in the low-code workflow tools space. It uses the older BPMN system, and lets users model processes using a drag-and-drop interface. Note, though, that this can be a bit of a steep learning curve if you aren't familiar with BPMN. In that case, you're better off with an intuitive visual-based tool like Kissflow.
With Flokzu, users can manage time, tasks, deadlines, rule-based processes, and notifications without having to do any coding. Processes can be deployed quickly after they are modeled.
Conclusion
Business processes being a vital element of your operations, must be managed and controlled effectively before they start controlling your business. Even though there are many workflow automation tools in this competitive market, there are very few workflow tools that possess high-comprehensive features. Make sure you look for features that these five top workflow tools have, and you'll have a reliable solution for managing business processes.
Explore the opportunity of enhancing your business processes withKissflow Workflow– a simple yet powerful tool.
More Resources
---