A workflow is a step by step breakdown of how work is carried out and outcomes are achieved. It's a sequential outline of all the tasks that are carried out, the human interactions that are made, and generally how work flows from the start until a desired outcome is delivered.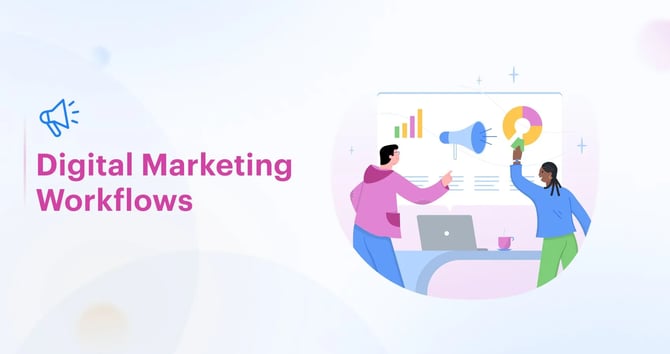 What is a Digital Marketing Workflow?
A digital marketing workflow refers to all the tasks and activities involved in achieving a marketing goal. A digital marketing workflow can be used to publish a blog post, schedule a social media post, create a lead capture eBook, etc. A robust digital marketing workflow automation tool helps the marketing team to achieve their desired results better and faster.
What is Creative Workflow Management?
Creative workflow management is essentially the process of optimizing the steps involved in the creative process—from creating concepts, delegating tasks, execution, and tracking progress. A creative workflow not only ensures smarter execution but helps in improving the way creative teams manage their time and resources.
In that context, a digital marketing workflow is simply a breakdown of the tasks and input that goes into achieving a marketing goal. Whether it's for publishing a blog post, scheduling posts on social media, or creating a lead capture eBook, marketing workflows help to:
Create and run marketing campaigns at scale,

Replicate a successful model time and again, and,

Simplify the creative process for your team.
Marketing workflows make it possible for any team to deliver creative marketing targets without having to start afresh every time. They unite the entire team around an easy-to-follow model that can be reused over and over.
In this piece, we explore how you can create and run marketing workflows with ease, in order to consistently get great results without having to start from scratch.
Use Cases of Workflow Management in Marketing
Workflows offer an easy-to-follow, repeatable framework for carrying out creative tasks. With them, you can coordinate entire teams, manage projects from start to finish, and keep every team member engaged throughout the duration of the project.
Here are 3 use cases where you can apply workflows to simplify your marketing.
Social Media Marketing
In our social media-driven world, it's easy to take the countless volumes of content that brands and businesses put out to attract, engage, and convert potential users for granted. Except if you work in marketing.
Workflows can go a long way in developing a successful system that consistently drives better social media campaigns and engagement.
Great workflow management is required for successful social media management since you'll need a cohesive system for managing:
Content ideation, i.e. creating, vetting, and developing content ideas,

Content creation, which will involve several stages of creative input, reviews, and back-and-forth between relevant stakeholders,

Designing images, brand assets, and other collateral that'll be shared to support your campaigns,

Scheduling to the numerous channels you publish to,

Analytics and performance review for future campaigns.
Workflow management offers a cohesive solution for managing the numerous tasks (each with many other branches) involved in running social media marketing successfully.
Content Marketing
In the golden age of information, content is king, queen, and the trusty old kingmaker. Great content distinguishes your brand in the crowd, educates your ideal customers, answers their burning questions, and gives them a reason to convert.
Oh, and great content is also very demanding to make. After all, if all it took was 200-word blog posts to start driving results, everyone would be there, right?
Here's where workflow management comes in again. It helps content-driven business organize the moving parts of their strategy, ranging from:
SEO keyword research,

Competitor analysis,

Content gap analysis, for determining where you need to grow,

Content writing, the stage where the blogs, articles, white papers, and ad copies get written,

Content editing,

Meta optimization and SEO improvements, as well as

Content publishing and campaign review.
SEO/Search Engine Marketing
With Google pushing major algorithm updates at least 4x yearly, it takes an actionable approach to SEO to stay anywhere near the first page. More specifically, it takes a lot of effort to create and optimize content that'll get seen by your potential customers.
And if you guessed that all that work can't be managed or with an Excel spreadsheet, you're right. Workflow management offers an ideal avenue for managing the countless tasks involved in keeping web pages optimized so they can stay visible on Google.
All in all, workflows are the soul of great marketing campaigns. They make it easy for large teams to coordinate projects with 100-percent transparency into the project management process and replicate their success based on a definite framework.
Why workflow management for marketing?
Workflows save you from having to start from scratch, but rather, help you manage your work based on a framework so you can replicate your success at scale.
Besides that main USP, they're several other reasons why workflows are a great booster for your marketing. These include:
Simplified collaboration
Workflows break work down into the steps and sequence needed to get it done. And that's their most significant benefit.
With a workflow for managing your marketing processes, you no longer have to manually organize tasks or wonder who should make their input next. Instead of trying to coordinate everything from scratch, workflows offer a pattern that can be followed to get a desired outcome every single time.
A well-designed workflow outlines what should be done at every stage of a marketing project and therefore, members of your marketing team won't get stuck making decisions on the fly.
Maybe a blog post needs to be reworked, or copy for an ad has been completed and now needs to be designed? Workflows make it easy to take the next decision that has been built into your workflow management system. With a few clicks, a marketing project can be moved from one stage to another without friction or having to manually put two and two together about what next should be done.
Workflows simplify work by determining how work flows.
Automating creative processes
One of the biggest hurdles to jump in marketing is the creative element. Whether it's writing a blog post, creating a Facebook post, or a guest post, successful marketing requires a good grasp on creative processes so they can be applied time and time again.
Here's another place where workflows come in.
Instead of memorizing the steps your team took to create and publish that best-performing blog post, you can create a workflow that includes the steps you took, the tips you applied, and all the input that delivered an outstanding post. That way, once the blog post workflow is launched, the creative process flows through all the relevant stages from A – Z until it's complete.
Improved speed
With a specified outline for carrying out repetitive and creative tasks, you get an interesting outcome.
You spend less time getting work done because now, you can simply replicate your input from previous projects.
Workflows package the creative and technical parts of marketing into a well-oiled machine that can be flipped on, run through pre-planned steps easily, and repeatedly get high-quality results.
Improved accuracy
Working with a step-by-step system for managing the numerous tasks needed for a project helps you get your work done faster. But similarly, since the workflow is designed and gradually improved to work around errors or friction points the team notices, the team can do better work every time.
Workflows provide a laser-sharp blueprint for delivering projects from start to finish and make it easier to succeed since you're working off a well-defined outline.
How to run your marketing workflows the Kissflow way.
Here at Kissflow, workflows are a huge part of our marketing success.
Carefully-designed and executed workflows have helped us—
Grow a community of engaged users,

Drive organic growth for several products in the BPM niche,

Consistently drive organic traffic to our blog (10k+ visitors per month)
Workflows supercharged our marketing, helping us to simplify the engagement and conversion of potential users of our products.
Specifically, in our content marketing and creative process, a tailored workflow has been the key to stellar quality content and comfortably producing a huge content library without diminishing in quality.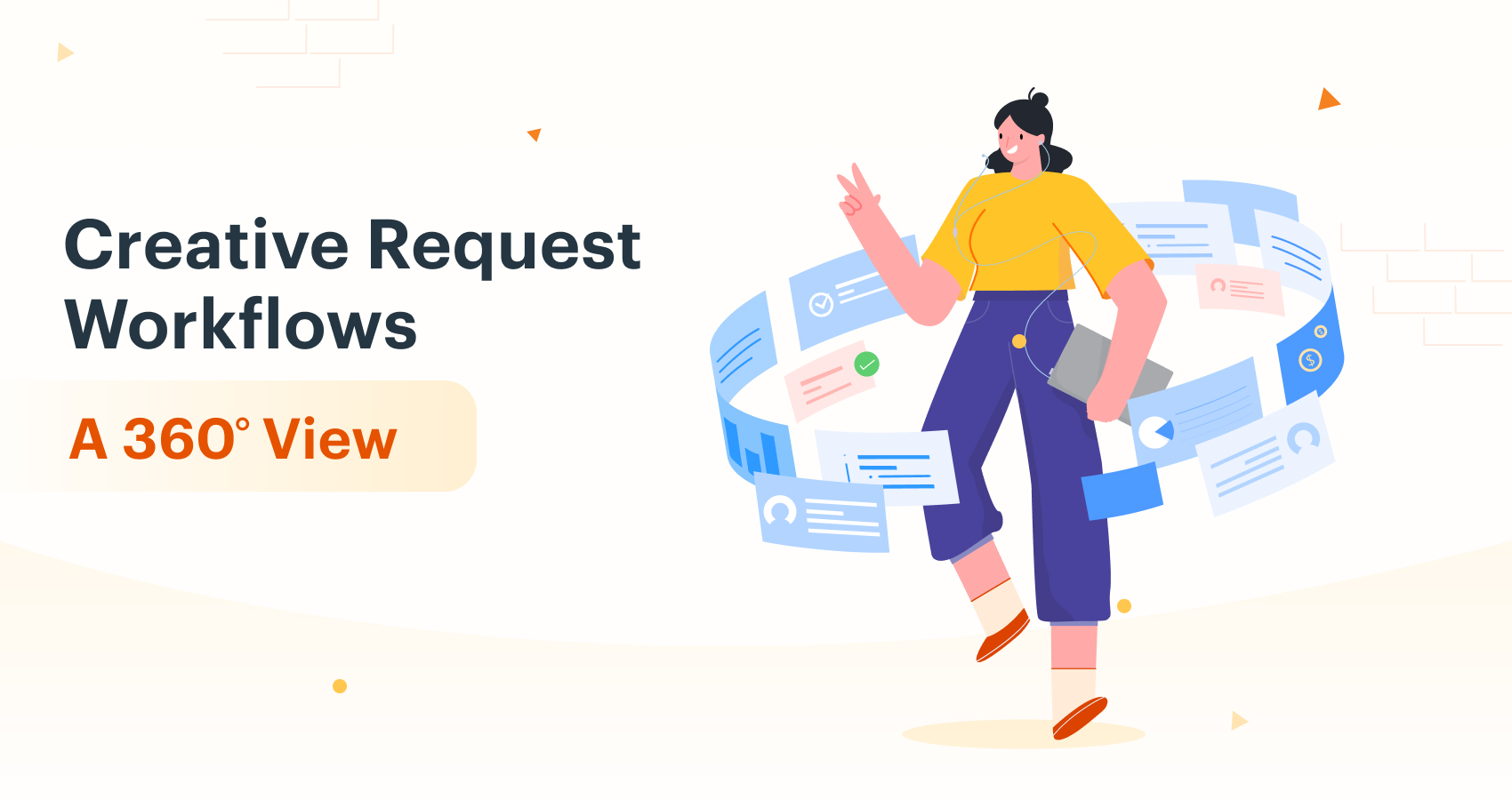 Here's a 360-degree overview of our creative request workflow that guides our content production from start to finish.
Start
Here's the stage where an SEO lead/content strategist does a detailed analysis of what content our potential customers or where we could drive more traffic.
With that in hand, the strategist works the creative request into an outline with target keywords, LSI keywords, a list of ideas the creative request should touch, etc.
When completed, the SEO strategist submits via Kissflow, and the workflow moves to the next stage.
Squad Leader Request Review
At this stage, the squad leader i.e. the team lead for the writing team for a particular product line reviews the outline created by the SEO lead to review and ensure the scope of the article offers value and holds enough potential to drive traffic for us.
Once this is done, the squad leader can approve in Kissflow and the workflow moves on to the next stage.
Writing Assignment
With the request approved, the squad leader or an assigned team member gets the creative brief and at this stage, assigns the task to a writer attached to that team.
The workflow proceeds to the writing stage.
Writing Task
At the writing stage, the assigned writer takes the brief and works it into an article, a blog post, etc., adhering to Kissflow brand guidelines. When complete, the writer moves the Google doc to a folder specified in the workflow, inputs relevant info, and submits.
Editing Approval
At the editing stage, the workflow moves on to the squad leader, the content manager who edits to ensure the article or creative product is 100 percent accurate, and free from errors structural and logical alike.
Proofreading
An assigned team member receives the ongoing project and reviews the content piece to ensure it's 100 percent accurate and delivers the value it's intended to the readers.
Add Custom Blog Image
A custom blog image that conveys the message of the blog is inserted at this point.
Squad Leader Content Approval
The squad leader who okayed the content brief reviews the content at this stage to ensure all the goals for creating it have been met at this initial stage.
Initiator Final Approval
The strategist who initiated the content request reviews to see if the initial scope is met from beginning to end.
Push page to live
Once approved, the blog/content page is published by a member of the team. Beyond this stage, reviews can take place to ascertain how well the process ran and what could be done to improve it.
Top tools for marketing workflow management.
Now, since it's easy to see how much simpler workflows can make your marketing, you're probably wondering which workflow management tool you should try out for your team.
Here are 4 of the best workflow management tools that'll help you simplify your creative processes.
Kissflow Process is our very own workflow solution designed around busy teams where there's the need to do much in as little time as possible. Kissflow makes it easy to move creative processes from start to finish without overthinking it.
Process Street

is a nicely designed process + workflow tool with a minimalistic design for simplifying how repeated marketing tasks flow in your organization.

Smartsheet

helps design workflows in an Excel-like format so you can organize your tasks into workflows, right beside bars and columns that define the data needed to achieve your marketing outcomes.

Tallyfy

offers an easy-to-understand workflow tool for managing tasks, etc.
Conclusion
Judging by our experience and the satisfaction of countless users, Kissflow has what it takes to simplify marketing for your team so you can focus more on creative input vs. manually moving tasks from one stage to another.
Kissflow Process empowers smart teams to do marketing better, faster, and at scale so you do more with less and consistently hit your marketing goals.
Take Kissflow Workflow for a spin here.
More on Digital Marketing Workflows
What is a marketing workflow?
A marketing workflow is a workflow that streamlines and manages a vast array of creative requests, marketing campaigns and other initiatives. Not only does it help optimize every aspect of the creative process but it also ensures increased transparency and accountability.
Examples of digital marketing agency workflows
There are various examples of digital marketing agency workflows.
Some of them are:
Article requests
Campaign management
Keyword research
Article performance tracking
Bid management
What are campaign workflows?
Campaign workflows are an integral part of the marketing function. It essentially helps effectively manage marketing campaigns from end to end. This includes the creation of campaign briefs, creatives, design workflows, distribution, and performance tracking.