Managing projects can be daunting, especially if you find yourself thrown into project management with little training or guidance beforehand. Besides the actual work of project management, just sorting out the terminology, tools, and methodologies can be frustrating. But where does one acquire the knowledge, skills, tools, and techniques needed to be a good project manager?
For starters, what is a project means to them? Not everything that happens at your organization is a project. According to PMI, a project is "a temporary endeavor undertaken to create a unique product, service, or result." By temporary, we mean that a project has a clear beginning and end.
A project's uniqueness refers to the fact that all the facets of the project are meant to contribute to a specific objective that isn't a constant part of the organization's operations.
So then, project management can be defined as "the application of knowledge, skills, tools, and techniques to project activities to meet the project requirements." And project management principles are a general guideline for how to operate. They can't provide all the answers or tell you precisely what to do, but they can give you direction.
12 basic project management principles to follow
The project management principles we're sharing here aren't hard and fast rules. You may need to adapt some of our suggestions for your context, but these basic principles of project management should set you on the right path. There's a lot to learn, far more than we can put in one blog post, but if you keep these twelve principles in mind, you'll be off to a good start.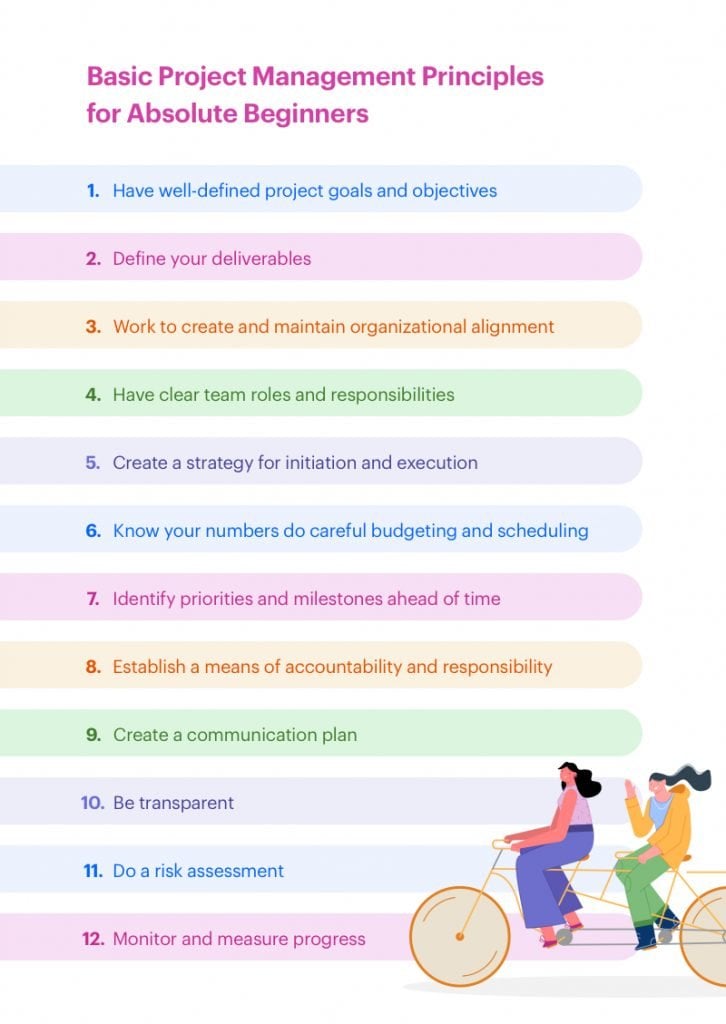 1. Have well-defined project goals and objectives
This principle is at the top of our list for good reason. The goals you set for your project will play a critical role in its success or failure in projects. When you set your project objectives before work begins, you, your client, and your team are all on the same page and future misunderstandings can be avoided.
Good goals are realistic, clear, and measurable.
Realistic– Can we accomplish this goal with the allotted time and resources available to us?
Clear– Do we know exactly what is being asked of us? Does everyone understand?
Measurable– Are there quantifiable indicators with which we can judge each goal?
2. Define your deliverables
The Project Management Institute defines a deliverable as "any unique and verifiable product, result, or capability to perform a service that is produced to complete a process, phase, or project."
Once the project's goals and objectives have been established, you can define your project deliverables. If the customer's objective is for end-users to manage their own content, for example, the deliverables might be a piece of software that enables users to manage content as well as training materials for employees and end-users on how to use the newly created software.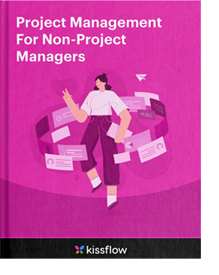 Want to learn project management but put off by jargon?
Learn what's important in the simplest ebook for non-project managers.
3. Work to create and maintain organizational alignment
There are two ways of thinking about organizational alignment:
Organization-focused view
Employee-focused view.
The organization-focused view emphasizes several important components of the organization supporting one another. The company's purpose, strategy, capabilities, structure, and systems should all work together.
The employee-focused view encourages managers to evaluate how well-matched the employee is in terms of individual role, professional goals, team membership, and organizational vision and mission.
As a project manager, you may not have control over all these factors, but to the extent, you can affect change, you should leverage these organizational alignment concepts for a more successful project.
4. Have clear team roles and responsibilities
Few things cause more confusion and tension on a team than a lack of clarity around roles and responsibilities. When the project team doesn't know what their roles are or how those roles relate to other people on the team, boundaries are crossed and unnecessary conflicts arise.
As a project manager, it's your responsibility to clearly define the role of each team member to help everyone work well together.
5. Create a strategy for initiation and execution
Project initiation includes all the preliminary work that must be done before any other project activities can take place. That preliminary work can be broken down into four categories:
Project execution is what most people have in mind when they think about project management. It usually starts with a project kickoff meeting to officially begin the project. This is when you share the vision and plan for the project, delegate tasks to team members, and send everyone on their way to get things done.
During the execution phase, make sure there's a plan in place to document errors, corrections, and other changes.
6. Know your numbers do careful budgeting and scheduling
Every project and every project manager has limited resources. It almost goes without saying that you need to budget your financial resources carefully, give yourself some margin for unexpected expenses, and take reasonable measures to save costs during the course of your project. Your budget is inextricably linked to your project schedule; if your timeline gets wrecked, your project budget probably will too.
Make sure to have project scheduling tools and see if you've accounted not just for how long each project task should take, but also for things like holidays, corporate and stakeholder events, and team member vacations.
7. Identify priorities and milestones ahead of time
Priorities tell you what to focus on, and project milestones tell you where you are. When you're in the midst of a project, it's easy to sometimes get distracted from essential things by less important details that feel urgent at the moment. When you define your task priorities at the outset of your project, you already know where to direct your team's energy should a conflict arise. It's also easy to lose track of the big picture when you're involved in the details of a project.
Identifying milestones in the project planning phase will help you know if you're on course and on schedule. Recognizing milestone achievements is good for morale as well. Your team will be more motivated if there's a tangible sense of progress on the project.
8. Establish a means of accountability and responsibility
Speaking of motivation, one of the best motivators for team members is empowering them with a sense of responsibility and accountability. By giving individuals responsibility for their own work, you take the burden of micro-management off of yourself and give your employees the ability to work from their strengths and learn new project management skills, both of which are better for your project and your organization, not to mention the employee, in the long run.
Part of giving team members individual responsibility is setting up a means of accountability. You need a system in which task delegation and project deadlines can be tracked and each team member can visualize his or her contribution in the context of the larger project.
9. Create a communication plan
Explain and implement strong communication guidelines from the outset of your project. Whether it's email, text messaging, a chat service, or some combination of things, make sure everyone on the team understands why communication in project management is essential and how to use the technology you've selected.
You also need to set clear expectations about the kinds of information that need to be communicated and who needs to be notified in certain circumstances. As a project manager, be sure to model the kind of communication you expect from all stakeholders.
10. Be transparent
In the realm of projects, transparency means creating a system in which all team members can access all relevant information about a project easily and efficiently. Creating project transparency is relatively easy, especially if you utilize the right project management software.
To create or improve project transparency, let everyone see the big picture, make project data available to your whole team, provide good tools for collaboration, and share calendars among team members and even outside stakeholders. Project transparency leads to better outcomes for both the team and the project itself.
11. Do a risk assessment
A risk assessment is an acknowledgment that something could go wrong. It's important to identify the project management risks and mitigate them at the beginning of your project rather than be caught off guard later. Ask your team members what risks they think you need to consider.
You can't eliminate all the risks from your project, but being prepared for them can save you from project failure.
12. Monitor and measure progress
As part of your project planning, you'll establish key project management KPIs in the form of,
budgets
quality expectations.
During the course of your project, you should regularly keep track of project progress and check your KPIs so you can catch issues and make corrections quickly. Don't forget to celebrate successes when your KPIs tell you the team has achieved a goal!
Conclusion
There's a lot to learn when it comes to project management, but these twelve principles are a great place to start. If you aim for clarity in every aspect of project management and prioritize the health of your team, you're well on your way to being a stellar project manager.