No Code
No-code Automation and How it Benefits Your Business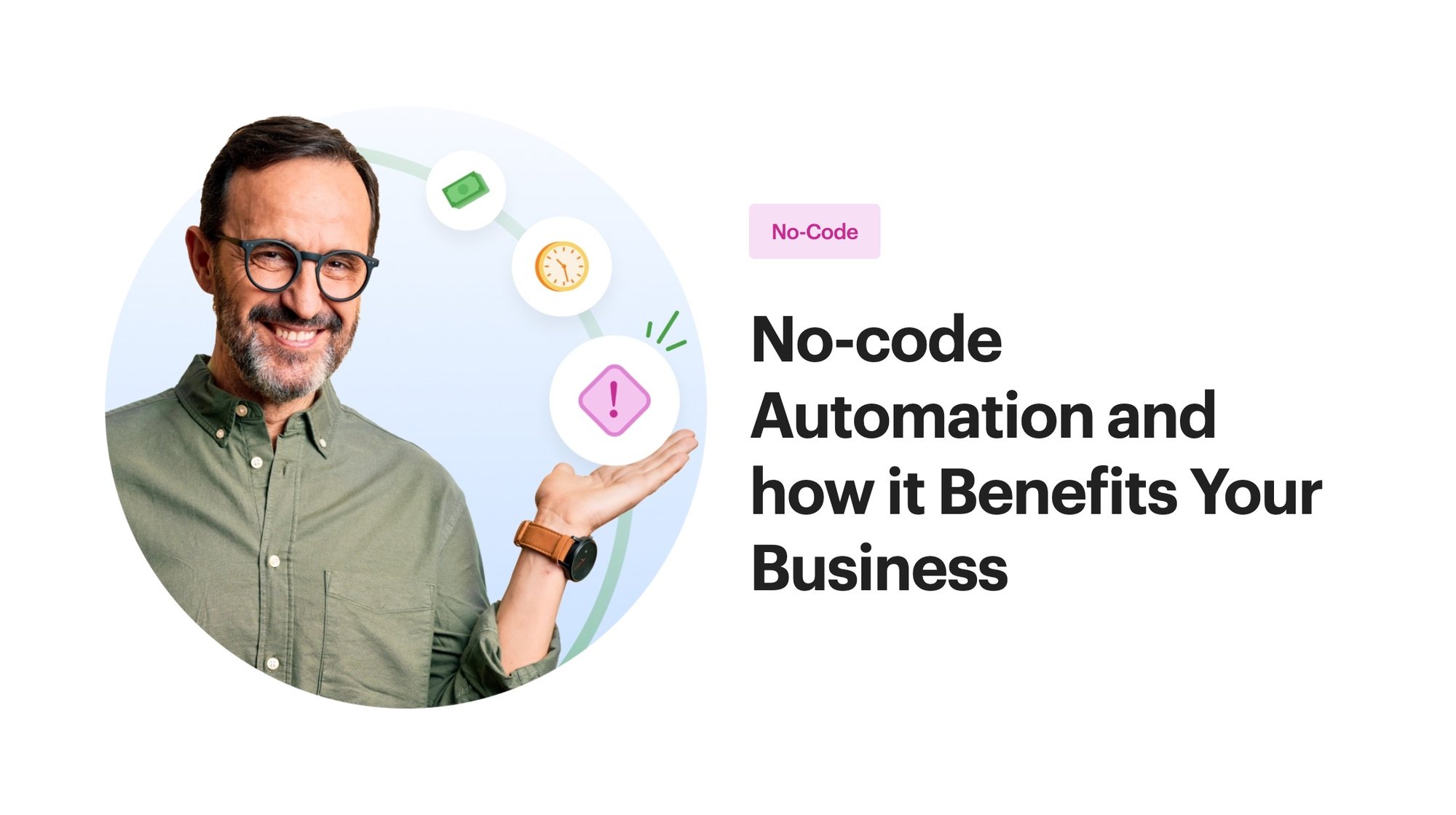 Traditional programming meant that processes and workflows set on autopilot were quite code-heavy. This changed with the age of no-code automation, a breakthrough that has revolutionized the operations of businesses.
But today, building automation with no-code solutions has become the most crucial way organizations streamline processes, reduce workload, and increase efficiency.
What is no-code automation?
No-code automation combines two key concepts that transform how organizations manage work. Automation in itself involves creating software and systems that help to get rid of manual, repetitive tasks. No-code automation implies introducing technology that allows you to build these automation systems without writing a line of code.
Instead of traditional coding, business workflows are built on platforms that provide a user-friendly interface and a range of tools, such as drag-and-drop modules, forms, notifications, integrations, and visual workflows. These features help non-technical users to build solutions to automate complex tasks seamlessly.
These tasks include data entry, form submissions, notifications, and more. The purpose of no-code automation is to reduce the time and resources required to complete routine tasks, freeing up businesses to focus on more strategic initiatives.
What is a no-code automation platform?
No-code automation platforms allow businesses to automate processes and workflows without traditional coding or programming skills. Instead of writing complex code from scratch to create and deploy automation solutions, these platforms use drag-and-drop interfaces, pre-built connectors, and visual workflows.
This way, technical and non-technical users can automate tasks quickly and easily.
No-code platforms typically provide a range of features and tools that vary from one platform to the other. But the basic premise of these platforms is to eliminate the need for technical know-how while deploying automation solutions.
Some modern no-code platforms now allow users with the right knowledge to automate any process based on specific business needs.
Benefits of using a no-code automation platform
The rise of no-code automation platforms represents a major turning point in the development of automation solutions. It democratizes the automation process, allowing business users to become a part of the process of deploying solutions that make their work easier.
This comes with a long list of benefits, as highlighted below.
1. User-friendliness
No-code automation platforms are built in a way that allows business-savvy but less technically-inclined employees to build the automation they need without waiting on IT. The emphasis of these platforms is usually on simplicity and user-friendliness.
2. Ensures the best practices
One of the things propelled by the emergence of no-code automation is a shift toward a deeper understanding of business processes. The people who use no-code automation more often (business users) are more in tune with best practices, such as how the apps they build impact the end user. They can leverage their understanding of consumer needs and core business processes to build solutions perfectly streamlined to their purpose.
3. Value for money
In addition to being relatively low-cost, the upfront investment in no-code automation platforms pays off in the long run. They allow you to build automation solutions at a fraction of the cost of traditional coding. Quicker implementation and reduced maintenance costs are among the other valuable benefits of this automation approach.
4. Increased efficiency
In addition to offering a code-free experience, no-code automation platforms provide specific features that lead to significant time savings, increased productivity, and reduced errors.
5. Greater Agility
No-code automation platforms allow businesses to respond quickly to changing market conditions and customer needs, improving their ability to compete and thrive. It also removes all the complexities from everyday business processes and replaces them with pre-built modules/workflows.
How no-code automation can benefit your business
Organizations that buy into the no-code movement report numerous benefits in different areas of their business in the long run. Some of these include: :
1. Control and visibility
No-code automation platforms will allow you to maintain control and visibility over your business's processes and applications. This eliminates the need for IT support and reduces the risk of errors caused by manual tasks.
2. Improved ROI
No-code automation offers a higher return on investment (ROI) than traditional coding methods. This is because it allows faster, more efficient development and scalable deployment of processes and applications.
3. Less workforce
No-code automation platforms do not require specialized technical skills or programming knowledge. This will benefit your business by reducing the workforce needed to support these tasks, freeing up resources for other business areas.
4. Single dashboard
A single dashboard will give you a much better oversight of all processes and applications by putting them all together. This makes it easier to manage, monitor, and troubleshoot any issue.
What to look for when evaluating no-code automation tools
Using the best available tools is the key to reaping the full benefits of no-code automation. Therefore, it is crucial to consider different key factors to find a solution that best meets your unique business needs. Here's a checklist that will help you find the right tool.
1. Quick time-to-market
A No-code automation platform should simplify the process of building software. It would help if you looked out for features that help you achieve a quicker time to market, such as an intuitive interface, user-friendliness, integrations, and how quickly you can create and publish your first automation.
2. Seamless integration
In evaluating the no-code platform, look for tools that can easily integrate with the other tools and platforms you use. Ensure they're compatible with the software, data formats, and protocols you already use.
3. Prebuilt workflows
Look for tools with various pre-built workflows that are usable out of the box. The platform should also provide enough flexibility to customize them as needed. This will help you get started quickly and ensure that you use workflows tailored to your specific requirements.
4. Scalability
A good tool can handle growing amounts of data and processing. It will also provide features like data partitioning and load balancing. These features ensure that your automation platform can take increased demand as your business grows.
Best no-code automation tool - Kissflow
Kissflow is a cloud-based, no-code automation platform that checks all the right boxes when it comes to no-code automation tools for businesses. To start with, Kissflow is the most intuitive and user-friendly way to automate key business processes.
Its drag-and-drop interface makes it easy for non-technical individuals to create and implement automated workflows without writing a line of code. The platform also offers a range of other helpful automation features.
One of the critical reasons why Kissflow stands out as the best No-code Automation tool is its simplicity and ease of use. These can significantly reduce the time and resources required to complete complex tasks, freeing businesses to focus on more strategic initiatives.
Kissflow also offers exceptional scalability, making it ideal for businesses of all sizes across industries. Whether you're a small start-up or a large enterprise, Kissflow's flexible and customizable platform can be tailored to meet your specific needs.
From automating a single process to building complex workflows, Kissflow is the No-Code automation platform that can help you achieve your goals quickly and easily.
Conclusion
No-code automation is a game-changing concept that revolutionizes how businesses manage automation. By eliminating the need for specialized coding, you can automate your processes with ease and greater efficiency.
All you need is a robust no-code automation platform like Kissflow that fits right into your business processes and meets your unique needs.

Kissflow No-Code Development Platform
Get in touch with us to learn more about how you can transform your application needs.