Low Code
Low-code Digital Automation - The Future tech for Enterprise Businesses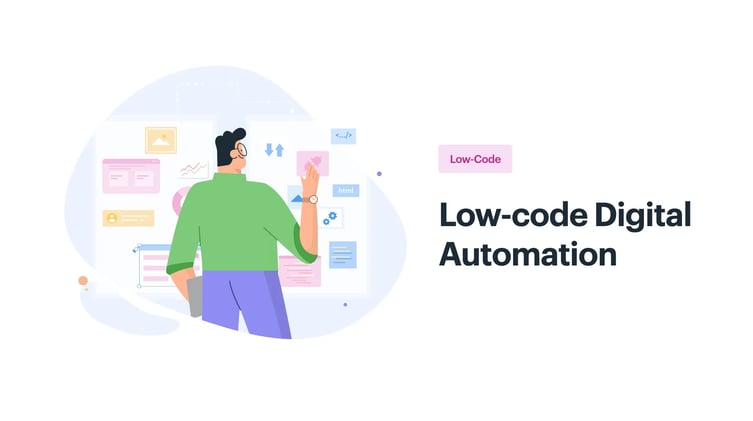 Enterprises used to rely primarily on IT specialists to create the scripts required to keep the operations running smoothly. However, problems occurred unavoidably, especially as the employment deficit became more widespread, leaving many firms with broken or dysfunctional processes due to a lack of proprietary knowledge and enough personnel.
Low-code/no-code automation platforms tackle these problems by reducing dependencies on IT teams and enabling business users to build applications with ease.
The idea of low-code / no-code automation is quickly gaining acceptance in almost every sector. By 2024, Gartner predicts that 75 percent of major companies will be employing at least four low-code development tools rather than just one. It is understandable, especially when you consider the numerous commercial benefits of this form of automation.
What is Low-code Automation?
Low-code automation is an emerging technology that empowers business users and developers to build, automate, deploy, and modify applications, workflows, and processes with little to no coding expertise. The solution helps in digitizing and optimizing business-critical operations in a matter of minutes, allowing the employees to focus on other high-end tasks.
Low-code automation is a technology that helps teams with basic coding knowledge to build applications, workflows, and processes in under a few minutes.
Low-code automation, unlike traditional back-end computer programming, uses a more visual approach by providing pre-designed templates and a user-friendly drag-and-drop interface to build apps.
It also allows users to reuse the components as and when they want thus shortening the development cycles. In essence, low-code technology helps IT and business teams to automate and digitze their business operations without having to write extensive lines of code.
Why Should You Look for a Low-Code Digital Automation Platform
Low-code automation platforms allow the user to automate digital processes in the application with some or little coding knowledge.
So, who better to develop software than them – the end user? None of this would have been conceivable even a few years ago, but sophisticated low-code tools are now allowing most computer-savvy professionals to join hands with citizen developers to build applications collaboratively.
There are a plethora of reasons why you should consider a low-code automation platform for your business:
Quick Time-to-Market :

One of the fundamental advantages of low-code/no-code automation is its simplicity. The objective should be to have advanced automation up and operating as rapidly as feasible, with a minimal learning curve. If a platform appears too complicated or perplexing right away, it's generally not worth every penny.

Seamless Integration :

Low-code/no-code should be used to augment and improve your current infrastructure. It must not be a silo. As a result, you should look for a platform that integrates easily with various products and platforms. You'll be able to coordinate complicated workflows involving many systems, as well as automate cleanup using AI-powered tools.

Ability to Self-serve :

Not only can low-code/no-code assist bridge the knowledge gap by making automation accessible to people of all skill levels such as citizen developers, but it can also free up the IT staff by empowering end-users to handle IT requests without the need for the service office's involvement.

Prebuilt Workflows :

Once again, the key here is the simplicity of use. While you may want to leverage automation to develop bespoke workflows for your company, there's no need to start from scratch. The more pre-built, ready-to-use templates there are, the better. It will help with faster implementation and return on investment.

Scalability :

Growth is usually listed as a long-term aim for most businesses. There's no sense in investing in an automation platform if it can't accommodate your demands as your business grows. Look for a system that can easily manage many occurrences, processes, and activities on demand, even if you aren't quite there yet.
What are the Benefits of Low-Code Automation?
User-friendliness:

Low-code is simple to grasp and may be utilized throughout the organization without depending on expert developers. It does not require an in-depth understanding of software development. The program may be utilized across an organization without requiring IT assistance, allowing people to design their automated procedures to help them with their work.

Ensures that best practices

Low-code development has impacts beyond the IT department. An improved customer experience is one of the downstream consequences of higher speed. Organizations may swiftly react to market changes or consumer demands with low-code development.

Value for money

Low-code automation systems are capable of meeting the most difficult corporate requirements. Top applications are most likely to be operated on low-code by companies with the lowest tolerance for downtime and data loss, as well as the highest requirements for ongoing audits and independent security certification. Their support for low-code solutions demonstrates that enterprise-ready low-code solutions are currently on the market.

Greater Agility

Because of the straightforward way to create and edit processes, you can make process modifications quickly without having to worry about modifying complicated code. This allows you to stay on top of regulatory changes, market developments, and client demands.

Increased efficiency

Intuitive features such as drag-and-drop interfaces help users to develop processes faster and see results sooner.
How Low-Code Automation Can Benefit Your Business
It's not just about one department or one process when it comes to enterprise process automation. It's all about automating processes across different departments from end-to-end. This is a technically challenging project that will continue even when everything is automated and operating well because processes are always changing and evolving.
Not only must you create smooth, consumer-grade digital solutions to replace error-prone manual procedures or outdated databases, but you must also design them to be adaptable as your organization grows. You can develop adaptable solutions at speed and scale by automating processes using a low-code platform.
Build with the Company:

Domain experts may be included in the development lifecycle using a shared low-code platform. Developers and users may collaborate, speak the same (visual) language, and iterate on solutions over time.

Maintain Control and Visibility:

End-users who "automate" processes on their own create a jumble of high-risk scenarios. Using a low-code platform to build solutions eliminates shadow IT and guarantees that all operations comply with internal and external regulations.

Reuse Elements:

Although processes vary per department, many have similar or identical roles or activities. In contrast to other process automation systems, Kissflow simplifies workflows, connectors, and components created for one process in another.
Low-Code Automation Use Cases
Low-code development makes it easier than ever to build customizable apps to accomplish clear goals, whether it's for business users to create an app themselves or for coders to streamline the development process by automating manual work. These basic low-code use cases can help almost any user in any industry:
UI Design:

Building a user interface can be more difficult than developing an actual program, owing to the fact that user interfaces must generally operate across a number of devices and platforms, including PCs, mobile devices, and the web. (Operating systems are also important; an interface for one OS requires a set of libraries or toolkits that aren't accessible on other OSes.) Low-code can create interface code for an application's user interface that can be easily updated when user preferences change.

API Generation:

Manually generating an API is time-consuming, especially for legacy applications and systems that weren't meant to do so. Low-code API generators may create APIs from scratch using existing application code.
What are the Options Available for Low-Code Automation Tools?
A low-code development platform is an application that provides a graphical user interface for programming, allowing for the rapid generation of code while reducing traditional programming efforts. These tools aid in the rapid development of code by reducing the amount of time spent manually coding. These platforms aid not just in coding but also in the rapid setup and deployment of applications. There are many cloud-based options available for low code automation tools, such as:
Kissflow
Mendix
Appian
Outsystems
The Reality of Low-code Automation
In a wide range of organizations and sectors, low-code programming solutions have become mainstream. Look for the ones that will be most useful to you. If you're paying for features you don't need, ask the provider if they want to cut the price in exchange for removing those features.
Regardless of available resources, low-code/no-code technology enables enterprises of any size to overcome the developer scarcity and leverage the potential of intelligent automation. This will effectively level the playing field, resulting in a market that is far more diversified and inclusive for everybody. The key to success will ultimately be choosing the correct tool and following through with a well-thought-out app development strategy.
Wrapping it up
Low-code app development allows software developers and business users to build multiple apps in less time than typical coding would allow. In a visual development environment, low-code applications may be designed and modified instead of code, allowing for considerably faster development and maintenance. Low-code application development platforms help businesses become more responsive and satisfy corporate business needs containing process automation, quicker business processes, better customer journeys, and policy and regulatory compliance.
Many of the top companies worldwide use Kissflow to improve customer experience and ease the management and compliance of global risk. Eventually, the right low-code platforms can significantly speed up the development of advanced enterprise system applications that incorporate complex business logic, automate workflow and case management activities, integrate with existing information systems, and provide a smooth user experience.
If you would like to give it a try, signup for a demo here.

Kissflow Low-Code Development Platform
Get in touch with us to learn more about how you can transform your application needs.