You're in charge of a project. That's great! Before you actually begin your project, you're going to need a project plan.
While it may be tempting to jump right into your project and figure things out as you go along, you'll have much better results if you create a project plan first. Without a basic project plan, you may find your team directionless, or worse heading in multiple directions.
In project management, proceeding without a project plan leaves you in danger of overrunning available resources and failing to achieve the client's goals. A project plan ensures all stakeholders share the same vision, sets measurable goals for your project, establishes solid communication among team members and stakeholders, and serves as the foundation for project transparency.
Without it, you're setting yourself and your team up for project failure.
Maybe you've been doing this for a while or maybe this is your first big project and you just googled "how to write a project plan." Either way, we're here to help.
What is a project plan?
A project plan, also known as the project management plan, is the document that describes how the project will be executed, monitored, and controlled, and closed. This outlines the objectives and scope of the project and serves as an official point of reference for the project team, larger company, and stakeholders.
It's created during the project planning phase and is a compilation of several other documents. It is more than just a schedule or a task list, though it does include those things. The project management plan is formally approved at the beginning of the project and then progressively updated throughout the course of the project.
Why is project planning important?
Project planning is a crucial stage that comes right after initiation in project management phases. Through proper planning, you streamline the entire project into a series of steps and ensure the availability of all the resources on time.
Project constraints such as time, scope, and costs are discussed in the project planning process, and mitigation plans are developed after the identification of potential risks. By comparing the actual progress with the project plan, you can also monitor the performance of your team and take the necessary steps to improve it.
Check out the 7 areas where project planning is important for successful projects.
How to create a project plan online
If you're thinking, "well, that sounds really formal and serious, don't be intimidated.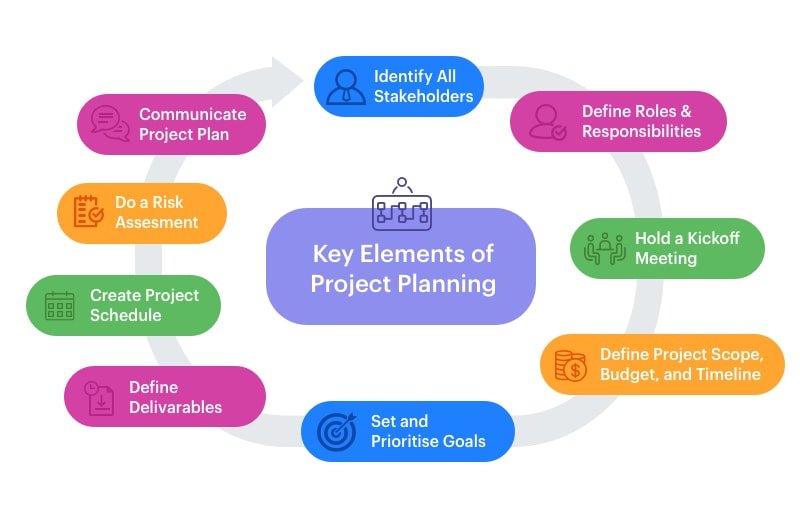 Follow these nine project management steps, and you're well on your way not just on how to plan a project online but to execute your project successfully.
Step 1: Identify all stakeholders
Your project has several stakeholders, and not all of them will be involved in every detail of the project. Project stakeholders include
your customer,
the end-users of the product,
the company and its leaders,
and the team working directly on the project.
Depending on the nature of the project, stakeholders may also include outside organizations or individual community members that will be affected by the project.
Step 2: Define roles and responsibilities
Once you've identified your stakeholders, you need to determine the core project management skills and competencies required for the project. When you have that list, you can define roles and assign responsibilities to individual stakeholders.
Remember that a role is not the same as a person.
In some cases, one person can fill multiple roles, such as having a designated emergency contact, a role that adds few additional work hours to a person's schedule.
In other cases, multiple people may hold identical roles, as when your project requires multiple software engineers.
Typical roles include
The different project team member roles will vary depending on your project, but be sure to include a vendor relations role and a customer relations role.
Step 3: Hold a kickoff meeting
The kickoff meeting is a
chance to bring all stakeholders together,
cast a vision for the project that everyone can get behind,
and an opportunity to make introductions and establish good working relationships.
At this stage, the specific details of the project haven't been determined, so you should include a discussion on the project scope, budget, timeline, and goals in your meeting agenda. This is also when roles are announced and a communication plan is explained. The kickoff meeting sets the tone for the working relationship among stakeholders for the duration of the project.
Step 4: Define project scope, budget, and timeline
After the official kickoff, it's time to define three important concepts:
the project scope,
budget,
and timeline of your project.
Each of these items is worthy of its own in-depth explanation, so we'll just define them briefly here.
a. Scope:
Project scope tells you what are we going to do (and not do)? Given the requests of the customer and the vision discussed by the team, what are the objectives of this project?
b. Budget:
Taking into account the scope and the resources required to meet the project objectives, what is the expected financial cost of the project?
c. Timeline:
The project timeline itemizes the phases of your project and the length of time you can reasonably expect them to be completed.
Step 5: Set and prioritize goals
Once your team understands the objectives of the project and you've identified the phases to meeting those objectives,
break down the big picture objectives of your project into individual goals and tasks,
prioritize tasks

according to importance and dependencies,
and put a system in place to ensure corrective actions when goals aren't met on time.
You may need to adjust your timeline in light of your goals.
Step 6: Define deliverables
A deliverable, as defined by the Project Management Institute, is "any unique and verifiable product, result, or capability to perform a service that is produced to complete a process, phase, or project". In other words, a deliverable could be,
a product,
result,
or capability.
Project deliverables are determined by the project objectives and are an essential part of the project plan. If the customer's objective is for end-users to manage their own content, for example, the deliverables might be a piece of software that enables users to manage content as well as training materials for employees and end-users on how to use the newly created software.
Step 7: Create a project schedule
A project schedule is a document that details
the project timeline,

the organizational resources required to complete each task,

and any other information critical to the team management.
Needless to say, it must be comprehensive and easy to understand.
To create a project schedule,
further, divide the phases of your project into individual tasks and activities,

determine dependencies,

sequence the activities,

and estimate the required resources and duration of each task.
The information you compile in this process may reveal necessary adjustments in your roles, timeline, and/or budget. This is an important step in writing a simple project plan and a beneficial part of the process. It's much better to make these adjustments before the project has begun than weeks or months later.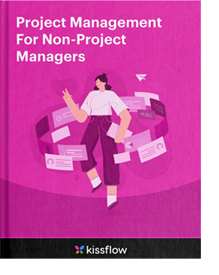 Want to learn project management but put off by jargon?
Learn what's important in the simplest ebook for non-project managers.
Download Now
Step 8: Do a risk assessment
A risk is a problem that may or may not arise over the course of your project. It's important to identify risks in project management and mitigate them at the project planning phase rather than be caught off guard later. Hold a meeting or ask for insight from all team members about the risks you should consider.
Areas of risk include:
Project Scope
Resources (personnel, financial, and physical)
and Failures of Technology or Communication
There's no way to control for all potential risks, but thinking through them ahead of time can save you from project failure.
Step 9: Communicate the project plan
Once you've compiled your project plan, make sure to communicate it clearly to the team and all other stakeholders. You may have created a project communication plan when you put together your project schedule. If not, do it now!
Establishing solid communications channels and expectations for project communication is crucial. As a project manager, be sure to model the kind of communication you expect from all stakeholders.
Main components of the project management plan
At its basic level, an example of a project plan consists of three components. Creating a list of all these components to help inform your project management plan.
Activities
What are the things your team will need to do in order to get the project done? Activities in your project plan include things like
measuring progress
allocating resources
time tracking

spent on project tasks
communicating effectively.
Tasks
For any task management, the project is broken down into tasks. These are smaller jobs that make up the bigger picture of your project. Having incremental goals makes measuring success and addressing bottlenecks easier, and identifying these tasks is essential to crafting your project management plan.
Resources
What are you working with? Your resources include your budget, of course. It's also important to understand your human and material resource requirements. How many people will need to work on this project and will you need to hire temporary workers or subcontractors? What physical or digital materials are required and where will those things come from?
How project planning software can help plan projects
A successful project management plan involves effectively organizing all the activities, tasks, and resources that make up your project. Trying to do all this with a collection of spreadsheets that are terrible for project management and shared documents or worse with notebooks, pens, and sticky notes is overwhelming and inefficient.
Project planning software can simplify your project planning from start to finish, giving you the project management features and transparency in the project you need to not only create an excellent project management plan but to actually manage your project well. Good project management software allows you to perform administrative tasks more quickly and efficiently, freeing up time to focus on the actual project.
Project management software can also facilitate effective communication within and among teams, help you track key performance factors, store all project data in a central location, and allow you to generate reports on your project along the way. Many of your project management challenges, particularly with planning, can be overcome with a capable and efficient project management tool.
Kissflow Project can be the solution for you!
Kissflow Project
is simple and intuitive to use,

frees you from constantly tracking teammates,

offers multiple views to visualize projects

provides "Done", "In-Progress", and "On Hold" states for clarity on status,

gives you access to powerful reports to make data-driven decisions, and

reminds you when tasks near their deadlines.
There's a whole lot more to Kissflow Project. Sign up for free today to get acquainted with its simple yet powerful capabilities!
Build Your Apps with Kissflow Low-Code