Team management is an essential skill for any project manager. You need to empower and inspire your team by exhibiting effective leadership. You need to ensure the team's potential is fully utilized without making the team feel overwhelmed. It's a blurry line but with experience, you'll know how to tread it carefully.
Roles and responsibilities of a project team
Before we start going into the details of these strategies, you need to understand how an efficient project team operates in project management, what does project teams do, and who are all involved in it. A project team consists of different individuals with varying levels of authority. Their way of operation is dependent on the organizational culture and the methodology in use.
A few major roles in an effective project team are:
Team leader
Team members
Project committee
Project sponsor
Some everyday responsibilities of project teams are:
Working with the project manager throughout the

project life cycle
Completing the assigned

project deliverables

and meeting all requirements
Documenting the process
Contributing to the team's overall performance
Presenting possible solutions to the managers in case of a bottleneck
Keeping the project manager informed of the

project progress
How to manage project teams effectively
You need to motivate your team to achieve continuous improvement. Managers who lead their team by example and groom future leaders have a history of delivering excellent results in the industry. We'll take a detailed look at the 10 most effective strategies you can use to manage your team and be a project management expert. The strategies are:
Ensure balance within the team
Ensure visibility and transparency
Ensure effective communication within the team
Foster a culture of collaboration
Value each suggestion and discuss progress with your team
Establish success metrics and reward excelling members
Delegate tasks to groom future leaders
Manage internal conflicts
Use all available resources at your disposal to facilitate teamwork
Take part in regular team building activities and celebrations
Let's take a closer look at the 10 strategies and see how they can help you become a more effective leader and manage project teams better.
1. Ensure balance within the team
Ever wondered why organizations spend so much time optimizing their recruitment process? Selecting the best people for the job is almost 50% of the work you'll need to do. When selecting team members for a specific project, you have to make sure that their technical prowess and personality are compatible with the project's requirements.
Members that are too skilled but can't operate as team members will likely slow you down. Similarly, someone only with interpersonal skills can't add value to the team. When building a team, looking for the right project management skills is necessary and finding the perfect balance is the key.
2. Ensure visibility and transparency
Project managers are often not in control of the organization's policy on sharing data. However, within the team, you need to ensure project transparency and proper visibility of the necessary data to all team members.
The biggest giveaway of ineffective leaders is their tendency to keep the information on a need-to-know basis. It's such a toxic leadership trait that it has a name of its own–mushroom management. With transparency in your projects, you can reap the maximum benefits from each member's skill set, improve internal accountability, keep the progress in check, and do much more.
You can also effectively improve the communication and collaboration of your team through transparency. We'll further discuss these in the following sections.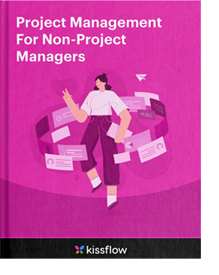 Want to learn project management but put off by jargon?
Learn what's important in the simplest ebook for non-project managers.
Download Now
3. Ensure effective communication within the team
No team completes its projects alone. They rely on multiple internal and external entities that can influence their success. As a project manager, you have to deal with them regularly and keep them engaged throughout the project's lifecycle. The only way to do it is through effective project management communication.
Communication is the key to effective management in any professional environment. For project teams, you need to indicate the project objectives and align everyone's interests to get them invested.
Another benefit of open communication is that you can stay on top of risks before they become a threat to your project. When your team members share their concerns and challenges in project management, you can use that information to respond to project risks proactively.
4. Foster a culture of collaboration
Most of the strategies we are discussing here go hand-in-hand. For example; without transparency, you can't have a model of effective communication and without communication, you can't encourage collaboration. The whole process is an interconnected cycle.
A collaborative atmosphere is important for the development and function of your team. No one should feel reluctant to discuss the issues they face while completing their assigned tasks. Project collaboration tools can help you have virtual conversations in this pandemic year and include everyone in the discussion that can go a long way in creating a thriving environment.
5. Value everyone's suggestion and discuss progress with your team
No one can have all the ideas and it's better to practice discussing your approach with your team to build more trust with them. Discussion encourages ingenuity and promotes innovation. Both of these are important to optimize your processes and improve the overall performance of your team.
Ideas can come from anyone irrespective of their position. That's why Agile focuses on creating a culture of respect where everyone gets a chance to be involved. It's your job as a leader to satisfy the doubts of your members and consider their ideas if they have some potential.
Even when you don't accept an idea for a genuine reason, you should explain why appreciatively, and encourage your team members to keep on participating actively during the project plan.
6. Establish success metrics and reward excelling members
Lack of healthy competition and a weak reward system can stop further growth and reduce the interest of the team. You need to create a reward system to appreciate members who are making good progress.
7. Delegate tasks to groom future leaders
Your project team members will one day become leaders themselves and you must make sure that they have some leadership experience. To do that, you'll have to trust their judgment and give them some freedom to mix things up.
Delegating tasks helps you become a better manager as well. If you are always busy micromanaging the smallest of things, you'll obviously be unable to focus on the bigger picture and come up with an efficient way of completing the tasks at hand.
8. Manage internal conflicts
When multiple personalities work together, conflict becomes inevitable, especially in newly formed teams. You can either deal with it efficiently or fan the flames further. The first rule you must follow is to never take sides and compromise your objectivity. Secondly, plan your response according to the nature of the situation.
If the conflict is about the approach you should take or any other professional matter, remind everyone of the true objective, and contain the situation. However, if the conflict is of personal nature, try to give some space to team members. You must encourage them to work things out as amicably as possible.
No matter what kind of conflict you face, your leadership skills will surely be tested in that scenario.
9. Be receptive to feedback
Just like you ask your customers for feedback, you should also take feedback from your project team to improve your leadership style. While leadership is somewhat a natural skill, it's important for you to further hone it and customize it according to your team's personality traits.
Some members of your project team might excel when they are free to add their style while some members perform better with a little oversight. You can find more about your team's preference after spending time with them. Some leaders keep a suggestion box or rely on periodic forms to learn more about their teams and change their style if needed.
10. Take part in regular team building activities and celebrations
It's important to celebrate important milestones and achievements with your project team. You must take an active part in the celebrations. Celebrating important achievements motivates team members to perform better in the future. You'll also build a bond with your team members on a personal level and make them feel valued which has a positive influence on their performance.
Using technology to manage project teams
Using technology is not a strategy per se, but it will help you implement all of the above approaches with unmatched convenience. With the entire world rethinking the way it conducts business, you have the perfect opportunity to make use of all resources available to you and shift towards a cross-platform tool with convenient operations.
Cloud-based software tools like Kissflow Project have everything you need to always stay on top and manage your project teams with precision even when you are working remotely. If you're looking to switch to a project management software that's built around teamwork and transparency, sign up for Kissflow Project for free.