Collaboration is among the primary requirements for the efficiency and productivity of any project team. Emails, memos, and other briefs help, but they are hard to track and take too much time.
Project collaboration tools are a viable alternative that provides a centralized source of information and keeps everyone on the same page. Whether you have a co-located team or work remotely, project collaboration software can make your job easier and significantly enhance your team's performance in project management.
Effective collaboration helps foster clarity and communication between project team members and with additional stakeholders. With so many new collaboration tools popping up every day, the process of making the right choice may get confusing.
This article takes a look at some of the best project collaboration tools that come with all the features a modern productive team would need.
7 Online project collaboration tools to look for productive teams in 2023
The tech market is full of excellent online collaborative tools for project management that can fulfill your team's needs. However, they sometimes cater to a single aspect of productivity. The following online project collaboration tools listed below are some of the most balanced options on the market.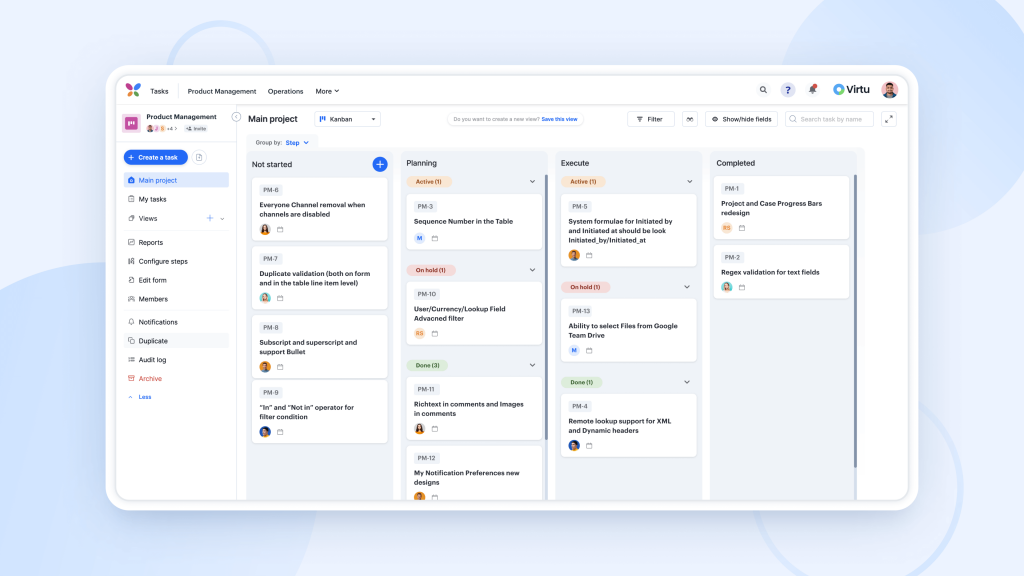 If you are looking for the best free project collaboration tool that simplifies your work and allows you to focus on the things that matter, then Kissflow Project is your answer. This project collaborative software believes in reducing clutter with simplicity and comes with all the features you'll need to maintain effective communication in your team.
Features like in-app integration and file sharing allow you to kickstart your meetings effectively and ensure that everyone is on the same page. Similarly, Kissflow Project eliminates the need of switching back and forth between different tools. So, you can maintain your focus and remain productive.
Some of the most distinguishing features of Kissflow Project that facilitate seamless collaboration and improve your team's productivity are:
Advanced communication channels
Capability to create secret channels
Nested comments
Easy onboarding process
Project reporting

and analytics
Visualization tools

such as Kanban, matrix, and lists
Excellent security features
24/7 support
Custom fields
Project and task status
For different business needs, Kissflow Project offers separate project pricing plans that you can choose at your convenience.
Free

– A basic package for small teams. Can allow 3 users and runs 1 project at a time.
Starter ($45/month)

– Equipped with everything you need to get your team on track. The package has a limit of 5 users and 5 projects. However, you can pay $5 per additional user.
Professional ($75/month)

– Unlimited custom views and unmatched capabilities. You'll find everything you'll need to optimize your workflows and streamline processes. The package has a limit of 5 users and 10 projects. You can add additional users at the rate of $10.
Enterprise (Custom)

– Tailored plans to fit your organization's needs with excellent capabilities. Enjoy unlimited views, storage, and file-sharing options at a very reasonable price.
2. Basecamp
Basecamp is an all-in-one project collaboration platform to make remote work simple, efficient, and centralized. This intuitive collaborative project management tool gives you a complete picture of all ongoing processes at a glance and lets you keep an eye on the bigger picture.
Some of the top features of Basecamp are:
Real-time messages and chats
Task and project management
Schedule automated reminders
Integration with Slack, G-suite, and other common tools
Separate client access
Basecamp's pricing structure is quite simple to follow. You have two options:
Basecamp Personal (Free)

– A great choice for small teams with simple projects. The free version has limited functionalities and limits the number of users to 20.
Basecamp Business ($99/month)

– An excellent choice for any business irrespective of its size. You can run unlimited projects simultaneously, add as many users as you want, and get access to every feature Basecamp offers.
3. ActiveCollab
The next tool on our list is ActiveCollab. This excellent project collaboration tool gives you the freedom to create the most optimized process that works for both you and your team. From handling task delegation to optimizing workflows, ActiveCollab eliminates the need to go through tedious setups and makes everything intuitive for your team in the following ways:
Collaborative functions like chats, discussion, virtual meetings
Project visualization
Can switch between Kanban and list views
Pre-made templates
Task delegation and tracking
Automated scheduling
Here is the pricing structure ActiveCollab follows:
Free Plan

– All the basic collaborative features you'll need to get started. Limited to 3 users only.
ActiveCollab Plus ($7.5/month)

– Limited management features and a collaborative platform. Maximum 3 users allowed.
ActiveCollab Pro ($6/user/month)

– A comprehensive collaborative experience for the entire business with process and workflow optimization features.
4. Freedcamp
Project teams don't work like a monolith. Even within an organization, different teams have their own, unique ways of completing their work and improving processes. Freedcamp understands that and comes with features that help you maximize your team's potential. This free project collaboration tool has all the features you'll need to complete your projects successfully and maintain a consistent performance.
Top features of Freedcamp:
Custom calendars
Kanban boards
Group discussions and direct chat
Issue and time tracker
Freedcamp offers 4 plans you can choose from.
Free

– Offers unlimited tasks, users, and storage. Only core features like calendars, tasks, milestones are available.
Minimalist ($2.49/user/month)

– All the features of the free plan along with native integrations and some other add-ons.
Business ($8.99/user/month)

– A comprehensive project collaborative and management tool for growing businesses and teams.
Enterprise ($16.99/user/month)

– Everything you'll ever need to optimize your processes and enhance productivity.
5. Taskade
In terms of visualization, only a few project collaborative tools can hold a candle in front of Taskade. This software helps your team understand the entire project in a unified workplace by letting you choose between a task list, Kanban board, action plan, and a mind-map.
Also, this online project collaboration software is specially designed for remote teams as it comes with features like real-time communication, instant chats, dedicated channels, and a shared calendar.
Some other features include:
Advanced project visualization
A centralized resource for the entire team
Tasks lists, Kanban boards, mind maps
Special features for remote teams
Taskade offers two versions; a free one and a premium option. Here's what they offer:
Free

– Limited tasks and projects with a storage limit of 100 MB. The basic version only has the essential features you'll need to set up your team.
Premium ($5/user/month)

– A complete tool with unlimited tasks, projects, and custom templates. You also get unlimited storage and can utilize file sizes up to 250 MB.
6. Bitrix 24
Bitrix 24 is one of the best project collaboration tools for the project management processes that can take your company online. From communication and project collaboration to HR and marketing, this all-in-one tool is designed to handle everything your team needs to maintain its competitive edge.
For effective communication, Bitrix has features like live feeds, chats, video calls, or surveys. No matter how your team wants to stay connected, this tool will allow it.
An effective communication interface
Task and project management
Advanced reporting tools
Bitrix24 offers flat rates and a wide range of specialized plans. For collaborative teams, one of the following plans is the best choice:
Free

– A basic version with 5 GB storage and a flexible communication platform. However, there is no limit on the number of users.
Standard ($79/month)

– Get all the advanced business collaboration tools and management features for up to 50 users.
Professional ($159/month)

– An unlimited business suite with no user limit and up to 1 TB storage.
7. Nutcache
The final listing, Nutcache is another project collaboration tool that simplifies work and enhances your productivity. Whether you are an individual freelancer or manage a team in a Fortune-500 company, Nutcache has the features and the capabilities to fulfill your demands.
Comprehensive interface for collaboration
Project and task management
Multiple views
Task automation
Budget tracking
Reports and analytics
Time trackers for freelance teams
Here is the pricing structure of Nutcache:
Free

– The free package comes with the core features a budding team needs to increase its productivity and focus on growth. The number of users is limited to 20, and many advanced features are not available in this plan.
Pro ($8/user/month)

– An excellent plan for an established team that comes with all the features of the free plan and a few additions like task automation, cloud storage, project budgeting, invoicing reports, etc.
Enterprise ($16/user/month)

– For the most advanced teams that deal with complex projects. Additional features include expense approvals, budget management, task planning, and much more.
Why do you need a project collaboration tool?
Modern projects are growing in complexity. Today there is greater pressure on teams to deliver better results at a faster rate. The importance of project collaboration is necessary for any efficient team, and you can't achieve that without the right tools.
Any effective project collaboration tool comes with all the features your team would need to streamline its work and improve consistency. Project management features like
Kanban boards,
to-do lists, and
automatic calendars
improve transparency within the team and help you stay on top.
Irrespective of the kind of project you are dealing with, you'll have to create countless reports and briefs for project stakeholders, management, and other entities. Any good collaborative project management tool will feature excellent reporting features to help you with this task.
Similarly, you'll also find it easier to access all the latest documents and resources from a single place. This centralization has significant advantages for organizations and is difficult to achieve with traditional methods like emails.
The benefits you can get from an effective collaborative tool don't just end there. The right software will help you manage information flow, improve communication, and reduce overall chaos in the workplace.
Features to look for in an online project collaboration software
There are numerous online project management collaboration tools available on the market and all of them come with unique features to stand out from their competitors. However, some qualities are deemed essential for any modern team that wants to remain productive.
Some of the common features you'll find in any effective collaboration tool are:
Social networking
Document management
Task management
Transparency
Integration capabilities
Intuitive user interface
Cross-platform compatibilities
Security measures
Final thoughts
HBR describes workplace collaboration as the "secret sauce" that inspires creativity and innovation. In the modern environment, collaborative tools are an essential requirement for any business. They help you to make quick decisions and keep track of the current processes in the company.
If you are looking for an effective project collaboration software or tool, give Kissflow Project a spin. It has all you need to collaborate more effectively. Its inherent capabilities, project management features, and pre-made templates make it the perfect choice for any project team looking to enhance its performance.