The LCNC (low-code no-code) movement has been around since the 1970s. Experiencing slow and gradual growth up until the late 2010s, LCNC is now enjoying a rapid rise in popularity as more organizations discover its role in accelerating digital transformation. Essentially, low-code and no-code are paving the way for a new breed of citizen developers—business users who create their own solutions and apps, empowered by LCNC platforms. It's a critical development at a time when resources are scarce and companies are struggling to keep pace with technological change.
With low-code no-code platforms, non-IT employees can step up and develop critical business applications, which should help boost organizations' digital maturity. But how exactly do LCNC solutions empower citizen developers? And what are some citizen development use cases for organizations? Let's connect the dots here.
How LCNC work platforms support citizen developers
Adopting the low code citizen developer trend can help organizations become more agile and respond to evolving markets. For companies planning to invest in LCNC and citizen development, here's how your non-IT personnel can leverage them to your advantage: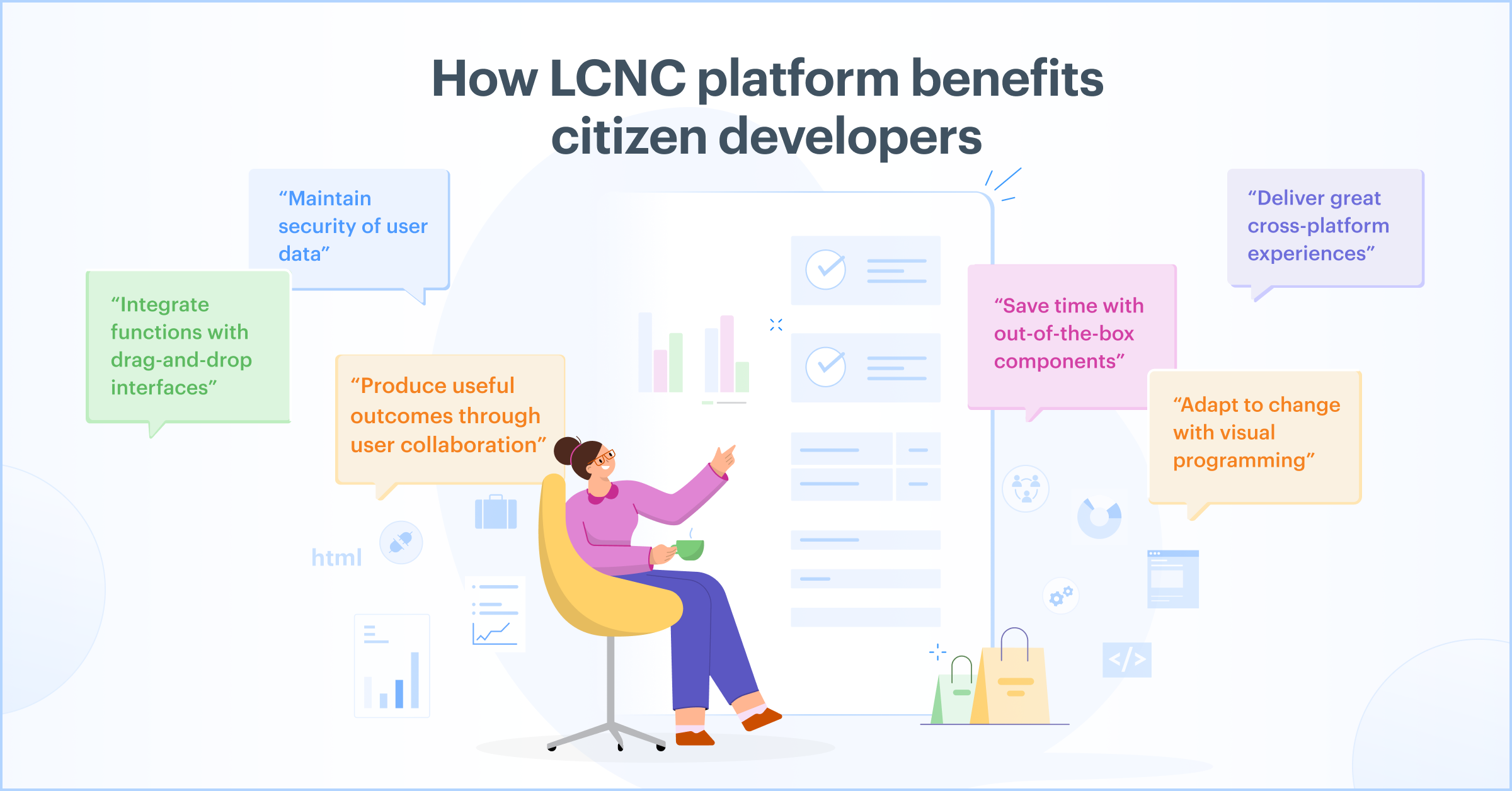 Save time with out-of-the-box components
The availability of OTTB (out-of-the-box) components is one of the key benefits of low-code no-code movement. For instance, you'll find customer-facing modules (including sales process management) in many leading LCNC platforms.
Pre-built modules negate the requirement to create primary functions for apps from scratch, saving citizen developers time that they could spend on aligning UX with business objectives.
Integrate functions with drag-and-drop interfaces
Every well-known LCNC platform boasts drag-and-drop functionality. Drag-and-drop enables citizen developers to construct apps quickly and efficiently. Using the feature, you can easily add or combine the functions you need to build your app.
Adapt to change with visual programming
While low-code no-code creates a better working relationship between the business and IT, demands for modifications may arise. Fortunately, LCNC's visual nature supports the quick development of mock-ups and first prototypes for evaluation and assessment.
With some input from high-skilled professional developers, citizen developers can avoid reruns and create better applications.
Learn more: Citizen Developer vs Professional Developer
Deliver great cross-platform experiences
Low-code no-code platforms benefit from multi-device interoperability. This interoperability allows citizen developers to build apps that adapt to all primary devices and platforms, in addition to utilizing them on any device running key business processes.
This is a valuable aspect of LCNC as most applications will likely be accessed from varying devices across the organization.
Produce useful outcomes through user collaboration
End users are essential to your business's success, so you should connect with them if you want to continue building a solid product. A good LCNC platform allows users to collaborate with citizen developers to generate useful outcomes.
Your team can ensure that your customers receive the best possible experience by mapping their requirements to product functions.
Maintain security of user data
Security elements such as threat assessment, network management, and admin tools are all part of LCNC systems. This makes it simple to configure and manage the system's security.
Moreover, low-code no-code platforms enable citizen developers and corporate users to create their own apps, removing the need to adapt risky third-party programs outside of the approved IT infrastructure.
What are some citizen development use cases?
Low code no code citizen development can be a catalyst to improved productivity, process automation, and more meaningful innovation. But for organizations to realize these benefits, they must understand the best citizen development use cases.
The following are some of them:
1. Enhance business agility
With technology evolving at lightning speeds, organizations in nearly every industry face new demands for product and business model solutions. As citizen developers build solutions that reflect their department or user needs, they help companies become more agile and adapt to changes quickly.
2. Support key departments
Citizen development initiatives like contact management and data integration may support key groups such as the IT help desk, HR, and accounts management. Cross-departmental workflows can be a blessing to your business, improving resource efficiency and helping teams remain on the cutting edge.
3. Reduce shadow IT
With low code citizen developer platforms, business users can create agile and flexible applications validated by IT under a regulated environment. This isn't just a relief for IT and auditing but also for business users who have had to rely on risky third-party systems to build the solutions they need.
4. Optimize costs
Developing apps using citizen developers results in cost savings. It's much cheaper to empower non-IT personnel to create apps than to hire skilled engineers, with potential savings rising to millions of dollars depending on the size of your enterprise.
Plus, citizen development enables employees to share tools and resources, minimizing costs further.
5. Improve quality
When citizen developers use LCNC platforms, less code is typed, which reduces the likelihood of errors occurring. Although testing is still a critical aspect of citizen development, standard modules and components power much of the application's functionality, allowing for a "test once, use multiple times" strategy.
6. Free up IT
A well-organized and implemented citizen development project facilitates self-service and reduces the burden on IT. When an IT department isn't overwhelmed, they can focus on more critical issues like legacy modernization, core-system extensions, and enterprise-wide applications.
In a fast-changing digital environment, a focused IT team is a must-have for success.
Learn more: How Low Code Apps Empower Citizen Developers
7. Foster innovation
New technologies like IoT (Internet of Things), blockchain, and AI (Acritical Intelligence) are exciting fields to benter. With LCNC platforms, business users can gain exposure to these technologies and integrate new functions into their apps.
Equipping employees with new technologies also boosts their motivation.
Learn more: Gartner on Citizen Development
Democratize IT with LCNC-powered citizen development
LCNC is a great idea because it gives you the resources to accelerate digital transformation. With low-code no-code solutions like Kissflow, you can democratize the creation of tech solutions with citizen developers. Citizen development bridges the gap between IT teams and businesses, putting core functions in the driving seat.
Digital maturity is also fast-tracked by enabling development independence and resource sharing. Using Kissflow's citizen development platform could be your first step in expediting digital transformation and gaining an edge over your competitors.