A study by IDC states that by 2025, the global shortage of software developers will increase to 4 million. But businesses still need to digitize processes and build more apps to meet the growing demand for software. To accelerate digital transformation, innovate, and stay competitive, organizations are empowering employees to design, build, and launch new applications. When business users follow citizen development best practices, success is inevitable.
Why Should Companies Adopt Citizen Development?
To design apps more aligned with user needs: Citizen developers have an excellent understanding of business needs and challenges. Due to this, they build apps that address users' pain points and offer a better experience.
Build apps faster: No-code/low-code tools have easy-to-use graphical user interfaces with drag-and-drop features that speed up citizen development apps.
Meet the growing demand for apps: IT teams have a lot on their hands and can't keep up with the never-ending requests for solutions. They have to handle digital transformation, services digitalization, and create enterprise solutions. Citizen developers can use no-code/low-code tools to build apps ten times faster.
Cut down costs: Developing applications in-house eliminates the need to buy third-party applications or outsource development—which lowers company expenses. No-code/low-code tools are easy to maintain and require less internal development effort.
Allow IT to focus on complex tasks: When business users innovate and build their own apps, IT has more time to focus on broader, more strategic, and complex projects.
Citizen Development Tips and Best Practices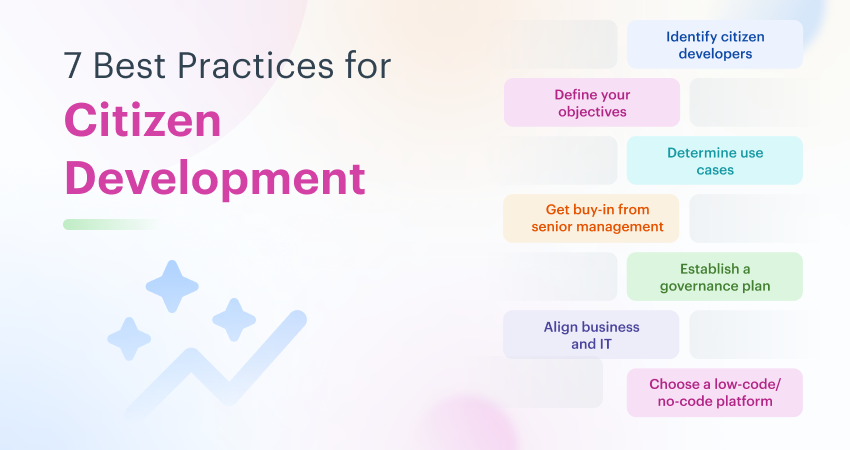 1. Identify citizen developers
Prospective citizen developers may include power users of existing business applications, tech-savvy employees, and high-impact business users.
Learn more: 10 Must-Know Tips To Kickstart Your Citizen Development Journey
2. Define your objectives
Defining your business objectives helps you determine the apps to create, the method of deployment, citizen developer roles, and which departments to involve in the process.
3. Determine use cases
Know the business problems you want to solve, the types of apps your citizen developers will build, where you'll deploy the apps, and how you'll manage them.
Learn more: The Future of Apps must include Citizen Development. Here's Why.
4. Align business and IT
Outline responsibilities and set boundaries for IT personnel and citizen developers. Citizen developers will still need guidance and support from IT to deliver good solutions.
5. Get buy-in from senior management
Explain your citizen development program to senior executives and use success stories to show them the need for citizen developers while also projecting the potential ROI.
6. Establish a governance plan
IT must have a centralized citizen developer governance center to oversee citizen development. Setting up a compliant app development process removes shadow IT and other concerns.
7. Choose a low-code/no-code platform
Select a simple and flexible no-code/low-code platform for your citizen developers. Ensure the tool integrates with your organization's existing IT infrastructure.
Learn more: LCNC and Citizen Development: A Match Made in Heaven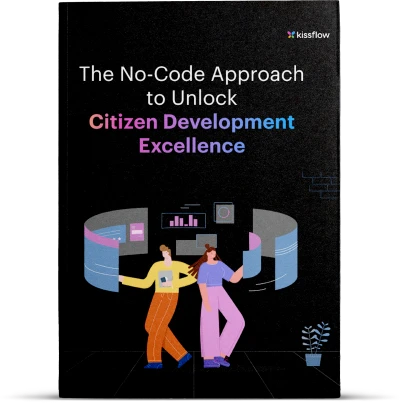 #Free eBook
The No-Code Approach to Unlock Citizen Development Excellence
Key Citizen Development Statistics to keep note of
By 2024, 80% of technology products and services will be created by non-technical professionals (Gartner)
80% of companies believe citizen developers have freed up their IT teams to work on higher-level projects (G2.com)
By 2023, over 500 million apps and services will be developed and deployed using cloud-native platforms (IDC)
79% of companies use citizen developers to build at least one web application in a year (AI Multiple)
By 2025, 70% of new enterprise applications will be developed using no-code or low-code technology (Gartner)
Nearly 60% of custom apps are built outside the IT department, and half of them are built by employees with little to no technical skills (Tech Republic)
Power your Citizen Development with Kissflow
Kissflow's citizen development platform lets citizen developers quickly design enterprise-ready apps and solve unique business problems by easily building customizable solutions. Integrate your people, technologies, data, and systems into a single platform to accelerate business results. Build enterprise solutions with a platform designed to deliver the best user experiences.