Citizen development is not an entirely new concept. However, it's only recently that enterprises are seeing its massive impact on business growth. With fast-changing consumer demands and the rapid expansion of cloud services, there's immense pressure for businesses to accelerate their digital transformation. This, in turn, puts pressure on IT teams to deliver integral business applications and custom software solutions at ultrafast speeds.
This is where the citizen development model comes into play. Aside from democratizing software development, it addresses bottlenecks in digital transformation. To optimize citizen development and maximize its potential benefits for your business, you must understand the concept and how to effectively implement the model in your organization.
What is a citizen development model?
Citizen development model is a business framework that allows non-programmer employees (called citizen developers) to build business-critical applications. A citizen developer leverages no code or low-code platforms to design and create applications. The term citizen developer is a persona and not a role.
With the citizen developer framework, employees become citizen developers who are able to create model-based solutions with the capabilities necessary for their business processes. They are able to do so even without formal software development training or a background in information technology. With this, software developers can focus on more complex development projects critical to the complete digital transformation of an organization.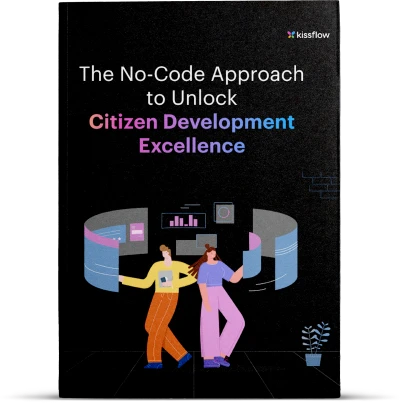 #Free eBook
The No-Code Approach to Unlock Citizen Development Excellence
Key pillars of the citizen development model
The success of the citizen developer model requires a strong foundation where key elements are solidly in place. The three pillars critical to the implementation of this framework are
people,
process, and
technology

People
Citizen development relies on having the right people on board. Citizen developers work alongside practice managers, coaches, and professional developers—each one playing an essential role in the success of the citizen development program.
For smooth collaboration, there must be clearly defined roles and responsibilities for all persons involved. It's important to foster a community of practice that promotes continuous learning, enablement, and sustainable growth.
Process
The right process ensures standardized delivery of automation solutions. It ensures that citizen developers and their outputs adhere to testing, maintenance, and reporting guidelines. These guidelines must be defined clearly, and the scope of automation must be delineated.
Technology
Deploying the right technology is crucial to the success of citizen development. It must complement and augment the people and process pillars of a development program. It must create a development environment that fosters collaboration, enforces compliance, and delivers business value.
To create applications for intelligent workflows, businesses must utilize technology that works with internal processes and governance structures. The technology must be easy for enterprise IT to manage and easy for citizen developers to use and reuse.
Learn more: How Does Citizen Development Accelerate Business Sustainability?
What are the benefits of citizen development?
The all-encompassing benefit of implementing a citizen development model is accelerating and overcoming the challenges of digital transformation within organizations. Some of the more specific benefits include better business agility, an augmented development team, and faster deployment of enterprise apps.
Enhances business agility
The business landscape is evolving at lightning speeds. There are constantly new consumer and employee demands. Without an equally fast delivery of new solutions, businesses will be unable to keep up with these needs. As citizen developers help create appropriate solutions, businesses become more agile and adapt to changes more quickly.
Augments the developer shortage
According to a recent Reveal survey[1], recruiting skilled developers is one of the top challenges businesses face this year. This talent shortage slows down digital transformation in many enterprises. Citizen development helps address this problem by offsetting the IT workload for citizen developers. This then enables software developers to focus on creating more technically complex applications that allow businesses to deliver solutions faster.
Accelerates deployment of enterprise app
Citizen developers are more familiar with the processes they use. This puts them in a better position to assess what solutions they need. By giving them the right citizen development tools, they can create applications and functionalities that can be easily integrated into existing processes and quickly deployed across all channels they use.
Challenges in implementing citizen development
While the citizen development framework benefits business efficiency and growth, it also poses risks and challenges. Two of the most critical ones are
The risk to security
The lack of internal governance
Risk to security
Enabling citizen development gives a large number of people access to data as they create applications. To avert this risk, you must ensure that you have appropriate security measures in place and that enterprise data is well-protected.
Lack of internal governance



If there are no appropriate boundaries in place, citizen developers might create applications that don't work well with your existing infrastructure. There's also the risk of creating irrelevant applications or making unnecessary iterations in current applications. Without governance control, the program will likely fail and result in losses in productivity and revenue.
Learn more: Why Do You Need Governance In Citizen Development?
How to implement a citizen development model?
Every company has its unique business structure and needs, so the implementation of citizen development models varies. Still, there are recommendations on how to successfully implement the framework and optimize its benefits.
Train citizen developers
While the citizen developer model works on the premise that no IT knowledge is required, users must still be trained on how to optimize the use of development tools. As you start your implementation, conduct comprehensive training on building applications, management practices, information security, agile environments, and other aspects of development relevant to your business processes.
Learn more: Gartner on Citizen Development
Control user access
Avert security risks by granting role-based access to data and development tools. Unbridled access to everything can pose threats to your entire structure, as citizen developers may unwittingly explore areas they're not familiar with and inadvertently make changes that lead to software malfunctions.
Foster collaboration between IT teams and business users
Citizen development initiatives can only be successful if there's a collaboration between IT and business. They must communicate openly and align their goals. IT teams must put standards in place for citizen developers to create citizen development apps that comply with governance policies.
Find the right tools
Developing applications can be tricky, especially for those who have limited knowledge of programming. Without the right tools, citizen developers will end up having to ask IT teams for help and guidance. This defeats the goal of offloading IT teams of simple tasks. So the right tools must be in place to enable effective citizen development.
Why is it essential to deploy in organizations using the right tool?
The success of your citizen development model relies heavily on the citizen developer tools you use for its implementation. The tools must empower your citizen developers without burdening your IT teams. They must provide makers with greater autonomy while ensuring compliance with set standards.
They must be easy to use, so citizen developers can build and deploy solutions faster. To accelerate application delivery, you must find the right citizen development platform with the tools that meet the specific needs of your business.
Kissflow is the way to go
To minimize risks and ensure successful deployment, you must choose the right platform that can help citizen development thrive in your company. One of the best tools to kickstart your citizen development journey is Kissflow. With Kissflow's citizen development platform, you can empower your employees to design and build software applications that can be easily integrated into your business processes.
Kissflow is a no-code work platform that allows you to do more work within a single platform. It bridges the gap between business users and IT teams while truly embracing the philosophy of simple.