The possibility of using the more readily available citizen developers to facilitate app development is growing in the corporate world. This has been helping organizations close the gap in delivering top-quality apps that help maximize productivity and achieve digital transformation goals.
Non-IT employees equipped with the right technology can support IT in building the basic apps they need, thereby improving the speed of app development in an organization. Thanks to low-code and no-code platforms this has become even easier than ever.
While there are a lot of LCNC platforms out there that help business users develop the apps they need, how efficient this approach will be is highly dependent on finding the most fitting platform for your organization's needs.
What are Citizen developer platforms?
Citizen development platforms also known as low code/no code platforms reduce the burden on IT teams, by allowing employees with no/low coding knowledge to create software applications using drag and drop interface.
How do organizations benefit from citizen development?
Citizen development empowers non-IT employees to build and deploy apps that solve specific problems using low-code or no-code platforms that are approved by IT. The citizen development approach comes with loads of benefits for every organization that adopts it.
The traditional development approach relies on skilled IT professionals that use Pro code platforms that are best managed by them alone. Not only are these skilled IT professionals scarce, but the process of building custom apps with pro code platforms is also a little slow.
It can put a lot of pressure on IT teams since they have to handle multiple requests at once. Also, apps built by IT are less flexible and more difficult to manage. Citizen development solves all of these problems at once.
Business users with profound knowledge of the processes within an organization and their unique challenges can use their advanced digital skills to create efficient business apps that help to automate workflows and streamline processes.
The apps they build are not only delivered faster, but they're also more flexible and easier to manage. They work in tandem with the IT team whose responsibility is to provide governance for the citizen development framework.
Why low-code makes citizen development easier?
The citizen development revolution has been made possible by low-code environments. These are platforms that allow users to create apps using visual interfaces or drag-and-drop builders instead of using traditional codes.
With low-code citizen development platforms, non-tech users can:
Use pre-built templates to create mobile-enabled forms or business process applications with relative ease
Democratize app development in organizations so they no longer need to spend hundreds of thousands of dollars or wait for months before their app is deployed
Keep up better in today's rapidly evolving digital business transformation landscape where digital solutions need to be built as quickly as possible
Easily monitor and manage the app development with appropriate collaboration tools, permissions, and security features
Maintain compliance with IT requirements and business policies
An IT-sanctioned low code development environment also makes the process of managing the citizen development framework easier. All of these are dependent on finding the right low-code/no-code platform.
Learn more: LCNC and Citizen Development: A Match Made in Heaven
How to choose the right platform for citizen developers
Citizen development initiatives are more likely to be successful when you choose the right low-code platform that facilitates them. Low-code platforms have to be IT-sanctioned and they must meet the unique needs of an organization.
Here are some of the most important factors to pay attention to in choosing a low code platform that goes well with your citizen development practices.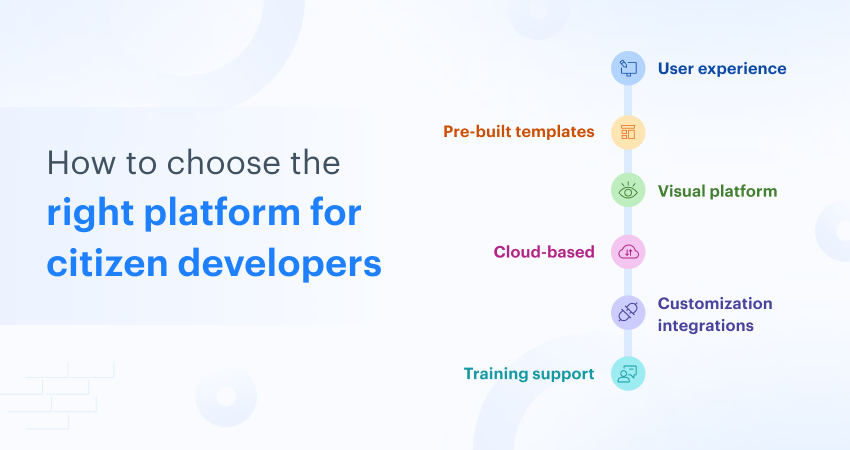 1. User experience is important
Non-IT employees have been involved in automating business processes for years. However, low code development platforms are a bit more complex than the spreadsheets, electronic forms, and macros that they're more likely to be used to.
For the best results, your choice of the low-code platform must be slick, intuitive, and easy for non-IT professionals to navigate and use. The platform should look great and perform well. Otherwise, citizen developers will have a hard time using it.
2. Pre-built templates
Low-code platforms that provide a variety of pre-built templates for different use cases are easier for citizen developers to use. With a feature like this, they can build and deploy working apps as quickly as possible. All they have to do is customize the template to suit the specific use case they have in mind.
This increases productivity dramatically by reducing how work needs to be done to get reliable software that solves the problems you have in mind.
3. Visual platform
One of the main differences between low-code development platforms and low-code tools is that they're visual. Instead of complex programming languages that take months to master, low-code platforms offer visual interfaces that any business user can easily use.
You should choose a platform that offers drag-and-drop process designers, form builders, point-and-click wizards, and other visual tools that facilitate easy and convenient app development.
Learn more: 10 Must-Know Tips To Kickstart Your Citizen Development Journey
4. Cloud-based
In today's digital business landscape, there are numerous benefits to choosing a cloud-based platform over installing desktop deployment. With a cloud-based solution, there are no settings to configure or patches to install. In just a few clicks, you can have your low code platform set up and ready to use.
Cloud-based solutions also tend to be more secure since cloud vendors prioritize data security than most organizations do and ensure that their platform keeps your data secure. You also don't have to worry about maintaining an IT infrastructure, managing updates, or installing new features when you opt for cloud deployment.
5. Customization integrations
Every organization wants apps that are custom-built for them. This is not just in terms of the look and feel of the app but also in terms of adaptability to existing IT infrastructure. You want a platform that can build apps that connect to your internal systems, databases, or the other business process platforms that you already make use of with relative ease. This level of customization and integration should be one of your top priorities in choosing a low-code development platform.
Most low-code platforms offer you some degree of customization. However, many of them will require the involvement of skilled IT professionals to deliver the customization that you need. Since business users will be the primary users of these platforms, it makes sense to go for a platform that can be easily configured with little to no IT support. This way, they can build, manage and customize their apps all on their own.
6. Training support
You should consider the learning curve of whatever new platform you're trying to deploy. Low-code platforms that are difficult to navigate will require you to invest a lot of time and expend energy on training business users to use the platform. This can be quite challenging since one of the primary goals of opting for citizen development is to reduce the complexity of the app development process.
You should consider the level of customer support you get as well. Great platforms offer multiple options for getting support such as a 24/7 help desk, knowledgebase, FAQs, email support, and so on. Evaluate the response time and the overall satisfaction of users on this platform.
Learn more: How Citizen Development Helps Build Technology Outside of IT
Leverage the right platform for your citizen development journey
Choosing the right low code platform for citizen development not only emperors citizen developers but also benefits your IT team immensely. Even though IT teams will no longer be as heavily involved in building and deploying apps, they will still provide oversight and governance to citizen development. In the long run, their work is easier when you use the right low-code development platform. This makes it easier to meet up with business requirements and delivers better outcomes in the long run.
Kissflow's citizen development platform is a unified low-code/no-code platform that bridges the gap between business users and IT to simplify work management and dramatically accelerate digital transformation.
Experience the Power of Simple to drive your citizen development initiatives and deliver process improvements, operational efficiencies, and cross-functional collaboration.