The inevitable changes in the corporate environment force organizations to revisit their business strategies every now and then. With companies undergoing constant digital transformation, IT teams face severe pressure, resulting in IT backlogs. Here's where citizen development comes to the rescue.
Citizen led development has been adopted by companies across the world, as it provides non-IT experts with the appropriate technology and IT support to build the basic apps they need. When employees build their own apps, they perform their jobs more efficiently, reduce the company's operating costs, and lessen the IT backlog.
It speeds up app development, cuts costs, and improves productivity and work effectiveness by making application development faster and less costly.
There's a growing need for citizen application development in every organization. However, IT departments can't build new apps on time because they have a huge backlog of work. This means even simple apps take months or years to build. For this reason, businesses around the world have started using no-code and low-code platforms that allow citizen developers to build software in days and weeks.
This page answers all your FAQs and the meaning of citizen development.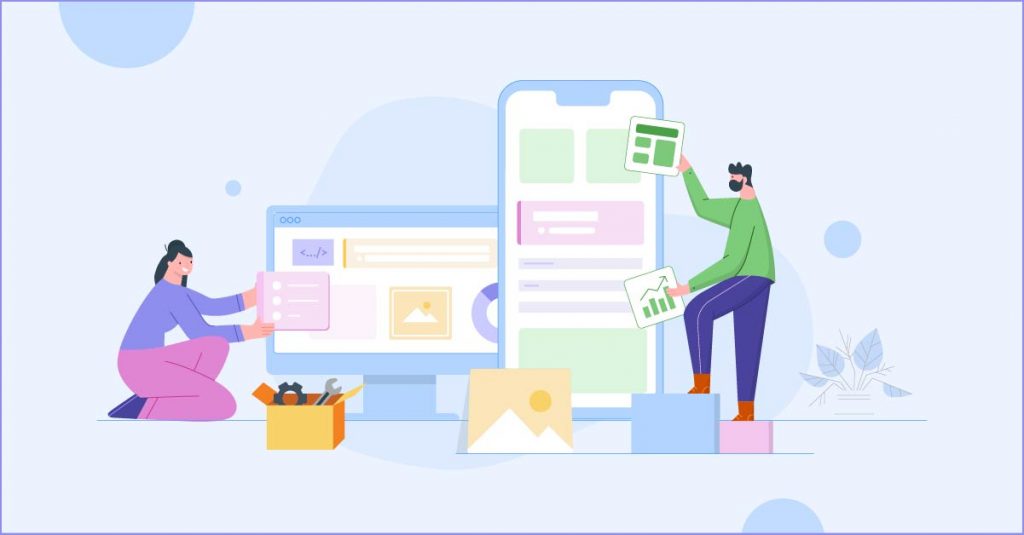 What is citizen development?
Citizen development is defined as a process where non-IT-trained employees become software developers by leveraging low-code/no-code (LCNC) platforms to build business-critical applications. Applications created using citizen development methods are sanctioned and approved by IT.
This differentiates the meaning of citizen development from shadow IT. Citizen developers are non-IT experts who seek solutions for their unique problems and use low-code/no-code to create the solutions themselves.
As digital agility continues to advance, more employees are becoming citizen developers and creating applications on their own. In many organizations, citizen developers are found in departments like HR, Research & Development, finance, and customer service.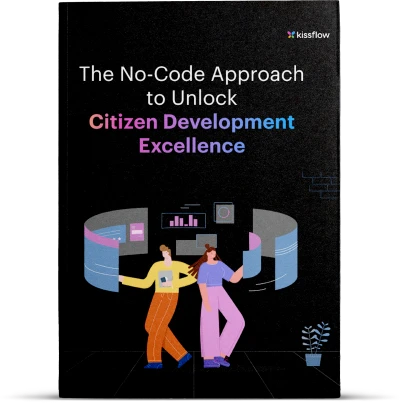 #Free eBook
The No-Code Approach to Unlock Citizen Development Excellence
What does a citizen developer do?
Citizen developers build applications to solve business problems with the backing of IT. They use no-code and low-code app development tools to build new business applications for consumption by themselves and other employees. They have a profound knowledge of an organization's or a department's processes and also possess advanced digital skills. This allows them to create efficient business apps and automate workflows easily with the help of citizen automation.
Citizen developers are different from professional developers who use pro code to build solutions. Pro code platforms rely only on code, while no-code systems have a Graphical User Interface that allows users to build solutions without coding.
Learn more: Citizen Developers vs Professional Developers
Why do you need citizen development in an organization?
In most organizations, IT departments have such a huge backlog of work they don't respond to new requests promptly. They are overwhelmed by an unending request pipeline and keeping up is impossible. This is where the need for citizen-led development comes in.
71% of business leaders agree that IT teams have a lot of new solution requests they aren't working on.
A study by 451 Research revealed that integrating low-code/no-code tools can boost development efficiency by 50%-90%.
41%[1] of respondents have active citizen development programs, while 20% plan to start them.
By 2023, the number of citizen developers will be four times more than that of professional developers
According to a Gartner report[2], many organizations have active citizen development initiatives or plan to have them. Business users can create innovative, time-saving apps for their organizations using no-code or low-code platforms.
Learn more: Citizen Development Stats and Trends to Watch in 2022
What are the skills required for a citizen developer?
To build an effective citizen development model, here are four essential skills that business users must possess:
Complete know-how of business operations

Enhanced level of digital skills:

Ability to collaborate with inter-departments:

Highly motivated to upskill:
Complete know-how of business operations:
To build efficient business apps, a citizen developer must have in-depth knowledge of various business processes, their inefficiencies, and bottlenecks. This will help them analyze and create the right processes and apps that are aligned with their organizational goals.
Enhanced level of digital skills:
To ensure a sustainable citizen development framework, a profound knowledge of business processes must be combined with advanced levels of digital skills. This includes being conversant with workflow analytics, document generation, and no-code bot automation.
Ability to collaborate with inter-departments:
One of the main focuses of low-code and no-code platforms is to maximize citizen developers across departments. In such a case, a citizen developer must act as a link, ensuring seamless collaboration between business and IT, to collectively achieve organizational objectives.
Highly motivated to upskill:
The concept of citizen development is recently picking up, paving the way for the digital revolution. In that case, being motivated to upskill is important and the business users must take the initiative to self-educate themselves and master the no-code skills.
How to create a citizen development framework?
Citizen development can help your organization significantly boost productivity, process automation, and app development speed. But for citizen developers to deliver great results, there must be a citizen developer framework in place. Use this framework to empower your citizen developers.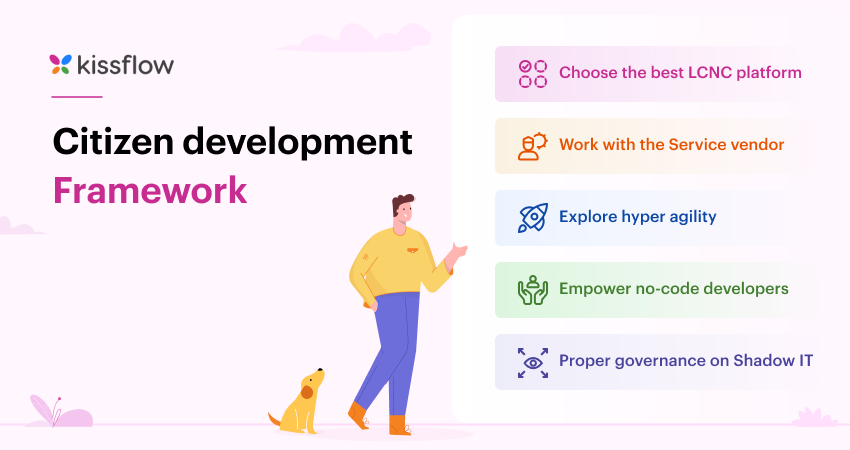 Choose the best no-code/low-code platform.
Pick the best tool for your business based on its functionality, use cases, and how well your organization will adopt it.
Work with the Service Vendor.
The service vendor can train the citizen programmers on how to use the platform. This can be on a one-off basis or continuous.
Explore hyper agility.
Combine intelligent automation with agile business practices to evolve your operations as quickly as possible and with complete accuracy.
Empower no-code developers.
Foster mentorship and ongoing support from IT. The IT team will need to monitor the application development process.
Maintain proper governance of shadow IT.
Discourage citizen developers from using systems, apps, and services disapproved by the IT team.
Learn more: Why Do You Need Governance In Citizen Development?
What are the benefits of citizen development?
Citizen development helps in building business agility and enhances sustainability. Some of the top benefits of implementing citizen development in an organization are,
Innovation and Efficiency

Speed

Reduces the Risk of Shadow IT

Cost-Effective
Innovation and Efficiency
The application development world is growing by the day. A company that wants to keep up must create new applications regularly. LCNC and citizen development enable organizations to build apps that adapt to new requirements and market demands much faster than before. Citizen application development motivates innovation and fosters creative thinking.
Speed
Citizen development reduces the time it takes to launch new apps. For example, citizen developers updating an app can get feedback directly from their colleagues who use the app. If something needs fixing, they can handle the adjustments independently. Non-IT experts understand business needs and challenges, so the solutions they build usually address problems better and offer an enhanced customer experience.
Reduces the Risk of Shadow IT
Shadow IT happens when employees go outside IT-sanctioned boundaries to do their work. When non-IT employees are given the tools to develop their own solutions, they can create viable solutions within the IT-approved space. Because they have the tools they need to make their ideas a reality, there's improved process efficiency. This yields higher overall business productivity.
Cost-Effective
Building apps using citizen developers lower development costs. Apps can be created a lot quicker, sometimes in days instead of months. Less coding means less time spent on app development, which results in lower costs. Also, providing non-IT experts with the tools, support, and training needed to build new apps is more affordable than outsourcing.
How Kissflow can embrace your citizen development journey
IT departments in most companies are overwhelmed. They have a huge backlog and new requests for solutions never seem to stop. That's why empowering citizen developers is important. They promise a solution to both budget and staffing woes, and all they need is a good no-code platform.
Kissflow's citizen development platform is an easy-to-use work platform that will help you quickly become a citizen developer. It doesn't need massive restructuring to use and has many great tools that are easy to understand. Sign up for a free trial today and start building apps affordably.
Read more on citizen development