Modern, innovative enterprises depend on applications and customized tech solutions to deliver value and drive business growth. But, many IT departments are unable to address niche pain points because they're overwhelmed with challenges.
Keeping up with a rapidly evolving technology atmosphere is expensive. But there's a higher cost associated with lagging. Legacy technology affects customer experiences, slows down your organization, and opens you up to security risks. So, how can your business keep moving forward with an overworked IT team, a pressing IT backlog, and a shortage of skilled software developers? The answer lies in low-code citizen development.
Virtually 60%[1] of apps are built outside the IT department, with half created by employees with little to no technical skills. Low-code/no-code platforms drive growth with increased speed of development, and reduced IT personnel costs. Using these platforms, citizen developers can build, customize, and deploy powerful, user-friendly apps, quickly, and without IT bottlenecks.
Actually, 41%[2] of non-IT employees are already building or customizing technology solutions. Here's how low-code and citizen development reduce the barriers to entry in software development.
Why IT finds it difficult to cope
IT and development in business help growth-oriented organizations achieve goals, increase market share, and gain a competitive edge.
IT teams improve,
communication,
minimize technology interruptions, and
support organizations to achieve business sustainability and profitability.
IT support services streamline
processes,
maintain data flow and systems,
enhance customer experiences, and
promptly respond to and resolve IT issues, guaranteeing optimum business operations.
About 77%[3] of leaders say their IT teams have a pipeline of tech solution requests not getting built because of insufficient qualified specialists and costs. Moreover, project backlogs are preventing 72% of IT leaders, from working on strategic projects. The demand for business applications is growing at a faster pace than the capacity of organizations to deliver them, which causes developers to become overwhelmed, burn out, and resign. The result? A shortage of software professional developers.
By 2025, there'll be a 4 million deficit of software developers globally, which will only get worse. Many businesses will be forced to support their digital transformation efforts with citizen developers–business users with little to no formal coding experience.
Also, with developers in big software companies charging a minimum of $200 per hour, the cost of traditional developers is high and resource-draining. To stay afloat, businesses are seeking low-cost alternatives such as low-code citizen development platforms to produce custom apps.
Learn more: Why Should CIOs And IT Managers Be Aware Of Citizen Development?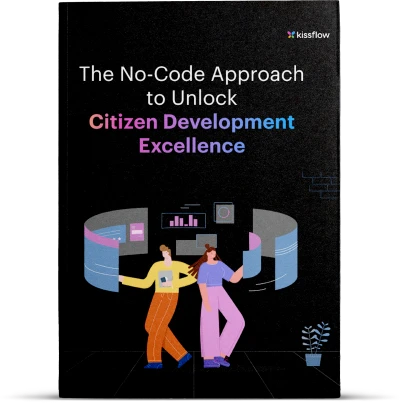 #Free eBook
The No-Code Approach to Unlock Citizen Development Excellence
How low-code and citizen development go hand-in-hand
Citizen development is the process through which non-IT business users build custom business apps without formal programming training or experience. Citizen developers use low-code/no-code development platforms sanctioned by corporate IT to facilitate organizational processes. 84%[5] of businesses use low-code/no-code platforms to reduce the strain on IT.
Citizen developers don't replace IT teams, rather, they free IT personnel of some tasks in the service pipeline, so they can focus on more urgent and challenging projects. Millennials and younger workers who make up the majority of the workforce are more likely to be citizen developers. They're digital natives, far more comfortable with technology, including application and software development.
Learn more: The Future of Apps must include Citizen Development. Here's Why.
40% of businesses suffer from a skills gap in app development. But with citizen development, they can design precise business solutions that deliver value and satisfy their organization's distinctive needs. Citizen developers increase productivity and operational efficiency across organizations, accelerating digital transformation, promoting agility, and a tech-forward mindset.
Low-code citizen development model contributes to your business's ongoing transformation and simultaneously cultivates the skills citizen developers need for future work. It allows users who understand the problem to create solutions that solve problems, directly addressing customer and stakeholder pain points.
Citizen developers create small-scale applications that drive automation and streamline organizational processes and workflows, bringing significant value over time. They free up the IT team's capacity, allowing them to focus on more important projects. Actually, 80% of companies believe citizen developers have given their IT personnel more breathing room.
With sufficient training, citizen developers can quickly build a minimum viable product (MVP), rather than spending weeks or months building applications centered on designated requirements. Low-code/no-code platforms help organizations slash development time by 50%-90%. A faster development time increases competitiveness and lowers costs.
Learn more: LCNC and Citizen Development: A Match Made in Heaven
Fostering better app development
By 2023, over 50% of all medium-to-large-sized companies will adopt low-code development. Rather than traditional programming, these platforms have graphical user interfaces with intuitive drag-and-drop interfaces that enable citizen developers to create enterprise applications based on business needs under citizen developer governance. By 2024, non-IT professionals will create 80%[6] of IT products and services.
The standardized components in low-code citizen development platforms translate to lower maintenance requirements and better sustainability. There's less documentation required, and IT teams spend less time maintaining legacy software and reviewing custom code.
Learn more: How Citizen Development Helps Build Technology Outside of IT
By 2026, business buyers outside the IT organization will make up 50% of all new low-code (LC) clients. LC platforms leverage reusable templates and components to improve operational efficiency, make work smarter, and more innovative, and enhance collaboration at a fraction of the cost and time. They have a flexible, scalable, data-driven environment with multiple customization options for apps that meet organizational application requirements and specific business goals.
72% of business users use low-code platforms to create apps in 3 months or less. LC platforms have pre-built templates that automate complex processes easily and help businesses build new, functional, and user-friendly enterprise applications quickly. They empower non-IT employees to streamline their daily work and solve urgent business issues.
Learn more: Citizen Development Statistics and Trends to Watch in 2022 and Beyond
Benefits of democratizing app development
Some of the benefits of democratizing app development with low-code and citizen developers are as follows,
Citizen development reduces IT capacity bottlenecks, breaks down barriers, and improves collaboration between business and IT
Low-code platforms offer a simple user experience for quick adoption, ease of use, and continuous improvement
Democratizing increases agility for IT teams to respond to market requirements with increased transparency
Democratization makes it easy to enable easier delegation and cross-functional collaboration
Citizen development ensures a faster speed to market–building custom applications take hours or days, rather than weeks or months
Democratization enables IT to roll out more business applications that deliver a competitive advantage and drive revenue growth
It increases the technical skills of business users and drives the organization towards a digital workplace.
The methodology ensures the solution stays close to the problem and is developed in line with the functional requirements of the business
Organizations can better identify where to create new opportunities, thus becoming more agile and responsive to new demands and market changes
Learn more: How to Choose a Platform That Benefits Both IT and Citizen Developers
Democratizing app development with citizen developers
Low-code and citizen development are here to stay, playing an even more critical role in the future. Democratizing app and software development with citizen developers is set to accelerate because traditional development practices cannot match today's demand for automation and new applications. The ever increasing demand for tech solutions makes it impossible for pro developers to meet that demand single-handedly.
Kissflow's citizen development platform gives life to your business ideas, enabling your citizen developers to build solutions that solve problems in a smart and efficient manner. Your organization will minimize the cost and time related to the standard software development process. Give your non-IT employees the tools they need to build their apps.