In the last few years, we have entered a stage where there's no business without IT. As disruptive new technologies and processes place new demands on businesses, IT is relied upon to create digitally enhanced solutions and improve competitiveness.
But with the demand for software solutions and apps growing at a breakneck pace, many IT departments are struggling to fulfill every request that comes in from the business. Developer shortage is a real thing, and it's creating a mismatch between IT interests and organization preferences. The good news? Citizen developers are using no-code platforms to bridge the gap between IT and business.
Citizen IT developers are fast becoming an invaluable asset for organizations. Empowered by LCNC tools, these developers can unlock new efficiencies and contribute to the digital transformation efforts of the business. Below, we dive into how citizen developers bring IT and business together and how you can scale up through citizen IT development.
Who are citizen developers?
Citizen developers are business users from various departments with the ambition and determination to create their own applications. They are problem solvers by change and use low-code no-code platforms to design workflows and processes. Citizen development is typically carried out in runtime environments using methods sanctioned and approved by IT.
As digitization continues to accelerate, more employees are becoming citizen developers and supporting IT through task sharing. In many companies, citizens and IT developers are working together to handle incoming requests. At the same time, citizen development frees IT to focus on other business areas, such as sales and marketing, operations, or field services.
How citizen developers bring IT and business together
Citizen development brings advantages for both IT and business teams. These two units are typically siloed from each other, but citizen developers can unite them by serving as enablers of technology and business objectives.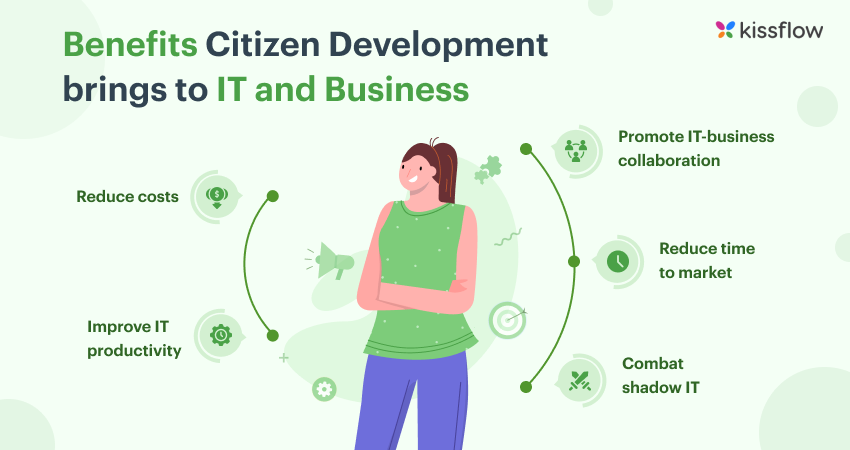 Here are some key benefits of embracing the citizen IT movement:
- Improve IT productivity
When citizen developers create their own apps, IT is less overwhelmed and significantly more productive. Non-IT employees can develop business applications to solve problems, whereas internal IT developers can focus on more critical issues like legacy modernization, enterprise-wide applications, and core-system extensions.
- Reduce costs
Citizen IT development decreases application maintenance costs and maximizes resource sharing. It also reduces the need to hire professional developers or purchase third-party applications.
By empowering business users and streamlining internal data and systems, citizen development platforms save companies millions of dollars in development costs.
Learn more: Citizen Developer vs Professional Developer
- Combat shadow IT
Shadow IT happens when business-side employees source their own solutions without IT's knowledge and oversight. Citizen development combats this by giving business users tools to create the best citizen developer apps.
The development is done within an IT-approved space, which minimizes the risks related to modernization and security.
- Reduce time to market
Market conditions are constantly changing, which means organizations need to release products and services faster. Rather than force IT to put the pedal to the metal, you can easily achieve this with a citizen development model.
Have employees use an LCNC and citizen development that helps them build apps at ultrafast speeds and provide high-quality services.
Learn more: Gartner on Citizen Development
- Promote IT-business collaboration
In previous times, application development was fully left to IT—IT developers didn't collaborate with other departments. Today, business users without coding and programming knowledge can collaborate with IT to collectively achieve organizational objectives.
To drive such change, citizen developers must be a link, ensuring both IT and business understand and support each other.
4 tips to employ citizen development in your organization
1. Build the right culture
Encourage your employees to solve complex problems and experiment with technology. This creates an innovative atmosphere that every organization needs to succeed. When employees share their ideas and attempt to develop unique solutions, there's improved process efficiency. Citizen developers are more likely to yield higher business productivity.
Learn more: How Citizen Development Helps Build Technology Outside of IT
2. Pick viable ideas
To succeed with citizen development, a company must choose viable and actionable ideas. And despite the nature of those ideas, design-led thinking must be at the forefront of your efforts to drive organizational efficiency and digital maturity.
Learn more: Unlocking the power of citizen development
3. Select a low-code no-code platform
There's no shortage of low-code/no-code tools in the market, but you only need one that works for your organization. The platform decision hinges on a few factors, including ease of use, cost, and security.
Choose a user-friendly platform with all the functions your business needs that also fits your budget.
4. Provide training
Although citizen developers have modern tech skills, they have an in-depth understanding of business processes, data workflows, and application infrastructure. Consider hand-holding them as they navigate the low-code no-code platform to inspire confidence and productivity.
Many application vendors also offer citizen developer training, so make sure to check whether that option is accessible to you.
Start scaling efficiently using citizen development
Your IT and business units can work cohesively with citizen development. Kissflow's citizen development platform can free up your IT staff and empower citizen developers to support application development through low-code no-code platforms.
Kissflow helps business-side employees unlock their citizen developer potential by enabling them to easily create a range of products without coding. It's time to unite business and IT with the Kissflow work platform.