Digital transformation has rapidly become a game changer. Solution-driven companies are quickly realising the importance of taking a digital-first approach to streamlining their operations in order to stay ahead of the competition. But there is another side to this trend—there is a growing shortage of skilled developers and coders. And this is leaving companies to build their own business solutions, leading to citizen development.
Citizen development has broken through as a disruptive approach to business-led IT and digital empowerment in the workplace.
What is citizen development?
Citizen development is a framework that empowers business users with little to no programming experience to build and deploy solutions that solve specific pain points and business problems.
Citizen developers, in an organization, are those business users that build applications from scratch. They do not necessarily have any background in coding or IT. Instead, they come with a wealth of experience in the business and understand the problem they are trying to solve deeply.
Citizen development is showing immense growth. It is stated that by 2023, it is projected to increase by fourfold[1], with 80% of companies embracing citizen development.
How can citizen development enhance a company's performance?
The pressing need for applications currently outpaces the ability of a company to recruit skilled software developers. The shortage of developer talent, coupled with IT departments overwhelmed with critical backlogs, highlights the significance of citizen development.
Citizen developers save the IT department from unnecessary workload. Citizen developers are now able to create sophisticated solutions on their own whenever necessary with the help of the right platform.
Citizen developers have the initiative and means to construct business solutions despite having zero to minimal knowledge in coding. And this also reduces the dependency on IT teams, since they are now only needed to maintain and execute high-level customizations.
Learn more: How Citizen Development Unites Business and IT
10 things to consider while you kickstart your citizen development journey
An effective citizen development strategy takes more than just adopting the right technology. Here we discuss ten aspects to consider while you plan and implement citizen development throughout your organization.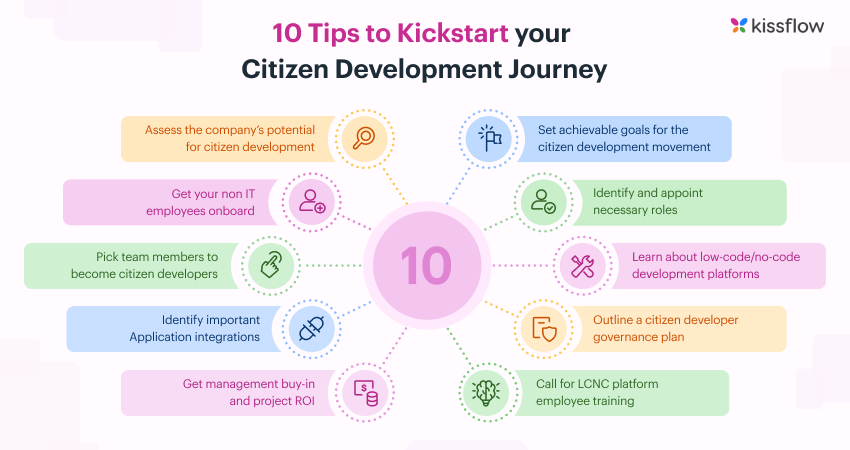 - Assess the company's potential for citizen development
Determine the pain points of the company in digital transformation through surveys or meetings with department heads. After hearing about the departments' requests for better solutions, the company can make informed decisions and roll out a strategy.
- Set achievable goals for the citizen development movement
Organizational goals are an integral part of the citizen development process. Your goals not only have to have an end state in mind but should align with organizational vision and capabilities.
Ask pertinent questions, be prepared to break through inherent barriers and habits, and do not be afraid to align or realign teams to best suit your goals.
- Get your employees onboard
Not all employees may become citizen developers, but citizen development impacts the entirety of the organization. It is crucial that every employee understands the need to embrace citizen development.
Adjustments from manual to automated work processes will be met with less friction, and employees will be empowered to learn the nuances of development through LCNC and citizen development.
- Identify and appoint necessary roles
Citizen development is carried out in varying levels and departments for optimal performance. Citizen developers may perform a more strategic responsibility of assessing technology and business users' needs. Tactical citizen developers, on the other hand, review the necessary requirements in integrating business solutions with the existing tech stack with the help of citizen integrators.
Appointing a citizen developer for every department depends on the company's structure and preference between low-code and no-code development.
- Pick team members to become citizen developers
The citizen developer is a forward-thinking business user who can turn ideas into functional and scalable solutions. Under most circumstances, citizen developers only make up a certain percentage of the company's population. Before rolling out a strategy, identify which business users qualify to construct applications.
Assessing their coding knowledge is also pivotal to determine which low-code/no-code platform is ideal to use.
Learn more: How Low Code Apps Empower Citizen Developers
- Learn about low-code/no-code development platforms
Every low and no-code development platform features different toolkits and flexibility in constructing applications. Their methodologies may differ and some may be better than others.
No matter what solution you pick, be sure to consider ease of use, track record, and the ability to adopt and deploy quickly.
Learn more: The Future of Apps must include Citizen Development. Here's Why.
- Identify important integrations
Existing technology must not be ignored in lieu of embracing new business solutions. APIs, databases, and more are integral to make the most of applications. Determine which integrations are significant for the low-code applications to perform at optimal performance.
- Outline a governance plan
Though low-code development platforms and low-code apps are IT-sanctioned, this does not mean that upholding security measures is no longer necessary. Discuss a citizen development governance plan to add security in place and determine the involvement of the IT department in the management of LCNC platforms and applications.
Be aware of the use of shadow IT in the company.
- Get management buy-in and project ROI
Citizen development does not just empower business users to embrace digital transformation. It also improves a company's return on investment (ROI) and growth compared to a conventional business approach.
Engage the top brass in acknowledging the potential of a citizen developer-led company with a calculation of the estimated company ROI in a few years' time.
- Call for employee training
Citizen development comes with the promise of empowering non-developers into building simple applications for a simplified work process. Despite not needing programming skills, low-code development platforms may take some time to get used to. Let business users get a good grasp of the platform through comprehensive training.
What are the benefits of embracing citizen development?
An efficient citizen development framework makes for a motivated and involved workforce, a focused IT department, and an optimized flow of work from beginning to end. Specifically, citizen development introduces the following benefits.
Boosts productivity
Citizen developers use no-code citizen development platform to help businesses develop solutions that will simplify work processes and speed up the clearing of tasks. These LCNC platforms also help directly map functionality with the business requirements making for better productivity and efficiency.
Mitigates shadow IT
By developing their own application tools to address technical needs, citizen developers mitigate the use and issues caused by Shadow IT. Shadow IT are third-party apps that are not necessarily in compliance with IT standards and security protocol. These apps are far from harmless and can give rise to security vulnerabilities.
Learn more: Best Apps in the Company Are Made by Citizen Developers. Here's How.
Accelerates digital transformation
Digital transformation is a high-level goal. With the right approach, citizen development is a crucial step towards achieving a digitally aware and innovative organization. Not only does it help resolve tensions between IT and business users but greatly empowers business users by giving them greater control over their applications.
Increases agility
Citizen developers, with their close proximity to the area of concern, can determine the appropriate course of action. They can then work with their teams to build solutions that not only solve the problem efficiently but drastically do so in as little time as possible.
Kickstart your journey with Kissflow
More often than not, picking the right solution is the most important aspect of successful citizen development. The ideal citizen development strategy requires a flexible and scalable no-code development platform to build tailor-fit business solutions.
Kissflow's citizen development platform empowers citizen developers and brings ideas to life. The platform's versatility helps every organization, irrespective of where there are on the scale of digital maturity, to empower citizen developers and accelerate their digital transformation journey.