Digital transformation has revolutionized work, creating more demand for software. But software developers, the people needed to create solutions for the numerous digital transformation initiatives, are in short supply. This has given birth to citizen development.
Citizen development is a framework that helps a business to streamline processes and automate workflows without the IT team. Non-IT employees can create business applications with IT-sanctioned low-code/no-code platforms. This way, business users can help stressed IT departments to deliver applications on time and satisfy their needs.
Why are companies adopting citizen development?
No-code platforms empower citizen developers to safely improve business processes. An organization with a good citizen development program has happier employees and more efficient operations, enabling the IT team to focus on more critical projects.
7 benefits of implementing citizen development in your company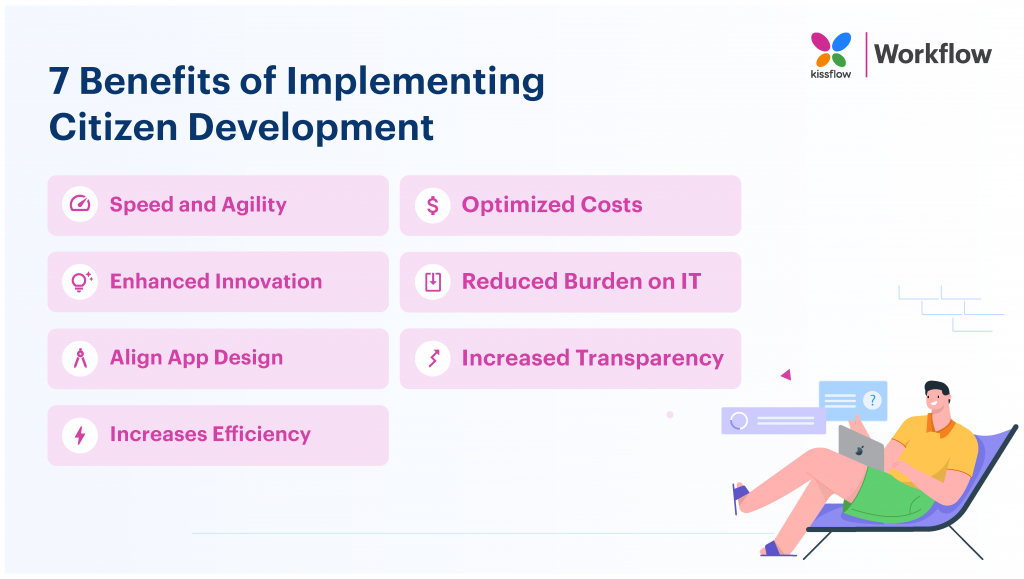 Below are the top benefits of citizen development.
Speed and Agility
Enhanced Innovation
Align App Design with User Needs
Increased Efficiency
Optimized Costs
Reduced Burden on IT teams
Increased Transparency
1. Speed and Agility
Gone are those days when app development took months. Thanks to citizen development. Now non-IT employees can build enterprise-grade apps easily, using drag-and-drop interfaces, and automate workflows without bottlenecks. Citizen developers can help a company to adapt quickly to overcome challenges or meet new demands.
Learn more: How does Citizen Development Enhance Business Agility
2. Enhanced Innovation
Citizen development programs drive innovation while upskilling employees. IT teams are often overwhelmed and are busy building critical solutions and maintaining existing systems. No-code and low-code tools enable citizen developers to meet organizational needs, inspire them to innovate, and help design new apps with ease.
3. Align App Design with User Needs
In most organizations, IT teams have limited resources and are unable to meet the demand for new apps. Citizen developers are experts in their field and know what data to collect and how to use it. They can easily build business-critical apps and take some pressure off the IT team.
Learn more: The best apps in the company are made by citizen developers. Here's Why.
4. Increased Efficiency
Empowering business users to design applications increases their job satisfaction. Even remote workers can take part in the citizen development program. 1,650 companies that adopted citizen development saved 1.6 hours per week in 3 years. Improved efficiency and agility give a company a competitive advantage.
5. Optimized Costs
No-code citizen development platform allows citizen developers to create applications in less time and with less money. Organizations can optimize existing resources and employees, significantly reducing expenses. Developing more apps in-house eliminates the need to outsource work or purchase third-party applications.
6. Reduced Burden on IT
IT teams have enough on their plate- troubleshoot existing apps, create new apps, and focus on digital transformation. Citizen development allows IT to focus on more complex projects. When your IT team isn't overwhelmed, it becomes easy to monitor the risks and rewards of citizen development and to provide permissions for apps to be built.
Learn more: How Citizen Development Unites Business and IT
7. Increased Transparency
Citizen development streamlines the app development process by empowering skilled employees to build their own solutions. This way, redundancies, and shadow IT are eliminated to a great extent. Organizational transparency is also enhanced by enabling sharing of tools and resources.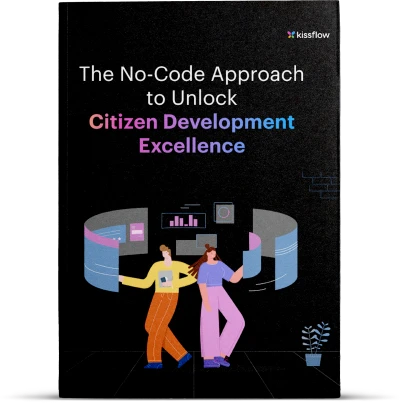 #Free eBook
The No-Code Approach to Unlock Citizen Development Excellence
Reasons why companies are investing in citizen development
Simplifies business processes
Be it a linear process or a complex one, organizations always seek a simple way to handle them. Citizen development helps streamline processes, brings fluidity to the workplace, and builds strong communication across all departments.
Learn more: What is a citizen integrator?
Fast-tracks digital transformation
Market conditions are constantly changing, and organizations lookout for a roadmap to release products and services quickly. A citizen development model can help a company to speed up product development and enhance better service delivery.
Supplements insufficient developers
More businesses are leveraging their non-technical workforce and upskilling them to minimize the load on IT. With the right tools, citizen developers can develop essential business apps faster, eliminate bottlenecks, and improve process efficiency.
Learn more: Citizen Developer vs Professional Developer
Improves business & IT productivity
With the right low-code/no-code platform, citizen developers can align business and IT. They build the apps they need without relying on IT. This way, the IT backlogs are greatly reduced, and the cost is optimized, boosting the organization's overall productivity.
Learn more: How Low Code Apps Empower Citizen Developers
How Kissflow can help you empower citizen developers
Picking the right platform determines the success of your citizen development program. Kissflow's Citizen Development Platform is a comprehensive no-code work platform, that is uniquely designed to meet the needs of different organizations. Empower your citizen developers with Kissflow and lower costs, boost productivity, and meet your company's growing need for apps.