Digital transformation is now the biggest concern[1] for directors, CEOs, and other C-level executives. It is estimated that digital transformation spending will reach over $2 trillion[2] by the end of 2022. And yet 70 percent[3] of digital transformation initiatives do not reach their goals.
Companies that are able to digitally transform in a successful manner improve employee productivity by 52 percent[4], operational efficiency by 40 percent, and customer experience by 46 percent. For organizations around the world, this means, implementing digital transformation in the right way is now more important than ever.
However, digital transformation is a multi-step journey which can take anything from weeks to months, and it is easy to feel overwhelmed with all the changes. It's important to understand what digital transformation really is and how it can help your organization before making any big changes.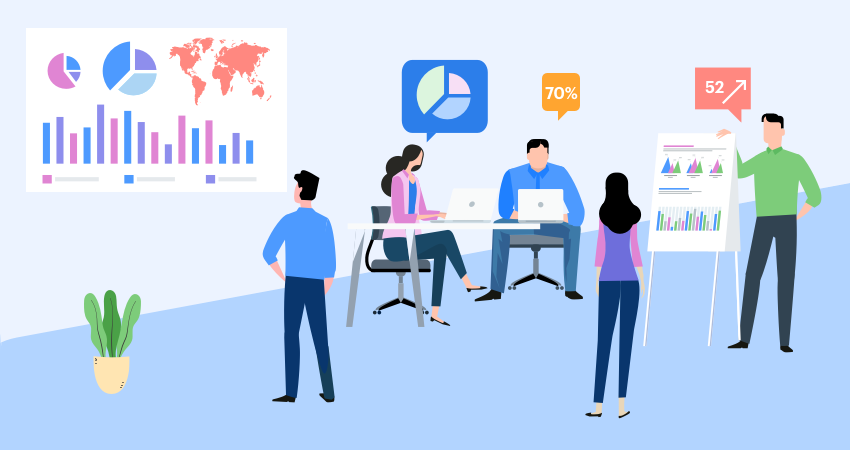 What is digital transformation?
Digital transformation is the process of integrating technology in all the different verticals of the organization to change the way it operates and offers value to its customers. It is about using digital tools and technologies to create new processes or modify the existing ones in order to meet the changing needs of the market.
Digital transformation is not a one-off project that you can implement and be done with. Instead, it is a cultural and mindset shift that requires organizations to fundamentally change the way they work.
Digitization and digitalization are also often confused with digital transformation, but they are actually very different from the latter.
Digitization is the process of converting any analog information you have into a digital form, like converting paper records into digital files.
Digitalization uses digitized information and latest technologies to transform processes and make them more efficient
While digitization and digitalization are focused on the technology, digital transformation is about the end users using the technology. Organizations can implement numerous digitization projects right from automating processes to incorporating new tools.
But digital transformation is not something that organizations can implement as projects. Instead, digital transformation requires cross-cutting organizational change which focuses on employees, customers, and internal business processes.
The steps for successful digital transformation
Step #1: Assess the current digital state of your organization
Before you start investing in new tools and technologies, you need to know where your organization stands from a digital point of view. You can achieve this by conducting a company-wide survey to better understand the main challenges and areas of improvement.
What are the main problems faced by employees everyday?
Are there any manual processes that can be easily automated?
Is it possible to streamline projects for higher productivity?
What are the biggest customer complaints?
How can digital technologies help the company achieve its long term goals?
Moreover, if you are using a legacy system in your company, you also need to consider how you can migrate the data to modern applications with minimal downtime.
Step #2: Identify and analyze the main objectives for digital transformation
Executing a successful digital transformation starts by identifying the main objectives and the strategies that can help achieve those objectives. Many organizations often only focus on digital customer experience when strategizing their digital transformation journey. But considering digital employees experience is just as important because your employees will be the one handling all the internal company work and talking to customers directly.
Here are some of the major digital transformation objectives and goals that you can consider:
Transforming complex business processes into streamlined workflows to reduce costs and improve overall productivity
Simplifying service management in the organization
Gaining visibility and transparency across the different verticals
Offering better digital end user experience for both customers and employees
Optimizing the organization infrastructure and operations for better agility
Though your exact objectives will depend on the challenges your organization faces and the main end goals.
Step #3: Create your digital transformation roadmap
Now that you know your current position and where you want to be, it's time to create a roadmap that can help you achieve your digital transformation goals. You should take an incremental approach to digital transformation instead of trying to achieve everything at once. After all, digital transformation cannot happen in a day or even a week. It can take anywhere between a few months to several years.
Prioritize your objectives and then move forward with one step at a time. Not only will this make it easier for you to track the progress, but it will also minimize problems and bottlenecks. Moreover, moving steadily towards a digitally transformed organization will allow your employees to slowly get used to the new changes.
Step #4: Establish a leadership for achieving digital transformation
Expecting your CTO or CIO to manage the entire digital transformation strategy while also handling their core work responsibilities is unrealistic. They might not have the time or the expertise to lead the company through a digital transformation journey.
Instead, you need a dedicated team led by the Chief Digital Officer (CDO) that is responsible for achieving digital transformation within the organization. If there are qualified employees within the company who have the expertise to handle this, you can create a team internally. But if you don't have the right talent to lead the transformation, it's always best to hire new talent to guide everyone in the company.
Step #5: Review and refine
Constantly monitor and review all the digital transformation initiatives and make modifications to them according to internal feedback.
After all, things don't always work how you want them to. An application that you thought would help in offering better customer service might end up being too complicated for your employees to use.
What does a digitally transformed organization look like?
Digitally transformed organizations have the right digital savvy leaders in place that support building powerful capabilities for the workforce of the future. By empowering employees to work in new, more effective ways, organizations are able to achieve increased collaboration, higher efficiency and better results. Here are some of the many benefits of digital transformation for organizations:
Increases mobility
Agile organizations need technology solutions that can allow their employees to work even when they are not present in the office. Most digital transformation strategies are implemented with mobility as the main focus, which has now become even more important in the post-pandemic world. Offering mobile capabilities increases productivity, improves employee experience, and enhances overall operational efficiencies as well.
Improves collaboration across departments
It can be daunting to completely transform your organization right from the entry-level employees to the leaders. All the projects, processes, and strategies have to be carefully addressed in order to transform them digitally.
While everything may seem overwhelming at first, it also introduces a great opportunity to unite the workforce. You can encourage employees from different departments and ranks to come together to have a conversation with each other in order to make the entire digital transformation journey a success.
Update knowledge and skill sets of employees
According to a report, over 31 percent[5] of organizations lack digital talent and experience in both their leadership and workforce. As a result, they view digital transformation as a huge cost for their business. When companies don't have the right talent to lead digital transformation successfully, it's natural for them to be inhibited by fear and excessive costs.
Organizations that brave through this challenge by upskilling their existing employees and hiring new employees with required capabilities are able develop skills for the future, and equip their company with in-house knowledge needed to sustain growth and competitive edge in today's digital world.
Data-driven decisions
When all your company data and processes are handled digitally, you get access to useful insights which you can use to make better and more informed data-driven decisions. It's also possible to use insights to optimize your internal business processes and strategies. Moreover, data-driven insights can also help you in understanding your customers better and enable you to create business strategies which are more agile and relevant towards your target audience.
A digital workplace is the first step towards digital transformation
Digital transformation isn't just about investing in digital technologies. No matter how much money you invest in implementing the latest technology in your organization, the truth is, technology alone cannot lead you through a successful digital transformation. It takes a company-wide cultural shift for organizations to truly leverage the power of technology.
While the technologies which are used within the company can vary greatly, there is one element of digital transformation that remains exactly the same in every organization and every industry–the employees who use the technology on a daily basis.
For a company, its employees are the biggest asset, not the technologies they use. It's your employees who will end up determining whether a technology is a success or failure for your company.
By introducing a digital workplace platform as the first step of your digital transformation journey, you can make it easier for employees to manage their day to day work responsibilities. Moreover, when employee experience is the main focus of your digital transformation initiatives, it makes your workforce feel more involved in all the changes happening in the company.
A digital workplace gives employees access to all the digital tools and data that they need to streamline their work. It also helps automate the repetitive parts of the processes which in turn saves time and allows employees to focus on the more complex tasks. When you give your employees the right tools that actually help them perform their best, it also improves the overall employee experience within the company and leads to higher productivity.
What does digital transformation mean for your organization?
Over 89 percent[6] of companies have either already adopted a digital first business strategy or they are planning to do so. Digital transformation is important for companies to grow and get ahead, especially in the post-pandemic world. Though digital transformation can mean different things to different companies, with the right mindset of continuous improvement and innovation it's possible to leverage all the benefits of digital transformation.