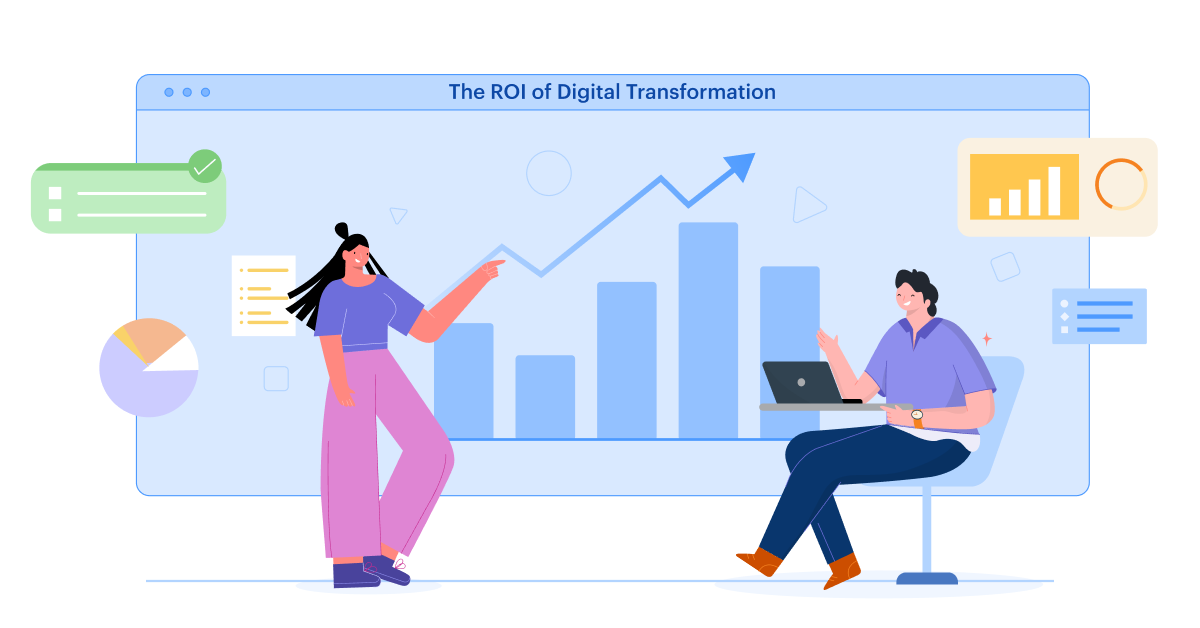 The ROI of Digital Transformation: How to Measure it?
How much time and money could a low-code/no-code work platform save? Calculate the ROI of Your Digital transformation Efforts.
The accessibility of digital technologies drives the rise of digital transformation across different sectors of society. By 2026, global digital transformation spending is forecast to reach 3.4 trillion U.S. dollars. As technologies evolve and integrate into people's day-to-day lives, businesses are beginning to invest in digital transformation as a driver of market growth and value. The question is: what are the returns of a digital transformation initiative, and what do they entail for a business?
Digital transformation motions for companies to assess their goals and objectives. Does the company want to optimize workflow in adopting a digital transformation initiative? Improve customer relations? Or establish a better work experience for the employees? Each objective corresponds to a new solution the company will invest in. To measure the success of Digital Transformation, calculating the ROI is important.
Investments in digital transformation initiatives are growing by the minute. However, it can be argued that ROI is declining. This is likely brought about by a misalignment in the expected outcomes, goals, and benefits of adopting digital technologies in the workplace.
Often, companies make the mistake of investing in grandiose solutions without setting aside time for employees to adjust to the new infrastructure. Sudden shifts affect the performance and market value of a company. 57 percent of companies fail to see good returns on their digital investments, with underwhelming market growth and performance as compared to their competitors.
Learn more: Why Digital Transformation Fails?
Digital transformation doesn't happen in just one sitting. Rather, it's a long-winded journey with technologies evolving as you implement them and discover their full potential. Measuring ROI should be a recurring activity to ensure that the company is investing its resources in a solution that can deliver results and boost profits by a sizable margin.
A low ROI can signal that the digitalization of the company is performing poorly or that the metrics in place aren't measuring the right data for management to assess the efficiency and profitability of the digital solution. Reflect on how available resources can be utilized to maximize digital innovation.
As a CIO, understanding the return on investment (ROI) of digital transformation initiatives is crucial to making informed decisions.
How do you measure the ROI of Digital Transformation?
No two industries operate on the same set of workplace standards, philosophies, and objectives. However, it can be argued that C-suite executives share similar aspirations for their respective organizations to grow and command the market and augment shareholder value. Business leaders are immersed and well-informed on the latest strategies to make the most out of scarce resources, adaptive technologies, and competitive markets.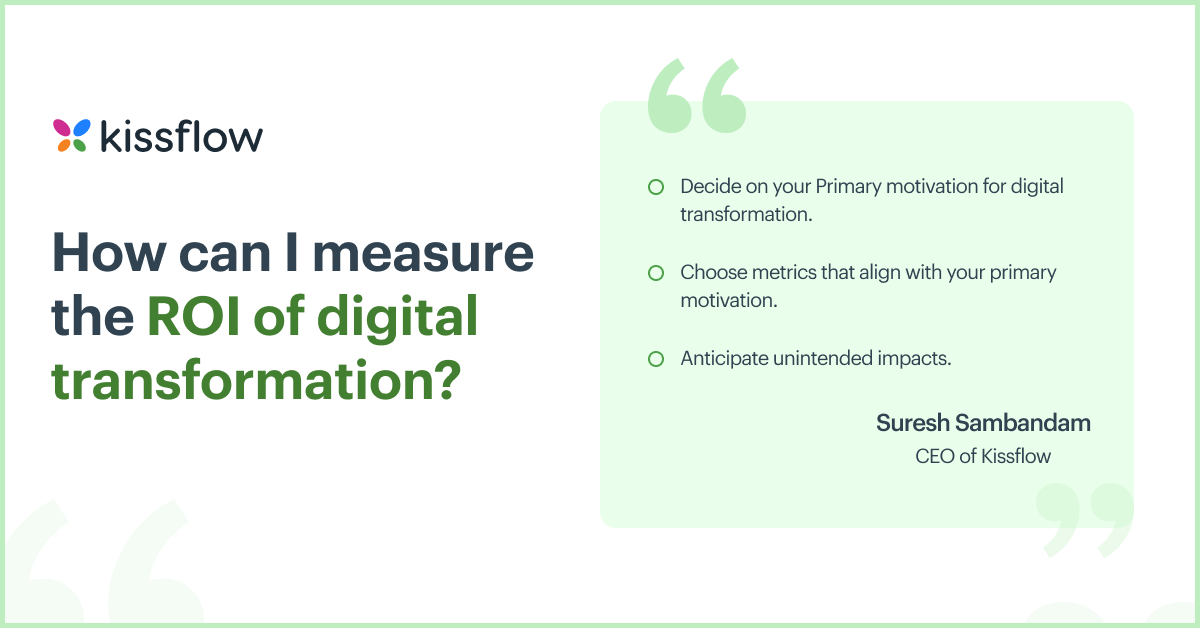 Kissflow CEO Suresh Sambandam addresses the important question related to measuring the success of digital transformation, which is "How can I measure the ROI of digital transformation? " He says:
1) Decide on your Primary motivation for digital transformation.
2) Choose metrics that align with your primary motivation.
3) Anticipate unintended impacts
Source: Forbes on The ROI of Digital Transformation by Suresh Sambandam, CEO of Kissflow
With this in mind, here are steps that help you in measuring the ROI of digital transformation.
Step 1: Set business objectives: Whether the objective is to boost revenue, improve productivity, address customer satisfaction, or gain a high NPS score, it is vital to narrow down a business objective that matters the most.
Step 2: Define investment goals: Defining digital transformation investment goals is a detailed process. It involves gathering information on what kind of investment is required and what the investment will be used for—staffing, infrastructure, technology, etc. It needs to have a specific figure attached to it.
Step 3: Identify value metrics: This step is crucial since it determines what metrics reflect the success or failure of the digital transformation initiative. These are metrics that directly impact value creation and delivery while serving as a rolling metric that can be used to track the success of the project on a timely basis.
Step 4: Determine time frames: Painting an accurate picture of ROI is impossible without setting a strict time frame. Along with setting a timeframe for measurement, it is important to look at the baseline metrics to understand where the numbers are now. Once that is complete, the next step is to set incremental goals that can be monitored within the timeframe.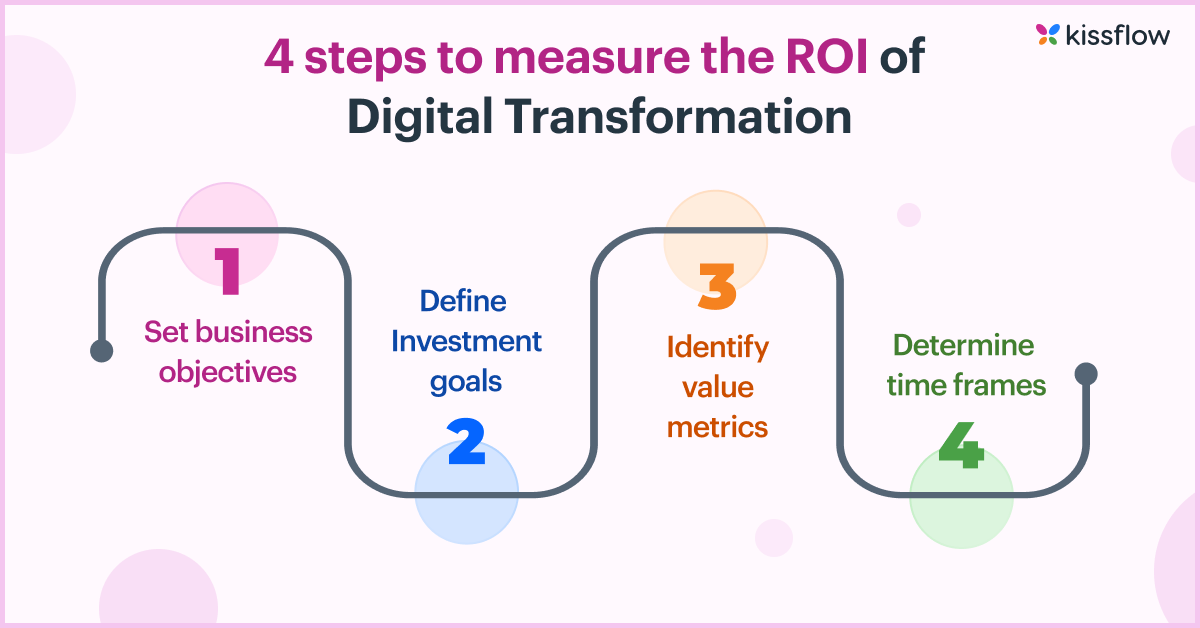 Examples of key metrics to Measure the ROI
Yet, no matter how much you adopt the best digital solution to meet your objectives at an efficient rate, careful consideration of key metrics is important. What motivates you to pursue digital transformation? what is the objective of your initiative? Is it to improve customer experience, increase social engagement, or increase workplace productivity?
Metrics vary according to the digital transformation goals of a business. There's no standard metric for every company to adopt in assessing their performance. That being said, tracking and evaluating ROI should be second nature for a business to prosper in a competitive and fast-paced industry.
Example Metrics to set for measuring ROI include:
Cost reduction of operations
Productivity boost
Business growth
Data security
Organizational culture
Digital transformation within a business occurs across a number of key performance areas. PwC proposes a digital ROI framework encompassing employees, customers, infrastructure, innovation, operations, and safety and soundness. That being said, it's highly recommended for businesses to set a transformation goal one at a time so as not to overwhelm the workplace with change.
Identify which area requires immediate attention or is central to the overarching strategy for the business's digital transformation journey. Is it improving customer experience or establishing secure database systems for critical assets and customer data?
Focus on a single objective and its significance to the growth of the business. Regular assessment of engagements on social media, for example, can inform a business of the interests and buying behavior of its target market. Engagement score and audience reach are viable metrics to determine the returns of digital investment.
Tips to improve the ROI of your Digital Transformation initiatives
IT departments are under extra pressure to streamline processes and employ digital solutions that will enhance their market value and increase returns of digital investments. Just as crucial it is for a company to determine its business transformation goals and set up the appropriate metrics, it's equally beneficial to formulate a strategy for growing ROI.
Set expectations for ROI growth
Avanade IT advisory lead Elizabeth Ebert says that flexibility in strategizing digital transformation is essential to drive efforts with potential or next-level innovation. Setting an expectation on the returns of your newly adopted digital transformation will serve as a guide for the growth and success of an organization.
Consider the environment of your target market. What are the pressing needs that your digitized services and products could offer? How can a digital initiative improve your workflow while expanding customer reach? Keep the organization's objectives in mind to maximize the functionality of available digital tools and elevate revenue growth.
Attract the ideal target audience
Employee empowerment and performance are pivotal metrics when acquiring digital solutions for your business. But did you know that the right clientele shows the path for diverse revenue streams? Tapping the ideal customers enlightens businesses on which digital transformation opportunities they can leverage to diversify their customer base, increase touchpoints, and raise conversion rates.
Introduce change in smaller increments
Change is inevitable but sometimes uncomfortable to work with, especially in a rigid work structure. Digital transformation takes time to yield significant returns. Nonetheless, it's unnecessary for a business to adopt a large-scale digital initiative. Keeping track of ROI is more manageable when digital transformation is performed in segments.
Smaller introductions of emerging technology in the workplace give employees ample time to appreciate the new workflow. This also allows an organization to scale back on the implementation of digital services and experiment with technologies that are evolving and increasing at breakneck speed.
"You can't delegate digital transformation for your company. You and your executives have to own it! Executives need to engage, embrace, and adopt new ways of working with the latest and emerging technologies."
— Barry Ross, Ross & Ross International
Leverage customer loyalty to increase ROI
Loyal customers remain to be the key drivers of Digital Transformation for revenue growth and high returns. Retaining customers requires collaborative efforts between marketing, product development, and project management teams to develop a profitable strategy.
In leveraging customer retention for ROI growth, customer service is also vital. Analyze feedback and improve customer experience to drive engagement.
Evaluate your performance and ROI regularly
Just as ROI metrics must be continuously monitored in alignment with your digital transformation goal and overarching business objectives, performance tracking is also essential in increasing ROI. Evaluation allows a business to track progress and adjust key performance indicators.
The success of digital transformation progress involves measuring the ROI of an organization. As there is no standard way to do that, start with defining your business goals and identifying the key metrics. Setting aside time to analyze your organization's strengths and weaknesses lets you choose the best metrics to measure your organization's ROI. Kissflow is a low-code platform that drives digital transformation goals and accelerates your organization's growth and revenue.
Read More on Digital Transformation
1. 11+ Digital Transformation Case Studies You Should Know
2. How CIOs Are Achieving Their Digital Transformation Goals?
3. Creating an Effective Digital Transformation Plan is Easier than it Sounds
4. There's only one metric that matters in digital transformation, and it's not cost
5. The cost to implement Digital Transformation in 2023: How to reduce it?