Accelerate Enterprise Digital Transformation
Businesses of all sizes need digital technology to optimize the way they manage day-to-day operations, grow faster, and be agile.
Benefits of Embracing Enterprise Digital Transformation
Implementing a digital transformation framework across an enterprise makes an organization more agile and better adaptable to changing circumstances in the industry.
Enterprise Challenges During Digital Transformation
Despite having more resources to invest in, enterprises still experience some challenges in implementing digital transformation strategies for their organization. Some of the common challenges include:

When to start
The challenge of when and how to start with digital transformation is often a big problem for enterprises. Typically, there are a lot of moving wheels, and identifying the perfect candidate for digital transformation is often difficult.

Resisting digital change
Digital transformation is a complex and resource-intensive process. Decision-makers are often tempted to keep things the way they are because they still work and are convenient.

Maintaining overall compliance
Large enterprises are often guided by several internal and external compliance regulations. Staying on track with all of these compliance requirements while implementing major changes can be overwhelming.

Overcomplicated business processes
Digital transformation has to be tailored to the internal processes of every organization. For many enterprises, clarifying which of their numerous processes needs to be optimized is often confusing.

Time and resource-intensive
Implementing digital transformation across large enterprises with an international and large workforce can take a lot of time. To ensure rapid implementation of digital transformation strategies, organizations must choose robust automation tools that can be implemented easily and swiftly.
Lack of proper IT resources
The lack of a proper IT team only widens the gap between implementation and migration. Skilful IT talents possess strong prowess in technology, thereby making digital transformation efforts successful.
The Need for Accelerating Digital Transformation for Enterprises
In a world of rapidly changing consumer behavior and fast-evolving technology, businesses that can accelerate digital transformation often find that they get an edge over others. Some of the reasons why you need to consider accelerating digital transformation.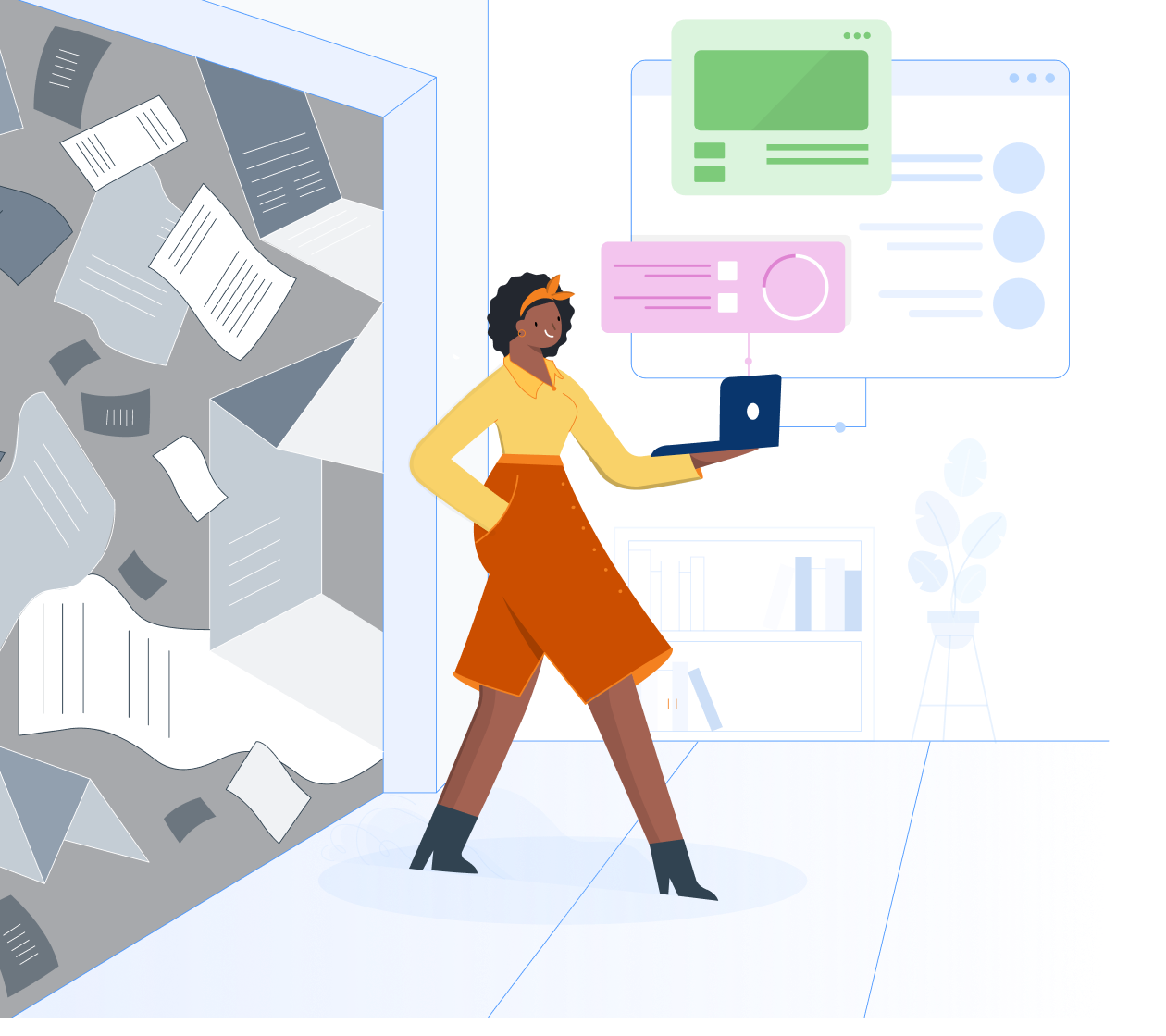 How Kissflow Can Accelerate Enterprise Digital Transformation
How quickly an organization can achieve digital transformation goals often depends on the technology they're using. However, relying on IT teams to build and deploy the tools needed for enterprise digital transformation takes too much time and effort.
A much better alternative is to use a Low Code No Code solution like Kissflow.
Step up your digital transformation efforts with Kissflow
Encourage digital culture
Here's What Our Customers Have To Say
Kissflow is not complex and has really been easy to build our processes on. It helps us to evaluate the process in hand and we always find ways to improve.
Matthew Robinson,
The beauty of Kissflow is how quick and easy it is to create the apps I need. It's so user-friendly that I made exactly what I needed in 30 minutes.
Oliver Umehara,
Seal cracks, send approvals, and have fun doing it. Kissflow has streamlined our ability to track reports and processes.-
Robert Hulak Jr.,