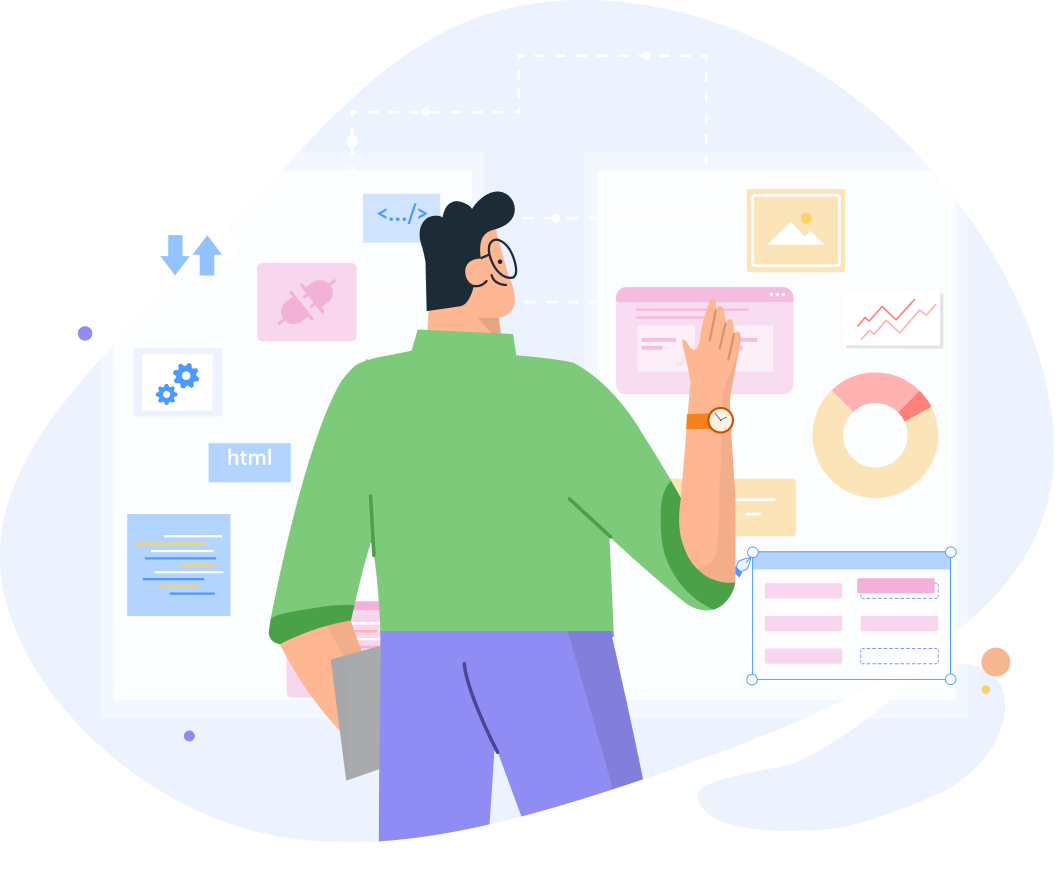 Build Custom Application Development Solutions Faster than Ever
Strengthen your brand, meet customer requirements, and scale easily as your company grows with custom application development solutions.
Why custom application development solutions
are the best choice?
On average, organizations save about 7.5 hours per employee per week, with custom apps

Custom applications built using low-code and no-code platforms take 50% -90% less time to create.

It costs roughly 15-20% of an app's original development cost to maintain it which makes building custom apps cheaper

33% of pro developers feel building products with unspecific requirements is their biggest challenge

58% of users are frustrated by application interface inconsistencies and 52% by overall app performance
Improve custom app development for the new era with Kissflow

Intuitive user interface
Experience a simple, customizable graphical user interface with role-based access control to protect sensitive data and restrict who can view or edit workflows.

Visual low-code platform
Use the flexible drag-and-drop form designer to design and modify workflows or apps, without writing any code.

SLA status indicators
The Kissflow dashboard uses color-coded SLA status indicators to prioritize workflows and tasks, helping you meet deadlines faster.

Smart, real-time notifications
Automate and customize notifications to get instant, relevant notifications on new tasks, upcoming approvals, and processes on email or mobile devices.

Pre-built templates
Increase your time to market with Kissflow's 400+ pre-built templates. The drag-and-drop elements help you design and deliver apps quickly with little to no coding skills.

Single sign-on
Grant users access and track their activity with single sign-on across multiple independent application platforms.
A unified work platform that fits your need
Build apps the way you like
Ensure a healthy cash flow with well-managed accounts and accurately maintained credit applications. Track every payment, streamline the budgeting process, and allocate funds better.
Identify exceptional talent, streamline applications, automate interview feedback, track candidates, recruit people, and conclude an efficient hiring process.
Monitor travel requests and approvals, automate travel management, and streamline employee travel expenses from screening requests to reimbursement.
Modernize your purchase order processes to improve efficiency and precision. Prioritize purchase requests based on count and urgency and expedite procurement from one platform.
Onboard new hires effectively, resolve issues promptly and keep them engaged. Customize employee resignation, schedule knowledge-transfer activities, and ensure business continuity.
Two ways, same aims
Low code and no code development platforms are intentionally designed to empower non-technical users familiar with processes to build apps. They use a visual approach to app development, increasing accessibility to tech-savvy individuals, and enhancing productivity.
How Custom Apps are Better than Readymade Apps
Custom Apps
Higher security and reliability that addresses external security threats better.
They are more client-oriented, thus better able to meet user expectations.
Personalized app development is tailored to company specifications and requirements.
Less investment and the ROI is usually higher and increases over time.
Flexible and highly scalable, helping companies expand more effortlessly.
Readymade Solutions
Have issues with hacking and security breaches.
They don't take into account a customer's peculiarities.
Sometimes challenges arise in integrating apps into existing company systems.
More investment over time because of the subscription-based model.
They don't satisfy the ever-changing requirements of businesses, making it hard to scale up.
TESTIMONIALS
Hear From Our Happy Clients

"The beauty of Kissflow is how quick and easy it is to create the apps I need. It'so user-friendly that I made exactly what I needed in 30 minutes."
Oliver Umehara
IT Manager
"This is so easy, even my mom could do this.' It was extremely intuitive and straightforward. The watermark was, 'I don't need to call IT to do this. I can do it myself."
Renee Villarreal
Senior IT Manager
"With Kissflow, I got used to developing processes very fast and the support given was very helpful."
Griselda Juve
Purchaser