As calls for businesses to speed up their digital transformation efforts grow, citizen developers are proving to be a valuable asset. With access to low-code and no-code (LCNC) platforms, these business-side employees are creating new and innovative applications with minimal oversight from IT.
Fundamentally, citizen development is driving a culture of innovation and digital enablement that produces efficiencies throughout the organization. This blog will highlight 25 citizen development statistics and key trends that indicate its critical role in democratizing IT and scaling app development for digital transformation.
Read on to learn why citizen development is becoming popular with companies looking to stay relevant in a digital age.
A quick overview of citizen development
Before we look at the trends, let's quickly recap the concept of citizen development.
Traditionally, if a business unit wanted an application, they'd have to speak with IT to see if they had the resources to fulfill their need. But with companies facing a shortage of developer talent, any request was highly likely to join a queue of unfinished projects.
Fast forward to today, the proliferation of LCNC and citizen development has empowered business users to develop apps and systems on their own. These "citizen developers" are able to ship task-focused software faster than it'd take the IT department to decide on a project. Employees familiar with business processes can leverage their knowledge to create solutions that support their daily work and the organization's overall objectives.
As a result, more and more companies are embracing citizen development than ever before. These businesses realize that citizen developers can streamline organization-wide development, and their projects can make efficiencies at both the departmental and enterprise levels.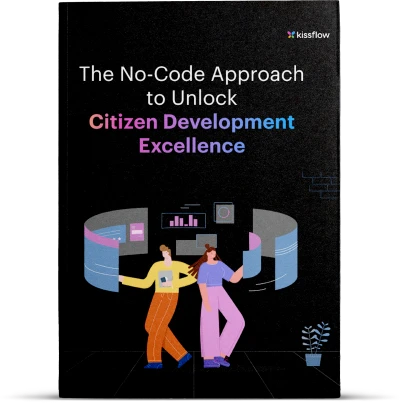 #Free eBook
The No-Code Approach to Unlock Citizen Development Excellence
Citizen development statistics and trends to watch in 2023
Citizen development is a fledgling movement that's on track to change how startups and enterprises deploy business applications.
Below, we categorize its journey under different categories to help you understand what trends are fueling its growth and how it's helping businesses become more agile.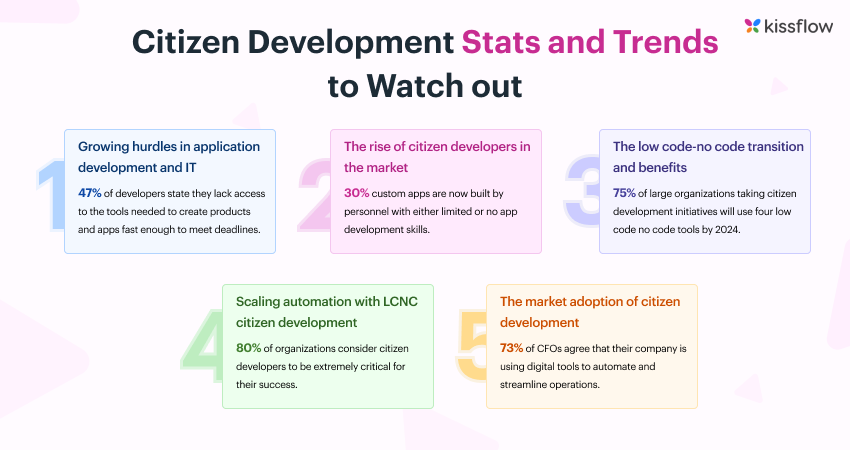 1. Growing hurdles in application development and IT
In most companies, IT wants to own the entire application development process. However, critical backlogs along with a shortage of skilled workers create hurdles in their development capacity.
For example:
The rise in citizen development is eliminating these hurdles by making solution building a collaborative effort across organizations. That is, it is helping business units and teams build applications to their own specifications with little if any input from IT.
Further, developer shortage is being compensated through the utilization of citizen developer (aka. low code, no code) platforms, with Gartner revealing that 70%[6] of the new apps delivered by large enterprises will rely on these systems to reduce development time. In a fast-evolving business environment, speed is imperative to success.
Learn more: How Citizen Development Unites Business and IT
2. The low code-no code transition and benefits
Citizen development might not have seen daylight if no code low code platforms didn't exist. The citizen development platform allows non-developers to drag and drop features and build automation flows to reduce tedious tasks. They also offer out-of-the-box components, meaning business users don't have to start building from scratch.
Due to these reasons, low-code no-code platforms are being increasingly adopted:
No code low code platforms are also helping set a foundation for future citizen it developers. They enable existing users to construct and maintain a development language, which everyone inside an organization can speak to develop apps of any complexity.
3. The rise of citizen developers
Interestingly, LCNC platforms have democratized development to such an extent that anyone in the organization should be able to work on applications. This has motivated individuals with critical thinking abilities and a fundamental understanding of business needs to fabricate features, apps, or integrations by citizen integrators for the entire organization or a whole division.
There's been an exponential growth in the number of citizen developers, with the rising tech skill shortage indicating a further increase might be on the cards:
The rise of citizen developers has created efficiencies on various fronts, which is only natural given people who go on pursuing citizen development come from the front line and know what problems need to be solved.
Learn more: Best Apps in the Company Are Made by Citizen Developers. Here's How.
4. The market adoption of citizen development
Adoption of citizen development is growing at a breakneck pace. The idea is to get more non-technical employees involved in the development of business applications so IT can focus on more critical projects.
Along with freeing up resources, many companies are using citizen development to reduce costs and enhance transparency. The swell in the demand for apps often results in rampant unchecked product sourcing by business users—citizen development combats this by empowering users to create their own apps in an IT-approved citizen development governance.
As such, companies and their IT department are embracing citizen development with enthusiasm:
To reap the most benefits, organizations should allow citizen developers to work independently and empower them with the latest knowledge through regular training—two initiatives that can lead to higher-quality adoption within your organization.
Learn more: How To Kickstart Your Citizen Development Journey
5. Scaling automation with LCNC citizen development
So many organizations dream of scaling citizen automation, but bottlenecks like confusing processes and understaffing have traditionally prevented them from achieving this goal. Now, these companies are counting on citizen development to drive digital transformation and automation throughout the business.
Citizen developers can lend a helping hand to an organization's Automation Center of Excellence (CoE) by automating workflows with LCNC tools.
These stats make it clear that citizen development, driven by low code no code technology, will prove fundamental to the automation maturity of the enterprise.
Learn more: Citizen development is Fundamental to the Digital Workplace. Here's How.
Fast-track your digital transformation with citizen development
Given the trends above, it's clear that citizen development will be an integral part of organizations' digital transformation initiatives as they look to adapt to the dynamic business environment. Supported by low code no code solutions, citizen developers will shorten build times and enable businesses to align app design with user needs.
If you're looking to empower citizen developers in your own organization, Kissflow's Citizen Development Platform can be a good place to start. Our solution is a no-code work platform that is designed to meet the needs of different units in a business. Kickstart citizen development with Kissflow> and boost productivity, lower costs, and accelerate your company's digital transformation efforts.