In today's hyper-connected, digital business world, the benefits of digital transformation are becoming clearer than ever. Digital transformation threatens to leave those who have not adopted it behind.
Limited IT resources and a shortage of skilled expertise continue to slow down digital transformation in many organizations. It is a major issue that businesses all over the world are currently facing.
According to Forrester's research[1], there would be a deficit of over 500,000 software developers by 2024. That's not to mention the fact that IT teams are typically far removed from the problems they need to solve and they might be too overwhelmed with their conventional responsibilities.
All of these alone necessitate intervention if digital transformation will be achieved. Empowering non-IT employees to participate in innovative efforts that drive citizen development is one of the solutions that could be effective to accelerate digital transformation.
The rise of citizen developers
One truth every organization that has embarked on digital transformation has had to face is that IT alone cannot single-handedly manage digital transformation initiatives.
While they play a major role in large-scale transformation efforts, successful digital transformation needs to involve those closest to the problem. And so, digital transformation requires collaboration between IT departments and business users.
Citizen developers are business users that are empowered to develop and implement solutions that solve problems identified in business processes. One of the core aspects of digital transformation is the modernization of business processes. Many organizations are starting to realize that this isn't achievable without citizen developers and they're starting to prioritize it.
According to an IBM survey, 80%[2] of respondents say they're partnering with citizen developers to achieve their digital transformation goals. With citizen developers working alongside IT, enterprise-wide digital transformation can take place.
How citizen development accelerates digital transformation and benefits the organization
Activating citizen development makes rapid innovation possible. This will have a profound impact on how fast an organization can develop solutions that accelerate digital transformation goals.
More importantly, it empowers people closest to the problems to play a significant role in creating solutions for such problems. The following are some of the ways citizen development benefits an organization and contributes to the acceleration of digital transformation efforts: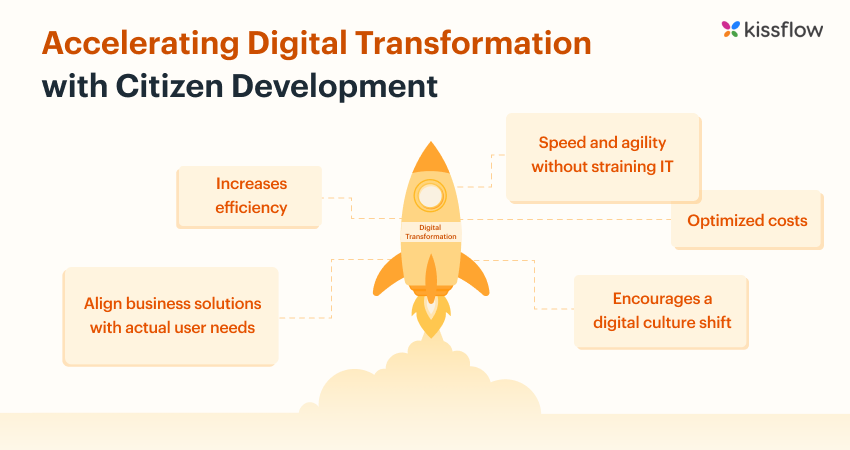 1. Speed and agility without straining IT
In the past, building an app to solve an identified business problem will take several months of development. With IT teams working on more pressing matters such as maintaining existing infrastructure and security, the process is not only slow but also inefficient.
Empowering non-IT employees to build enterprise-grade solutions solves this problem once and for all. The citizen development model helps organizations adapt quickly on their digital transformation journeys without straining IT or getting stuck on slow processes.
2. Align business solutions with actual user needs
In most large organizations, IT teams are often far removed from the problems they need them to solve. Citizen developers on the other hand are experts at the processes they're building for.
They're familiar with the problems, and the process for solving them and have access to the data needed to build business-critical apps that are precise in their operation. So not only are you putting less pressure on the IT teams, you're using a more efficient approach that achieves significantly better results.
Learn more: The Best Apps in the Company Are Made by Citizen Developers
3. Increases efficiency
Digital transformation is like trying to change all the parts of a plane while it is still in the air. Your organization's day-to-day running will not be on hold while you're trying to digitalize systems and introduce innovative solutions.
With a citizen development program, you're making it easier to implement changes in an agile and efficient manner which gives your company a competitive advantage in the long run.
Learn more: LCNC and Citizen Development: A Match Made in Heaven
4. Optimized costs
Empowering citizen developers to build apps with no code tools costs you significantly less time and money compared to the cost of hiring extra It professionals. Citizen developers already work for you.
Aside from the cost of training them and actual implementation, there's no additional cost. It is a cheaper alternative to outsourcing work or purchasing third-party that solves the same problems.
Learn more: The Future of Apps must include Citizen Development. Here's Why.
5. Encourages a digital culture shift
One of the biggest pitfalls of digital transformation is resistance to culture change. Digital transformation will change how you work, and employees have to be on board with that if the initiative will be successful.
Activating citizen development is one of the fastest ways to get employees on board with your digital transformation efforts. While IT is focused on more complex projects, you're implementing innovation at the department level across your organization and driving a digital culture with greater ease.
Learn more: Citizen development is Fundamental to the Digital Workplace. Here's How.
How IT managers are driving growth and innovation through citizen development
According to a recent Gartner survey, 41%[3] of organizations say they are already implementing citizen development initiatives as part of their digital transformation efforts. Similarly 20% plan on kick-starting a citizen development journey in the nearest future.
Although citizen development aims to drive innovation with the help of non-IT employees, this process still requires a synergy between the IT department and business users under the control of the IT manager. The end goal is such that processes are streamlined, fluidity is achieved and there are stronger communications between IT professionals and business users.
Citizen development is only possible with the right set of tools. And while there are a plethora of solutions, Kissflow's citizen development platform instantly helps you take the step toward a strong citizen development movement.