According to a recent survey by TechRepublic, almost 60%[1] of custom applications are now built outside the IT department. And who do we have to thank for this? Citizen developers. The survey further reveals that at least 30 percent of these apps are being built by employees with limited or no technical IT skills.
As digital transformation accelerates and more organizations scramble to serve their customers better to gain an edge over the competition, the trend of decentralizing app development will become vital.
What is a citizen development program?
Citizen development program is an approach that empowers non-IT users to build business applications using low-code/no-code (LCNC) platforms that are sanctioned by IT teams. With this approach, non-IT teams can design, build, and launch enterprise applications with transformative impact on their internal processes.
Why should organizations need to adopt a citizen development program
In the near future, organizations will code less while still getting more IT apps to transform their processes. According to recent studies[2], no-code developers are expected to outnumber professional coders by 2024. Even now in the early days of adoption, the need for citizen development is an obvious choice.
The following are some of the major reasons why organizations have to adopt a citizen development program:
Meeting the demand for apps
In today's business world, businesses are starting to realize how applications can help their employees do more and work more efficiently. This is motivating a growing demand for software tools. According to Gartner on citizen development, the market demand for enterprise applications is significantly higher than conventional IT departments can build; and growing.
To keep up, organizations will need a way to build apps that are significantly faster, yet as efficient. Fortunately, citizen developers offer a viable option for organizations to build apps that are just as functional and scalable.
Learn more: How Low-Code And Citizen Development Simplify App Development
Bridging the skill gap
IT is one of the biggest areas in that businesses experience skill gaps. So not only is there a demand for more apps but organizations do not have anyone to build them. An efficient way to plug the skills gap is to get business users to participate in the app-building process. Not only does this help bridge the skill gap but frees IT teams from a strained app-building process.
Learn more: How Citizen Development Unites Business and IT
Solve problems better
While IT teams have the technical know-how to build apps, citizen developers have a better understanding of business processes. The traditional approach to development will require IT, teams, to interface with business users to build apps that suit their needs optimally.
It's a painfully slow process and even with this, there's a chance the apps they build aren't as satisfying to the business process as they ought to be. Citizen development empowers business users to stay involved in the app-building process. This ensures that the solution being built is as close to the business problem as possible and functions in proximity to the business process.
Learn more: Pros and Cons of Citizen Development
Competitive advantage
In today's business world, organizations that adapt quickly are more likely to displace the competition. In addition to the direct cost savings and revenue returns that citizen development potentially contributes to organizations, it also gives them an edge over competitors. By developing the apps they need quicker, organizations can stay on top of digital trends, create more efficient processes, and compete better with others in their industry.
Learn more: What Competitive Advantage Do Companies Gain Out Of Citizen Development?
Five steps to build a citizen development program
Citizen development can help businesses of all sizes achieve significant benefits on multiple fronts. However, it has to be done right, or it won't achieve desired results. Here are a few steps to guide you if you're looking to adopt a citizen development model.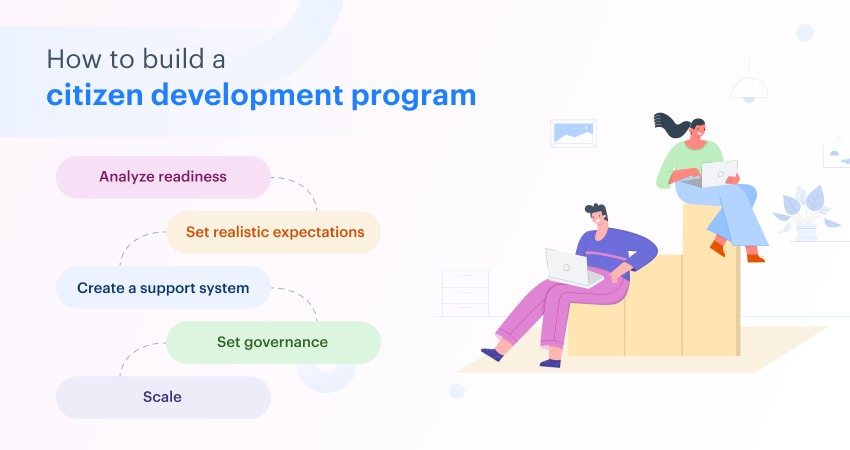 1. Analyze readiness
Companies that attempt to initiate a citizen development program without critically analyzing their readiness often end up with loads of disjointed applications without proper IT oversight. This is referred to as shadow IT and can be quite problematic. Citizen development reins in shadow IT and introduces much-needed structure.
Instead of everyone making use of unsecured digital tools, a more efficient approach to citizen development is to create a roadmap of where your organization currently stands. This helps to determine areas of your IT operation which require preparation or maturity.
Learn more: 10 Must-Know Tips To Kickstart Your Citizen Development Journey
2. Set realistic expectations
There's no doubt that citizen development can transform how your business functions. However, you will only achieve the desired result if you set clear expectations right from the onset. You will need to set clear goals based on the areas you have identified that require optimization. and the statistics and trends that you have gathered.
Next, you have to identify potential use cases or areas where citizen development will be most impactful. For instance, are you trying to build apps for specific departments? Do you want to build automation systems? Or do you need to connect multiple systems and data sets to eliminate silos?
Setting clear goals and identifying potential use cases for your citizen developers will guide the process of choosing the best citizen development platform, training citizen developers, and assigning them specialist roles and responsibilities.
Learn more: Busting the Top 5 Myths In Citizen Development
3. Create a support system
The success of every citizen development initiative depends on different stakeholders within your organization. Business leaders will want to assess short and long-term impacts and understand the timeline for returns.
It is particularly important to get your IT department to align with your citizen development plans. While citizen development aims to empower non-IT people to build software that an organization needs, engineers will still be involved in the customization process while IT will still be needed to provide governance for citizen developers.
Learn more: How to Choose a Platform That Benefits Both IT and Citizen Developers
4. Set governance
Without a comprehensive governance plan, your citizen development project is just Shadow IT. This is why you have to create a governance plan with the help of the IT department. A proper governance plan will help define the limits and boundaries of your development program.
You'll need both a governance checklist and governance metrics. The checklist will help establish the conditions and feasibility of a citizen development project.
Learn more: How Citizen Development Helps Build Technology Outside of IT
5. Scale
In most organizations, citizen development often starts from a little corner before spreading out and scaling up to other areas. The idea is to establish a successful program in one department or a specific business use case and create a strong framework that can be replicated across departments.
Learn more: How Citizen Development Helps Build Technology Outside of IT
Conclusion
The demand for IT apps is rising. Adopting a citizen development approach comes with a host of advantages for organizations looking to unburden their IT teams and drive better business results. Kissflow's citizen development platform not only helps you drive better business productivity but drives true competitive advantage.