Citizen development has taken over every business sector, and 82%[1] of businesses believe citizen developers will become more important over the next two years.
Let's face it, qualified developers are hard to find, and those working in companies are extremely busy, dealing with existing tech issues. Enterprise developers have to build and maintain critical applications and also play a consulting role in the organization. That's why it's important for business users to step up and take control of their tech requirements.
Citizen development provides business users with IT-sanctioned technology and the required tech support to build the productivity apps they need. When citizen developers build their own solutions, they perform their jobs more efficiently, reduce IT backlog, and help the company cut down operating costs. As these people are closest to the problems and know what it takes to solve them, they can create solutions 10 times faster than IT.
Who are citizen developers?
Citizen developers are business strategists with a non-IT background who build apps with the help of low-code and no-code platforms. They are change-driven, have advanced digital skills, and understand business needs. These users are different from professional developers who use pro code to build solutions.
Kickstarting the citizen developer process
Join a citizen development program
Citizen developers first connect with the person in charge of their organization's citizen development program. They are taught how to use the low-code/no-code platform to avoid shadow IT practices. A low-code solution may require some coding knowledge, while a no-code tool can be operated through a visual interface and drag-and-drop features. Vendor-offered courses may cover the basics of tools used in citizen development.
Learn more: LCNC and Citizen Development: A Match Made in Heaven
Automate their first workflow
Once citizen developer has acquired the necessary skills, they can automate their first workflow. They may start by streamlining departmental processes such as employee onboarding, leave requests, advance payments, creative requests, budget approval requests, etc. The process they follow is simple.
They outline the business requirements of the workflow.

Then they break down the requirements into logical steps. For example, they may create a flowchart to visualize the workflow.

Then they use the low-code/no-code platform to automate the workflow and ensure it aligns with the initial requirements.
Explore more automation opportunities
Citizen developers wishing to grow can explore more automation opportunities by identifying the right processes that are fit for automation in their organizations. They can determine the pain points and use the appropriate tools to address the challenges they face in their operations.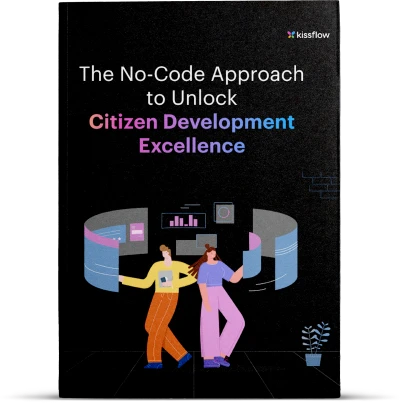 #Free eBook
The No-Code Approach to Unlock Citizen Development Excellence
How can companies start their citizen developer journey?
Organizations are adopting various digital initiatives to deal with changing corporate demands. This gives rise to new business models and processes. Agile frameworks that focus on speed and shorter development cycles are now the norm. This has allowed citizen developers to fix various business issues without dragging the IT team.
Here's what companies should do to kick-start their citizen development journey.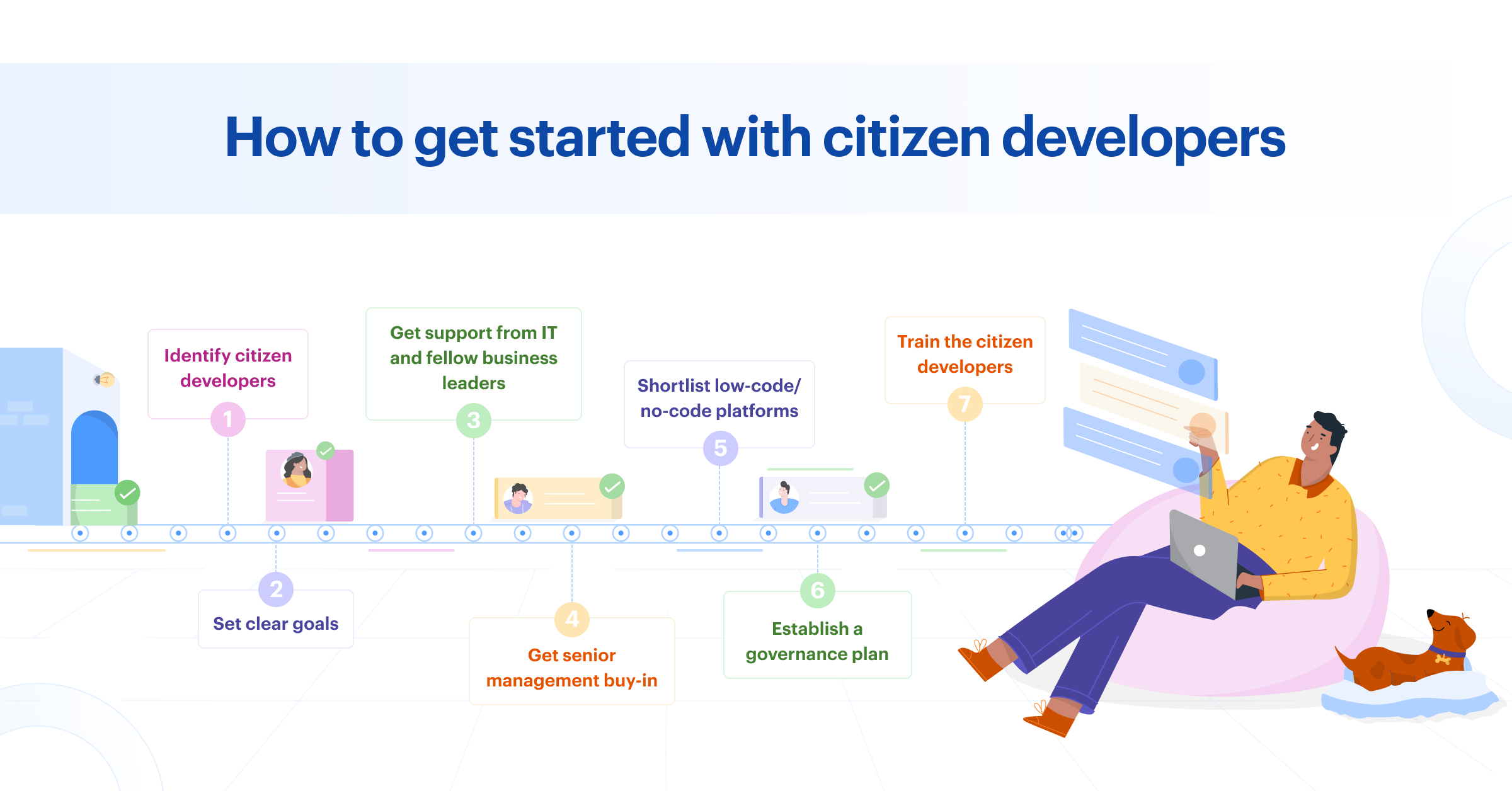 Identify citizen developers
Meet with division heads or issue surveys across departments to understand who is using shadow IT, how they are using it, and how many people use their apps. This will help you know which departments have the most citizen developer candidates.
Also, check your company's backlog of IT requests. Knowing which solutions are needed will give you an idea of what issues citizen developers can resolve.
Set clear goals
Write down your citizen development goals and state what the program will accomplish for your organization. Know the citizen developer apps you want to create, the role of citizen developers, which departments will benefit, and the mode of deployment. But don't just focus on the solutions that citizen developers can create. Also, identify the business areas they will impact. Communicate the value to the employees to build buy-in and identify potential pilots.
Get support from IT and fellow business leaders
Without support from IT and business leaders, your citizen development project won't take off. Approach the people you'll be collaborating with to get their assistance early on. You'll have a more well-rounded vision and avoid conflicts down the road. Make them understand how citizen development will enhance their department's workflows. Also, talk to the IT team and define the responsibilities of citizen developers and IT personnel.
Ensure your citizen developers go through self-directed and group training before they are allowed to access a citizen development framework. Document the application development life cycle to make them aware of the process and the requirements for submitting their ideas. IT team should oversee the process by offering technical guidance, evaluating ideas, and regularly monitoring citizen developers.
Learn more: How Citizen Development Unites Business and IT
Get senior management buy-in
Communicate your intentions and formally present your citizen development plan to senior management to get their approval.
Explain the rationale behind the plan, show the need for citizen developers, and cite case studies or success stories.
Share figures that demonstrate the current IT backlog. Employee surveys can go a long way in helping you prove your point.
Show your company's projected ROI after using a low-code/no-code platform for citizen development.
Explain your proposed governance plan and introduce your pilot program.
Shortlist low-code/no-code platforms
Look for low-code/no-code vendors, schedule demos, and invite IT and business unit leaders during demonstration sessions. The platform you choose should have a training program, a good user interface, and configuration tools and settings. It should be mobile-friendly, simple yet scalable, and provide cloud infrastructure and technical support.
When choosing a low-code/no-code platform, look beyond the development speed and ensure it employs standard technology and meets crucial operational requirements such as security, scalability, and visual modeling.
Learn more: The Future of Apps must include Citizen Development. Here's Why.
Establish a governance plan
As you decrease the app backlog by empowering non-technical users to create apps, ensure that IT sanctions the software, processes, and policies. A citizen developer governance plan ensures that IT assistance is well-defined and data security best practices are followed. Your plan should cover:
The security and compliance requirements for every citizen development project

The evaluation process for admitting projects into the citizen development program.

Standard workflow protocols: testing, audit, and integration.

What situations will require IT involvement.
Learn more: Crucial Best Practices for Building Citizen-Made Applications
Train the citizen developers
Citizen developers must be trained on how to use the low-code/no-code platform before they start building apps. They must also get trained regularly to ensure they make the most of all new features. Start by developing pilot programs that allow business users to test citizen development. Know your expectations to measure the success of the project.
Unleashing successful citizen developers
Choose the right approach
Establish the right model for your company's citizen development program. It should address requirements around scalability, supportability, security, and accessibility of solutions built on the LCNC platform.
A center of excellence (CoE) specifically designed for citizen development can address some of the issues related to LCNC implementations. The CoE can also reinforce IT/business collaboration and bring transparency, accountability, and clarity to the program.
Balance control and autonomy
It's important to achieve the right balance of control and autonomy for citizen developers. If governance and access processes are burdensome, citizen developers will just go back to ungoverned shadow IT.
Apply data leak protection to all data that are shared externally. Also, create policies that warn citizen developers when they're creating applications that might violate compliance. They should also have autonomy on platform choice—be able to pick tools that work best for them.
Provide adequate IT support
The IT team's perspective toward citizen developers is incredibly important as it determines their productivity and successful outcomes. Formalize citizen development with a governance framework outlining the roles of IT and citizen developers.
A center of excellence might enable fusion teams, uniting pro developers with citizen developers. It might also provide learning resources and expert help for citizen developers for more complex work. Collaboration and IT support are what differentiate citizen development from shadow IT.
Evolve operations as needed
Analytics and monitoring tools in low-code/no-code platforms can alert you about apps that have become business-critical and need more IT support. This is a sign of business innovation. The IT team's job is to note down such apps, identify potential improvements, and make sustainable upgrades.
Citizen developers are game-changers of future app development
As the software developer shortage continues to increase, citizen developers have stepped in and are driving app development. The number of citizen developers in large organizations is likely to rise more than that of professional developers. A robust no-code platform can empower non-IT employees to create, manage, and optimize apps with fewer resources.
Start a citizen development program today and future-proof your business operations and growth.