While the global economy has suffered a talent shortage of developers and coders, organizations are finding new ways to tackle this problem—through citizen development. Organizations that take this approach find that building their apps-house and aligning this process with the business not only reduces the time and resources required to do this but significantly improves productivity and output.
Here are a few reasons you need a governed citizen development movement.
Reasons why you need governance in the citizen development model
Despite its importance, citizen development does come with several risks especially when it is not properly managed. Without proper citizen developer governance, citizen development can open the door to IT vulnerabilities, poor quality software, and other similar issues.
The following are some of the reasons why every organization that has embraced the citizen development model must pay close attention to governance as well.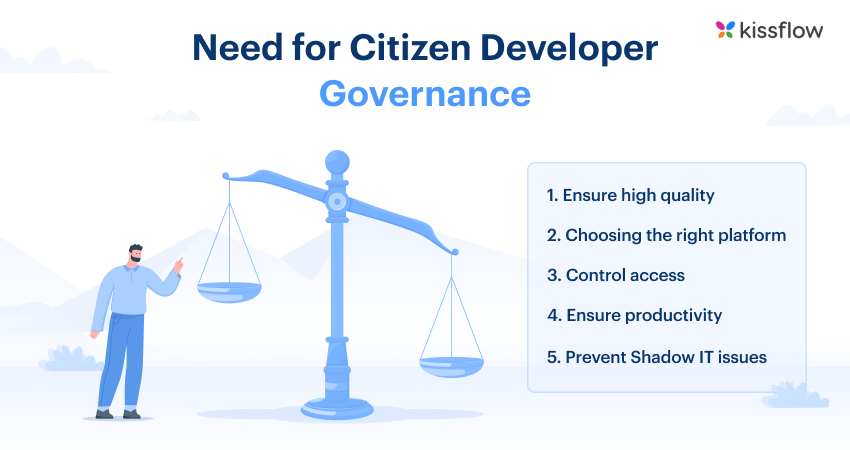 - Prevent issues associated with Shadow IT
Shadow IT refers to the use of IT systems, software, and apps without explicit approval and monitoring from the IT department. While shadow IT has grown exponentially in recent years due to the adoption of citizen development initiatives to drive innovation and productivity, it opens the door to a lot of issues that may have a serious impact on an organization in the long run. Chief of this is the security risks that come with running apps that are not supported by IT.
Organizations where citizen development fails to work in tandem with the IT department are at risk of data leaks, security vulnerability, compliance violations, and other issues that come with shadow IT. Proper governance is the only way to convert these rogue shadow IT tools into secure platforms that are compliant with security standards.
- Ensure high quality
IT governance for citizen development ensures that applications are properly tested and go through the standard approval process that apps developed through the conventional way also undergo. Having a clear governance policy helps to establish quality control over apps created by citizen developers, ensuring that they're of consistent quality.
It ensures that apps meet corporate branding guidelines and deliver high quality user experience for employees that will be making use of them. Without governance over citizen development, there will be no way to ensure adherence to company-wide standards like this.
- Choose the right platform
Citizen developers use no-code platforms to build apps for specific business use cases. While there are a lot of platforms out there, business users will need the help of IT to choose software that meets technical requirements, ensuring consistent app development for everyone within the organization. The IT team also offers ongoing technical support in the usage of such tools.
Learn more: LCNC and Citizen Development
- Control access
Lack of governance leads to unbridled access that can create problems in the long run. When it comes to the tools that citizen developers have access to, there's a need to keep things as simple as possible.
Excessive access can lead to citizen developers exploring building things that may not be necessary or exploring areas that they do not fully realize which may lead to issues in the future.
Learn more: Citizen Developer vs Professional Developer
- Ensure productivity
Lack of monitoring or governance in citizen development can be counterproductive in the long run. With unchecked access to various tools and the freedom to build whatever, business users are likely to become overwhelmed.
Proper governance ensures that everyone understands the task assigned to them and they only get access to the features they need-ensuring a confusion-free process.
Learn more: The Future of Apps must include Citizen Development. Here's Why.
How IT collaborates with citizen development in the journey to ensure governance
Citizen developers are crucial to the process of achieving enterprise-wide automation. However, they have to be managed effectively for desired results. IT departments play a crucial role in establishing proper governance of business users, laying the foundation for a successful digital transformation initiative through citizen development.
Establishing citizen development policies
One of the core areas where IT teams work to ensure the success of citizen development initiatives is in establishing clear policies that ensure success. Some of the policies that have to be established early on when establishing citizen development initiatives include:
What low-code/no-code platform will be used?
How will apps be built?
Who will build the apps?
Which apps will citizen developers be able to build?
When can they build apps?
The answer to these questions must be established earlier on, to clarify the roles of citizen developers and delineate the limits of their responsibility.
Monitor usage
The IT department also has the responsibility of monitoring citizen development projects. While citizen developers do not need to report to IT managers, the IT team should keep an eye on data, quality control for new apps, user access, and other similar governance issues. The security of newly built apps is particularly important and keeping the development platform secure while giving citizen developers all the freedom they need to build should be a top priority.
The importance of governance in citizen development cannot be overemphasized. IT departments must be an active part of citizen development programs, providing oversight, and empowering business users to create secure and high-quality apps that solve business problems efficiently.
Kissflow's citizen development platform not only ensures an innovative solution to carry out effective citizen development but ensures strong governance while improving productivity and empowerment.