According to Gartner, a citizen developer is an employee who creates application capabilities for consumption by themselves or others, using tools that are not actively forbidden by IT or business units.
Citizen developers build internal applications using low-code and no-code tools. This includes creating integrations, workflows, and processes inside existing tools as well as shipping new software from scratch.
Research and consultancy giant Gartner estimates that by 2023, citizen developers at large enterprises will outnumber professional software developers by a factor of 4:1.
This article will assess the rising profile of the citizen developer, why the low- and no-code revolution is penetrating companies of all sizes, and how you can position your company to benefit from the rise in citizen development.
A hypothetical look at the role of the citizen developer
Traditionally, if you wanted some functionality, you'd need to get in touch with IT to see if your organization has a tool in their stack that does what you need. To help us understand further, we're going to use a hypothetical scenario.
Natasha is a content manager and she wants a simple tool where she can list the projects her team is working on, assign titles to their freelance writers, restrict access with password-protected pages, and connect their content calendar with Asana, Trello, and the rest of the apps her team uses — nothing too serious.
The IT team doesn't have any SaaS subscription that fits the bill and they don't mind if she builds one. So, she does. And it becomes the default application for coordinating the rest of the content team's work.
Citizen development uses no-code and low-code tools to ship usable software faster than it'd take a SaaS buying team to decide on a purchase, or for a team of developers to ship a full-feature app.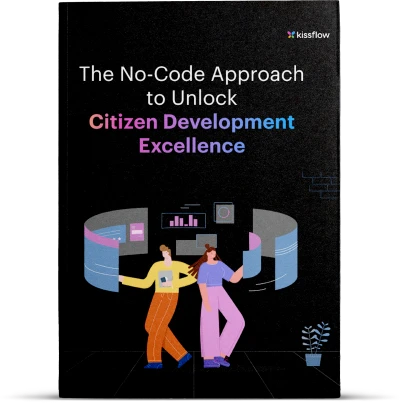 #Free eBook
The No-Code Approach to Unlock Citizen Development Excellence
Why is citizen development taking off?
Gartner makes some bold assertions about the future of citizen development, how the industry is set to grow, and how non-technical users are driving a no-code revolution. The still unanswered question is why it's happening, and why now, why so fast, and why at this scale.
After all, the world has never had more software engineers, developer productivity is through the roof, and salaries are at an all-time high. But somehow, there's a consistent, growing demand for everyday employees to build their own software on-demand.
1. Software developer workloads are always growing.
Software developers are overworked it's taken for granted that engineers have to work 60-hour weeks, stay on call on weekends, and get distracted to fix issues here and there by the rest of the organization.
As a result, when a team member submits a request for a new feature or a product idea they want to experiment with, there's no one waiting to get started working on it. Your urgent request is just going to join a queue of unfinished projects that the IT team will work on someday.
Low code citizen development does more than let the rest of an organization skip the queue; it frees up software developers to focus on higher-priority work.
2. Non-technical makers can ship websites and apps faster.
No-code platforms offer pre-built functionality that employees can hack into usable software without any programming experience. This is done through a drag-and-drop interface, and pre-built workflows, integrations, and components that require very minimal tweaking.
3. Low and no-code development is more cost-effective than traditional development.
A traditional application can cost anywhere from $40,000 — $250,000 depending on the scope of the project, the features you're building, and the number of users you want to support.
This might not seem like much for enterprise teams but can be a dealbreaker for startups and small businesses who're operating on a budget to do citizen automation works.
Full-feature low and no-code applications can be built in days or weeks for a fraction of that cost without sacrificing quality, feature parity, or scale.
4. Citizen development promotes an agile approach to software
Traditional software teams often hold a series of standups, reviews, and meetings before deciding on which feature to build, adjust, or remove from an application.
Citizen developers have more agility and can change applications and launch new features in less time than it takes a team of developers to build, test, and ship new improvements.
Trends to take note of
As the trend toward citizen development continues, here are some figures that can help you create your strategy and align your organization around the need to make citizen development a priority.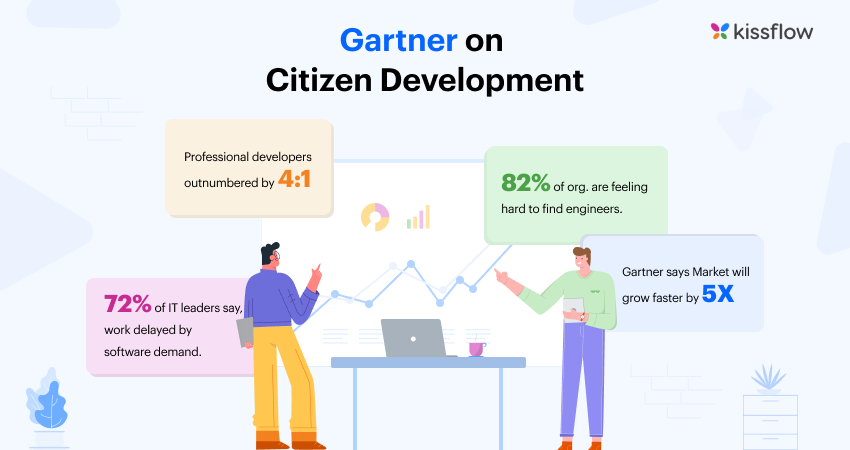 Citizen developers are on track to outnumber professional developers 4:1 by 2023
According to ZDNet, 72% [2]

of IT leaders

say that project backlogs prevent them from working on strategic projects. The rise in citizen development will take software demand away from developers and make it a collaborative effort across entire organizations. That is, we will see teams and departments building their own tools to their own specifications with little if any input from IT teams.
82%[3] of organizations are having a hard time hiring rough qualified engineers and citizen development is growing to fill that gap. As a result, a study by low-code platform Appian shows that

84% of the enterprise

are adopting low- and no-code tools to fill that technical gap.
Gartner estimates that the market demand for citizen developer apps will grow at least 5x faster[4] than traditional IT departments can support. To compensate,

70% of the new applications

shipped by large enterprises will use low- and no-code development platforms.
Summary
Citizen development is an entire paradigm that's on track to change how startups and enterprises work with software.
By empowering average employees to ship and customize the tools they need on a daily basis, citizen development will indirectly free up developers to focus on critical projects, eliminate endless backlogs, and shorten the runway from conception to usable software.
In summary, here are some steps you can take to embrace the switch to citizen development and the speed of low- and no-code offers for companies of all sizes.
Create a citizen development model and be proactive in promoting no-code technologies across your organization.

Encourage IT to partner with, and provide guidance to aspiring citizen developers.

Start exploring no-code platforms that can support your citizen development strategy. Kissflow's citizen development platform offers a flexible no-code platform with flexible data management, forms, reports, integrations, and workflows that non-technical users can customize into full-featured applications.
More resources: