​As software demand grows and skilled developers are scarce, organizations are turning to citizen development. For a CIO, this strategy expands the pool of developers and encourages innovation across departments. However, it's crucial to ensure proper governance and security measures are in place to manage potential risks.
Citizen development is most prevalent in HR, operations and admin, RD, finance, and customer service. This framework expands your company's pool of developers and brings expertise and unique insight into the software development process. Learn more about the citizen developers meaning, definition, and FAQs below.
Who is a citizen developer?
A citizen developer is an employee with no/low coding knowledge who creates software applications for their team or others, using low-code/no-code platforms without the involvement of IT. Citizen developer is a persona and not a role. They build apps in runtime environments with development methods approved and sanctioned by IT.
Every citizen programmer has a different set of skills and knowledge in their respective fields but little to no experience in coding. They are problem solvers driven by change and have some moderate tech skills. The individuals use no-code and low-code platforms to bring their ideas to life using drag-and-drop interfaces.
Learn more: Citizen Developer vs Professional Developer
Why companies should invest in citizen developers
Regardless of its size, your company can benefit from citizen development. You can optimize your workforce and resources to solve specific business problems. Here's why every company needs to invest in citizen it developers:
The global shortage of software engineers may rise to 85.2 million by 2030. Investing in citizen developers allows companies to democratize software development, accelerating innovation and problem-solving. It broadens the pool of talent, reduces dependence on specialized developers, and allows for quicker, more customized solutions to department-specific issues. Here's why every company needs to invest in citizen developers:
Reduces IT backlog
The increasing need for business apps means IT teams have an ever-increasing to-do list. When IT teams are unable to deliver solutions on time, work stalls, and creates huge backlogs. Citizen development enables business users to create their own apps and can greatly reduce the burden on IT.
Cost-effective
Citizen development decreases software maintenance costs and maximizes existing resources. It also saves companies money they would have spent hiring professional developers or purchasing third-party applications. By streamlining systems and integrating data, the costs are driven down.
Build apps faster
Market conditions are constantly changing and thus, organizations are forced to release products and services faster. This can easily be achieved with a citizen development framework where non-IT employees use a low-code/no-code platform to build apps at the desired speed and deliver high-quality services.
Increases efficiency
When employees are empowered to become citizen developers, their job satisfaction increases along with their productivity. With less dependence on IT, business users can handle their own requirements. This speeds up the process, and reduces bottlenecks, thereby increasing your organization's overall productivity.
Learn more: Busting the Top 5 Myths In Citizen Development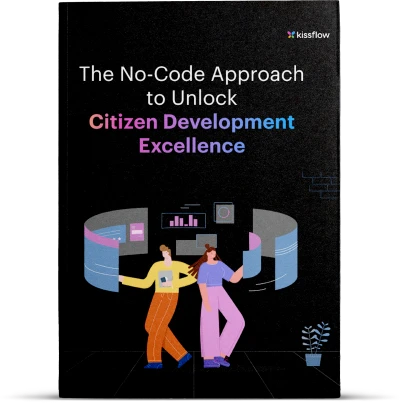 #Free eBook
The No-Code Approach to Unlock Citizen Development Excellence
How to become a citizen developer in an organization?
Below are the 5 steps on how to become a citizen developer.
Identify and join the team
Familiarize yourself with the platform
Experiment with the platform
Align solutions with business objectives
Improve your app development skills
1. Identify and join the team
The first step to becoming a citizen developer in your organization is showing interest. You're better placed if your organization already has automated processes. An organization that has already embraced automation may have a citizen development program for its employees. Reach out to the person managing the program and learn how you can participate.
2. Familiarize yourself with the platform
Take time to familiarize yourself with the no-code platform your company uses–if it does. Acquire knowledge by taking part in any training or by reading up. Many software vendors offer citizen developer training, so make the most of it. You can also watch YouTube videos and tutorials, to begin.
3. Experiment with the platform
Experiment with ideas and automate your first workflow using the citizen development platform. Identify the specific process you want to automate then follow these steps.
– Outline the workflow's requirements
– Break the requirements into logical steps with a flowchart
– Using the platform, automate the steps and
– Co-relate the steps with the initial requirements

4. Align solutions with business objectives
Once you've automated your first process and it's approved by IT, the next step is to build again. Consider what you can do to automate processes in your organization and identify pain points where automation can make a difference. Focus on simplifying processes, collaborating, and delivering solutions faster.
5. Improve your app development skills
It's only natural to want to improve your proficiency once you've reached a certain level. To sharpen your skills, keep building apps. Try out different ideas and build applications for different users, departments, the company, or customers.
Best practices for citizen developers
To succeed as a citizen it developer, you need to:
Save time with schedules

Document everything

Collect the right data

Explore low-code language libraries

Keep learning

Always test any changes you make to applications
How Kissflow can empower you to become a citizen developer
Kissflow's citizen development platform is a comprehensive work platform that simplifies the process of building, testing, and iterating your workflow ideas. The platform helps unlock your potential as a citizen developer by allowing you to easily learn how to build a range of products without writing code. So, go ahead and prototype, launch, iterate, and scale apps with Kissflow