Building workflows from scratch can be quite a daunting task. There's a lot to consider—visualizing the workflow, approvals, conditions, step-wise roles, and much more. Not only is this a complex task but can turn out quite time-consuming as well. This is where workflow templates can come in handy. They allow users to leverage pre-built workflows that can either be deployed readily or customized before going live.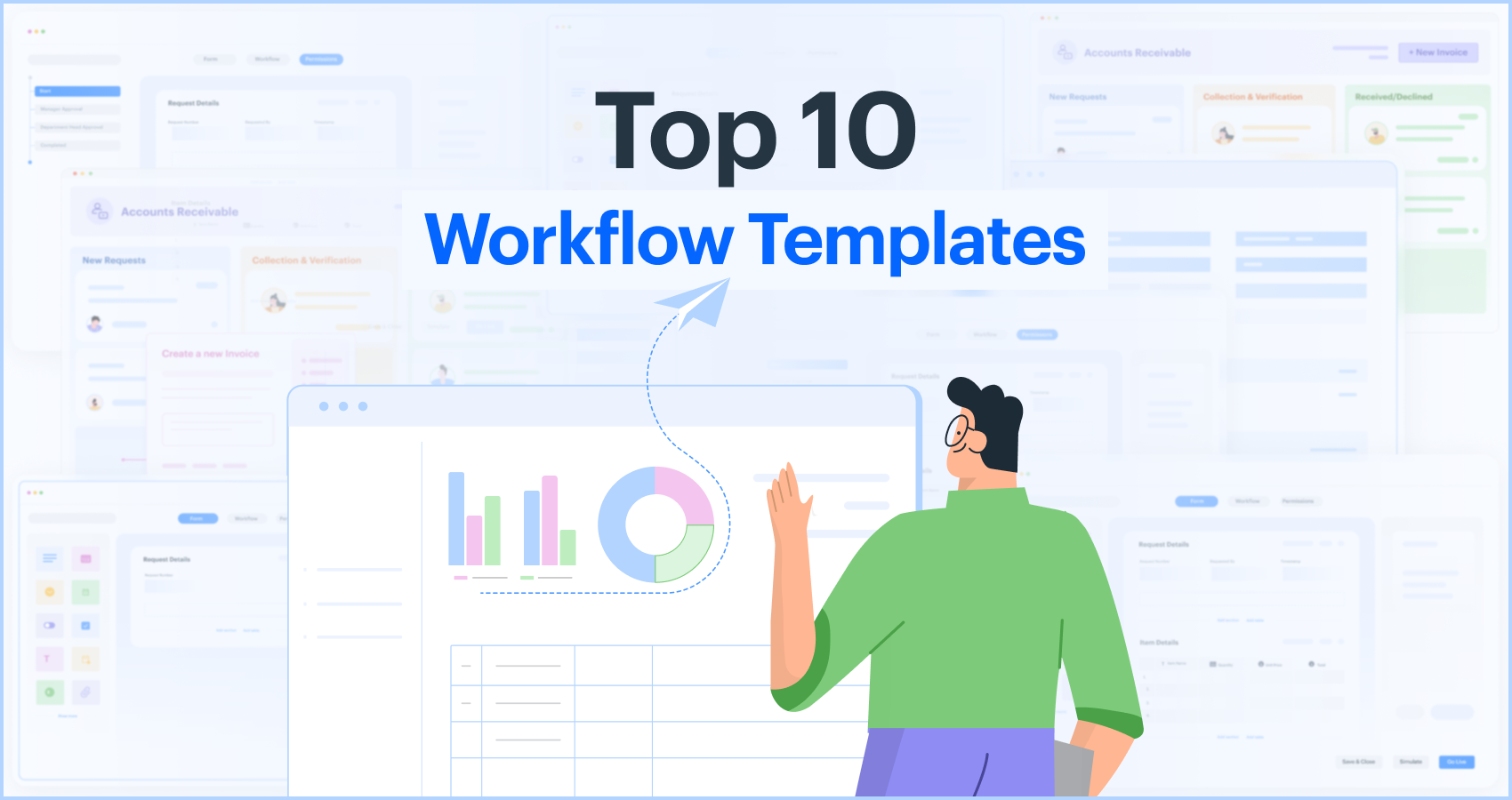 What is a workflow template?
A workflow template is a pre-built, templatized workflow that represents a business process. The template is highly customizable and allows you to add the steps, define roles, set conditions, and make changes in the form before going live.
A workflow template is perfect for businesses looking to solve problems instantly. With a workflow template, organizations have a clear visualization of the workflow and can simulate and deploy it immediately.
Advantages of Workflow Templates
Here are some of the benefits of using workflow templates:
Improve business operations

Quality assurance

Less micromanagement

Eliminate redundancies

Promote collaboration

Reduce operational expenses

Improve adoption rates
Improve business operations
A workflow template ensures the right people perform the job, in the proper order, and on time, improving business operations.
Quality assurance
Templates also ensure high project standards and help managers to secure resources, get buy-in, and scale processes.
Less micromanagement
Standardized workflows give team members more ownership over their tasks and less reliance on managerial delegation.
Eliminate redundancies
Workflow templates allow team leaders to eliminate unnecessary steps or activities and make it easier to detect and eliminate redundancies.
Promote collaboration
Workflow templates make collaboration seamless because a team can easily track project progress and take quick action.
Reduce operational expenses
Standardized workflows help a company to deliver consistent results every time while keeping operational costs low.
Improve adoption rates
Templates make it easier to train new hires, speed up integration time, enabling them to add value to the company sooner.
With this in mind, here's a curated list of the top ten workflow templates that can help you get started quickly.
10 Best Workflow Templates 2023
Here are the top 10 workflow templates that you will need at the most!
Employee Onboarding
Performance Appraisal
Purchase Order
Travel Request
Expense Reimbursement
CapEx Request
Service Request
Vendor Approval
Help Desk and
Accounts Receivable
Employee Onboarding
Hiring managers are always looking for ways to onboard employees quickly, engage with them until they're acquainted with work, and easily integrate them into organizations. A good onboarding experience makes a lasting impression and improves employee retention rates. Use Kissflow's employee onboarding template to create a stress-free onboarding experience. Resolve issues, answer queries, and collaborate with other departments.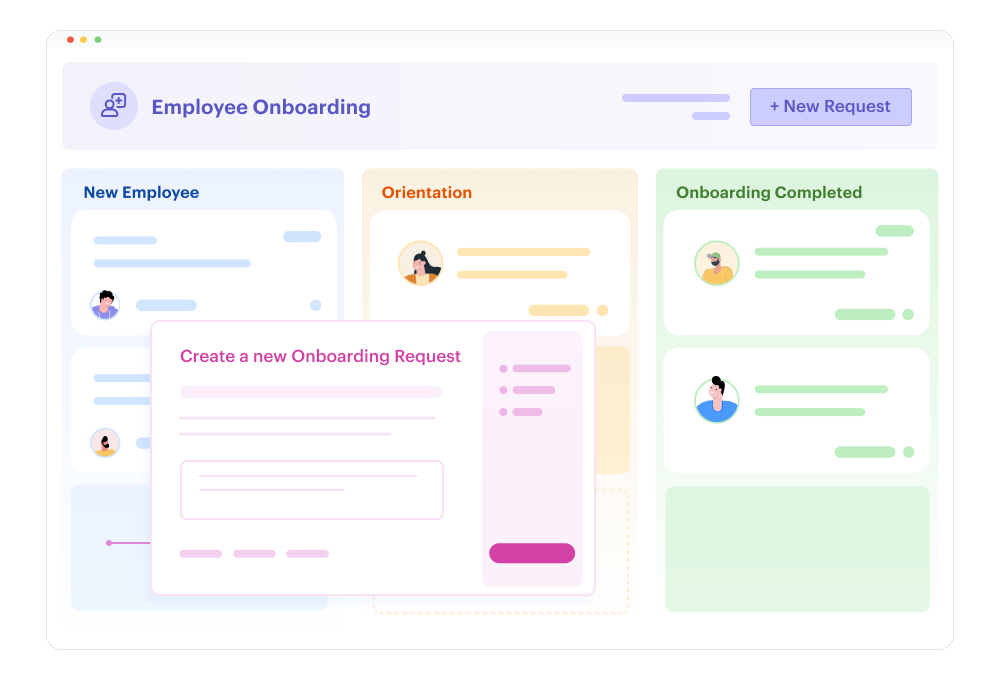 Performance Appraisal
Every manager desires to offer constructive feedback during appraisal and ensure employees give their best. A performance appraisal template helps you streamline the employee performance evaluation process and align yearly, semi-yearly, or quarterly performance reviews with company goals, culture, and policies. Use role-based access to improve transparency and predictive analytics to provide accurate insights into employee performance and growth.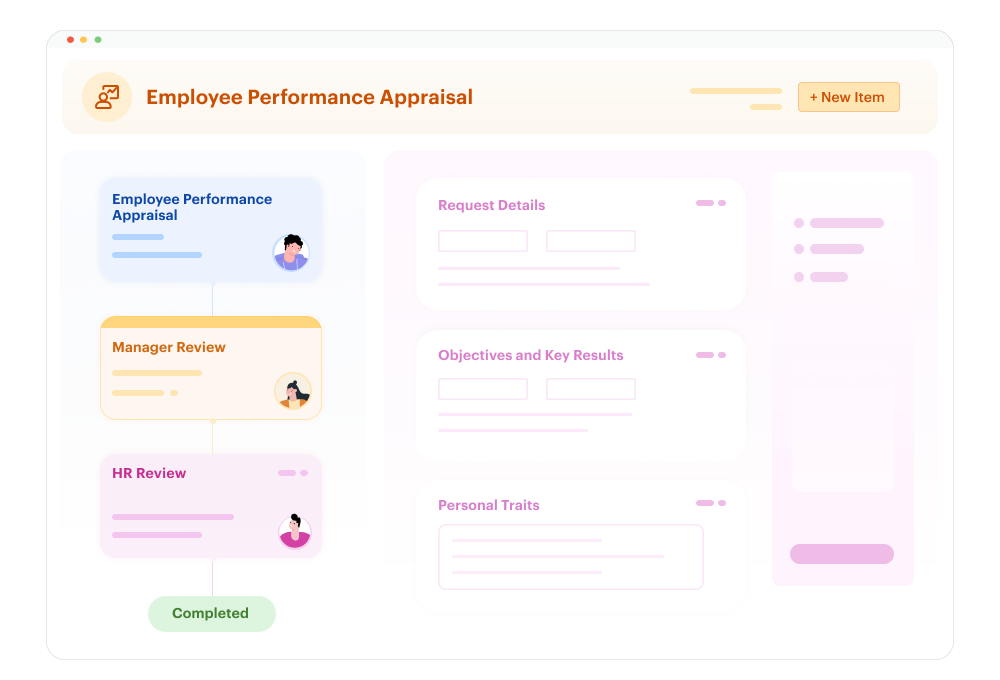 Purchase Order
A purchase order form is important for record-keeping and auditing. It is usually matched to an invoice to streamline payment. Use Kissflow's purchase order template to input all the details needed to approve and pay for an order. Raise purchase orders and get them quickly approved by all the relevant people.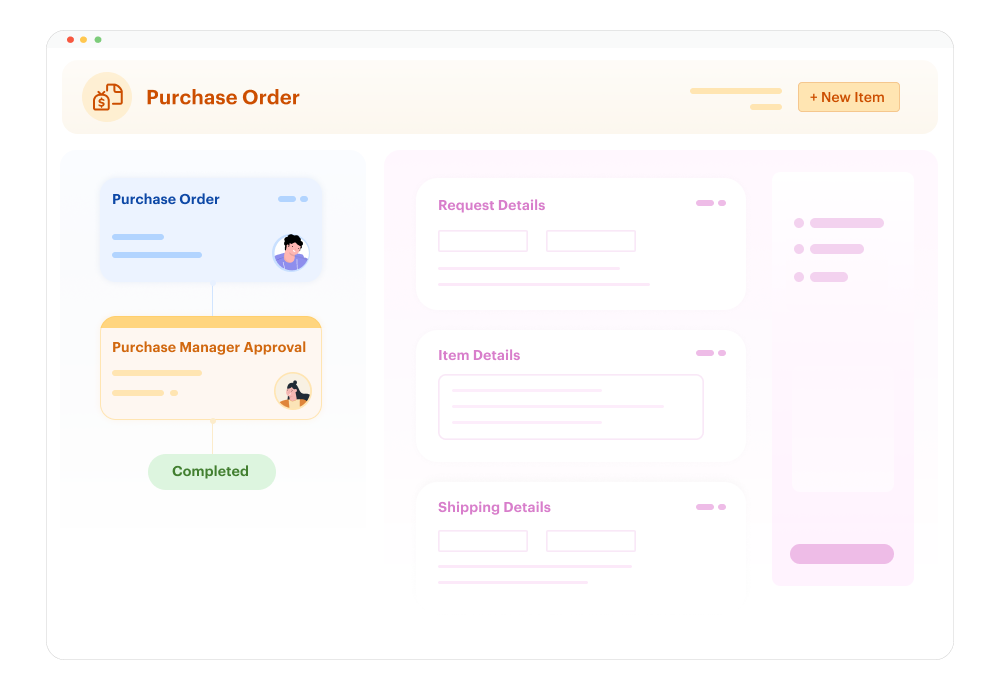 Travel Request
Kissflow's travel request template is designed for employees who raise travel requests. It gives HR and finance visibility and control, helping them to allocate travel budgets, track travel requests, speed up approvals, and handle invoices with ease. Employees can remotely submit travel and reimbursement requests that comply with a company's travel policies.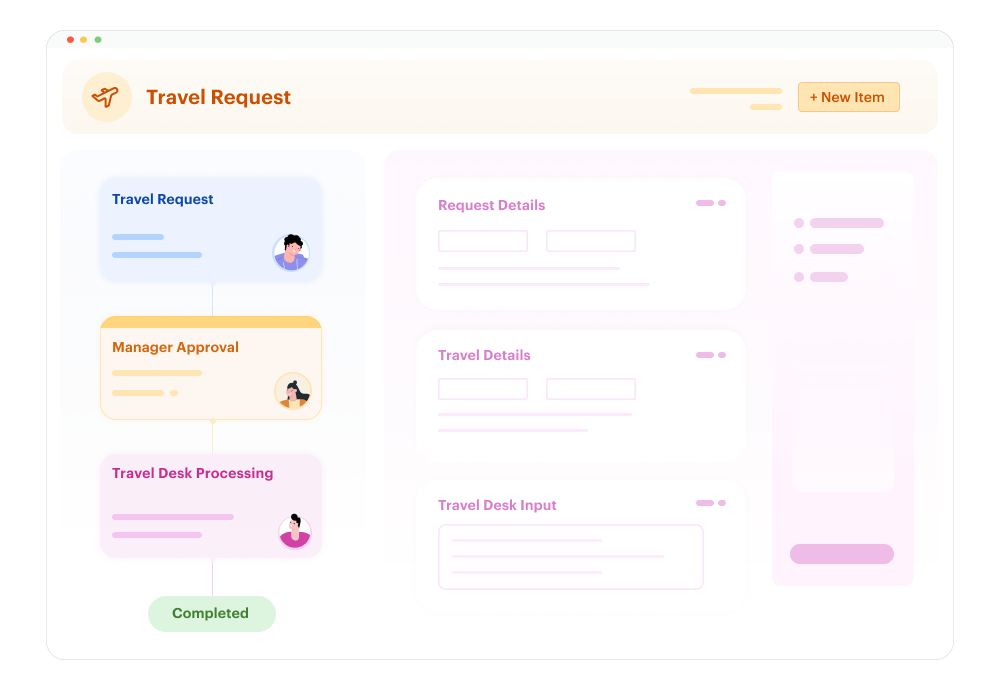 Expense Reimbursement
Employees submit an expense reimbursement form when they need to be reimbursed for business-related expenses they've paid for themselves. The expense reimbursement process allows employers to pay them back. Our expense reimbursement template streamlines the process for both parties, ensuring employees get paid back fast.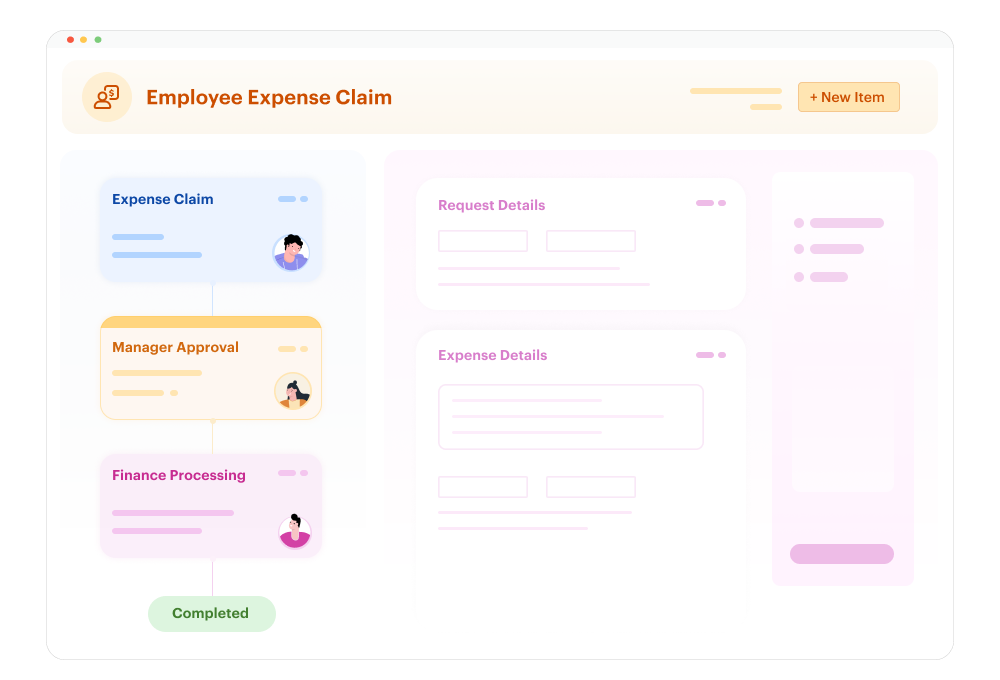 CapEx Request
When a department head identifies the need for a capital asset, they create a proposal and define the asset type, its useful life, the estimated ROI, and other features. They submit the request to management or finance heads for review and approval. Kissflow's CapEx request template simplifies and streamlines workflows for expenditure submissions and approvals.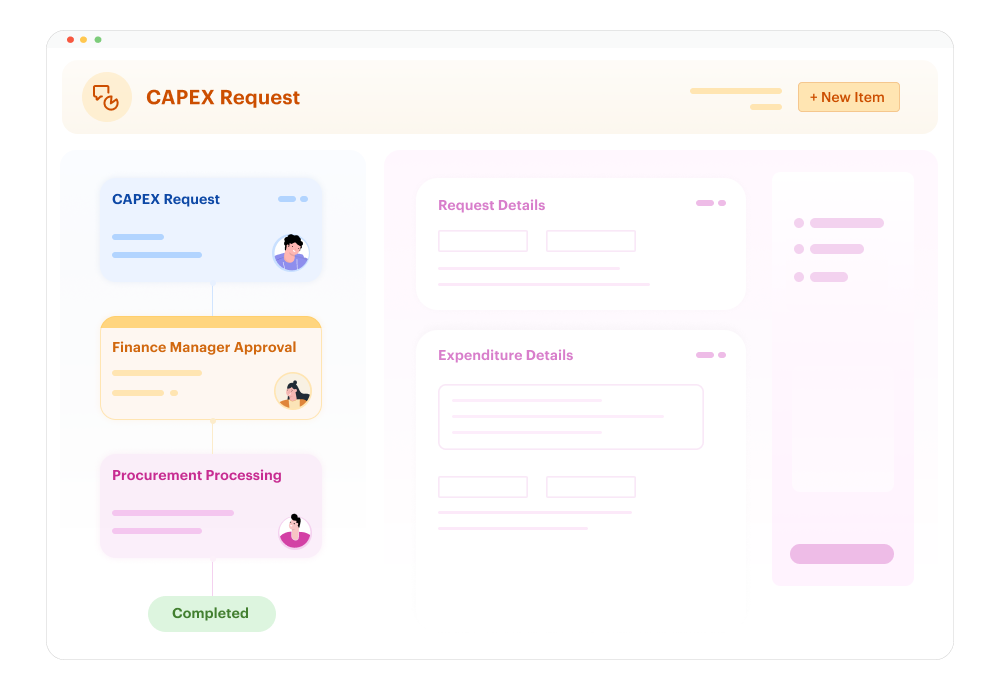 Service Request
A service request is a formal request for service from an employee, customer, or vendor. It's necessary for initiating an agreed-upon service action as part of service delivery. Effective service request management maintains team efficiency and ensures business success. Use our service request template to request business-critical services from other departments or vendors.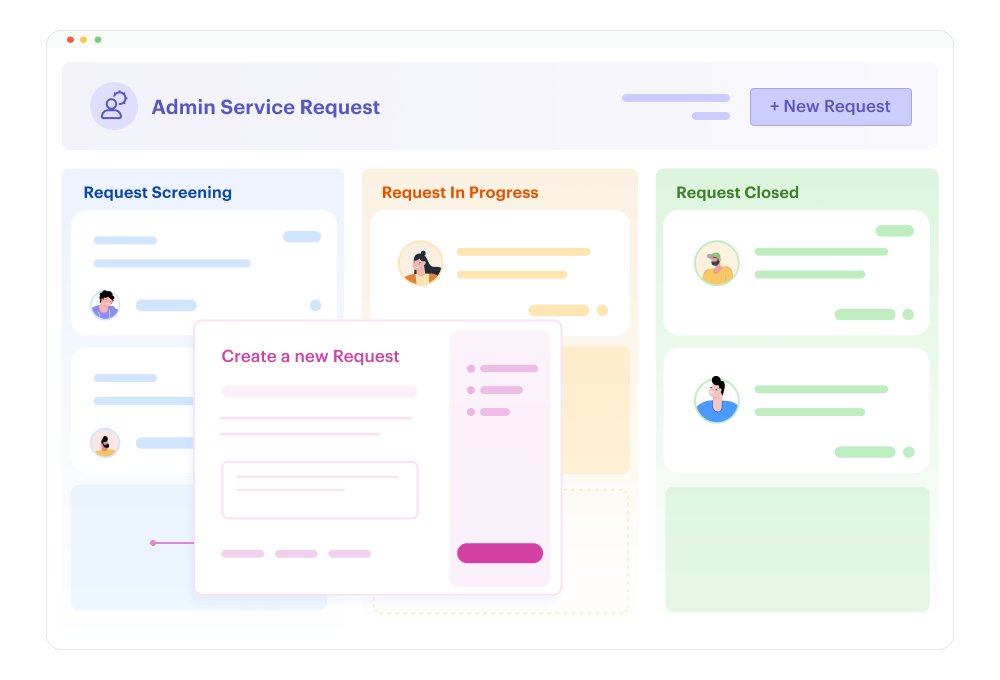 Vendor Approval
Vendor approval requires carefully evaluating vendors so your procurement team can create effective contracts. Our vendor registration template automates the vendor approval process, allowing you to easily collect the information needed for faster approval. Minimize project delays and increase visibility with a structured process. Define terms and conditions, streamline vendor bids, choose the right vendors, and maintain good relationships with them.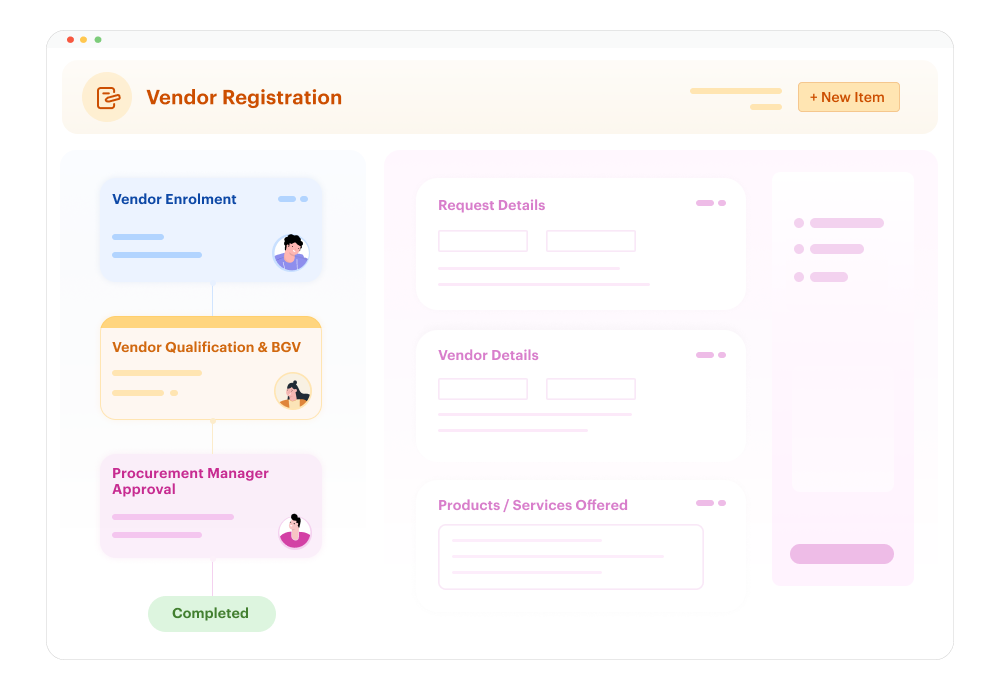 Help desk
Help desks provide a self-service portal through which employees or customers can submit requests for common support tasks. An efficient help desk centralizes knowledge and provides workflow guidance, making it easy to solve problems. Kissflow's help desk template makes it easy for users to submit support requests.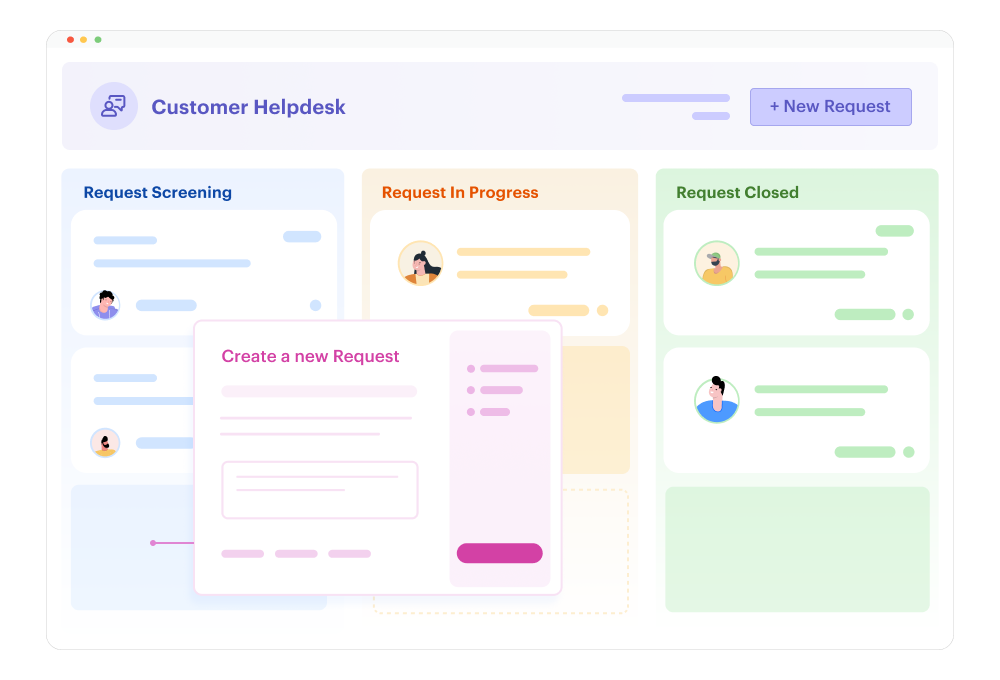 Accounts Receivable
Use Kissflow's accounts receivable workflow template to optimize your organization's cash flow with timely payment collections and to oversee credit applications. Your team can easily manage accounts receivable with customized credit and payment validation workflows and accurate data to increase transparency and accountability. Evaluate and extend credit to clients, monitor invoices for services rendered, validate payments, and get payment reports.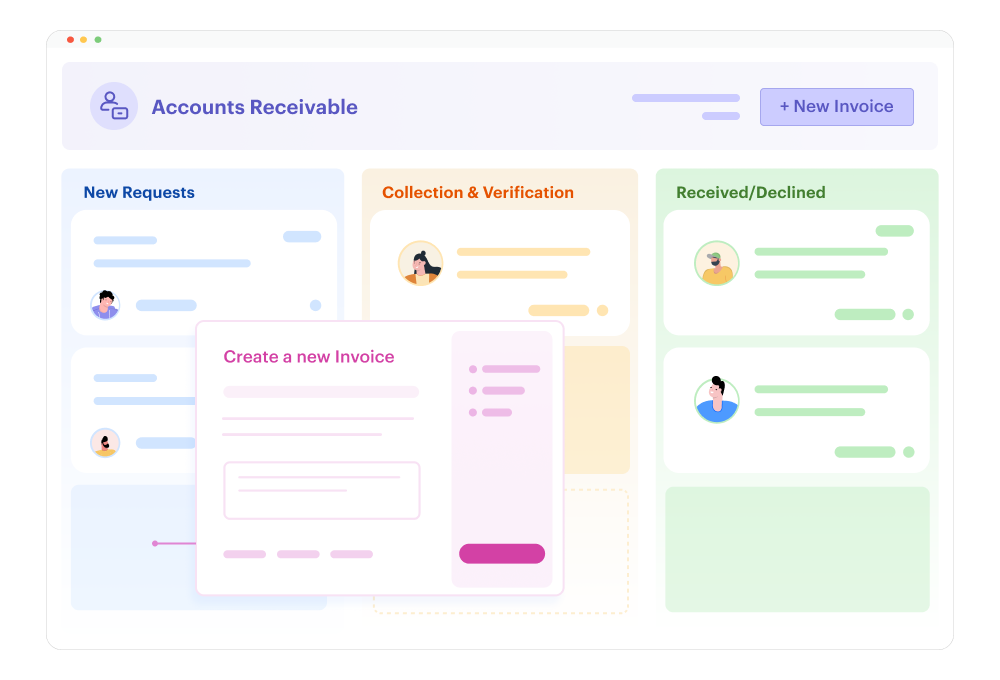 Kissflow's Workflow Templates for 2023
Kissflow's workflow platform gives you the ability to build your workflow from scratch or choose from a wide variety of pre-built templates. Kissflow's workflow templates are perfect for organizations looking for an instant fix. Get started today to simplify your work.