Every day, employees within the finance department of an organization have to perform hundreds of tasks to complete their duties. These tasks are often connected as part of individual workflows intended to achieve a specific output. This could be everything from preparing a financial report to reconciling accounts.
Since these specific sets of activities that make up a standard finance workflow are sequential and often repeatable, it is possible to automate them using a workflow template.
This article explains what finance workflow templates are, the benefits of using them, and the top 10 workflow templates you can use to automate your finance workflow in 2023
What is a finance workflow?
A finance workflow refers to the sequential path that employees have to follow to complete standard finance processes. This workflow defines the flow of data, tasks to be completed, and information flow to achieve desired outcomes within the finance department.
Workflows like this help finance employees define and coordinate tasks while ensuring the smooth running of their activities Since the workflow is often repeatable and defines a fixed set of procedural rules, it is possible to automate different aspects of this workflow as needed.
Benefits of a finance workflow
With a well-defined finance workflow, the flow of information and the duties that need to be carried out to achieve specific finance tasks are better defined. Finance team members know what they need to do when to do them and what to expect at each stage of the workflow. This increased transparency of processes often boosts trust and overall job satisfaction.
However, the ultimate benefit of following a defined workflow is efficiency. With a clear picture of what needs to be done to achieve a financial outcome, it is easier to identify redundancies and highlight areas that require improvement.
Finance department tasks are sensitive and must be carried out with high-level accuracy. The finance workflow helps to standardize these procedures, reducing human inputs and minimizing costly mistakes that may skew outcomes negatively.
Why do you need finance workflow templates?
The finance department is one of the most essential departments in any organization. Its personnel carries out several significant roles daily for the benefit of the company. To improve business processes within the finance department, it is possible to create and use standardized templates for each workflow that needs to be completed to achieve the desired outcome. This way, finance employees don't have to start these tasks from scratch each time they need to carry them out.
Using a predefined workflow template makes it easier for everyone involved in carrying out a finance task to know what needs to be done. Finance operations are streamlined based on the stipulations of the workflow and better organized for optimal efficiency.
Perhaps the ultimate benefit of following a clearly defined workflow is how easily it allows you to introduce automation. The finance department of any organization can benefit immensely from automating processes.
Using finance workflow templates is an ideal way to start.
10 Best Finance Workflow Templates of 2023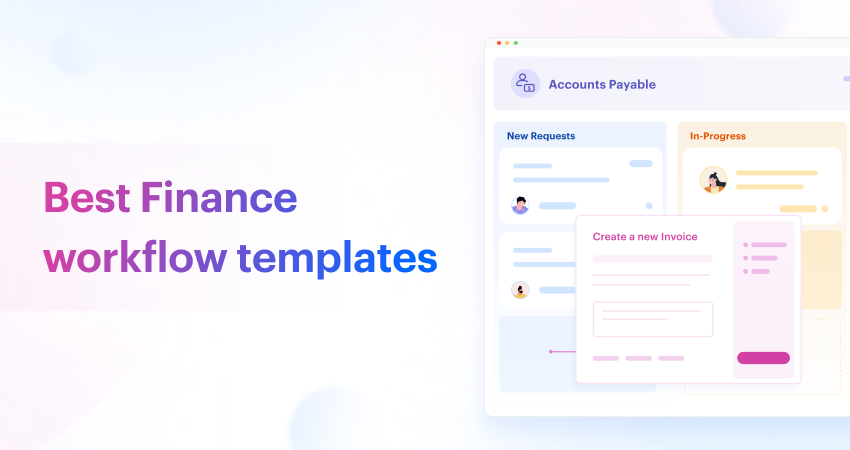 Here are 10 of the best finance templates you can introduce for different workflows in 2023.
Account payable
Account receivable
Advance payable
Purchase request
Purchase order
Travel request
Contract renewal
CapEx request
Corporate gift request
Travel reimbursement
Account Payable
Account payable (AP) refers to the company's short-term obligations to pay dues owed for goods or services delivered by vendors. Account payable appears on the company's balance sheet as a current liability that needs to be cleared.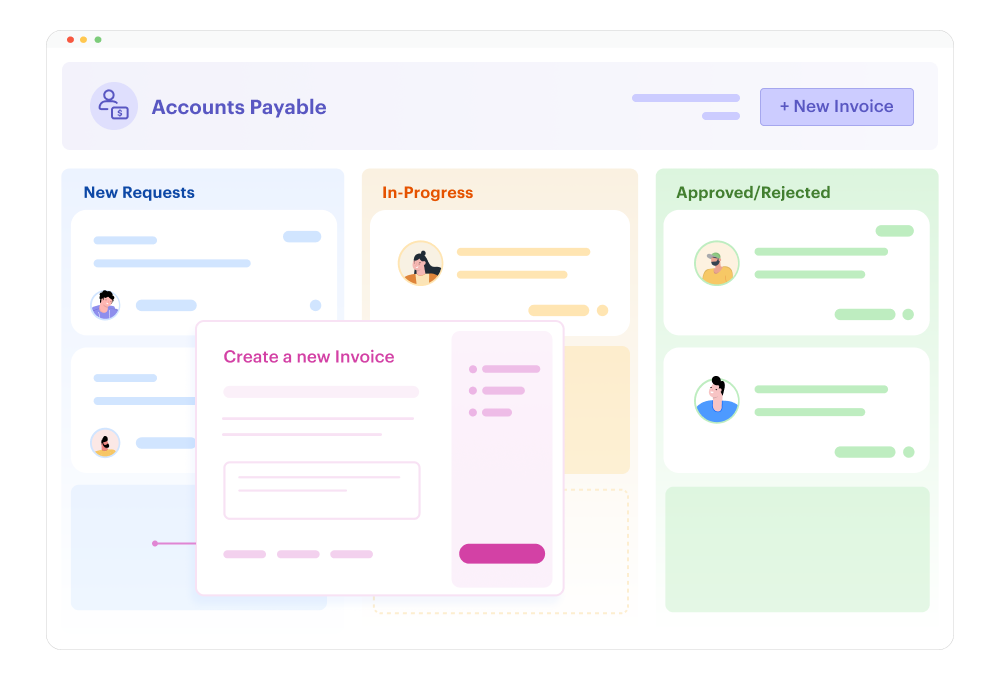 The account payable workflow template is a predefined documentation that details the series of steps finance teams take to manage these short-term credits effectively. Account payable teams will find this template useful for processing outstanding vendor invoices as quickly as possible. This reduces operational friction and improves vendor relationships quite significantly.
Account receivable
Account receivable refers to dues owed by a company's client for the goods and services that have been rendered to them. AR appears on the asset account on the balance sheet and represents the money due to the company in a short term.
Account receivable teams have the responsibility of maintaining a healthy cash flow for an organization and the account receivable template helps them to simplify the process of managing credit and payment validation workflows seamlessly.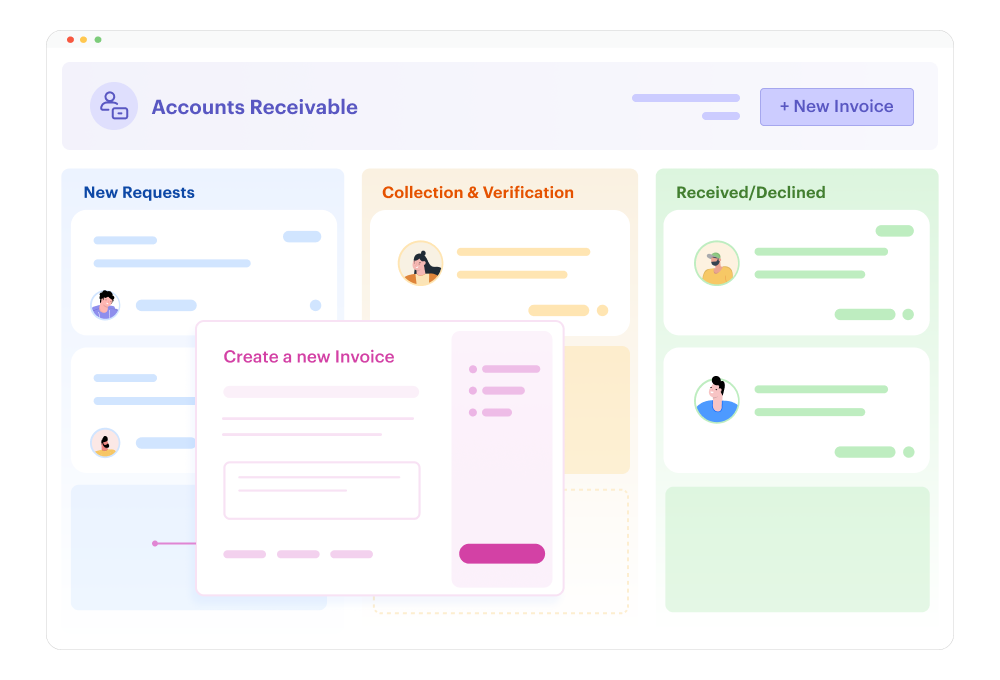 Advance Payment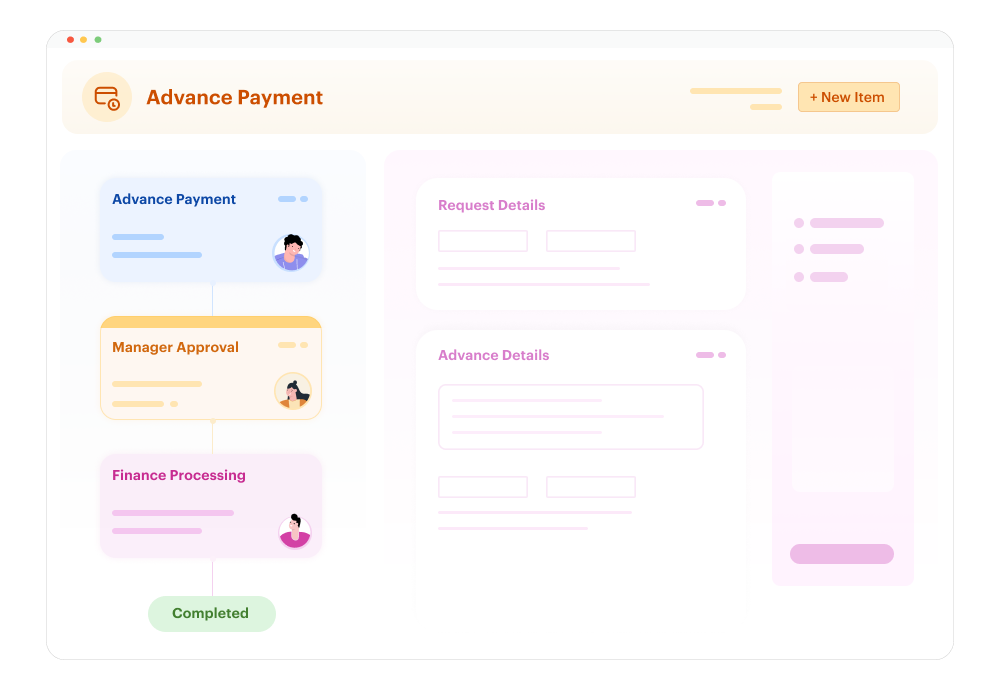 Advance payable refers to the payment paid by a buyer before acquiring the goods or services from the seller. Advance payment is mostly required by a seller for the fear of nonpayment from the buyer or to cover the seller's out-of-pocket costs for the supply of goods or services. The advance payment template helps finance managers streamline the key steps of the account payment process such as tracking payment requests, validating documents, and processing payment sections among other tasks.
Purchase request
The purchase request is the first step of the purchase approval process and is carried out before the purchase order is issued. The purchase request template is designed to streamline the process of obtaining the series of internal approvals needed to make a purchase on behalf of an organization.
The purchase request workflow template is fully customizable and is designed to help capture all the important data needed to facilitate a purchase request and manage the purchase process effectively.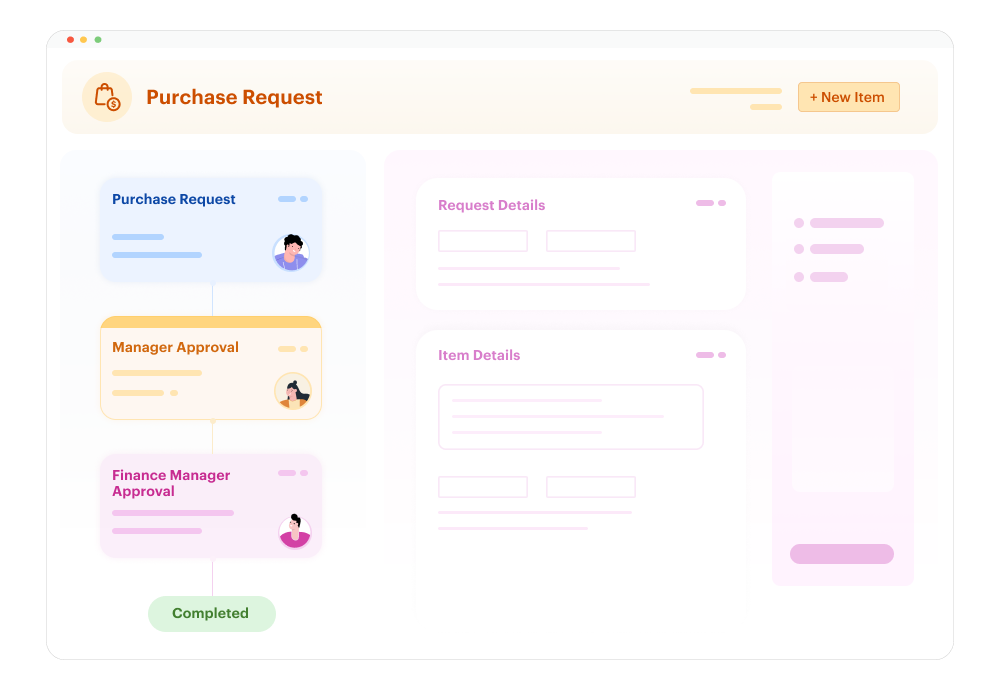 Purchase order
The Purchase order is a commercial source document issued by a business's purchasing department after receiving a purchase request from the manager. The document indicates the details of the goods to be purchased such as the type of goods, the quality, the price, the date of the order, the description of the goods, and the purchase order number among other vital information.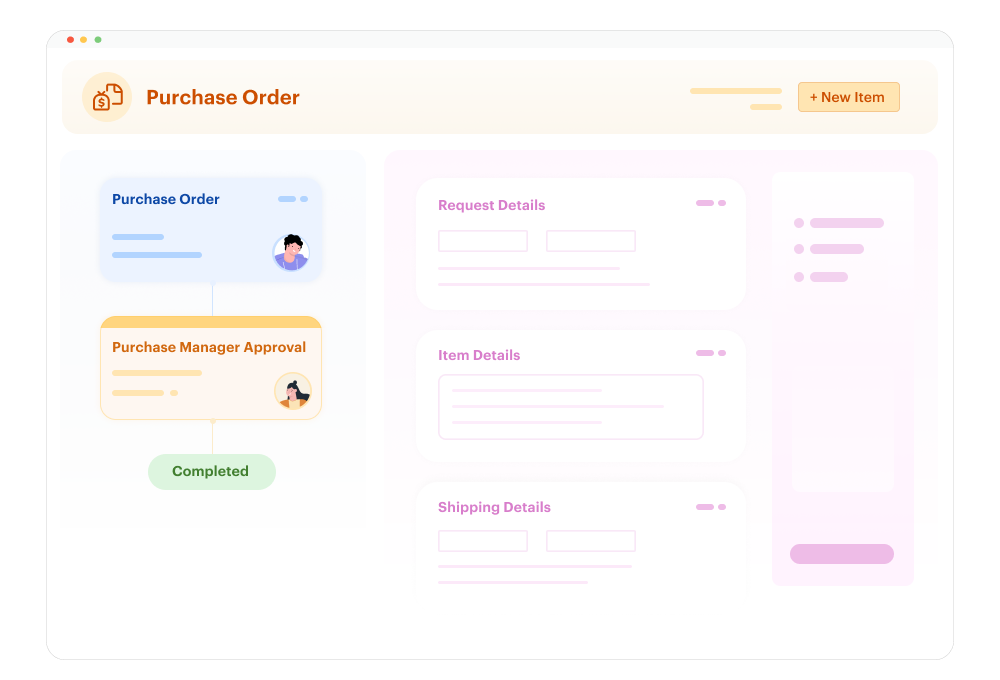 The purchase order template streamlines the key steps that need to be completed to screen new orders and facilitate order approvals. It provides process visibility and also ensures the accuracy of the final delivery.
Travel request
The finance department is responsible for keeping track of employee business travel requests, handling travel invoices, and allocating budgets accordingly. The travel request template simplifies and streamlines the steps of managing travel requests, budgets, and reimbursement, helping the finance team carry out all travel-related work as seamlessly as possible.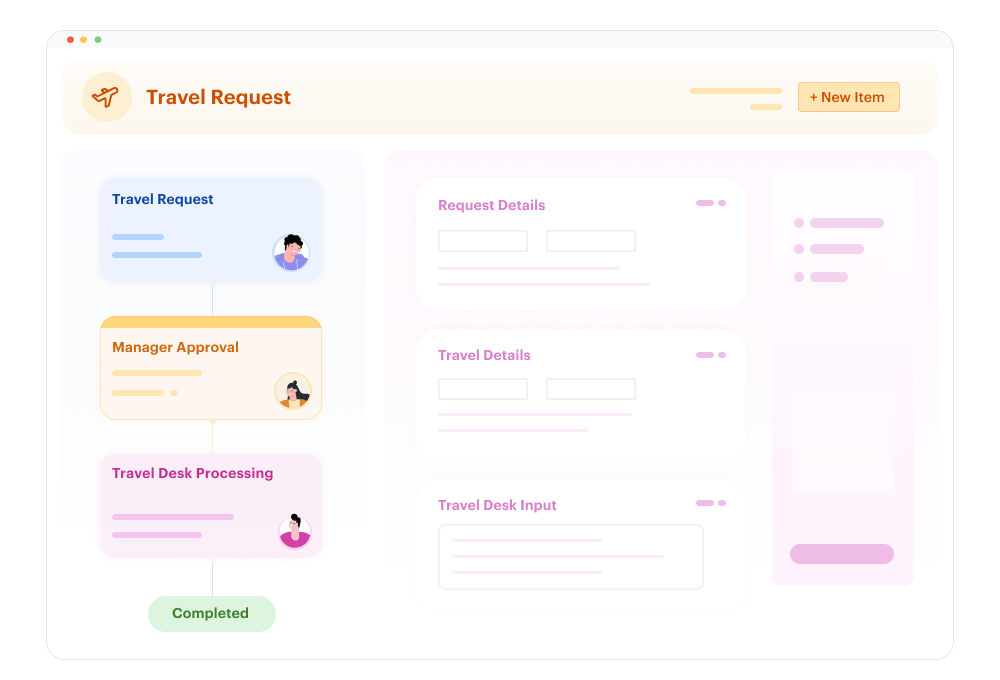 Contract renewal
Contract renewal is an extension of the terms of a contract, on or before the end of an existing contract. Parties involved draft a new contract (if they feel it needs some adjustments) and extend their partnership. Contract renewal often requires the legal and finance team to work in tandem to review contract terms and align them with new organizational standards.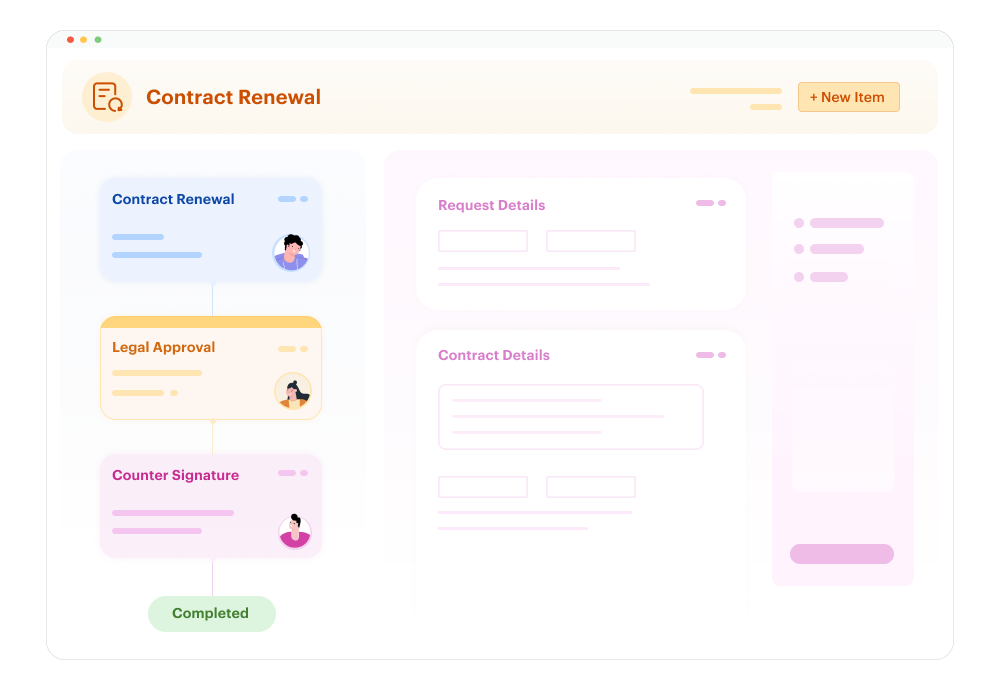 The contract renewal template empowers the contract renewal team by streamlining the process of reviewing contracts, managing documents, and making smarter decisions.
CapEx request
The capital expenditure request workflow template streamlines the workflow for tracking capital expenditure submissions and approvals. With this template, finance teams can easily build and publish customized Capex request workflows that capture crucial data for the request submission process. The template also covers other crucial steps in the workflow such as document verification, internal approvals, and reporting.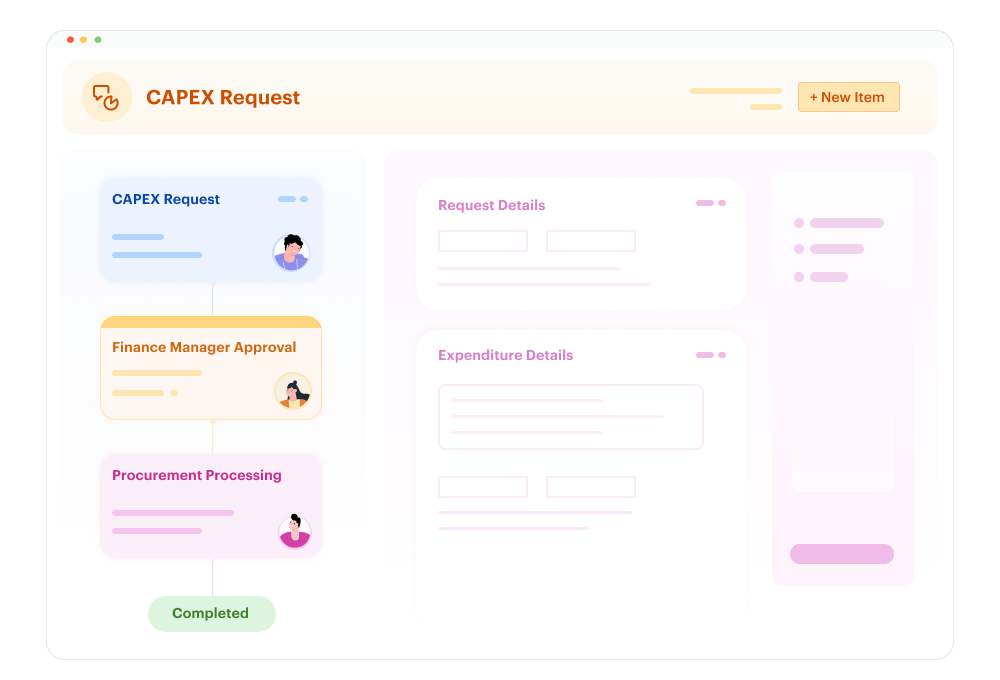 Corporate gift request
Corporate gifting helps to solidify relationships with internal and external stakeholders of an organization. The finance department manages the gift acquisition process, validates necessary details, and keeps a comprehensive record of the cost of gifted items. The Corporate gift request template provides end-to-end oversight of this process from start to end, streamlining the corporate gifting requisitions process.
Travel reimbursement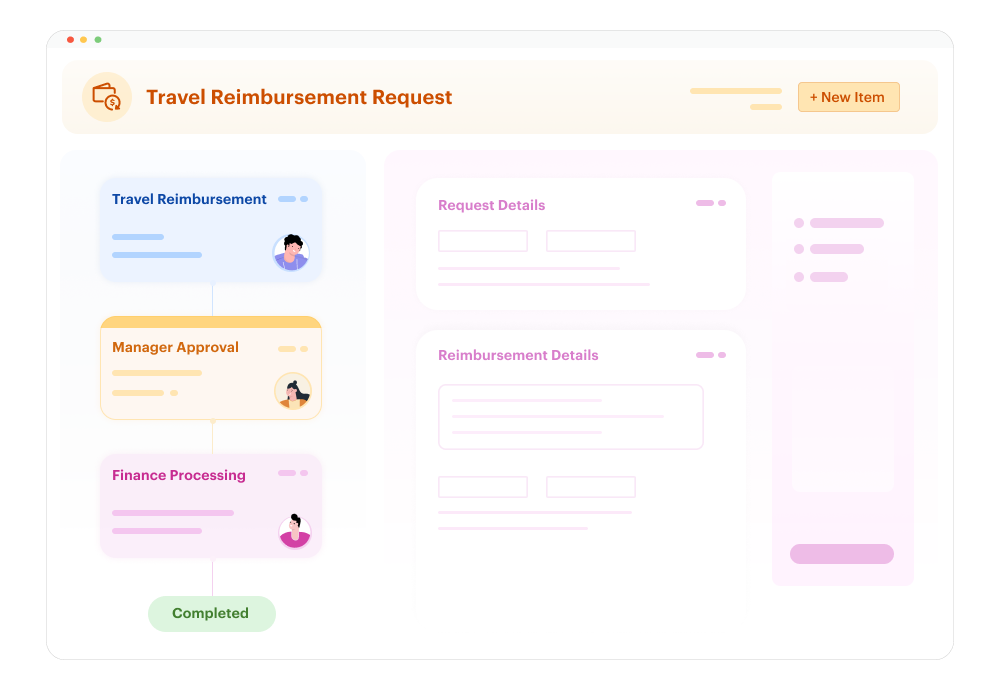 Employees that go on officially-sanctioned trips often have to request reimbursement for expenses incurred during such trips. The travel reimbursement workflow template outlines all the key steps of travel reimbursements from the requisition till the reimbursement funds are approved.
Conclusion
Finance workflow templates are designed to help organizations manage all their financial operations seamlessly. Finance teams love Kissflow because it offers a centralized console from where they can keep all finance-related workflow organized.
Optimize your finance operations with Kissflow's ready-made templates. Try Kissflow now.