Content marketing is one of the most effective ways to attract your ideal prospects, engage them, and possibly induce purchasing behavior. Over 6,000 blog posts are being published every hour; that equals over 16 new pieces of content by the time you're done reading this line.
And, of course, you already create a lot of content. Or plan to do so soon. One of the common mistakes a company makes is creating content for the sake of it. Or, because their competitors are doing it. You need a full strategy to publish the right content at the right time, a way to measure results, and a mechanism like marketing templates to maintain consistency. An editorial calendar helps you with all of that.
An editorial calendar is simply a time-based outline of your content publishing schedule for the near future. It helps you plan your content marketing so it's easier to focus on creating at your best capability when the time comes.
In this article, we'll be breaking into how an editorial calendar fits into your marketing operations, and actionable steps you can use to create one.
Types of editorial calendars
Editorial calendars come into play whenever you have to create content over time and you want to remove the guesswork from your long-term planning or content performance tracking.
Such situations bring up the need to use different editorial calendars:
1. Social media calendar
A social media calendar is a sequential outline of the posts you plan on publishing for your brand, arranged with the brand assets you intend to use. A social media calendar simplifies the process of planning, publishing, and keeping track of your social media content.
2. Blog content calendar
Similar to a social media calendar, a blog content calendar helps you plan out your content ahead, but in this case, for blogging. With an editorial calendar, it's easy to plan out your content in advance, publish on a schedule, keep track, and measure content after they're published.
Why do you need a marketing editorial calendar?
While it is tempting to dive straight into creating content, you might want to consider the many advantages a well-thought-out editorial calendar offers. An editorial calendar simplifies the creative project management by giving it a definite structure and interlinking each piece so ends up with a cohesive whole.
Here are the reasons why you need an editorial calendar for long-term success in marketing.
A marketing editorial calendar:
offers a structured tool for tracking your marketing campaigns, no matter how varied, in-depth, or extensive they may be
makes it easier to plan your marketing strategy ahead
helps you with managing and tracking huge volumes of content at various stages of the editorial process
provides visibility into the editorial process so that at every point, you can see where content pieces and campaigns are at and know what to do with them
removes decision fatigue from the content-creating process. When planned well, a content calendar helps make the content creation process flow from stage to stage, without having to be pushed through manually
And don't forget to try our Free and Customizable Templates:
How to plan your editorial calendar
If you want to build an editorial calendar that helps you consistently create your best content, you need to take a calculated approach towards it. Start thinking in terms of where you're at, where you're headed, and what you intend to achieve.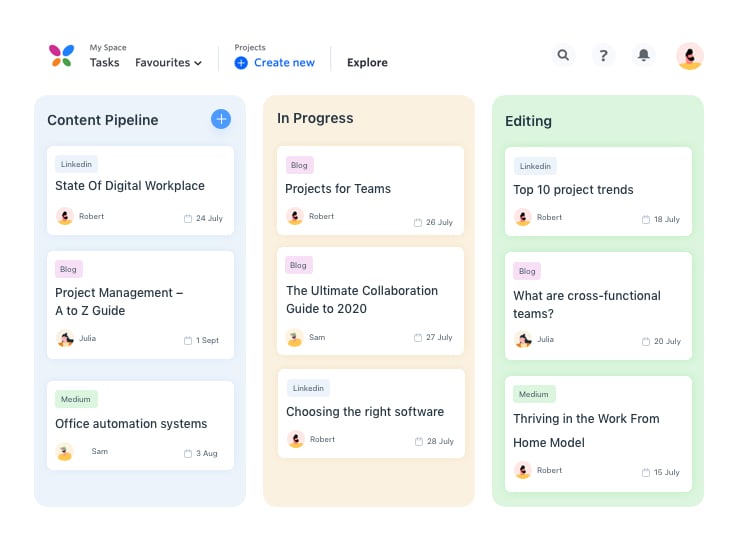 Here are a few things you should consider before creating your content calendar:
1. Define your ideal reader
Before creating an editorial calendar, ensure you identify your ideal readers. Take a better look at your buyer personas, understand what they are trying to solve, and see where your expertise lies. It's always easier when you keep a clear idea of your target reader and why they'd want to read your content in the first place.
2. Choose a tool for creating your editorial calendar
Whether you're going with Google Sheets or marketing project management software, you need to ensure that the tool is:
designed for holding data in a structured format,
collaborative, so your team can pick tasks, make updates, provide feedback, and more
simple to use so you don't end up spending too much time on the software
free project management tool equipped with all the marketing functionalities that meet your requirements
3. Choose the required data points
An editorial calendar is a long-term outline of where your content is headed. And so, to ensure you can track, measure, and keep an eye on what's working or not, you need several key data points such as:
publish date
targeted keywords
content category
content type
relevant images
status
author
editor
call to action
The data points you choose to track in your editorial calendar are essentially what determines how much you can plan and how much long-term value you can get out of it.
4. Define your process
A well-defined process will help you change your marketing strategy from having to plan everything from scratch, to repeating a proven formula that gets results every single time.
Your editorial calendar must include different process stages such as the:
writing tasks
editing, etc.
5. Roles and permissions
No matter how efficient your processes for creating and managing content are, without clear accountability, you'll not be able to deliver results consistently. It's important to assign tasks to relevant team members that'll be responsible for carrying them out.
An ideal editorial calendar should be built with easy roles and permissions management features so that:
individual members of your team can have particular stages of the editorial process assigned to them
team members can move the editorial process along once their input is complete, and
managing staff can control workflows with ease.
6. Track and measure
Tracking and measuring your efforts contributes significantly to your marketing success since this is the stage where you can look at your inputs to see whether they moved you closer to your organizational goals.
To successfully track and measure goals with an editorial calendar, you need:
clearly outlined goals detailing what you intend to achieve from each marketing campaign
definite metrics for measuring each goal you've outlined
a software, preferably a dashboard, where you can see all your data and make sense of it with ease.
Create editorial calendars with Kissflow Project
Kissflow Project is designed to serve as a project management software for marketing teams who want something more powerful than Excel or Google Sheets, and with greater simplicity than both of them put together.
Kissflow Project offers one complete solution for managing your editorial calendar with features such as:
Kanban boards for managing your flow of work and identifying bottlenecks
notifications and built-in social, so you can collaborate with team members with ease
task lists, so you can assign action items to specific team members
Customizable forms to make the process your own
Take Kissflow Project for a spin today.