Low Code
Best Low-Code Development Tools That Take Easy to the Next Level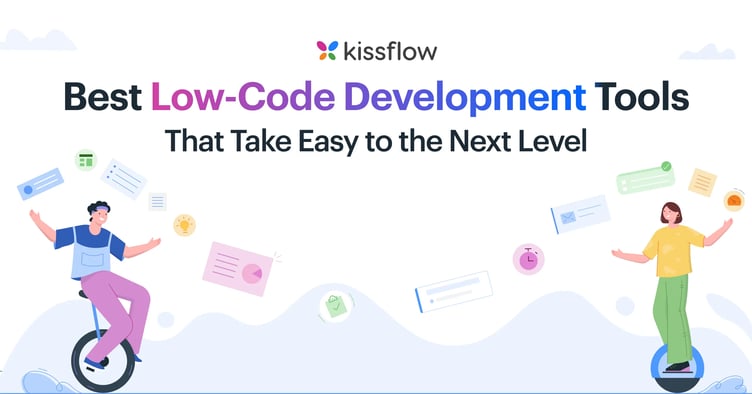 Best Low-Code Development Tools in the Market 2023
The low-code development platform market is booming. More and more vendors are providing sophisticated and intuitive tools to the market. However, there are also tools that aren't as great, which end up being a big waste of time and money.
This can make it difficult to find low-code tools that satisfy the specific requirements of your organization. Another thing that makes finding the right low-code development platform difficult is finding which tool suits you best. Different low-code development tools suit different purposes–depending on what your requirement is, what works for your peer may not necessarily work for you.
But there are a few key features that can help you pick out the best low-code tools.
Why Kissflow Low-Code is the Best Low-Code Development for your Enterprise Business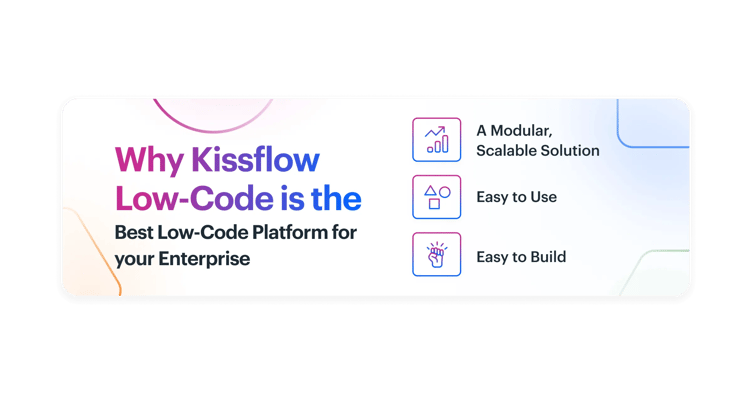 A Modular, Scalable Solution:
Kissflow Low-Code's idea is to combine the simplicity of no-code with the power of low-code. Having said that, of course, that implies the fact that Kissflow Low-Code can work in conjunction with the range of scalable tools used by your enterprise covering ticketing systems, payment apps, CRM, and support desk, among others. Kissflow Low-Code is modular so the platform can grow alongside your business as you scale and face the need for more advanced features across different custom apps that your teams create, making it a truly customizable and scalable app development platform designed to bolster productivity.
Easy to Use:
In addition to Kissflow Low-Code's modularity, the platform itself is intuitive. Many low-code platforms struggle to find the balance between connecting processes and systems with people, and ease of use. The good news is that Kissflow Low-Code doesn't sacrifice ease of use for the sake of power, which is particularly important for anyone who is not incredibly good at coding. The drag and drop feature enables any kind of user irrespective of their coding knowledge to kickstart custom app development at their disposal.
Easy to Build:
Kissflow Low-Code is not only easy for end-users to navigate and use daily, but is also incredibly easy to create with. For example, custom app or workflow building areas like employee onboarding apps, leave request forms, and asset tracking workflows, are all drag and drop. You can also bulk-build, test, and deploy them all under one roof. This will come as a huge advantage for many tech and non-tech teams who simply don't have time for multiple iterations.
Questions to ask before choosing the best low-code development tool
What kind of apps will your teams be building?
What type of pricing does the vendor follow?
How do you handle security?
Can you customize the apps or include custom business logic?
What's the skill set required by employees of your company to use the platform?
How easy is the integration with your existing systems?
Does the Vendor have expertise in helping with bringing the solution to the market?
What is the most complex application built on this platform?
Top 5 Essential Features of Low-Code Tools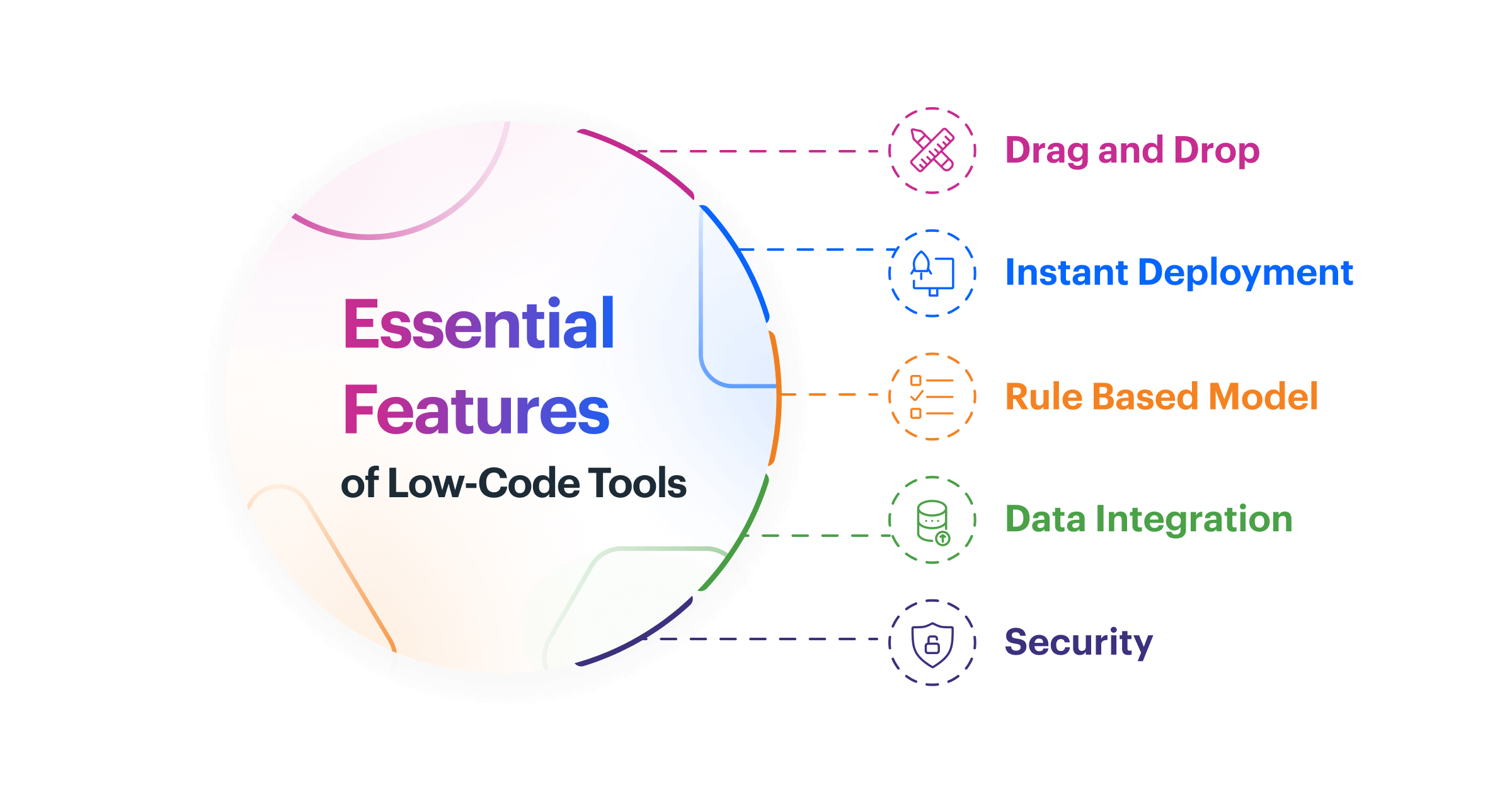 Drag and Drop:
Besides accelerating development cycles with minimal coding efforts, your low-code platforms should also support an intuitive drag and drop based visual model to enable the business users and domain experts to turn their ideas into apps readily without burning out IT teams. These drag and drop templates can be saved and repurposed in the future as part of the other applications if need be.
Instant Deployment:
Most times, in the DevOps lifecycle, applications are developed in one environment, tested, and deployed in another. This in turn makes it hard on the end user to perform the intended actions such as debugging and deployment. On the other hand, your low-code platform should also support pushing applications on to the cloud right from your mobile/desktop.
Rule Based Model:
Legitimate low-code platforms remove the need for custom coding with a rule-based engine. It lets you add conditions in order to program the flow of your workflow or the actions to be taken after every step until the ultimate condition is met.
Data Integration:
An ideal low-code platform needs to garner, maintain, and store data from various sources. The data can be integrated through native or REST APIs holistically so that your applications don't work in silos anymore.
Security:
Instead of focusing on smaller, departmental, and less critical capabilities, ensure your low-code platform has all the necessary security certifications such as ISO 2007 and SOC2 while also complying with other important data protection regulations without burdening you.
Conclusion:
Although there has been an explosion in the number of leading low-code development platforms recently, that doesn't mean the low-code market is becoming saturated. Competition is ensuring that all of these low code vendors are fighting to provide the most for your money. A good place to start your search is with Kissflow Low Code. It's got a powerful form builder and an easy-to-use visual editor which enables you to create your own apps, without needing to code. No matter which industry or audience you cater to.
Kissflow Low-Code Development Platform
Get in touch with us to learn more about how you can transform your application needs.