Industry solution
Low-Code Platform For Manufacturing Industry Process Automation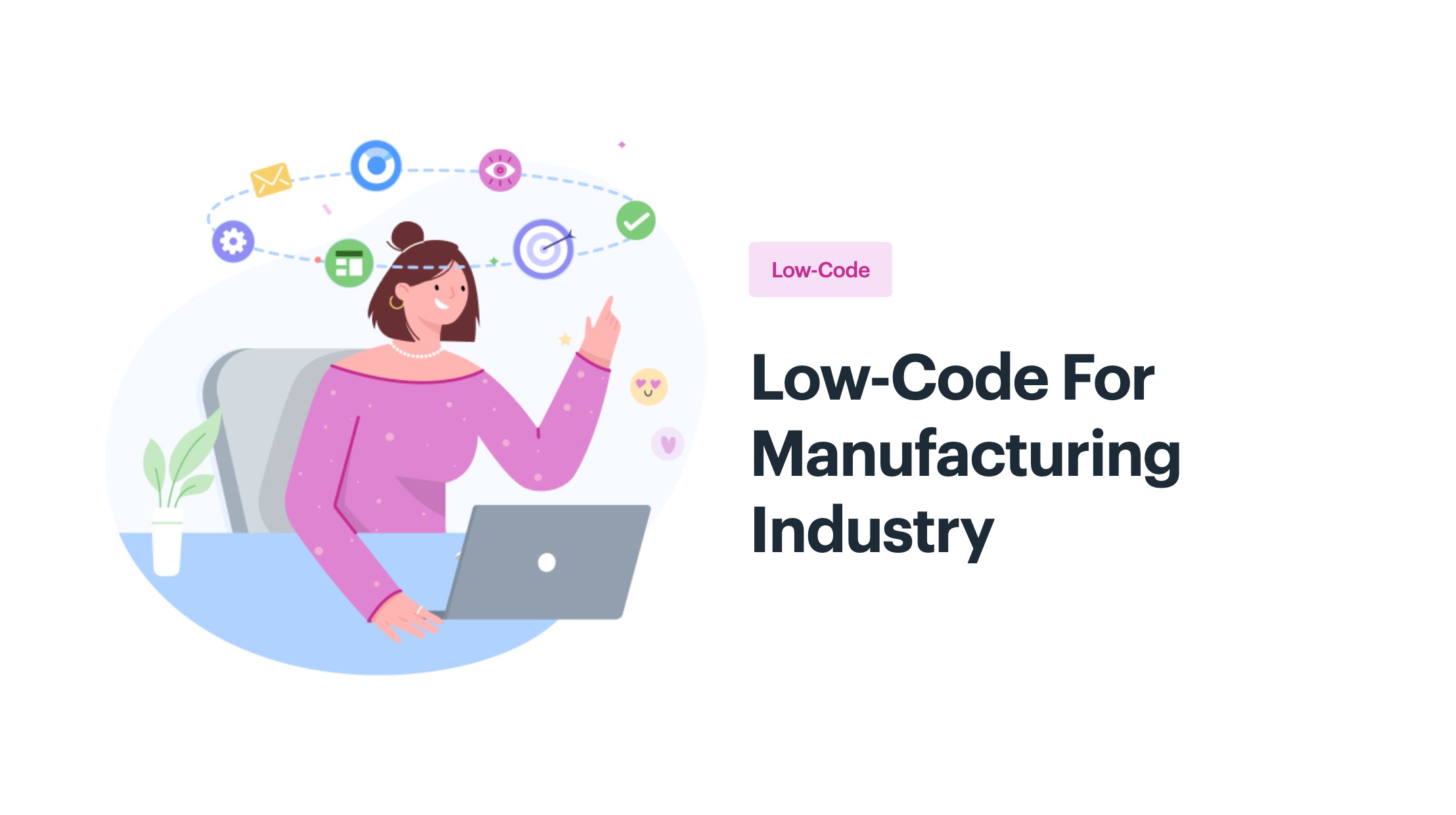 Introduction to low-code application platforms in Manufacturing
To achieve manufacturing excellence, every production site strives for continual improvement. The basic concept underlying continuous improvement in manufacturing is to enlist the help of current employees to solve issues. When you question front-line operators on the shop floor about their concerns, they can usually mention a long list of issues and give comprehensive suggestions as solutions. Such solutions require the usage of software-based technologies in today's production department. As a result, the design of such solutions frequently necessitates the participation of IT specialists, resulting in bottlenecks in the deployment of new IT-based solutions.
Low-code platforms are useful in this situation. The goal of low-code platforms is to enable the quick development of software apps without having to write code manually. As a result, such platforms enable front-line workers to develop solutions to their problems without knowing how to code. Domain specialists, on the other hand, can quickly develop bespoke apps to tackle their specific challenges.
Low-code app platforms help manufacturing professionals develop flexible and efficient applications for various device types, including smartphones, tablets, and workplace browser apps. This guarantees that manufacturers make the most of their domain expertise and that the employees on the production floor regain control.
Low-Code For Manufacturing Industry
Low-code is an application development approach that helps create and launch apps to facilitate and simplify manufacturing tasks. Using visual interface with simple drag-and-drop functionalities and minimal coding, the manufacturing organizations can easily accelerate application development process, overcome programming gap and enhance manufacturing automation.
Why use low-code application platforms for manufacturing?
A low-code application development platform (LCDP) is a platform that gives an easy-to-use support for building software applications without having to write hand-written code. Pre-defined software function blocks, on the other hand, may be customized using a graphical user interface, which frequently includes drag-and-drop components. The software function blocks may be joined to build bigger programs using the graphical user interface. Event-based triggers and if-this-then-that logic are used in many systems to execute business logic and track application interface when the end-user interacts with the apps.
Low-code development platforms shorten the time it takes to build apps and speed up the delivery of commercial apps. As a result, a broader spectrum of people, particularly those with extensive understanding of the business area, may participate in the development of apps. For example, industrial engineers may utilize low-code application platforms to build apps for improving shop floor operations in a relatively short period for applications in manufacturing.
In the manufacturing industry, there are a number of low-code applications:
Manufacturing Industry Use cases for Low Code Development
Shopfloor Management
Checklists for safety: Ensure that all employees adhere to safe work procedures, such as a COVID-19 health plan and 5S/6S checks.
Protocols for handover: To ensure that shift handovers are completed in a thorough manner so that workers have all of the information they require to do their duties.
Submissions for continuous improvement: To allow workers to submit improvement suggestions in defined formats. Projects can be assigned to your staff depending on a variety of factors such as workgroups, area, and skill sets. Employees can only see apps that they have permission to use. It's also possible to have skills develop automatically based on process progress or degrees of virtual training.
Assembly
Standard operating procedures (SOPs) are used to establish standard work and ensure that normal activities are completed on schedule and with precision, such as equipment control, machine setups, and Gemba walks.
Tools for requesting assistance, reducing machine downtime, and increasing productivity.
How can a low-code platform be used to develop a manufacturing industry app?
Manufacturers can use digital checklist software to convert paper forms into digital versions. Manufacturers who invest in automated shop floor management have limitless opportunities to improve manufacturing quality. One method for ensuring quality for recurring jobs and collecting data for continuous improvement strategies is to use digital checklists.
For instance, a low-code platform like Kissflow low-code enables the creation of industrial apps without the need to write software code. Moving away from paper-based data collecting and delivering innovative digital workflows for data collection is critical, especially for manual and human-driven work procedures. A digital checklist may be created in a web browser and instantly distributed on a smartphone, tablet, or wristwatch using the Kissflow AppBuilder. All data obtained through the checklists is automatically saved in the system, where it may be evaluated for improvements or forwarded to other systems.
What are the advantages of low-code platforms in the manufacturing industry?
Manufacturers are entrusting app development to their domain specialists in manufacturing technologies. Low-code makes it easier for the team to integrate OT (Operational Technology) and IT workflows, improve manufacturing automation, and assist field operations teams. Low-code is being used by businesses to overcome the programming gap and speed up application development.
Low-code application systems have several advantages including lower costs and shorter development cycles. The other advantages include:
Reduced training expenses for inexperienced developers
New application deployment times are cut in half
The ability to iterate and improve more quickly
Costs for testing and maintaining apps are lower
Better IT resource allocation
Wrapping up
A continuously changing economy necessitates rapid adaptation by producers. The pace of business is quickening, and the complexity of manufacturing is growing as a result of changing consumer demands. As a result, development and product life cycles are shorter. The need for customized business apps is growing in response to the increasingly difficult market circumstances. Front-line operators may quickly construct apps to satisfy this demand using low-code application development platforms.
You should start using manufacturing software to run your firm right now if you haven't already. You may adapt the process to your unique circumstances by choosing a lightweight and versatile workflow software.
Try Kissflow Low-Code – a simple platform to create complex workflow apps with minimal code. Kissflow Low-Code can give you a powerful automation experience if you're ready to take your business to the next level. Here's how:
It's a cloud-based,

low code platform

that doesn't need a lot of IT help to set up. Developing and automating manufacturing business will be a snap with an easy visual designer and drag-and-drop form builder.
Kissflow Low-Code allows producers to track orders, and the ability to link operations with ERP and MDM systems makes it even better. Before making an order, manufacturers might go through their inventory to make selections. Kissflow is a great option since it allows them to collect data while also allowing them to collaborate. Manufacturers have a clear understanding of where each process stands when process reports are made available. It is based on their organization's capacity to continually innovate and develop.



Kissflow Low-Code Development Platform
Get in touch with us to learn more about how you can transform your application needs.