Let's picture a common scenario many businesses face.
You're looking to engage your existing users and more importantly, attract and convert your ideal prospects.
You've identified social media as a channel you want to leverage to reach more customers—Facebook, Twitter, Instagram—you name it. More importantly, you've defined your strategy. You have a clear picture of what success will look like, i.e. impressions, engagement, etc.
How do you get all your brilliant plans off the drawing board and into reality?
Your social media calendar holds that answer.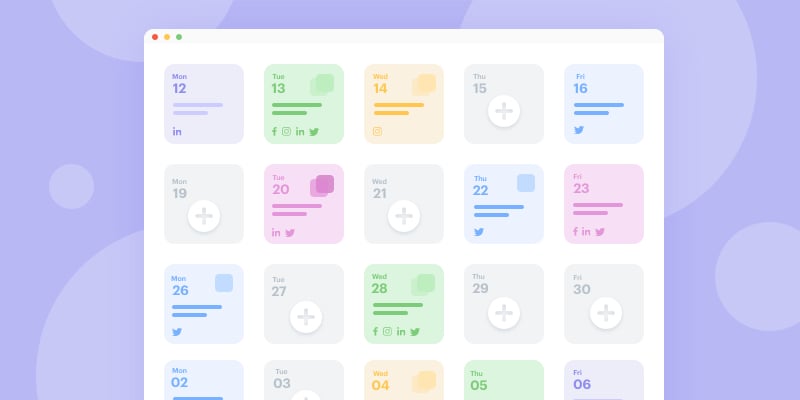 A social media calendar is a planning document used to plan your social media strategy in actionable steps. You take the strategy you've designed and break it down into steps, organize all those steps in order, and then track them right in one place—your social media calendar.
As such, it's important to understand that your social media calendar is fundamental to your marketing project management success and determines just how much you can get done.
How to design your social media calendar for social media marketing success
Building and managing a social media calendar is a big deal. At least, if you're looking to get reasonable results from your social media marketing using project management.
That's simply because your social media calendar is where the goals are defined in terms of the work needed to achieve them. It's where the rubber meets the road and your plans start becoming reality. Your social media calendar is where you define:
the posts you intend to be published,
the assets you intend to share,
the team members responsible for specific tasks in your process, etc.
The steps involved in getting your social media calendar set up for success include:
1. Define your overall social media marketing strategy
Before you get started building a calendar, it's important to first define what you intend to achieve and how you intend to achieve it. That way, you'll have definite data points to keep tabs on when you start building your social media calendar.
2. Create your social media calendar
Creating your social media calendar involves:
choosing a social media management tool—most SMM tools are equipped with calendar functionality out of the box. Besides that, you must review to ensure other functionalities you need such as post scheduling and analytics are built into whatever tool you choose to work with.
choosing the data points you intend to track/record—post titles, visual assets, written content, post analytics, etc.
And don't forget to try our Free and Customizable Templates:
3. Execute your strategy with your social media calendar
Here's the stage where you get started running your social media management with your calendar in earnest with tasks ranging from:
brainstorming content ideas,
creating content for your posts & storing them in your calendar,
design work on banners, images, pictures, etc., needed to go along with your posts,
scheduling posts, complete with visual assets, i.e. gifs, images, videos, etc.,
engaging your social media management team with assignments to specific tasks, etc.
4. Measure and record your outcomes
At the end of the day, after all the work is done, it's time to take a step back to go through the figures and determine whether you met your social media marketing goals or not.
This stage is where analytics comes in handy as you'll have to look deeply into the figures to determine what worked, what didn't, and what to change to get better outcomes in the future.
What makes a good social media calendar?
The very essence of a social media calendar is to plan out the efforts you plan to make so it's easy to carry them out and to track your outcomes.
A social media calendar helps you organize your social media marketing efforts vs. trying to manage everything in your head. As a result, it's important to ensure your social media calendar is designed as simply as possible—to deliver value without bogging you down with bells and whistles. Ideally, a great social media calendar should be:
1. Simple and easy-to-use
It doesn't make much sense if the overcomplicated design makes it hard to get the message of your social media calendar with ease. Clarity helps everyone focus on the planning function of the social media calendar which is essentially all you need. You can also use project management templates to have a head start.
2. Collaborative
A social media calendar is designed to help coordinate your social media marketing effort. But, in case you have a full-stack team, it's helpful if the project collaboration tool you use has features such as mentions, chat, and notifications that help everyone stay on the same page.
3. Designed for integration
It's guaranteed that you work with several other creative or design tools across your marketing department and therefore, your social media calendar should be built with a tool that can integrate easily with other tools in your toolkit. As a result, you'll be able to set up smart marketing automation that'll pass data between your work apps while you focus on more creative tasks.
4. Clear
Beyond just the project management tools you use, your social media calendar should be clear and easy to analyze. Your social media calendar should be structured in a way that's easy to understand what's going on and how each variable affects others.
Conclusion
All in all, a great social media calendar is fundamental to the success of your social media marketing strategy. How much you plan and execute with it is what determines the results you can get out of your efforts.
Taking a proactive outlook towards creating a social media calendar and using it to manage your social media marketing will help you:
Kissflow Project will help you in,
run your social media marketing with a strategic approach—you'll know what your targets are, how close you're getting, and what's holding you back,
engage your team across all stages of the social media marketing process,
achieve your social media marketing targets.