Project management tools are the project manager's answer to manage projects. Simple projects require nothing more than a checklist while other complex ones require proper planning, assigning tasks, setting deadlines, making sure that everyone sticks to them, and tracking the time spent.
The need to quantify, objectify, segregate and delegate tasks properly and proportionately is of high importance and that's where the use of modern tools comes in. There's a lot of project management software tools out there, and if you're new to project management, it can be hard to identify what's essential, what's beneficial, and what's not worth your time.
List of 15 best free project management tools in 2023
If you're in the market for project management software, here are the best project management software tool reviews you should be considering. The list includes both free and paid options along with the features you get in each plan.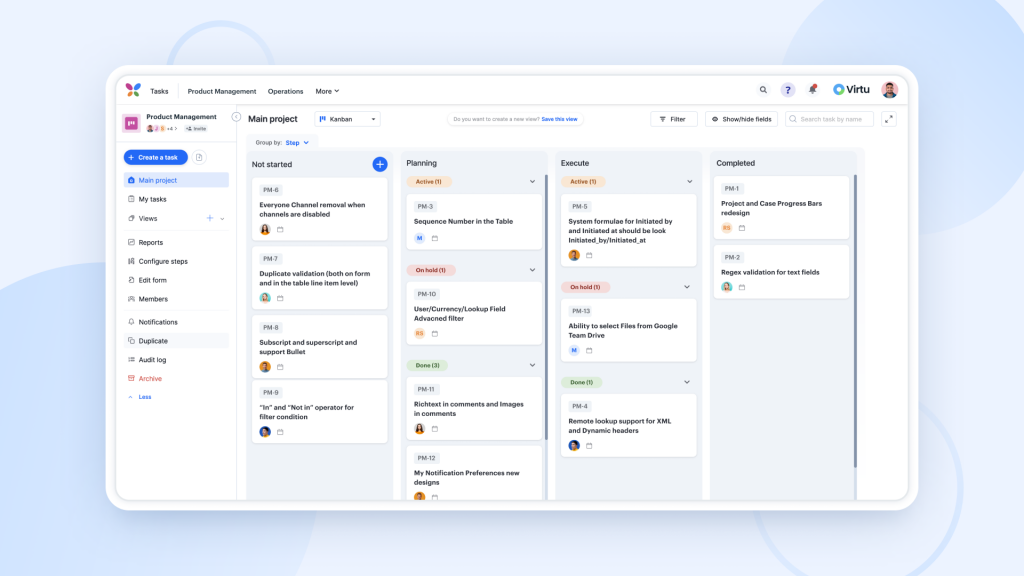 This all-in-one powerful tool is one of the best free project management software out there. Kissflow Project is an ideal project management tool option for functional project managers and people who are new to project management. Kissflow Project checks all the boxes with a comprehensive suite of project management features. It is an easy-to-use and aesthetic Graphical User Interface that makes this one-stop solution an excellent choice for all types of organizations.
It offers all the capabilities of a modern project tool but is targeted at functional managers with an unstated project management responsibility rather than certified project managers.
Key features of Kissflow Project:
Kissflow Project offers a well-rounded feature set for a variety of use cases. Some of the notable features on offer are:
Customizable project steps and Active, On Hold, and Done states
Ability to create sub-tasks and convert them to standalone tasks
Multiple ways to visualize projects (list, Kanban, and matrix views)
Custom fields and advanced filters to segment tasks
Detailed audit logs and complete activity history for every task
Contextual notes within tasks
Ability to add task watchers to provide granular visibility
Ability to set due dates
Automated email notifications when deadlines near
Gsuite and Microsoft 365 integration
In-depth data-driven reports and the ability to create custom reports
Ability to assign team member roles
Ability to duplicate projects
Customizable and pre-defined project management templates
Pricing:
Kissflow Project offers 3 pricing tiers: Free, Basic, and Advanced, which can be selected after a full-featured free trial period of 15 days.
Free:

Unlimited users. Offers customizable steps, 3 custom views, simple reports, a simple activity log, and a 50 GB storage limit.
Basic:

$5/user/month when billed annually for a minimum of 10 users. Offers unlimited custom views, Office 365 integration, unlimited storage, and advanced reports apart from all the features on the Free plan.
Advanced:

$12/user/month when billed annually for a minimum of 10 users. Offers all the features on the Basic plan and also SSO – SAML, detailed activity history, custom sub-domains, and IP whitelisting.
Learn more about Kissflow Project's pricing.
2. Trello
Trello is a leading online project management software with built-in collaboration tools to work with your teams. It's lightweight, simple, and straightforward to use. It uses boards, lists, and cards to create tasks and stay organized. Users can collaborate within the cards, share files, and leave comments.
There's a lack of reporting functionality and project tracking features like Kissflow Project. It's ideal for individuals or small teams that manage very few projects at the same time.
Pricing: The basic plan is free to use. However, there are paid plans that add automation, integrations, priority support, and more.
3. Asana
Asana is a flexible saas project management tool with a focus on collaboration. There are workflows that automate recurring tasks. It is intuitive with different task displays and supports custom fields and forms. You can even invite unlimited guest users. There are also options to build custom rules and approval workflows.
Asana offers a lot for productivity and collaboration while a lot of the core project management functionalities are handled through integrations which may not be ideal for all users. It's good for all-size businesses but not ideal for freelancers. Some users feel Asana's interface is overly simple and the system is too rigid, but it has strong task management and collaboration features. If your style of project organization software matches well with Asana, you'll love it.
Pricing: There's a free plan for up to 15 users. You can manage tasks by viewing them as lists, on a calendar, and on a Kanban board. Their Premium plan costs $10.99/month/user and supports timelines, reporting, custom fields, automation rules, and more. The Business plan offers a multitude of features– like approvals, portfolios, rule builders, workload, and advanced integrations–that are unavailable in the other plans. It's priced at $24.99/user/month when paid annually.
4. Zoho Projects
Zoho Projects is a popular offering from Zoho that helps businesses keep track of tasks, collaborate, bug tracking, and run intuitive reports. The online project management tool offers features like Gantt charts and the ability to billable hours on multiple projects simultaneously. Zoho Projects also boasts a very impressive suite of communications tools, including real-time chat and forum pages
Many users say the Gantt charts are cumbersome to use and reporting breakdown may not be sufficient for large teams. You can share documents from within the tool.
Pricing: Zoho offers several choices when it comes to a subscription plan:
There's a forever free version with basic features and limited users
The Standard plan costs $3 and has features like custom statuses and issue tracking. It supports up to 10 users.
The Express plan is priced at $4 and supports up to 50 users. You'll get features like recurring tasks, Gantt charts, and timesheet approvals.
The Premium plan starts from $5 and supports up to 100 users. It includes features like task automation, business rules, resource utilization, and budgeting.
The Enterprise plan is priced at $6 and has no cap on the number of users. Custom roles, global Gantt charts, inter-project dependencies are some of the features available.
All plans are per user per month.
5. Wrike
Wrike is a cloud-based project management tool that simplifies project planning, helps track your team's work, monitor deadlines, and collaborate easily with all stakeholders. It offers a lot of advanced features like task management, Gantt Charts, a real-time newsfeed, and more. You can prioritize tasks to push the crucial tasks forward and make sure deadlines are met. There are also plenty of integration options which makes it a powerful project management suite.
The sheer number of features can be a bit overwhelming for most new users and the unintuitive interface is of little help. It's ideal for different teams within the organization like marketing, software development, and professional services.
Pricing: There's a freemium version with limited functionalities and up to five users. Paid plans start at $9.80/user/month. There's also a Business plan priced at $24.80/user/month. It supports features like subtasks, Gantt charts, time-tracking, and workflows.
6. Monday.com
Monday.com combines a visually appealing interface and useful project visualizing tools into intuitive, simple project management software. It's flexible and offers a transparent way to organize your work. There are project templates on top which you can build your own boards. There are plenty of display options available like the map view and the calendar view.
One common reason for dissatisfaction among customers is the lack of recurring tasks. The mobile app is clunky to navigate for some users. They also offer great security, robust features, and easy customization.
Pricing: The pricing system is overly complicated. There's no freemium plan and you'd have to spend time investigating the number of users, automation, and integration actions you'll need every month. Paid plans start at $39/month for five users.
7. ProofHub
ProofHub gives a centralized workspace for task lists, workflows, Gantt charts, discussions, calendars, and documents. It helps you plan, organize, and keep track of your team's tasks. It also makes collaboration easy within teams as well as with external clients. There are plenty of reports like workload and resource reports.
With an emphasis on simplicity, ProofHub has very few integrations and very limited task management. It's good for both freelancers and businesses of all sizes.
Pricing: ProofHub has no cap on the number of users and offers a flat fee irrespective of the number of users. There are two plans: the Essential plan is priced at $50 per month while the Ultimate Control plan costs $99 per month.
8. Clarizen
Clarizen is a highly rated online project management software meant for mid-to enterprise-sized businesses. The system is web based project management only, so the lack of a mobile app may limit usefulness for some teams. Users love the robust reporting features and ability to track resource use, but it lacks a to-do list and time tracking.
The learning curve is a bit steep because it has specific ways of managing workflows. Clarizen is best suited to enterprise-level project managers, IT organizations, and professional services teams that require powerful, flexible, and intuitive web based project management software.
Pricing: Pricing is not publicly available but is available upon request.
9. Airtable
Airtable puts the best features of spreadsheets and databases together. It's customizable and easy to use and works well for businesses of all sizes. It lacks robust reporting features which might be problematic for some users.
You can store information in the database which can be used for task management and project planning. Many users love the versatility of data organization that's possible with Airtable's spreadsheets. There are multiple views like Kanban, list, grid, and calendar.
Pricing: Airtable has a free plan that supports essential features like rich field types, multiple views, and collaboration. Paid plans start at $10/user/month for companies with higher data storage requirements. Their Pro plan offers advanced features like custom branded forms, personalized views, and domain restricted sharing.
10. Kanban Tool
Kanban Tool is a good entry point to agile development. It allows you to visualize your workflow and offers seamless time-tracking functionalities. It makes collaboration and task tracking easy with notifications, reporting, and team management features.
It provides features like reporting, document sharing, native mobile app, and more which are ideal for medium and large businesses. Kanban tool also offers enterprise users the ability to host the software onsite.
Pricing: It's not geared towards freelancers, but there's a free plan for up to two users and supports two project boards. Paid plans start at $5/user/month and support unlimited boards. The $9/user/month plan for enterprises has advanced features like time-tracking, reporting, user management, and process automation.
11. Zenkit
Zenkit is a widely-respected project management solution that allows you to stay on top of your data right from research and brainstorming to collaborating on it. It is specifically targeted at teams that prefer an agile approach to the work they do. However, it also supports traditional approaches to project management.
Zenkit is a solid project management tool that offers multiple views, reports, and resource-management capabilities and hence is always on the radar of those seeking a versatile answer to their project needs.
Pricing: Zenkit offers a Personal plan that's free to use as well as three paid plans:
Plus
Business, and
Enterprise.
The feature-set and number of projects supported increases with a tier with the Enterprise plan offering maximum customizability for large organizations.
12. MeisterTask
MeisterTask is an online project management tool for collaborative teams that work together in real-time. It offers an activity dashboard, backlog management, customizable fields, file sharing capabilities, and more.
It offers a visually-appealing user interface although its revision management capabilities could improve.
Pricing: MeisterTask offers four tiers: Basic, Pro, Business, and Enterprise.
The Basic plan is free and supports up to three projects.
The Pro plan costs $4.19/user/month while the Business plan costs $10.39/user/month.
The Enterprise plan features customizable pricing.
13. ClickUp
Clickup is a cloud-based offering that bills itself as an all-in-one project management tool. It stands out for its comprehensive feature set that includes even docs, goals, and an inbox.
Modularity is a major strength of ClickUp. It offers add-ons called Click Apps that allow for rich customization.
Pricing
The free plan offers 100 MB storage and unlimited tasks and members.
The unlimited plan costs $5/user when billed annually and includes unlimited storage, integrations, etc.
The business plan costs $9/user when billed annually and includes Google SSO, goal folders, custom exporting, etc.
The enterprise plan involves custom pricing and includes increased API limits, a dedicated success manager, white labeling, etc.
14. Paymo
Paymo bills itself as a modern and intuitive work management solution for small businesses and remote teams. It includes advanced task management, planning, scheduling, collaboration, invoicing, and time tracking features. In essence, it allows one to keep track of the entire lifecycle of a project without the need to use and pay for multiple apps.
Pricing
The annual plans offer two additional months of use.
The Small Office plan costs $9.95/user per month when billed annually.
The Business plan costs $15.79/user per month when billed annually.
15. Teamwork
Teamwork is a Kanban-based project management tool. It offers more advanced reporting features than Trello within a similar drag-and-drop interface. It allows for branding accounts with custom company identities. Further, it allows the disabling of features for specific projects.
Pricing
The free plan allows for 5 users and offers 100 MB of storage.
The Pro plan costs $10/user/month when billed annually.
The Premium plan costs $18/user/month when billed annually.
Custom enterprise pricing is also available.
What to look for in an online project management tool
To help you, here's a list of the top six features of project management tools you absolutely can't live without if you are going to lead a successful project.
1. Kanban board
Kanban boards are workspaces used to visualize your project, and they are immensely helpful in successful project management. The kanban board utilizes a simple board and card system, allowing everyone on a team to have visibility, not just on individual tasks, but on the larger picture of team activity. Citizen development is a great example of using a kanban board with no code.
Originally created by Toyota Motors for its manufacturing facilities, Kanban has been adapted and utilized across multiple sectors for the last several decades. Kanban board can be in physical spaces like a whiteboard or in digital spaces which can be created in the kanban board software.
2. Task management
A project is a collection of tasks that must all be completed in order to accomplish a single goal. Some of those tasks are sequential or dependent. Some can be completed simultaneously. Each task needs to be assigned to a person or persons on the project team. The more complex the project, the more tasks there are to manage.
Though it doesn't sound very glamorous, task management is a crucial part of project management, and it's important to have tools that assist in managing tasks effectively.
3. To-do lists
The good old-fashioned to-do list. Simple though it may be, it does help you and your team get the job done. Of course, it's far more effective to store your to-do list in a central, visible location that every team member can access easily.
A good project management software should include a to-do list, ensuring that everyone on the team can check in and see what's been accomplished and what's left to be done.
4. Time tracker
Every aspect of your project takes time, but when you get to the end of a project, it's sometimes hard to know who spent how much time on which tasks. Confused yet? It gets more complicated if you have a similar project coming up; you feel like you should know how much time to allot to each project task and phase, but if your team wasn't able to track their time previously, it's a bit of a guessing game. A good time tracker helps with accurate billing, insightful team management, and careful planning.
5. Collaboration
Whether you have a team of two, twenty, or two hundred, collaboration is vital for successful project completion. A good project management system must include strong collaboration features so that citizen developers and other team members can communicate and work well together whether across the room or around the globe.
Online project collaboration tools include things like real-time updates, communication, and automatic notifications.
6. Integration
Projects are made of a lot of moving parts. You need to know the impact of one variable over the others whenever something changes. In other words, look for features that help analyze trade-offs and how resource allocation affects the overall schedule of your project.
7. Detailed Reporting
Reports are the best way to get a strategic overview of the projects' status. Specifically, you need to know how everything is going by the end of every week or month. In addition, software that compiles all the information related to schedule, cost, team performance, and resources usability in a structured document is something to look for.
A good online project management tool allows you to generate project reports that give you and your team insights on project completion, budget status, inefficiencies, and more. Many project management software tools come with standard reporting features. It's even more helpful when those reports can be customized to your project.
Conclusion
With Kissflow Project, you can visualize with Kanban, assign tasks, create lists, track time, collaborate, and generate reports all in a simple, intuitive interface. Whether you're a project management veteran or just tackling your first project, Kissflow Project can help you execute well and deliver the results you and your team are after. Start using Kissflow Project for free.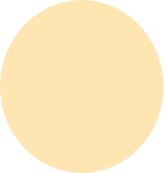 Manage your Projects easily with Kissflow Project!
A Complete Project Management Solution for all Your Work
Get Started