In today's highly competitive and fast-changing corporate world, the efficiency of your business operations are crucial to determining your organizational success. Every department of the modern company, from human resources (HR) to marketing and sales, relies on processes for the smooth running of the everyday tasks and activities that make up the team's operations.
This is particularly true for the accounting function, where there are many sequences of events that are undertaken regularly. These data processes, otherwise known as workflows, are crucial to the whole organization's business operations and contribute massively toward its overall effectiveness and efficiency in the face of its competition.
What is accounting workflow?
Workflow accounting refers to a way of monitoring and keeping track of all your processes and tasks. This approach helps in gaining complete visibility over the status of your processes, who is working on what task, and their stipulated timelines.
As businesses continue to grow, handling multiple, complex processes becomes a nightmare. Workflow accounting can help businesses take control of their processes by having full transparency of them. This approach lets your entire team stay connected, provides you with all the necessary information, and lets you manage multiple processes under one unified console.
What is a Bookkeeping Workflow?
A bookkeeping workflow is defined as a set of predefined tasks allocated to your teams. Each process is split into multiple tasks that can be specifically assigned to one or more team members.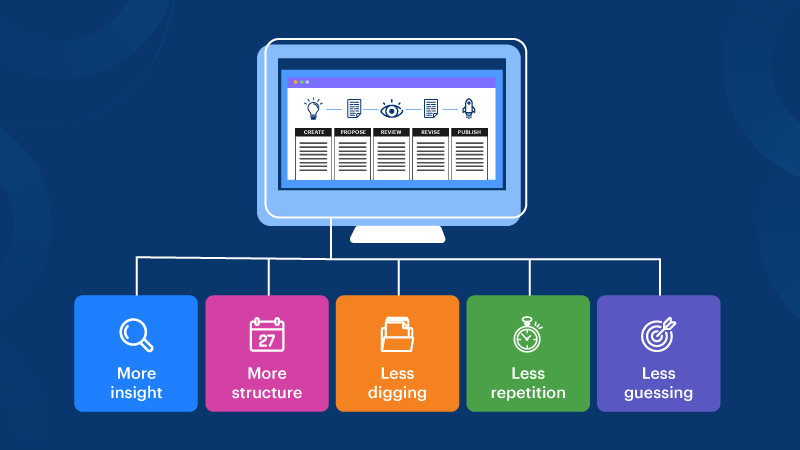 Why accountants and finance firms are turning to workflow software
The most advanced finance workflow software has a range of features and functionalities that improve effectiveness and efficiency of the finance function. This is an overview of the main areas:
Budgeting and forecasting, including forward financial planning and P&L activity.

Accounts payable and receivable, including invoice and payment processing and billing activities.
Auditing and cash flow, including

regulatory reporting, policy compliance, and cash flow management.

Expense management, including employee expense reimbursement, cost allocation, and reporting.
What are the benefits of workflow software for the finance industry?
Automated workflow software can offer organizations of all shapes and sizes a host of benefits. It can give viable alternatives to traditional methods of working with outdated, clumsy manual spreadsheets, inflexible databases, or complex, manual reporting.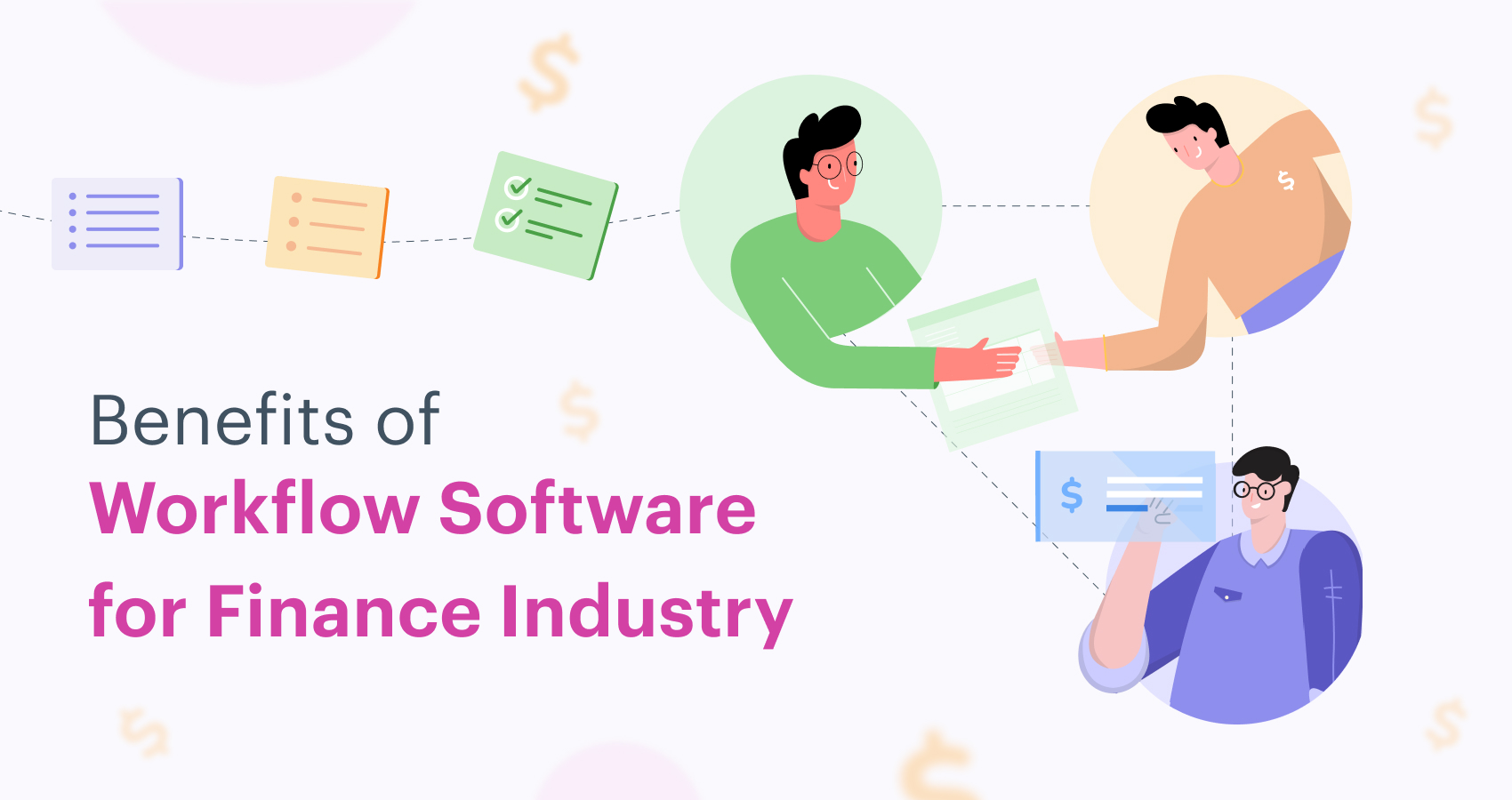 Here are some of the main benefits that you can expect from finance workflow software:
Reduction in error rates and inaccuracies
Human error is inevitably a big cause of inconsistencies and errors with financial data. A finance workflow process can offer automated forms, tailor-made workflows, and clear data permissions, helping to reduce the likelihood of such issues causing significant problems to your business operations. Added benefits are better relations with suppliers and clients and fewer complaints.
Cost reductions
It makes sense that one of the main purposes of working with workflow management software is that it improves efficiency to such a degree that it can cut your costs and positively influence your bottom line. Automated workflows and tasks need far less manual employee intervention. This reduces your spending on staff and also frees up your finance team to work on more value-adding activities to better contribute toward business success.
Improvements in the speed of your data processing
Workflow management software can help your team to effectively identify and subsequently streamline or even remove irrelevant finance processes, automate repetitive or manual jobs, and carry out some tasks simultaneously.
How to choose the right workflow software for your finance firm?
Competition is fierce in the finance software market and a simple web search will inevitably yield scores of providers. This can make it incredibly tricky for the uninitiated to know where to begin in finding the most appropriate option for their particular business needs. Thus, it is worthwhile to engage in robust research and planning exercises in advance. Here are some key questions that your accounting function should ask itself so that you can be sure to choose the right tool for your needs.
Budget
Determining your budget from the outset is critical. This will help to focus your attention on the most pressing priorities you need to address in terms of the features of your workflow software. When considering your budget, make sure to factor in both implementation and ongoing costs to get a truly reflective picture.
Features and functionalities
Carry out a clear needs analysis of the challenges you are currently facing within your accounting function so that you can see where the biggest opportunities to realize cost or efficiency savings lie. You can then prioritize systems that specialize in these areas.
Scalability
It is certainly worth bearing in mind that fact that your business may grow in the future. Choose a system that can handle increased user traffic, more complex workflows, etc. This will save you money and hassle in the future if you have to move to a more comprehensive system.
Accessibility
Cloud-based systems are particularly sought after for workflow software. They typically have low set up fees and can be accessed any time, any place, for maximum convenience. It is also simple to set and change access and permission rights for users, adding a greater level of security to the system.
Best Accounting Workflow Software 2023 - Detailed Comparison
We have taken the hassle out of searching through the whole market, by giving you our top tips of the most popular and effective workflow management software out there right now.
Below is the best 5 workflow management software of 2023:
1. Kissflow Workflow
Kissflow Workflow is a technologically sophisticated and comprehensive cloud-based workflow management software. It partners with organizations to create personalized automated workflows that match the company's procedures perfectly.
Kissflow Workflow Cloud has a full range of value-adding features across the whole accounting spectrum, such as auto write off approvals and simple automated policy compliance. It is an easy-to-use, highly customizable workflow management tool that can add real value to your business.
2. Xero Practice Manager
This is a useful, comprehensive accounting system with a range of features across all areas of accounting operations, from real-time workflow tracking to automatic invoicing and billing and a range of reporting features. The fact that Xero Practice Manager integrates easily with Xero and Xero Tax is another clear benefit for existing users of these systems.
3. QuickBooks Online Accountant
This workflow management software is a popular choice for users looking for a range of easy-to-use, streamlined features to manage accounting workflows and share documents seamlessly. It allows users to collaborate with clients within the system in real-time and view status updates and client information at the touch of a button.
4. Jetpack Workflow
Jetpack Workflow is a good choice of workflow management software for smaller organizations. It offers a transparent pricing structure and a range of easily accessible features such as fully automated functionality to assign tasks to team members, set up recurring jobs across clients, and quickly set up personalized workflows for the onboarding of new clients.
5. Aero Workflow
One of the main selling points of Aero Workflow is its ability to integrate seamlessly with other software, making it popular as a standalone workflow system. It has a good degree of customization. This allows users to create task templates for commonly used workflows plus easy-to-follow dashboards and easily accessible client information.
Take the next step to realizing the benefits of accounting workflow management
The world of technology is changing rapidly and your organization needs to keep pace to maintain a competitive and effective accounting function. Workflow management software can benefit you if your business is still coping with a high degree of manual intervention within its finance function, causing delays, inaccuracies, and sluggish processes.
The Kissflow Workflow is the perfect way to streamline and tighten up your existing finance processes, reducing your error rates, improving efficiency, and saving you money along the way. Give the free demo a try today to see how it could work for your business.