BPM
Business Process Management (BPM) System – Everything You Need to Know
31.January.2022
1 min read
What is BPM?
BPM stands for Business Process Management. Business process management runs on the principle that processes are central to an organization.
BPM is defined as a technique, structured method, and discipline used to streamline operations and enhance efficiency. These techniques and methods are often used to identify, model, analyze, modify, improve, and standardize business processes with the help of automation.
What is a BPMS?
Business Process Management System (BPMS) helps your organization improve your business processes with the help of analysis and automation. BPMS should be able to let you model, create, edit, and run all of the business processes in your organization and also collect data and analytics.
Business Process Management Software has also taken a new and enhanced form–iBPMS (i stands for 'intelligent'). An iBPMS uses actionable, real-time insights from operations intelligence to improve the orchestration of adaptive business processes.
Why Choose a BPMS for Your Organization?
In today's ultra-competitive world, every business has to be as efficient as possible in order to sustain and thrive.
Practicing traditional manual processes makes the business owners kill time and burn money on futile elements of their businesses. Here's where BPMS comes into picture.
Implementing a BPM Suite brings in a lot of benefits, while the most important ones are as follows:
Increased Operational Intelligence: BPMS helps improve the efficiency of your business processes by cutting down on repetitive, mundane tasks, where most manual effort and time are spent unwantedly. BPMS also provides insights on the bottlenecks of each process, that lets you make informed decisions to eliminate them, thus driving operational intelligence.
Organizational Agility: Inflexible business processes make your organization get drowned into the ocean of competition. Agility is the primary factor that contributes to the survival of any business. If your organization fails to change rapidly, as per the demand, your customers will be game to shift their bases to your competitors.
BPMS helps you change quickly and deliver better customer experience without any hassles.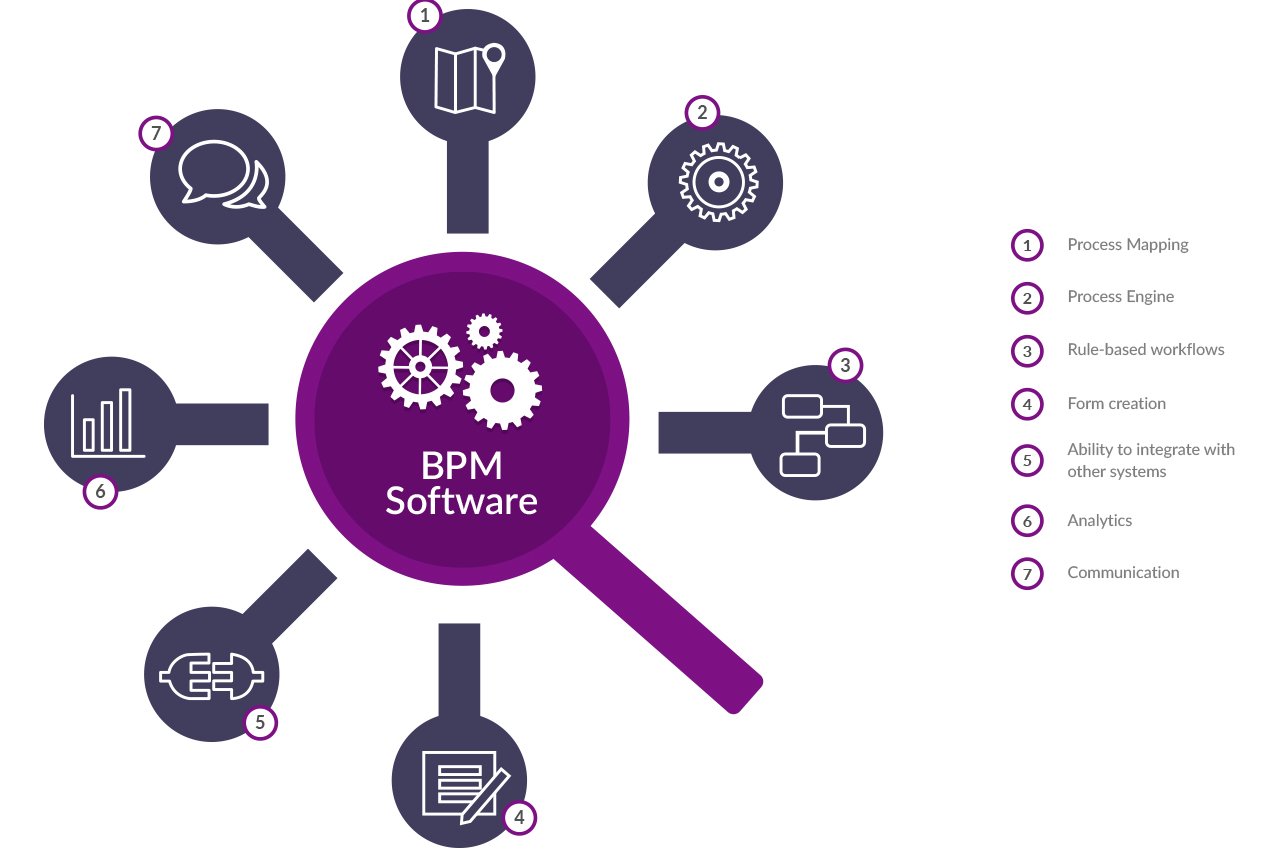 How to Implement a BPMS Successfully with a 10-point Checklist?
The success of a BPM initiative does not end with choosing the right software for your organization. That is where it actually starts. However, the primary factor that affects the success rate of a process management initiative, is the implementation.
Here are the 10 points that you need to keep a check on, before rolling out a BPMS:
Choice of Platform
Choice of Process
Identify the Process Owner
Set Benchmarks
Diagram the Workflow
Involve all Stakeholders
Pilot your BPM Workflow
Easy to Integrate
Training Users
Measure and Optimize
To know more about this, check out this 10-step BPMS implementation guide.

How Should You Evaluate BPMS?
A lot goes into picking the right business process management suite. There are many things to consider. Here are three variables you should be aware of.
Human-Centric Modeling vs. BPMN vs. Programming
Human-centric software like Kissflow uses a very simplified process mapping interface that allows a non-technical process owner to create the process in the simplest way possible. The software does the background work of creating conditions for rejections and alternate flows.
BPMN is a notation system that uses standardized symbols to denote events, activities, tasks, connections, etc. This notation must be learned by the creator of the workflow in order to enter it into a system.
Programming involves creating lines of code that create the workflow and data transfer. Programming offers the most possibilities and can handle extremely complex processes, but only someone heavily trained in this area will be able to create and modify a process.
Cloud vs. On-premise
Cloud software is hosted on servers that can be accessed through a web-browser from any location. Apart from accessibility, cloud-based BPMS also puts the responsibility of the management of the software on the vendor. Cloud solutions are usually provided on a SaaS model which allows for lower cost to the customer.
On-premise software is installed onto a particular system. The main advantage of on-premise is that all of a company's data is stored internally, giving the company more ability to protect and give access to that data.
Open-source vs. Licensed
Open-source BPM solutions means that the vendor has made its source code publicly accessible. This means that a company can download the source code and make any changes it wants to customize the software. Licensed software will have limitations on how much customization can be done.
In the world of business process, open-source solutions tend to be more complex and require a programmer to make any changes to it. Licensed software tends to be more human-centric.
The Must-Have Features Any Competent BPM Software (BPMS) Should Offer
Before you pick a BPMS out of the hundreds that do the rounds on the internet, make sure you check for these essential features.
Visual Process Diagramming Tool
A visual process design tool plays to the strengths of the business user, who usually understand the process much better than a 'hired gun' coder, or even the in-house IT team.
Drag-and-Drop Form Designer
Pick a BPM software that makes designing forms easy. Complicated form design tools can discourage your employees from fully embracing your BPM tool.
Role Based-Access Control
Business information in forms and fields is usually sensitive, so pick a BPM solution that protects information through selective access.
Mobile Support
Make sure the tool offers mobile support for Android and iOS at the very least. Most cloud BPMs offer this ability.
We have discussed these features–and 6 more, like single sign on, integration, and reports and analytics–in detail here. Make sure you check that out, before you pull the trigger and sign up for a BPMS.
The Top 5 BPM Software: How Do They Compare?
Now that you know why exactly a BPM system is necessary, the question is which one to get. To help you make this rather tricky choice, here's a list we've compiled. You'll see 5 of our top picks for competent BPM software (BPMS), compared head to head.
Comparison of Top 5 BPM Tools 2020
Brand Name
Popular With
Process Design
Operational Ease
Pricing
Support
Nintex
SMBs, enterprise
Browser-based intuitive design
On-prem
By quote
None (open-sourced)
Process Maker
Corporations, governments, and organizations looking for an enterprise scale
BPMN 2.0
Different editions of on-prem and cloud
Starts at $1000/month (unlimited users)
Video documentation, email, webinars, instant chat
Kissflow
SMBs, mid-market
Human-centric drag and drop interface
Cloud-based
Starts at $390, Learn more.
4.3 / 5 (446 Reviews) by G2.com
Video documentation, email, webinars, instant chat
Bizagi
SMBs, medium businesses, enterprises
Bizagi BPMN Modeler
Cloud hosted/on-prem
Perpetual user license for $800/year+$134 maintenance fee (or)
1-year user license for $311/year
Basic for free (with no SLAs) or premium support at an extra cost
Zoho Creator
Freelancers, small- and mid-size businesses, and enterprise
Script builder to drag and drop snippets of code
Web-based, on prem, or can be self-hosted
$5-$15/user/month (depending on license plans)
Email, phone, training, ticket escalation
⋙ Check out why these
6 BPM Software
are at the top of the competition!
So, what next?
If you haven't chosen the BPMS for your organization yet, it's high time you do it. Choosing the right business process management software is an important decision for any company that wants to streamline its processes across human and system tasks. Be sure to choose a platform that matches your needs and that your company is ready for.
Kissflow Process is a human-centric, cloud-based, licensed software, built for business leaders to create their own automated business applications. Start a free trial now!