---
You are Here: BPM Platform >> What is Business Process Management System (BPMs)?
---
In today's hyper-competitive business landscape, passion and grit alone can't guarantee long-term success. To drive sustainable growth and stay ahead of the competition, organizations need to adopt systematic processes that boost productivity, control costs, and ensure customer satisfaction.
This is where Business Process Management (BPM) comes in. It's becoming an essential tool for businesses striving to maintain an edge in an increasingly demanding market. With the average American employee wasting approximately 21.8 hours per week[1], a BPM system could be the key to eliminating inefficiencies and streamlining operations.
A Business Process Management System (BPMS) provides a strategic solution for enterprises to design, implement, monitor, and optimize their processes. It not only reduces costs but also enhances team communication, elevates customer service, eliminates waste, and significantly bolsters company efficiency.
As a BTP or CIO, the value of a BPMS to your organization is immense. It offers a comprehensive approach to managing and improving your company's operational processes, thereby driving better business outcomes.
From reducing bottlenecks and redundancies to enhancing flexibility and agility, a BPMS can revolutionize the way your organization operates. So, if you're keen on boosting the efficiency of your company, here's everything you need to know about business process management systems.
\
What is a Business Process Management System (BPMS)?
A business process management system (BPMS) is a platform that manages and automates well-defined business processes. It creates an infrastructure that enhances company agility, making work faster and easier.
A BPMS is a simple, intuitive tool that helps companies execute, manage, and improve business processes by identifying, modeling, automating, and analyzing business processes. It allows enterprises to collect data and use it to optimize key business processes.
Business Process Management Software has also taken a new and enhanced form–iBPMS (i stands for 'intelligent'). An iBPMS uses actionable, real-time insights from operations intelligence to improve the orchestration of adaptive business processes.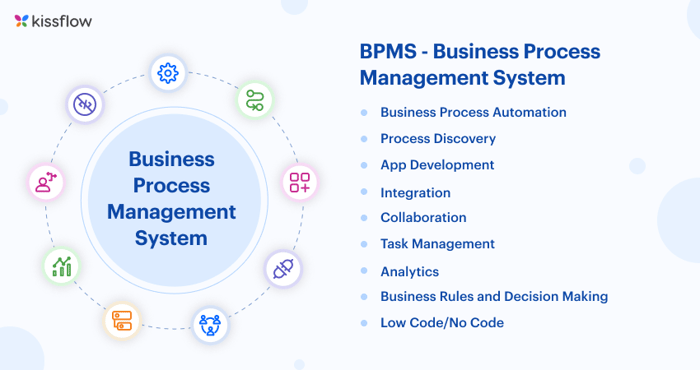 How does a BPMS work?
A Business Process Management System (BPMS) works in four stages.
Stage 1- Business users document their processes and determine suitable, efficient actions to accomplish tasks.
Stage 2- They map out the processes as diagrams or flow charts and establish a set of rules for flexible process modeling.
Stage 3- They automate the processes by assembling actions and creating business process models to simulate process behavior and results accurately.
Stage 4- They can enhance new processes by monitoring them and implementing changes to continuously improve their ability to drive desired business outcomes.
Key Features of BPMS
1. Workflow Automation
Business process management systems have built-in automation software to help businesses define, map, and automate common processes and workflows. They can develop critical pathways and functions and provide permissions to enable automation with minimal oversight. The systems also help businesses to continuously monitor, identify, and eliminate process bottlenecks.
2. Data Management
BPM tools have robust and comprehensive data management features because organizations generate massive volumes of data. They collect the right information, manage it, and analyze it effectively. Users can define and maintain data elements and relationships between data entities.
3. Visual Workflow Modeling
A BPMS with a user-friendly interface allows users to design and edit a visual map of workflows effortlessly. They can take a glance at crucial information and see how work is progressing in real-time. The system also allows users to model web forms and processes easily.
4. Analytics and Reports
BPM tools provide analytics on process performance. Reports are linked to key performance indicators and provide data on individual actions, processes, tasks, and process members. Reports and analytics help organizations improve existing processes, identify customer expectations, forecast market behavior, and increase overall profit margins.
5. Integration
Few business processes exist within a single system. For example, acquiring a new customer may involve onboarding them, delivering a service, and getting paid. BPMS technology must coordinate process execution across different systems to boost efficiency, service, and customer experience while reducing costs. The system should integrate with CRM software, HRIS/HRM platforms, and ERP platforms. This allows processes to be easily started and completed in those systems.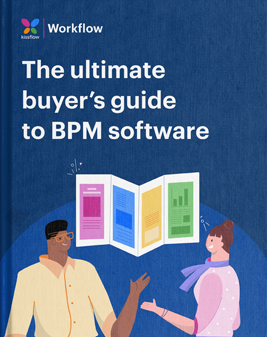 #Free eBook
The Ultimate Buyers guide to BPM Software
Benefits of BPMS
1. Boosts Efficiency and Productivity
A business process management system is essential for companies bent on improving business processes. It eliminates repetitive tasks, boosts productivity, and increases company performance. It also makes business processes easier to understand and implement. By connecting business processes, it provides useful data for employees to track workflows closely and allocate resources as needed.
2. Improves Business Agility
With a BPMS, organizations can build composite processes that increase agility and adjust quickly to changing market conditions. The system customizes workflows to ensure they are adaptable. It increases business process responsiveness, providing deeper insights into company operations.
3. Reduces Costs
Cost reduction is an important goal of every organization. Lower operational costs translate to higher profit margins and a better organizational budget. A business process management system controls processes, making sure they don't take any unnecessary steps or unwanted actions. It improves product quality, eliminates process bottlenecks, and minimizes corporate risk, significantly decreasing operational costs.
4. Increases Profitability
When organizations eliminate inefficient operations, they make more profit. A BPM system ensures organizational processes are cost-effective. It improves existing processes so an organization can find better ways to get things done. Company resources are wisely allocated and there's no wastage. By eliminating bottlenecks, the system significantly accelerates product cycle time, improves time-to-market, and reduces product lead times, boosting sales and revenue.
5. Promotes Compliance
Organizations need to be compliant with industry regulations, and a comprehensive BPM tool can help. It ensures compliance with standards and regulatory requirements. Users can document processes on a single platform, and this promotes safety and security. Implementing internal policies and controls is also easy. A company that uses a BPM system is safer, more organized, and more reliable.
6. Enhances Visibility
When processes are standardized, the risk of human error is reduced. A BPMS' embedded analytics gives users more visibility into process performance and helps them quickly identify bottlenecks. The platform's automation tools boost efficiency and allow employees to focus on work that requires human expertise and interventions. A clear view of end-to-end processes enables real-time oversight and motivates employees to perform tasks better.
Examples of BPMS
Business Process Management (BPM) systematically improves and optimizes an organization's workflow and processes. Some of the business process examples include:
HR
Sales
Finance
Compliance Management
Employee Onboarding
Marketing Requests
Low-Code, Mobile Applications
Project Management
Who can use a BPMS?
Any enterprise—large or small—can use a BPMS to automate processes and streamline operations. It is an essential tool for companies looking to improve business processes. BPM systems can be used for business process implementation, process improvement, and process automation.
Why Choose a BPMS for Your Organization?
In today's ultra-competitive world, every business has to be as efficient as possible in order to sustain and thrive.
Practicing traditional manual processes makes business owners kill time and burn money on futile elements of their businesses. Here's where BPMS comes into the picture.
Implementing a BPM Suite brings in a lot of benefits, while the most important ones are as follows:
1. Enhance Communication Between Teams
A business process management system boosts internal communication and coordinates multiple functions between employees in different business units. It allows employees to easily share information across departments by providing access to the data they need to complete tasks.
2. Build a Collaborative Culture
Collaborative features built into a BPMS eliminate department silos and speed up decision-making. The system enhances collaboration internally between employees and externally—between the organization, stakeholders, and customers.
3. Modify and Upgrade Processes
A good BPM system is flexible and scalable; it easily adapts to changing company needs. Organizations can quickly identify inefficiencies or process delays and correct them. Users can identify process challenges and use the right tools to implement changes and increase efficiency.
BPMS helps you change quickly and deliver a better customer experience without any hassles.
How Should You Evaluate BPMS?
A lot goes into picking the right business process management suite. There are many things to consider. Here are a few variables you should be aware of.
1. Ease of Use
A business process management system should have an intuitive interface and be easy to use so employees can adapt quickly. A complex platform can mean delayed work because users will spend more time learning how to use the software than working. Also, select a BPMS customized for your business because it's easier to install and use.
2. The Expected Return On Investment (ROI)
Find out the number of users the BPMS can accommodate, the total number of processes, its features, and the impact it will have on your organization. Estimate ROI based on the license cost, the cost savings of automating repetitive tasks and regulatory missteps, and the resources saved.
3. The Issues You Need to Solve
Consult and research extensively before settling on a BPMS. Consider the nature of your business, the number of processes you have, your project scope, and your budget. Also, determine your pain points. Define problems clearly and choose the best BPM system to solve them.
4. High Scalability
Find a tool that addresses your specific needs and allows you to scale up. A flexible system helps your company keep up with technological advances and changing market conditions and meets your security and usage needs
5. Human-Centric Modeling vs. BPMN vs. Programming
Human-centric software like Kissflow uses a very simplified process mapping interface that allows a non-technical process owner to create the process in the simplest way possible. The software does the background work of creating conditions for rejections and alternate flows.
BPMN is a notation system that uses standardized symbols to denote events, activities, tasks, connections, etc. This notation must be learned by the creator of the workflow in order to enter it into a system.
Programming involves creating lines of code that create the workflow and data transfer. Programming offers the most possibilities and can handle extremely complex processes, but only someone heavily trained in this area will be able to create and modify a process.
6. Cloud vs. On-premise
Cloud software is hosted on servers that can be accessed through a web browser from any location. Apart from accessibility, cloud-based BPMS also puts the software's management responsibility on the vendor. Cloud solutions are usually provided on a SaaS model which allows for lower cost to the customer.
On-premise software is installed onto a particular system. The main advantage of on-premise is that all of a company's data is stored internally, giving the company more ability to protect and give access to that data.
7. Open-Source vs. Licensed
Open-source BPM solutions mean that the vendor has made its source code publicly accessible. This means that a company can download the source code and make any changes it wants to customize the software. Licensed software will have limitations on how much customization can be done.
In the world of business processes, open-source solutions tend to be more complex and require a programmer to make any changes to it. Licensed software tends to be more human-centric.
Steps to Implement a BPMS Successfully
The success of a BPM initiative does not end with choosing the right software for your organization. That is where it actually starts. However, the primary factor that affects the success rate of a process management initiative is the implementation. Here are the steps to implement a BPMS in your organization successfully
Step 1: Form a BPMS implementation team
The team should comprise members from different business units who guide their peers. They should be trained to use the platform and have a deep understanding of what the project entails.
Step 2: Measure performance with key performance indicators (KPIs)
Key metrics to measure include the average time each process takes, the time saved on each automated process, cost reduction, productivity, and process effectiveness.
Step 3: Implement BPMS like a business project
Determine the project scope, specify the costs, set a deadline for implementation and execution, and list the success metrics.
Step 4: Use a customizable BPM platform
Not only to increase efficiency but also to customize your processes to eliminate unnecessary steps.
Step 5: Determine integrations
Identify all the systems your company uses, who uses them, and how. A thorough understanding of systems and their data will help you make accurate decisions on process improvement.
The Must-Have Features Any Competent BPM System (BPMS) Should Offer
Before you pick a BPMS out of the hundreds that do the rounds on the internet, make sure you check for these essential features.
1. Visual Process Diagramming Tool
A visual process design tool plays to the strengths of the business user, who usually understands the process much better than a 'hired gun' coder or even the in-house IT team.
2. Drag-and-Drop Form Designer
Pick a BPM software that makes designing forms easy. Complicated form design tools can discourage your employees from fully embracing your BPM tool.
3. Role Based-Access Control
Business information in forms and fields is usually sensitive, so pick a BPM solution that protects information through selective access.
4. Mobile Support
Make sure the tool offers mobile support for Android and iOS at the very least. Most cloud BPMs offer this ability.
Check out the Top 10 Features of Business Process Management System (BPMS)
Streamline processes with Kissflow
Kissflow is a low-code platform that specializes in BPMS. It optimizes and accelerates processes, boosting efficiency. It ensures work is handled in a consistent manner and employees focus on higher-value work. Design and modify processes with ease. Our intuitive no-code platform streamlines processes, eliminates errors, and saves valuable time and money.
Kissflow is designed to democratize computing, so even non-developers can use it. It's a flexible and scalable platform that keeps employees engaged and empowers business leaders.
Streamline processes with Kissflow BPMS
Kissflow BPMS optimizes and accelerates processes, boosting efficiency. It ensures work is handled in a consistent manner and employees focus on higher-value work. Design and modify processes with ease. Our intuitive no-code platform streamlines processes eliminates errors, and saves you valuable time and money.
Kissflow BPMS is designed to democratize computing, so even non-developers can use it. It's a flexible and scalable platform that keeps employees engaged and empowers business leaders.