Change is inevitable. In business, as in life, you have the option to transform and grow proactively or react to pressing industry demands after it's already too late to get a competitive advantage. While business process management applications aren't new, technological advancement now presents you with the opportunity to move to cloud business process management software. So why you should bother moving from a legacy system to a cloud BPM solution?
It's a matter of evolution. When you adapt to your changing environment, you evolve or your organization comes up against a dead end quickly. Cloud business process management (BPM) applications are miles ahead of their on-premise predecessors.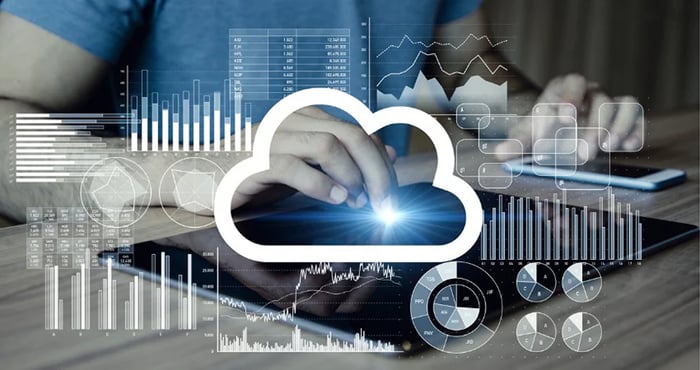 What is cloud business process management (BPM)?
BPM Cloud is a cloud-based implementation of a Business Process Management (BPM) platform. It allows organizations to manage their business processes over the internet without needing expensive hardware and IT infrastructure.
Here are the 7 Reasons why you need a cloud BPM software
1. Minimized errors
Cloud BPM solutions help you keep error rates minimal. Say goodbye to mountains of paperwork and manual data entry riddled with errors. Multiple records are also eliminated since changes are synced and visible to every team with access.
2. Anywhere, anytime access
Legacy systems store data on a local drive. This can be rather limited in terms of access.
Cloud BPM, on the other hand, stores information in a centralized database thereby making access possible any time from any location. Further, stakeholders can access the application from any device.
3. Secure data
Data security is an often-expressed concern from organizations when presented with the opportunity to move to cloud BPM. Limiting access to confidential information is high on the list of requirements.
Cloud BPM applications such as Kissflowcome with a wide range of security features such as role-based access, conditional visibility, data encryption, and more. Reputed cloud business process management service providers host their applications on reliable platforms such as Amazon Web Services or Google Cloud Platform, which in turn improves the security of sensitive information.
4. Reliable, consistent experience
Legacy systems don't enjoy great reputation in terms of the experience they provide. At best, they are cumbersome and time-consuming. Users are constantly threatened by the possibility of server downtime and virus or malware attacks.
With cloud BPM, vendors provide ample backup to ensure that there's minimal downtime if at all. They also protect data using built-in firewalls.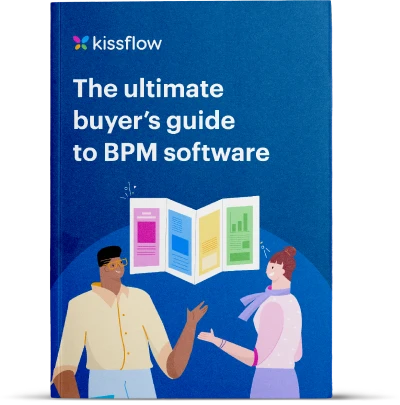 Ready to scale with the right BPM tool? Check out our ultimate buyer's guide!
5. Minimal setup and maintenance
When you use on-premise software, you're saddled with endless details like installation, configuration, storing data, ensuring adequate space to run the software, buying additional hardware, and arranging for backups. As for updates, installing them on each system and scheduling required downtime becomes your responsibility. Whatever the software needs to function, it becomes your burden to bear. Needless to say, your IT department's time and energy are heavily taxed.
With cloud BPM, the vendor assumes responsibility for all day-to-day operations of the application. This includes aspects such as performance, memory, storage, hosting, backups, and downtime. In case of new releases or bug fixes, they are immediately implemented for all users. This means that your IT department can focus on other pressing matters. Meanwhile, any issues you encounter are easily addressed by round-the-clock support from your cloud business process management vendor.
6. Better collaboration
Collaboration is incredibly easy with cloud BPM, irrespective of whether your teams are on the same office floor or different continents. Centralized documentation, digital checklists, and automated process flow make it possible for information to be accessed by stakeholders whenever the need arises.
7. Improved insights
Cloud BPM applications feature reporting capabilities that provide comprehensive insights. Given that all data is stored in a central database, it becomes simpler to monitor and analyze patterns. Information gathered from these reports can then help refine strategies and make critical decisions.
Legacy BPM systems can no longer help organizations stay abreast with rapid developments in your industry. Your organization needs a solution that is simple, easy to use, and optimized for your processes.
⋙ Check out why these
6 BPM Software
are at the top of the competition!
Kissflow helps you make the leap forward
If you're trying to heighten your organization's productivity, Kissflow's Process is the right solution. It's built for scalability so as your business grows in volume and complexity, the application adapts right alongside your business. Its design is uncomplicated and no coding is necessary. What's more? The application can be easily integrated with APIs and tools. Ready to watch productivity rates skyrocket? Get started with Kissflow today.