When you're attempting to optimize efficiency in your organization, it's natural to seek ideas or inspiration from other businesses. If you're looking for workflow management applications, the right business process examples can help you make smarter choices.
Real World Business Process Ideas and Examples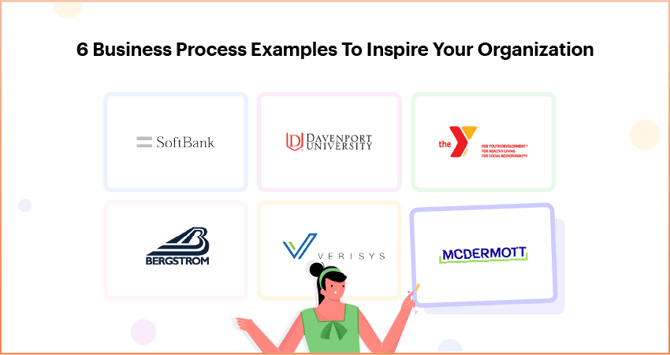 A real-life example of a business process is employee onboarding. When a company hires a new employee, the HR department starts by sending a welcome email with important documents and information about the company.
Next, the employee attends an orientation session where they learn about the company culture, values, and policies. After that, they receive specific job training, meet their team members, and get set up with the necessary equipment and access to software systems.
This is Just one of the examples of many features that Kissflow is capable of. We could wax poetic about Kissflow's capabilities, but instead of that, here's a list of 6 compelling BPM examples from our clients instead. All of these are actual Kissflow customers who are using this powerful tool to make a difference in their workplaces.
Below are the 6 real-world business process examples:
1. Softbank Telecom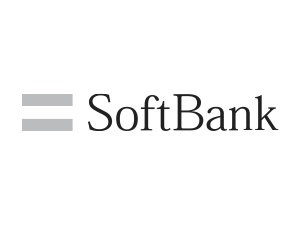 Background:
Before Kissflow, Softbank Telecom used spreadsheets and email for all processes. It became difficult to include all stakeholders and notify them over email. Softbank's position was typical of other business process examples because approvals were also getting delayed because authorities were frequently on the move.
Challenges:
Softbank used Concur to manage expenses and travel reimbursements for a while but it was quite expensive in the long run.
Solution:
With Kissflow, Softbank was able to turn things around easily.
They could create apps very quickly–in a matter of minutes
Authorities were able to approve requests on their mobiles phones
Employees didn't require training for the tool–just a ten-minute briefing
The application was cost-effective compared to other software
2. Davenport University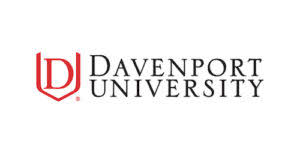 Background
:
Davenport University is a multi-campus university that also offers online courses. Like all universities, they struggled to foster cross-departmental coordination. Limited budgets restricted their software choices.
Challenge:
The Academic Information Systems department observed that every process was heavily reliant on paper and manual intervention. Departments were rife with inefficiencies. The internal IT department estimated a three-year wait to create electronic forms.
Solution
:
Kissflow Process automate three processes:
Student course requisitions
Academic scheduling
Transport coordination
Post implementation, Davenport University reported the following benefits:
Ease of use – no programming know-how required
Reduced turnaround time for requisitions and approvals
Ability to collect, track, and analyze data
Heightened efficiency in operations supported by responsive support teams
3. YMCA of Metropolitan Chicago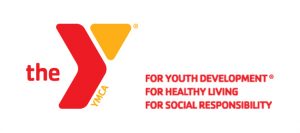 Background
:
YMCA of Metropolitan Chicago had a network of facilities, which were rented out for various events. The requests were initially handled with Lotus Notes.
Challenges:
Lotus Notes proved difficult for printing, tracking information, collecting data, and approving requests. They eventually migrated to G Suite and other software, but they burned through their software budget quickly. The YMCA of Metro Chicago still needed workflow software that was easy to build and integrate, but it had to come at the right price.
Solution:
Kissflow solved these challenges by:
simplifying approvals with mobile requests
making printing possible
enabling more efficiency with data insights on process performance
ensuring ease of use through sign-ins made easy with Google integration
4. Bergstrom Automotive

Background:
Bergstrom Automotive is the number one automobile dealer in Wisconsin with 44 dealerships and thousands of employees. Standardizing and monitoring workflows across dealerships was very difficult.
Challenges
:
In 2014, there was a serious issue in Bergstrom's accounting write-off process. Multiple employees scattered across the state had to provide approval. Sending them forms by mail was time-intensive and led to a frequent loss of forms and signatures. Consequently, they lost a lot of money in the write-off processes.
Solution
:
Implementing Kissflow helped Bergstrom to:
optimize time and mail costs by eliminating paper-intensive practices
gain the insight that service managers needed to be involved to efficiently stop the write-off
save money by stopping write-offs when required
design transparent processes that improved individual accountability
5. Verisys

Background:
Verisys provides healthcare departments professional data aggregation for compliance and risk mitigation products and services.
Challenges:
Verisys handles multiple approvals daily that include core and non-core operations. They were carried out via emails. Many of them were falling through the cracks. Manual coordination for every approval was extremely tedious and time-consuming.
Solution:
When Verisys implemented Kissflow, they started by automating the purchase approval process. Now they also use it for employee onboarding and off-boarding processes. They've observed
easier coordination between departments
improved recruitment processes
simple setup and implementation of the application
increasing efficiency through implementation across teams
⋙ Check out why these
6 BPM Software
are at the top of the competition!
6. McDermott International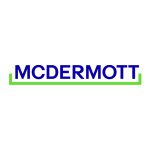 Background:
McDermott International is an oil and gas infrastructure company that had 6,500 global users but only 6 IT support members in 2015. Many expensive applications were purchased and integration became time-consuming.
Challenges:
Finance and supply chain departments needed help to automate processes. Initial trials with Sharepoint wasn't satisfactory. Nintex required the use of standard development methodology, which became frustrating. Like other enterprise business process examples, workflow request backlogs kept growing exponentially.
Solution:
Kissflow addressed their issues by
empowering finance and supply chain teams to automate their own processes with little to no IT involvement and no training
enabling cost savings with a reasonable pricing model
optimizing time and effort
streamlining processes

across other departments
Found these business process examples inspiring? To fuel your operational efficiency, sign up for a free trial with Kissflow Process.