Business Process Modeling: Definition, Benefits, and Examples
In today's complex business world, CIOs use technology as a key tool to improve how a company works. One important tool they use is Business Process Modeling.
Even though Business Process Modeling isn't a new idea, it's still a game-changer. As CIOs push for new IT initiatives that match wider business goals, they know that the key to better productivity is seeing, studying, and improving the detailed processes that make their organizations run.
So, what is Business Process Modeling, and why do you need it? This guide will look at Business Process Modeling from a CIO's perspective. We'll explain what it is, how it works, and how it can transform business productivity and efficiency. Just like a CIO uses technology to achieve strategic success, business process modeling acts as a roadmap, leading businesses towards a future of efficient processes, improved teamwork, and excellent performance.
What is Business Process Modeling (BPM)?
Business process modeling (or) process modeling, is the analytical representation or put simply an illustration of an organization's business processes. Modeling processes is a critical component for effective business process management.
Process modeling software gives an analytical representation of 'as-is' processes in an organization and contrasts it with 'to-be' processes for making them more efficient.
Many business process modeling tools end up producing something like this: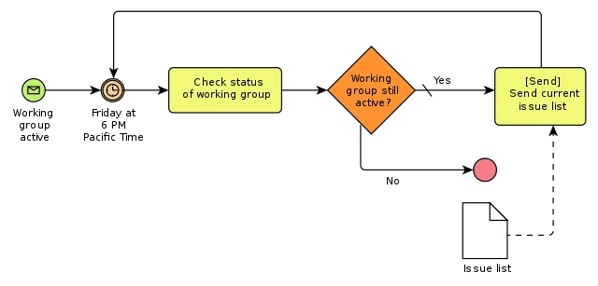 Why Use Business Process Modeling?
Your first step in modeling is actually pen and paper. However, to actually run a business process, you will need to digitize that process in a way that a workflow engine can understand.
Business process modeling software allow you to represent your process in a digital way that can then be transferred to a live automated process.
There are many benefits to business process modeling:
Gives everyone a clear understanding of how the process works
Provides consistency and controls the process
Identifies and eliminates redundancies and inefficiencies
Sets a clear starting and ending to the process
Business process modeling can also help you group similar processes together and anticipate how they should operate. The primary objective of business process modeling tools is to analyze how things are right now and simulate how should they be carried out to achieve better results.
Business Process Modeling Techniques
Business process modeling can be expressed through flowcharts, programs, hypertext, or scripts. There isn't just one way to implement business process modeling; in fact, you can choose from as many as 12 techniques.
Here are some of the most common business process modeling techniques:
1. Business Process Modeling Notation (BPMN)
BPMN 2.0 has become something of a standard syntax used by process analysts and those who create business modeling tools. It is a relatively simple usage of lines, arrows, and geometric shapes that all communicate the flow and nuances of the process. A process consultant can look at a BPMN 2.0 model and know exactly how it should function.
"Eventually, when [those] companies get their products shipping and crank up their marketing machines, BPMN will be the unquestioned standard for process modeling and execution. But right now, we are still between the news and the reality." - Bruce Silver, Process Consultant and Author of the book BPMN Method and Style
However, BPMN 2.0 is still a learned language, and although relatively simple, isn't immediately intuitive for the regular business user. It is a great tool for process consultants, but not helpful for those looking to create their own applications.
2. Universal Process Notation
Instead of having a new language to learn, a more intuitive system is Universal Process Notation or UPN.
UPN provides a simple box for each task to be completed. The box shows what happens, who is assigned to it, and when it happens in the sequence. It is extremely useful for IT to design and analyze processes, for management to comply to business norms, and - more importantly - for end business users to understand processes as intended. Kissflow uses UPN in its modeler.
3. Flowchart Technique
Flowcharts explain complex process flows in a simple yet effective way. They illustrates process steps in their sequential order, going from inputs to actual process to outputs. In fact, flowcharts provide the basic framework for BPMN to display advanced process flows.
4. Gantt Charts
Rather than showing the steps sequentially, Gantt charts are able to show the entire process using 'time taken' as one of the main axes. It does a better job of showing the overall time taken to complete a project than other options.
5. Petri-Nets
Traditionally a modeling technique in mathematics, petri-nets are also useful for modeling business processes. Petri-nets classify or color-code complex workflow steps, users, and routes in different colors.
What Do I Need in a Process Modeling Software?
Most BPM Suites include business process modeling tools in them. However, some have the modeler as a separate application.
The modeler is one of the most important elements in a BPMS, and you should spend a lot of time learning it before committing to buy a suite.
Great business modeling tools should:
Be easy to learn for the business departments
Be simple for IT teams to communicate with other departments
Be inexpensive and industry compliant
Have an integrated workflow editor tool with graphic interface
Be able to simulate workflow before implementing
Case Study
The Challenge:
RENU Contracting and Restoration grappled with unreliable manual processes, difficulty managing complex tasks, and inefficient tracking of process issues. They needed a solution to transform their operations, increase productivity, and ensure accountability.
The Solution:
Michael Casamento, Director of Process and Procedure at RENU, discovered Kissflow during a web search. Impressed by its features, ease of use, and value for money, he implemented it. RENU began building workflows for check requests and merchandise returns. The success of these implementations led to the automation of other operations, such as claims processing, debit memo processing, and maintenance requests.
The Outcome:
Kissflow has become essential for managing many of RENU's critical processes. The company has experienced enhanced productivity, time-saving in process creation, increased accountability, minimal development time, and improved end-to-end trackability of processes. Michael praises Kissflow for its well-designed user interface and responsiveness to community input. Integrations with other apps via Zapier have further improved operations. Now, RENU looks forward to building an on/off-boarding process using Kissflow.
Conclusion
Utilizing a platform like Kissflow for business process modeling can be a game-changer for businesses. It allows organizations to visualize, analyze, and optimize their workflows in a user-friendly interface.
This not only enhances productivity but also fosters improved collaboration and operational excellence. With its comprehensive and intuitive tools, Kissflow empowers CIOs and other business leaders to seamlessly align IT initiatives with broader business objectives, paving the way for strategic success in the ever-evolving landscape of technology and business.
You may also like: