Creating business process diagrams is the best way to optimize processes for enterprises.
As a CIO, whether you are planning to revamp internal processes or looking for areas of improvement, detailed process diagrams can help document everything in one place and make better data-driven decisions.
To leverage the many benefits of business process diagrams, it's crucial to understand how they work and the steps to create one.
What is a business process diagram?
A business process diagram refers to a visual representation of the flow of activities involved in achieving specific business goals. They are used to document and analyze business processes and can be helpful for identifying bottlenecks, inefficiencies, and opportunities for improvement.
Why should you diagram a business process?
Nearly everyone has an answer to the question, "How should this process run?". But if your explanation is only verbal or text-based, you are missing out on a lot.
By creating a visual business process flow diagram, you unlock your mind to actually see the invisible road that your data is travelling.
Business Process Diagram Example – Notice this difference between typing out this process:
>Complete a PTO request form
>Get approval from manager
>Send to HR for recordkeeping
>Send to Payroll for documentation
>Add days off to shared calendar
And seeing this visual: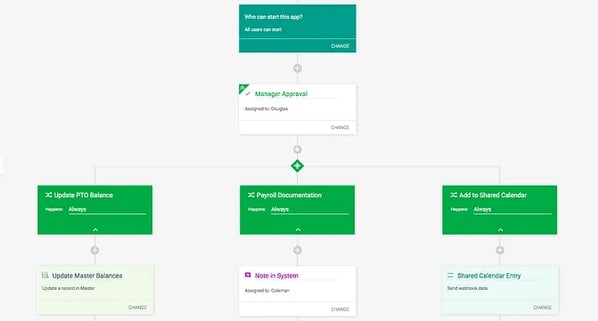 Your business process diagram can quickly show the sequence of tasks, if they are conditional, if they are done simultaneously, if they are a system task, or assigned to a human.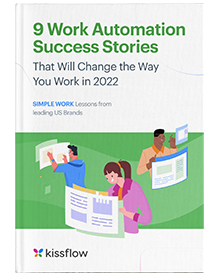 #Free eBook
9 Work Automation Success Stories- Case Study
4 Steps to Create a Business Process Flow Diagram
1. Make a rough draft on paper
It's often helpful to start with an easily editable visual of what you think the business process diagram should look like.
2. Get input from stakeholders
Everyone involved in the process will have a different insight to share.
3. Digitize the process
Enter the information into a BPM tool to show the relationship between tasks.
4. Assign roles and conditions
Who should do each task? Should it be a person or a system? Do the tasks need to happen every time?
Example of business process diagrams: Invoice approval
The invoice approval process in an organization can require many steps before the payment is actually processed and released to the vendor. By breaking down the entire process with a process diagram, it can become easier to identify bottlenecks and inefficiencies.

Here are the steps involved in the invoice approval process diagram:
Invoice received: The company receives the invoice from the vendor or supplier.
Review for accuracy: The invoice is then reviewed automatically to ensure all the billed items, invoice format, and account details are correct. If there are any discrepancies, the invoices can be rejected and returned.
Assign to approver: After the initial check, the invoice is assigned to the approver, who then manually reviews the invoice.
Forward to finance: When the approver reviews and approves the invoice, it is directly forwarded to the finance team.
Review by finance: The finance team reviews the invoice for compliance and approval.
Payment processing: The finance team processes the payment
Process ends: Once the payment is cleared, the process ends.
Use Kissflow for Your Business Process Diagrams
Kissflow is a low-code platform that can digitize and streamline business processes with minimal coding. Its intuitive drag-and-drop form builder allows you to build complex processes that align with your business process diagrams in just a few clicks.
The powerful analytics and reporting tools by Kissflow allow you to monitor processes in real-time, identify potential problems, and make data-driven decisions.