What is a business process diagram?
A business process diagram refers to a visual representation of the flow of activities involved in achieving specific business goals. They are used to document and analyze business processes and can be helpful for identifying bottlenecks, inefficiencies, and opportunities for improvement.
Why should you diagram a business process?
Nearly everyone has an answer to the question, "How should this process run?". But if your explanation is only verbal or text-based, you are missing out on a lot.
By creating a visual business process flow diagram, you unlock your mind to actually see the invisible road that your data is travelling.
Business Process Diagram Example – Notice this difference between typing out this process:
>Complete a PTO request form
>Get approval from manager
>Send to HR for recordkeeping
>Send to Payroll for documentation
>Add days off to shared calendar
And seeing this visual: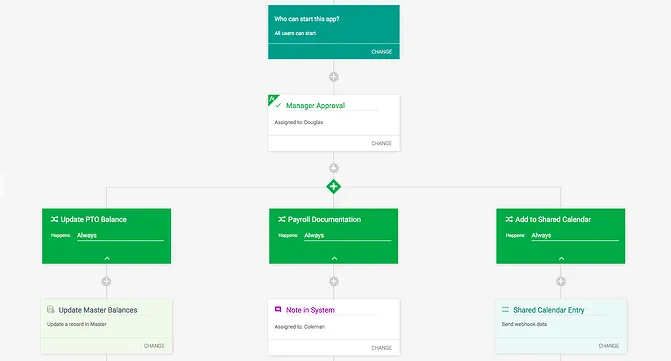 Your business process diagram can quickly show the sequence of tasks, if they are conditional, if they are done simultaneously, if they are a system task, or assigned to a human.
4 Steps to Create a Business Process Flow Diagram
Make a rough draft on paper

It's often helpful to start with an easily editable visual of what you think the business process diagram should look like.

Get input from stakeholders

Everyone involved in the process will have a different insight to share.

Digitize the processEnter the information into a BPM tool to show the relationship between tasks.
Assign roles and conditionsWho should do each task? Should it be a person or a system? Do the tasks need to happen every time?
How to Create a Business Process Diagram
Creating a business process diagram can be easy or challenging depending on the tool you use. If you use software that uses BPMN 2.0, you'll need to learn all the symbols and signs used to show how the data should flow from task to task.
However, if you use something easier like Kissflow, you can make the business process flow diagram intuitively without any training. Simply add new tasks and rearrange them with a drag-and-drop interface. You can also take advantage of these features:
Limit the people who can initiate the process

Assign tasks to groups instead of individuals

Dynamically assign tasks to a manager or department head

Add deadlines and SLAs based on formulas

Create conditions to determine when the task occurs

Create notifications to be sent to others

Create parallel branches for simultaneous tasks

Create two or more streams for an item to follow

Add system actions like webhooks or data updates

Start a new process based on a condition

Jump items forward or backward based on data

…and more!
Use Kissflow for Your Business Process Diagrams
There are lots of options out there, but nothing is as easy to use and also comes with all the best features as Kissflow Process. Try it today to test out your business process flow diagrams and see how fun it is!